Charlize Theron Atomic Blonde
Cast: John Goodman, Charlize Theron, James McAvoy, Sofia Boutella
Director: David Leitch
Genre: Thriller, Action
Rated: MA
Running Time: 115 minutes

Synopsis: Oscar® winner Charlize Theron explodes into summer in Atomic Blonde, a breakneck action-thriller that follows MI6's most elite spy through a ticking time bomb of a city simmering with revolution and double-crossing hives of traitors.

The crown jewel of Her Majesty's Secret Intelligence Service, Agent Lorraine Broughton (Theron) is equal parts spycraft, sensuality and savagery, willing to deploy any of her skills to stay alive on her impossible mission. Sent alone into Berlin to deliver a priceless dossier out of the destabilized city, she partners with embedded station chief David Percival (James Mcavoy, Split, X-Men series) to navigate her way through the deadliest game of spies.

A blistering blend of sleek action, gritty sexuality and dazzling style, Atomic Blonde is directed by David Leitch (co-director, John Wick; director of upcoming Deadpool 2), who has imagined a world as brutal and deadly as it is real.

Atomic Blonde
Release Date: August 3rd, 2017


About The Production
Introduction To The Story

It is 1989 in the city of Berlin, on the eve of the Berlin Wall's dismantling and an explosive realignment of superpower alliances. If, on an average day in the spy game, it is difficult to know who to trust, it's wholly impossible amidst the powder keg that is this coldest of cities. Lorraine Broughton (Theron), a steely and seductive top-level agent for MI6, has been dispatched to Germany to take down a ruthless espionage ring that has just killed an Allied undercover agent for reasons unknown.

Targeted for elimination mere minutes after her arrival, Broughton survives and is obliged to cooperate with reckless Berlin station chief David Percival (McAvoy). Casting a wary eye on the two agents are MI6 investigator Eric Gray (Jones) and high-ranking CIA operative Emmett Kurzfeld (Goodman), who has been dispatched from the U.S. to monitor Broughton's mission. Broughton also finds herself tailed by French intelligence agent Delphine Lasalle (Boutella), who takes a personal interest in her that intensifies into a torrid affair.

All of these operatives, and more surrounding them, are trying to evade a threat that jeopardizes the West's entire intelligence operation: a list of the identities and personal details of all Western agents operating in Berlin"one compiled by an East German Stasi intelligence officer. The man thought to be in the possession of the microfilmed list is code-named Spyglass (Marsan). While their alliance remains uneasy, Broughton and Percival are determined to debrief Spyglass and take custody of the precious file…if they can find him, and it.

Amidst the cold and on the eve of the Wall crumbling, the tension boils over. With time running out, Broughton unleashes her full arsenal of skills to best each challenge, beat back any adversary, and avenge every betrayal"both professional and personal.

Going Atomic: Development of the Thriller

The setting for the story that would become Atomic Blonde represents a singular time and place in history: Berlin, right before the Wall came down after standing for 28 years. Constructed in 1961 by the Communist East Berlin government to separate citizens from the city's American, British and French sectors"which had been established via the 1945 Potsdam Conference agreement at the conclusion of WWII"the Wall had engendered a cloaked, segregated arena in which spies, operatives and Cold War players would wage battles both official and unsanctioned.

'It was a Wild West atmosphere," marvels Charlize Theron, who began developing the script almost five years ago, with an eye to perform in the action-thriller. 'You had the Soviet KGB and the East German Stasi against the American CIA, British MI6 and French DGSE. Graft, bribery, blackmail, violence"this was the daily diet for those agents at that time."

Producer Kelly McCormick notes that the structure's function was quite multifaceted: 'The Berlin Wall didn't just hold people in"instead it held secrets that could endanger intelligence agents, ruin careers and end lives."

The Wall was actually comprised of two separate barriers: the exterior wall on the West Berlin border, and a heavily guarded interior wall about 30 yards inward. In between, on the 'death strip""amidst layers of steel and concrete barriers"heavily armed soldiers patrolled with dogs while sand strips exposed the tracks of anyone who came too close. The Wall encompassed 70 miles of barbed wire, 310 guard towers, 65 anti-vehicle trenches and 40,000 Soviet-trained frontier soldiers.

The production team developed Atomic Blonde from the 2012 Oni Press graphic novel series 'The Coldest City," written by Antony Johnston and illustrated by Sam Hart. The style, sounds and design of the work reflect a stylistic, elevated re-creation of Berlin in 1989. Art, music and social expression exploded as the world watched Berlin play host to the end of the Cold War.

Johnston had embarked on the project in summer 2008 as a personal one, on a creative impulse to explore his long-held interest in Cold War espionage. At the time, spy thrillers were an uncommon genre for graphic novels, and he had little expectation that the story would be published, much less strike such a chord with readers.

The writer reveals his inspiration: 'I've always loved the genre, having read quite a lot of John le Carré and enjoyed the James Bond movies and the Harry Palmer movies like Funeral in Berlin. I've never forgotten the fall of the Berlin Wall. I remember watching it unfold on live television, and it felt like such a momentous occasion"something that could lead to global peace and a brighter future. I figured that the anticipation of it could make for an exciting backdrop to a spy story."

At the heart of the series is Lorraine Broughton, a woman who survives at all costs. As a secret agent for MI6, Broughton is the ultimate, unapologetic warrior. She is a skilled, sensual and savage super spy who isn't just some mindless fantasy superheroine. The chances of her success are slim to none in the Coldest City, and the second she touches down in Berlin, she's left to her own devices. It's a mission that nothing she's ever experienced with MI6 could ever prepare her for. She must rely on gut, resourcefulness and resilience…using every bit of her training, intellect, charm and instinct to make it out alive.

Producer Eric Gitter, through his stake in Oni Press, got an early look at 'The Coldest City" and fell in love with the world creation. He and his producing partner, Peter Schwerin, had experience adapting graphic novels into movies and television shows. Still, Eric Gitter admits: 'We had never seen one which read so much like a film script as -The Coldest City' did. It was beautifully layered and complex, with a wonderfully nuanced lead character. The story tapped into how this city was hopping with a thriving club scene, an underground punk community and fluid sexuality. Antony is a rock star in his world, and this work was ideal for the big screen."

'What was so striking about the graphic novel is that even though it was monochromatically rendered, it ripped away years of depictions of the city as dull and dry," Schwerin adds. 'We felt a movie version could depict a colorful and vibrant rendition of a time and place that is so often thought of as dreary and gray. There's not the usual London Fog-overcoat aesthetic here; this is another world, with an eclectic sensibility and a blast of action and intensity."

Screenwriter Kurt Johnstad, when approached to pen the script as an adaptation of the initial graphic novel in the series, was eager to be part of the project. That stemmed from his personal connections to Berlin. The writer of 300 recalls: 'My father had been a pilot for Pan Am and was based in West Berlin during the '60s, and then again in the '80s. So I got to spend a lot of time there before the Wall fell. My sister still lives there today with her family."

The author's teenage years found him in West Berlin's sectors, but also going over to the East. 'Only one train line and one highway connected East and West," he recalls. Johnstad appreciated how Berlin then was unbelievably colorful. It was this magnet for artists, musicians and anarchists…a pulsing destination set against the oppressive thumb of communism. 'Creatively, it was a powerful place to be in; the art and music scenes were thriving. But I also noticed how it felt like an outpost where danger was lurking. I wanted to try and convey that heightened sense of peril.

'I would also travel through other Soviet-bloc countries and see how people were enduring their daily lives behind the Iron Curtain," Johnstad continues. 'Many people gave their lives even to try to escape, and I would always think of them in telling this story. History has always had individuals at its center, especially during an event like the stunning end of the geopolitical chess game that was the Cold War."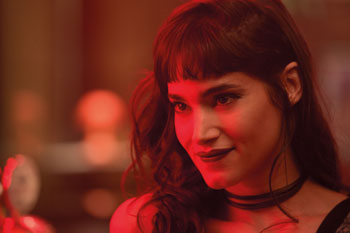 The Oni Press team found an enthusiastic champion in Theron, who joined as producer with her production company, Denver & Delilah, A.J. Dix and Beth Kono in optioning the provocative material. Charlize Theron's team saw the opportunity to take a story that is relentless and committed, as well as tough and fun and sexy, and explore it fearlessly on screen. In 'The Coldest City," they saw something explosive, wild and incredibly entertaining.

Leading independent film finance and production entity Sierra/Affinity, run by the film's executive producers Nick Meyer and Marc Schaberg, financed and produced the film, licensing the rights to Focus Features and Universal for much of the world as well as to select high-end independent distributors. Former Sierra executive Kelly McCormick, who now produces at 87Eleven Action Design, explains: 'What makes Atomic Blonde so viable is the strong female protagonist played by Oscar® winner Charlize Theron, a terrific story, and a world that was both relatable and iconic"here was a movie that was undeniable."

The behind-the-scenes team knew Charlize Theron would give a performance that was just as blistering as it was intense and committed. The actress has been kicking ass on screen for some time, and the character of Broughton is equal parts sensual, athletic and brilliant. Not only does Theron star, as developer and producer of Atomic Blonde, she's championed it from the start. 'What everyone found is that there is no ego involved in Charlize Theron's producing," reveals Kelly McCormick. 'She's highly disciplined, hard-working and likes to problem-solve together. She made the experience that much more special for everyone."

To helm Atomic Blonde, the production would turn to director David Leitch, fresh off the sleeper-hit success of John Wick, which Leitch co-directed with Chad Stahelski. As co-founder of 87Eleven, Leitch has served as the second unit director on blockbusters from Jurassic World and Captain America: Civil War to Logan. David Leitch is not simply a 'stunts guy." He has an undeniable and specific command of the intersection between massive action and intimate stories…and has helped to create an entirely new brand of filmmaking.

For his next film, David Leitch was searching for another character with which audiences would be surprised by; a fresh take on cinematic action and adventure. In MI6's Broughton, he knew he had a unique female protagonist ready for her close-up. Along with telling emotionally impactful, character-driven stories, the filmmaker believes in finding action where you wouldn't dream it exists, and he uses locations and characters to create some of the most unique action in the world. His mission is to get audiences to ask: 'How in the hell did they do that?"

Still, David Leitch is just as focused on Lorraine's emotional arc. He regards her as a spy who has seen the worst of humanity, but who is unexpectedly shown how to recapture her own. 'Broughton is a terrifically complex character, and through her this story offers a very modern take on the spy genre," the director reflects. 'As a spy, she possesses ruthless resolve and discipline, but also tendencies and traits that most of us would find hard to understand. She's cool and stylish, maintaining a certain emotional detachment necessary for her deadly job, but there is a caring and pained humanity operating underneath the surface…and that bleeds through."

David Leitch, a longtime friend of Johnstad's, appreciated the script's combination of historical drama, espionage suspense and action. The director walks us through his interest: 'I grew up in the '80s and quite clearly remember images of the Wall coming down and the significance of that, so right away I found the subject matter very compelling and interesting…especially because it is relevant with today's politics. I responded not only to the storytelling but also to the visual possibilities."

David Leitch worked with Johnstad and the film's producers on the development of the script. The screenwriter describes the process as 'hands down, one of the best I've had. Dave and I have a shorthand of friendship and respect. I liked how he wanted to move a classic noir spy thriller into something new, to push the envelope and take some risks."

Spies and Traitors: Casting the Film

To incarnate the story's international intrigue, a cast was convened from around the globe. Accomplished U.K. actors, German film icons and a rising Algerian star were among those signed to charge up the story's conflicts and confrontations.

Given that the rules of the spy game were being broken almost as soon as they were made up, the character of David Percival was crucial to the story. Johnstad explains: 'Cold War Berlin was made for this man's particular talents and temperaments. As the chief of station for MI6, he operates essentially on his own. He's got his own small fiefdom, far from the prying eyes of London. He readily sells and trades contraband with his network of contacts and associates on both sides of the Wall…and he enjoys himself!"

As Lorraine's fellow MI6 operative, Percival is charming, conniving and merciless. He is every bit her match, and she trusts him as far as she can throw him. Percival is also Broughton's only supposed ally in Berlin. Still, she knows that he is operating with impunity in the city. He runs the contraband game as well as anyone in town, and he has his pick of the illegal trade and relishes the environment that has allowed him to run wild. When Lorraine arrives, he immediately gets alarmed. This has been his territory for the past five years…and he's not giving up control easily.

Selected for the part was star James McAvoy, whose small film Split recently passed $275 million at the worldwide box office. The actor researched those who MI6 recruited in its early stages and found a telling fact he based his character on: The agency looked for people less likely to live long enough to divulge national secrets in later years.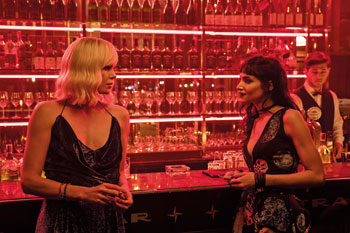 ames McAvoy enjoyed the character from the moment he read the script. The actor notes: 'Percival is as far away from Bond and Bourne as one can get! There's a line Percival says, -I f"kin' love Berlin!' And he certainly does.

Percival represents the breed of operative who gets seduced by an environment, in this case the Dodge City of the espionage world. The MI6 chief refers to him as having gone -feral,' which is an apt description"for him and for others in the territory."

The performer appreciated the edge, attitude and fearlessness of the script and its source material. 'It's a different version of what we think of as the Cold War," reveals James McAvoy. 'There are so many interests all crowded into this one location, and the players all know each other. They drink with their enemies and probably sleep with the same people. It's an exhilarating but dangerous game, and it has caused Percival to morph into an almost self-destructive figure. But he's all Broughton's got to go on, and with."

Theron gives a bit of the agent's backstory: 'Broughton's arrival in Berlin does not sit well with Percival, who sees her arrival as a serious threat. She is expert in espionage and evasion, weapons and hand-to-hand combat. When London sends her somewhere, it's to be -the final word' on the matter. She's utterly professional and devastatingly destructive, yet she also carries with her the history of a career in which dirty hands are not easily cleansed."

James McAvoy extends the story: 'Percival's nose is put out of joint because he's been running Berlin for five years, and he doesn't want someone else around snooping into his business. But once he learns this woman is almost like black ops, he's even less sure if he can trust her." The performer loved the dark humor in the story that so attracted the filmmakers to the script. 'When he asks Broughton whom she genuinely trusts, her reply is, -David Bowie.'"

One of the few Americans in the cast, the legendary John Goodman sees his CIA operative character as most trustworthy. He explains his role: 'Kurzfeld is running a joint mission with MI6 to recover the microfilm dossier of operatives because agents' lives are at stake if that falls into the wrong hands. In Berlin, he has to try to ascertain the truth inside a menagerie where people lie, wear masks and assume false identities. He's dealing with skilled allies and adversaries who hide in the shadows and play intense games at the life-and-death level."

Director David Leitch echoes the production's appreciation of all that Goodman brought to the set: 'John's role is shifting in that he has to both pressure and support Broughton in front of her MI6 superiors. He brings power and gravitas to the character, and that's great fun to watch…including for the other actors."

The man with the list is played by British stalwart Eddie Marsan, who reveals that his character, Spyglass, 'makes a very risky choice to betray his government in exchange for relocation in West Berlin. For he has placed his faith, and the lives of his family, in the hands of people he is not entirely sure can be trusted."

David Leitch reflects: 'No matter which side someone is ostensibly on, the story's agents in both the East and West share a common dilemma: on which side of the Wall do you hedge bets on as the political foundation teeters?"

This being the Cold War, there is naturally a KGB agent on the scene: Aleksander Bremovych, portrayed by Roland Møller. The actor reports: 'Aleksander Bremovych is an old-school Soviet. He also despises the Western punk and skateboard influences embraced by East German youth. He understands that the collapse of the Wall will bring about the collapse of Soviet Russian prestige, order and pride. For him, getting his hands on Spyglass and the list is a personal quest; he also wants to settle old scores with CIA and MI6 adversaries before, as they say, the -whistle is blown' to end the game."

More idealistic is French spy Delphine Lasalle, portrayed by Algerian actress Sofia Boutella, who exploded onto the screen with Kingsman: The Secret Service, stole every scene in Star Trek Beyond and headlines The Mummy alongside Tom Cruise. Younger than the other spies and more adventurous, Delphine assesses that the way into Broughton's head is through her heart. Discussing her involvement, Boutella offers: 'Unlike just about every other character in the movie, I don't really have to fight Broughton. From the moment they meet, Delphine is captivated by Broughton…who is so beautiful, self-assured and commanding. Delphine's affection begins to melt a little of Broughton's icy exterior and reserve."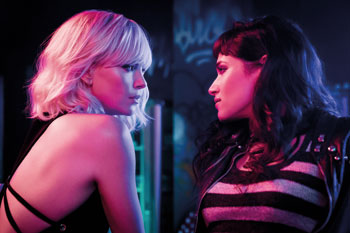 The ingénue Lasalle is on her first real mission, and she's forced to go head-to-head with major players. The operative is on the verge of being eaten alive by the more battle-scarred operatives in Berlin. With her wide-eyed innocence and fluid sexuality, she captivates Lorraine. McCormick discusses the character's role in the story: 'In the midst of a chaotic situation, Broughton finds herself falling for a reminder of how she used to be: fun, playful and emotional. Delphine adds a distraction to the mission that Broughton never expected, which puts her into ever more danger.

Boutella conceived a history for character that would inform her performance. 'My character sought refuge and excitement in Berlin," the actress offers. 'She wanted an alternative choice in life, and gets swept up in the contagious energy and optimism of the freedom movement. She identifies with their desires and strongly relates to those artists and leaders fighting for change in West Berlin, while segregated from friends and family in East Berlin. All of this sparks Delphine's imagination and romanticism; she believes she can help make a difference at a pivotal time in history."

Wrapping the principal cast were Til Schweiger, a German film icon and one of the most popular directors in his country, as the Watchmaker. He was joined by one of Britain's finest actors: Toby Jones as Eric Gray, the MI6 investigator most suspicious of Broughton. They bring such a deceptively casual approach to their characters that it's impossible to guess what's happening behind their eyes.

Re-creating 1980s Berlin: Design, Locations, Props and Costumes

The director reunited with longtime friends and colleagues to make Atomic Blonde look deceptively effortless: cinematographer Jonathan Sela, composer Tyler Bates, music supervisor John Houlihan, editor Elísabet Ronaldsdóttir and second unit director and stunt coordinator Sam Hargrave (whom Leitch has mentored throughout his career) had all collaborated with him on John Wick. David Scheunemann, after having depicted Berlin with expertise as art director on Inglourious Basterds, was engaged as production designer. Cindy Evans, who had collaborated with Charlize Theron several times prior, was booked as costume designer.

Summing the pulsing look that he imagined for the story of a world teetering on the edge of implosion, David Leitch says: 'The city's mystique provides a backdrop for an intersection of disparate"and desperate"characters at a pivotal moment in history."

Production Design and The Wall

Scheunemann, who was raised in Germany, concurs that 'Berlin has changed quite a lot since 1989 with significant renovation and architectural additions. There are no longer the same textures, especially in the old town. Such textures still exist in Budapest, and could match both East and West Berlin. Budapest has stunning old abandoned buildings, which have marvelously decrepit exteriors and crumbling interiors that make perfect backdrops. Also, the city is much denser, with narrower streets, which is more cinematic for a spy story."

The Hungarian capital was also dressed to stand in for London and Paris, as some wider streets were found to effectively emulate the latter city.

A building on the Hungarian capital's famed Andrassy Avenue, a fashionable boulevard lined with upscale shops and foreign embassies, provided the ideal locale for the offices of MI6. Leitch marvels: 'Its interiors conveyed Brit power: classical paintings, leather chairs, cherry-wood cabinetry, chandeliers, ornamental carved-wood ceilings, deep rich rugs and heavy draperies."

Back on the streets, Scheunemann and his art department created a 250-foot-long, 12-foot-high wood-based re-creation of the Berlin Wall. Built in several sections so as to be portable, this cinematic version was hauled to various locations in Budapest as the backdrop for scenes occurring along the sectors' borders.

Local graffiti artists were hired to paint the barricades in a manner similar to how citizens and visitors expressed themselves decades ago on the actual Berlin Wall, which was constructed two feet inside East German territory and not on the precise borderline. The Wall became an irresistible canvas for local and international artists to create memorable drawings, paintings and inscriptions.

Many of the illustrations would mock the East German government, such as the one with an arrow pointing forward with the directions: 'Socialist Paradise: 10 Meters."

The production designer explains the dichotomy: 'Because the Wall was actually in East Berlin, the West German police exercised no authority to prevent citizens from approaching its Western side and painting on it. The East Berlin guards were, of course, on the other side of the barrier and powerless to stop it. A lot of beautiful artistic work resulted!"

Security was ruthless, however, in deploying lethal force to prevent East Germans from approaching the Wall on their side in hopes of clambering over and escaping. Machine guns, lookouts and dogs were employed over a multi-meter stretch known as 'No Man's Land." Over the years, an estimated 130 East Germans died making breaks for freedom.

Scheunemann's department's wall made it to the city's 6th District for the emotionally charged nighttime sequence in which the Wall at last begins to come down. The production re-created the scene of November 9, 1989, when the whole world watched as jubilant Germans cheered as chunks of the Wall were destroyed by citizens wielding sledgehammers and chisels. For many, it was the first step to reuniting with family and friends from whom they had been forcibly separated.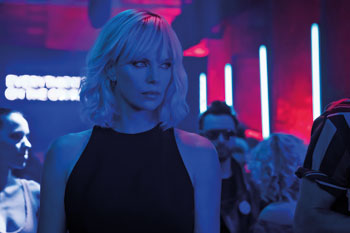 Bowie as Inspiration

The third crucial David during production was none other than Bowie, seen by David Leitch as a touchstone of the film. The spirit and energy of Bowie"as well as the music of Berlin enthusiasts Nick Cave and Iggy Pop"infused the punk and New Wave influences of the time.

On the set, his 'Cat People" theme ('Putting Out Fire") was heard in the night air as an impromptu tribute to the legend, who had just passed away. Bowie had lived in Berlin during the '70s, recording three acclaimed albums commonly referred to as the Berlin Trilogy. The second verse of his cut 'Heroes" was inspired by the artist seeing his producer standing near the Wall, visible from the windows of his recording studio.

David Leitch walks us through the production's rock 'n' roll, rebellious logic: 'Western music and clothes had been illicit in East Berlin, which only made them even more coveted by youth there. So the pop sensibility of our movie is definitely inspired by the music of the time, and you will hear a lot of classic cuts on the soundtrack, plus some cool stuff that may have been under the radar at the time."

Music and story are seamless here. The soundtrack cherry-picks songs from one of the most thriving creative eras in the last century…one that echoes current global tensions.

Cinematography Design

The director worked with Scheunemann as well as cinematographer Sela to conceive a palette that would be muted and gray in the London scenes but come out with more color than expected in Berlin, particularly with the West and its punk movements. To go with richness and vibrancy, Sela utilized Alexa cameras and anamorphic lenses to capture widescreen imagery. As he framed shots of the stunning, crumbling buildings that are set on isolated, narrow streets, Sela gave Budapest this forbidden, dangerous vibe.

'In researching Berlin at that time, I was surprised at just how colorful it was," Sela reveals. 'That motivated us to go for super saturation; we made use of blue and pink neon, notably in the bar where Broughton and Delphine first meet. There is gray in depicting the desolation of some areas, notably on the Communist side.

'The green tones showing the surging creativity in the West contrast with blue tones in the East, which we render as starker and more sinister," the DP continues. 'The visual contrasts between East and West are there not only to express the political and economic distinctions, but also to help track, or color-code, the story as our characters court danger by crossing back and forth."

A glossy, yellow-toned ambience was fashioned around the appearance of Schweiger, whose character's habitat is an elegant jewelry store"one created by the art department in a previously drab storefront shop in a mall passage in central Budapest.

Props

Aside from Schweiger and Charlize Theron, the most valuable player in this setting was one with its own setting: an elegant Carl F. Bucherer timepiece provided by the company for the production. The watch is worn by Theron as Broughton, but at one point in the story she must entrust it to Schweiger's character. Similarly, a Bucherer technician was dispatched from Germany to assist in the careful maintenance of the watch during deconstruction and reconstruction"one repeated during multiple takes by a highly focused Schweiger, with the watch getting its own close-ups as a key featured player.

When objects were less easily loaned or sourced, prop master Marcus Haendgen would spend weeks tracking down and securing what was needed, such as vintage recording devices that perhaps were used by espionage agencies.

What Berlin may have lacked in political autonomy and freedom of movement, it compensated for in artistic and sexual liberty. A 'rough trade" bar sequence during which Broughton and Percival have a tête-à-tête at a large circular centerpiece was filmed in a defunct Budapest cabaret theater that had been modeled after Paris' famed Moulin Rouge. The production assembled partially clothed dancers, red vinyl booths, chandeliers, nude statues and an enormous painting depicting a scantily clad Ronald Reagan wearing a cowboy hat and chaps.

'We pulled out all the stops for that location," marvels Scheunemann. All told, he and his team designed 85 sets for the film…some of which were redressed to be filmed on more than once.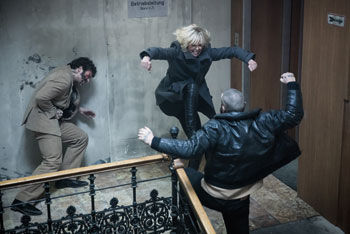 Costume Design

Similarly, the film's fashion is sleek, hard-edged and inimitable. Beyond 'rough trade," West Berlin's underground club scene was vividly re-created and depicted with creative license for the Pike Club sequence. That trendy watering hole where Broughton first meets Lasalle was adorned with nude mannequins, concrete barriers, cages, neon lights, heavy graffiti on the walls and a mission-statement sign reading 'Everything you desire is on the other side of fear."

Some 250 extras were crowded into the Pike Club set alongside principal actors and crew. Evans' mandate to her costume department was 'to find the coolest elements of fashion from the '80s, and not in a comical way but stylized. There are callbacks to the '60s and '70s, as there would have been in Berlin at that time.

'It was important to David and I to avoid cliché, dig deeper, and find the nuance, beauty and grit," shares the costumer. 'The West was a bit more trendy and polished, while the East was drab and dated"yet with a cool underground current of punk. There are many layers of history and culture in this film, and we strived to translate that through the costumes."

Evans sourced much of Atomic Blonde's wardrobe from Angels Costumes in London, as well as the historic Studio Babelsberg just outside Berlin, which has in its archives impressive original GDR (East Germany) military pieces. She notes: 'We also did a lot of thrift shopping in Budapest. The gold mine there was a great secondhand store called Humana, where we purchased hundreds of items. We also ended up making a number of costumes."

The wardrobe descriptions called for Theron to wear several stunning and glamorous outfits, with the House of Dior Archives red coat lent to the production for a nighttime exterior sequence arguably outshining the rest. Evans promises: 'It's a showstopper! Exposed seams, large black buttons, swing hem..."

Broughton's garb, however, takes its lumps, and what with the frequent bloodstains and/or tears, Evans and her team had to prepare multiples of many outfits, anticipating the violence and intensity of the fight scenes that would be sustained by Leitch in unbroken shots.

Master Class in Stunts: Blonde Training

During pre-production, when Leitch saw what Theron was capable of, he would actually construct a seven-and-one-half-minute, one-camera fight scene in which Broughton systematically takes out her would-be killers in an abandoned building.

Every single shot in which one sees Broughton fighting is Theron in the film. She has a background in ballet training and trained up to five hours a day for three months"as well as memorizing days of intricate choreography"that allowed her to pull it off. Audiences have never seen her this intense, exposed and raw.

In fact, Theron began training less than two months out from Mad Max: Fury Road and sparred against Keanu Reeves at Leitch and Stahelski's training facility for stunt performers and actors (87Eleven Action Design) while Reeves trained for John Wick: Chapter 2.

Jonathan Sela has partnered with the director for years"most recently on John Wick and Deadpool 2. Their commitment to shooting fight scenes is unmatched, and the audience feels like there isn't a single edit as they're drawn into this world.

David Leitch, looking to brainstorm action sequences with Charlize Theron, was blown away by his lead's commitment to the part and expanded the storyboarded fight scenes, tailoring Theron's training to the potential he saw in her: 'She has exceptional athletic ability; realizing that it would be a wasted opportunity not to capitalize on this, I modified the fight choreography and the directives to our stunt team: -Go bigger and build it out!'"

Under Leitch's guidance, the film's stunt director and second unit director, Sam Hargrave"who also plays James Gasciogne in the film"put the cast through the paces slowly and methodically. Always safe, he took them to levels they never imagined they could achieve. Hargrave calls Broughton's style 'a John McClane complex: she'll walk over broken glass to do what it takes to win."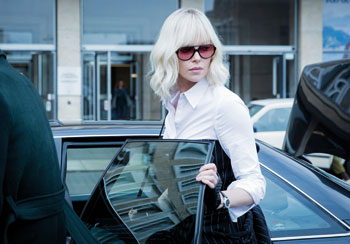 Choreography and fights were designed so that Broughton never goes strength-to-strength against opponents. She is extremely savvy, and she never hits straight on with a closed fist. Her technique is an open- or hammer-fist, quick elbows, palm strikes and three quick punches to a man's one.

Broughton will use anything in her environment or peripheral vision"from corkscrews to hoses"as a killing weapon. Leaving Berlin with cracked teeth, Charlize Theron did know when to draw the line…barely. Her stunt double, Monique Ganderton, jumped out of a four-story window on a cable and swung in through the second story.

'There is so much physicality to Broughton, both personally and professionally, and Charlize Theron constantly worked with the stunt team to learn movements and participate in pre-visualization videos of the fight sequences," says Leitch. 'They would start with a walkthrough and ramp up to go faster and faster. She's very fluid and precise, understanding just how and where to land for maximum impact on camera."

This in turn opened up the flow of the scenes, as Charlize Theron's stamina proved the perfect complement to David Leitch's style. He reports: 'There's fewer -cheats' than audiences are used to. We could do longer takes and more complex moves, because of her skills, fitness and attitude. Moviegoers will see Charlize Theron truly in action as Broughton."

Having recently blazed a trail for female action heroines with her blistering performance in Fury Road, Theron was determined to raise her own bar in playing the super spy. When not working out, she trained with dialect coaches, refining Broughton's British accent…and also learning to expertly deliver lines in other languages, including Russian.

Theron's strength and agility were put to the test on the first day of shooting, filming an underwater sequence in which Broughton is submerged in a sinking car. Doubling for the icy river was a heavily chlorinated pool that was kept chilly. Stunt personnel were on call, but as cameras rolled it was Theron who successfully executed the escape and surfaced from the vehicle, completely drenched, take after take. She laughs: 'As a producer, I didn't necessarily like seeing my actor in a car underwater, but as that actor, I insisted on it!"

The pool was near an actual river; located in an enormous urban park on Margaret Island (known as Margit Sziged), the Olympic complex abuts the Danube River in Budapest, which played host to the production for 10 weeks. Locations around the city were complemented by soundstages filming at its Origo Studios, before production moved on to Berlin.

Lensing and Editing Key Sequences

David Leitch, Charlize Theron and the entire technical team pulled off a nearly impossible feat. Before the crew finally shot the sequence with handheld cameras, Theron mastered up to 30 moves of choreography…for one continuous scene that they shot again and again.

One bit of staging required Charlize Theron to slam a stunt performer, playing a Broughton attacker, onto a collapsible wooden table. The props and set decoration departments were kept busy replacing not only the piece of furniture, but also the numerous other items destroyed or displaced during the confrontation. Take after take ensued until they were, remembers Leitch, 'down to our last table."

Charlize Theron adds, 'They were now kindling. So David Leitch said, -We gotta nail it this time.' And we did!"

James McAvoy's scenes had to be blocked and then edited carefully because the actor had broken his arm a few weeks before filming began. But he and Leitch decided to capitalize on the imagery of his character sporting a cast, realizing that it spoke volumes about his recklessness. James McAvoy smiles: 'I had done some research into those who MI6 recruited in its early stages…and they in fact looked for people less likely to live long enough to divulge national secrets in later years."

The actor narrowly escaped even more serious injury during the shoot. Secured into the driver's seat of an '80s Porsche 911, he 'was doing my own driving for a scene where Percival saves Broughton. On the seventh or eighth take, the handbrake didn't set and so I kept going right towards the camera crew. I had to force the wheel and the foot brake, and finally I was able to be stopped…by a wall." Fortunately, he was only shaken.

Picture Cars and Automotive Stunts

The crucial sequence uniting James McAvoy, Charlize Theron and Marsan's characters loomed as the film's most logistically challenging. Approximately 400 extras were on call, extensive set decoration and signage had to be in place at every step for the characters and the camera, and dozens of 20th-century cars needed to be on view.

Many of those cars, it was decided, would be 1970s and '80s incarnations of a model named Trabant. Nicknamed the 'Trabi," this was the most common vehicle in East Germany at the time, made in Saxony and exported to other Soviet-bloc countries. Its noisy two-cycle engine provided little power and excessive exhaust. The body was composed primarily of a lightweight recycled hard plastic known as Duroplast. All of this has made the car the subject of affectionate derision…and also a collector's item.

Picture vehicle coordinator Zsolt Somogyi had ascertained that East Germans waited three to four years for delivery of their new Trabi, and so the cars were highly valued at the time and accordingly taken good care of. To procure some three dozen Trabis, Somogyi's unit placed advertisements and scoured the Hungarian countryside, knocking on doors with offers to buy or rent privately owned vehicles spotted in driveways or parked on streets. These now-vintage cars were of varying degrees of operational usefulness, but would lend authenticity even without moving; over the course of shooting, some 500 vehicles were sourced by the team.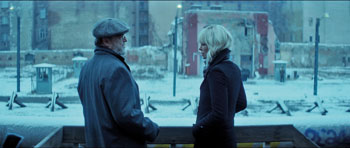 One particular Trabi was a jewel in the crown: a police vehicle, needed for and then put to use in, a car chase filmed across Budapest streets over the course of a week by both the production's main and the second units.

For this complex sequence, a special vehicle camera rig was constructed for multi-angle coverage placing the audience inside a car"although not, in this case, the Trabi. Stunt driver Andrew Comrie explains: 'The adjoining rig is essentially a motorized process trailer that allows a driver kept off-screen to hydraulically steer the rig while the actors are seated inside the picture car on screen. An Alexa mini-cam is mounted in the car on a gimbal to allow full-range panning and tilting, and the driver's pod can be reconfigured to sit atop the rig, or on either side. It lends tremendous flexibility for shooting in any direction."

The rig enables a team of five crew members to be concealed onboard while operating windshield wipers, windows and the camera, which can be refocused throughout numerous takes. The chase team rehearsed in open spaces for several days to perfect the choreography and routes before filming began within the city.


Atomic Blonde
Release Date: August 3rd, 2017