From Britain's No 1 Celebrity comes a sexy and irresistable novel to follow her smash hit autobiographies and launch her as a major new name in women's fiction.

A sparkling and sexy tale of glamour modelling, romance and the treacherous promises of fame.

Eighteen-year-old Angel has only one dream: to leave behind the sheltered safety of her home and head for the modelling agencies of the big city. Young, beautiful and sexy, she seems destined for a successful career in modelling and, very quickly, the glitzy world of celebrity fame and riches becomes her new home.

But then she meets Mickey, the lead singer of a boy band, who is as irresistible as he is dangerous, and Angel discovers that a rising star can just as quickly fall...

Katie Price took the publishing world by storm when her first autobiography, 'Being Jordon', was published in 2004. The second installment 'Jordon: A Whole New World' was an instant success.

Now Katie Price is set to become a bestselling fiction author. 'Angel' is as funny and outrageous as Katie herself and packs a real emotional punch.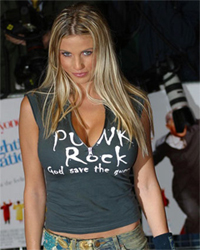 Katie Price Jordon, is one of the UK's top celebrities. She is a glamour model, TV presenter, mother and wife. She currently lives in Hertfordshire with her husband Peter Andre and her two sons.

Angel, Katie Price
Random House Australia
Author: Katie Price
ISBN: 0099497867 / 9780099497868
RRP: $19.95