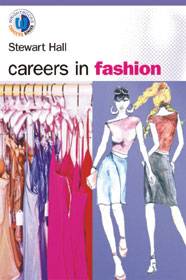 Do you love fashion? If you're obsessed with what you wear, how you wear it, what's in, what's out, and whether or not green is the new black, then a career in the fashion industry might be perfect for you.

The textile, clothing, footwear and allied (TCF) industries encompass everything from the cutting edge design of modern footwear, textiles and apparel to the competitive business reality oft he manufacturing process and products appearing on the shop racks. In 'Careers in Fashion' you'll find;
Job descriptions, including practical details about what's involved and the attributes required to fill the role.
Interviews with designers, product developers, educators and a range of fashion professionals.
Educational and training possibilities and relevant courses to kick-start your career.
Tips on preparing a winning cover letter and resume, and information about how to impress at job interviews.

Whether you agree with Elle or not the mirrorball of the Australian fashion industry continues to spin above us with glitzy, elusive charm. It can be a daunting prospect for anyone thinking about plunging into a career in the fashion scene.

In 'Careers in Fashion' Stewart Hall aims to demystify the glamour by providing readers with practical advice on the personality types demanded by the industry, the range of jobs available, remuneration details, where to study, tips for resume writing and interviews, and everything you need to know to get a stiletto in the door of the industry.

Stewart relays his wealth of experience and knowledge with humorous anecdotes and insight from a wide range of industry contacts, with a parting blessing to readers: 'May you always look good!"

Review:
If you are serious about a career in fashion, this makes a worthwhile read. Insider tips and tricks on how to stay up with cutting edge fashion.

Careers in Fashion
John Wiley