Have you ever fantisized about becoming a model? Do you feel the modeling career is ideal for your personality? Do you honestly have what it takes to maintain such a hectic lifestyle? Well, I was given the opportunity to speak with some of the most elite and chosen Spanish models from Fleming Models agency in Spain. We discussed about the life of a model and what it really takes for any individual to consider this field. While some where happy to explain their pastime, while others were blunt with her personal lifestyles. However, these models took great courage and skill to do what few individuals aspire for in today's society.

Interview with Fleming Models: FlemingModels.com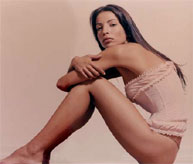 Tania


I heard that you just came back from Paris on October the 16th. What were you doing there career wise? Does Paris have any opportunities at all for Latinos who aspire to contribute into the fashion world? Why or why not?




It was my first time in Paris, and for me is the most difficult market. But we have to try, if we don't try we never know. I think Paris have the market for all kind of girls there's a lot of work there so Latinos girls can work there. It's a question of luck.





Are you currently in a relationship with someone? Do you believe that isn't hard to be involved in a relationship and still work as a model? Why or why not?




Yes, I have a boyfriend and everyone knows that is a little bit hard, because you're not with your boyfriend, but love is survives to everything.





I also noticed in some pictures that you were seminude and had body piercing? Does having body piercing affect your chances in getting a career in the fashion business or lowers it? Why or why not?




In these days everyone have a body piercing, and if you want you can take it out.





Obviously, you do feel comfortable expressing your body on camera. What is your advice to other Latinos who are insecure about their looks and their body image in general?




A girl should accept her body how it is.

Do you believe that as natural as day, Latin girls should accept their curves and use them as a tool in their career?Tania is in the website www.onfashion.pt (in models) www.ps-models.pt www.star.clix
---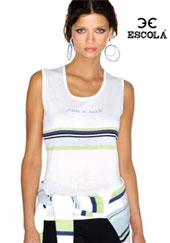 Najet


If any Latino wants to contribute into the fashion business, what is the first thing that you feel they must learn?




They have to be themselves don't try to do the same than the others.





What is definition of beauty in your eyes?




Beauty is a visual effect.





Do you feel that there aren't enough Latinos in the community who are making great impacts, to not only where they came from, but possibly the world? Why or why not?




I think is OK, and the important in modeling is not where they come from than what they look like.





Who has been a role model to you who is Latino and created many great accomplishments in the fashion world to your eyes?




Ines Sastre.





Who is your favorite Latino designer and why.




Custo, because of the happiness of the colors, and the special style; everybody knows when a custom is from Custo.
---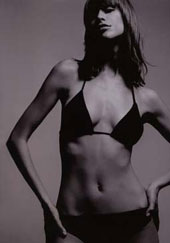 Sara Cortes


Why have you decided to take modeling as a profession?




Because I'm tall and beautiful.





Do you feel that there are possibly more than enough Latinos in the modeling business or too little or too little of? Why or why not?




Is enough.





Have you ever gotten any criticism for being a model just because you were Latino?


NoI was told that you were also part of Yves Saint Laurent Show in Paris. Congratulations! This is a great accomplishment, especially for a Latino. What can you tell girls who are discouraged about a particular profession and feel that they will never make it?
Is not your decision, the client decides.



I noticed that you were skinnier than many other models that I have spoken to. Don't you feel that maybe you are presenting a wrong body image to other females who are more conscience about their weight? What is your definition of body image?




No, I was born like this; I don't do any diet... Thin in a healthy way and expressive.
Sara Cortes is in
www.louisa-models.de
,
www.spanishmodels.net www.nevs.co.uk
,
www.metropolitanmodels.com
---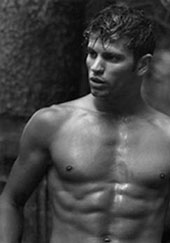 Angel


How were you able to become a successful male model?




Because I'm handsome.





Has your race somehow affected your career as a model? Why or why not?




No, because always everyone treat me in a very nice way.





What is the hardest element a male model must undergo in order to stay in shape, such as you?




I love to go running. You have to be constant in your gym, but not so much!! I like to play sports at the same time that I enjoy!





You really are a handsome individual. Believe me, you are! What is your secret to being confident and carefree toward life and yourself as a person?




I'm so natural, I don't need to do an effort to be confident.





What is your advice to any male Latino who wishes to become a model?




You need to ask to some professional the honest opinion about your future on this business, and I think the most important is to get involved into the culture of any place that you are.
---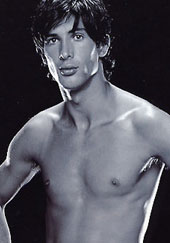 Asier


What do you think is the hardest element of being both a male and a Latino in the modeling business? Why?




For me, I was lucky for being Latino when I started, because I was super-trendy.





Why did you choose modeling as a profession?




Because I though It was a great opportunity to travel.





What kind of opportunities does your home-country have for Latino male models?




My own country didn't give me opportunity until I went outside and I came back with a great book.





Do you feel that places such as Paris or Milan have any sort of equality for Latino models? Why or why not?




Yes, Because they gave me the opportunity to show that I'm good in this business.





What is the greatest disadvantage to being both a Latino and a model? Why?




Any, being Latino and modern is great ... because we have fire in blood.

you can see Asier in www.neomoda.com (in model composites bottom)


---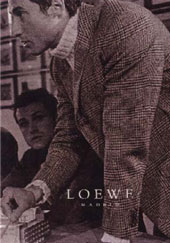 Orlando


What has been your inspiration in being a model?




Someone in Madrid stop me in the street for a Hugo Boss contest.





What are the advantages and disadvantages of being a Latino and a model?




I don't think that there's any disadvantages.





How should a male prepare himself if he seriously aspires to become a model?




You have to be really patient and believe in yourself.





What should a Latino do in general if he or she is somehow treated unfairly because of her race?




It never happens to me, but, I think you have to treat people as people not as races.





Do you feel that your ethnic has any positive or negative importance in your career?




I feel myself as any other professional model It hasn't been important.

- Stephanie Nolasco