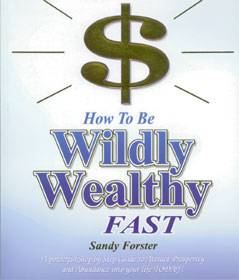 Do you long for Unlimited Prosperity?

Does your soul yearn for Financial Freedom?

Are you ready to consistently experience diving into an ocean of Abundance?

Then stop dreaming, and learn to start living the life of your dream, Today!It's possible to experience the Prosperity you desire when you discover the easy, fun and effortless way to attract Money and Wealth into your life.

In How to be Wildly Wealthy Fast you will learn simple but powerful steps to create your dream of unlimited prosperity Starting Today!

In this extraordinary book, you will discover dozens of techniques including....
The power of focused attention, and how to draw more prosperity to you through an exercise that takes less than a minute a day!
The One thing you may do every week that could be blocking your abundance
How to quadruple the speed with which you draw money to you
How to free up the Energy you hold around money, so more flows to you
A 3 minute exercise you can do at the end of each day to make you more magnetic to ALL good things in your life
How to turn yourself into a Money Magnet - easy strategies you can use daily
The 10 second Money Miracle, and much, much more.

Sandy Forster, international speaker, popular author, renowned Prosperity Mentor and Wildly Wealthy Woman shows you the exact steps she used to turn her own life around. Using these same techniques, she went from a single mum with $100,000 in debt and enormous money struggles, to living the life of her dreams. In this powerful book, she shares these age-old secrets so you too, can see immediate results in your life.

Author: Sandy Foster

www.wildlywealthy.com

Review:
This real life story will captivate and inspire you to take control of your life & money to achieve financial freedom. Great insight into how to achieve a healthy balance between financial freedom and self worth.