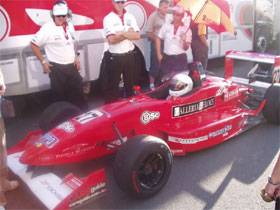 History was made over the weekend when Danielle Argiro finished a dream race event at Indy on the Gold Coast as the first female competitor in the F3 series. Qualifying in 10th position for the start of each race, Danielle finished an impressive overall placing of 11th for her debut meet at the Gold Coast Indy.

In her 3rd time in an F3 car and with only 2 tests to prepare, Danielle has passed all expectations and impressed everyone including her race team and the male competitors. Zipping around the track at speeds over 250km/h and lapping faster around the Indy road course than a lot of V8 Supercars, Danielle is now considered to be the fastest female in Australia.

Danielle says "I am very satisfied with my performance as we have achieved everything we wanted. I was more than happy to just compete at Indy to learn more about the F3 cars as I have only driven sedans, but now I am keen to drive more. I am looking forward to taking on an entire season in the F3's next year."

The transition from the V8 Utes to Formula 3's seemed to be easy for the 22 year old. The race team, Piccola Scuderia are also impressed with Danielle's performance and believe Danielle has everything it takes to compete in the series and over seas in the future.

Danielle's performances continue to prove that motor sport is not just for the female spectators but they are also serious competitors on the track. Danielle has gained a huge fan base and is certain to be a crowd favourite in years to come.