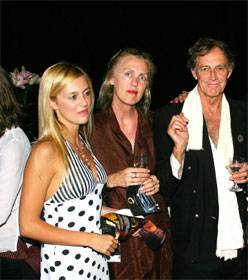 As public education costs flair, more students are opting for private education
20 January 2005: Australian university placements have been announced this week, and if you didn't win a place in the sun, private education institutions are offering specialised and comparatively affordable vocational options for aspiring students.

According to the Australian Council for Private Education and Training, the number of students enrolled in private colleges in Australia has increased from 23,000 in 1995 to more than 200,000 in 2004.

Private tertiary education was previously considered to be an elitist option, now with the Federal Government's announcement of a HECS hike of up to 25%, the benefits of private education far outweigh the costs in comparison.

Two private education providers in Sydney, Nature Care College in St Leonards and Sydney Film School in Waterloo have found that students are enrolling in their private courses for a variety of reasons including; specialisation in niche areas of training and knowledge and the advantages of practical and theoretical industry training.

"Nature Care College has a 31 year history specialising in natural therapy education," said Rodney Brennan, Director. "We are widely recognised and respected in the industry and the community as offering the most comprehensive, credible and cutting edge courses in natural therapies."

Another reason that students are choosing to enrol in private colleges is that they are also able to offer personalised learning environments and offer assistance in industry placements after graduation.

"As a new film education provider, Sydney Film School offers the film industry trained and talented professionals," said Ben Ferris, Executive Director of Sydney Film School, "Our team of teachers and administrators have extensive filmmaking and industry experience which is an amazing benefit to our filmmakers in training."

Students of private colleges can also profit from the flexible entry requirements of Nature Care College and Sydney Film School. Course placements are based on impressionable interviews, as opposed to a high UAI.

This year, the Australian Government Department of Education Science and Training introduced FEE-HELP, a loan program for students in full fee paying vocational courses. Students are eligible to apply for up to $50,000 to cover tuition fees. Working similarly to the HECS scheme, the FEE-HELP loan will incur a 20% loan fee and can be repaid via the Australian Taxation Office once a graduate's income reaches $35,000 a year. Both Nature Care College and Sydney Film School will offer FEE-HELP to their students in the near future.

Increased student enrolments in private colleges are reflected in these institutions' preliminary enrolment figures for 2005. Nature Care College's new degree programs (Bachelor of Naturopathy, Bachelor of Homoeopathy and Bachelor of Herbal Medicine) have had significant enrolments to date. Semester 1 enrolments for Nature Care College close 14th February 2005. To find out more visit www.naturecare.com.au or call 02 9438 3333.

Enrolments in Sydney Film School's AQTF accredited Certificate IV course in Screen (16mm Film & Digital Video Production), Diploma in Film & Digital Production and short courses have also been well received by aspiring film students. Semester 1 enrolments for Sydney Film School close 18th February 2005. To find out more visit www.sydneyfilmschool.com or call 02 9698 2244.