Strikingly Beautiful Rising Actress, Dancer and Philanthropist.
Strikingly beautiful rising actress, dancer and philanthropist, Chandler Kinney, stars on FOX's People's Choice nominated hit series Lethal Weapon as Riana Murtaguh, the daughter of LAPD detective Roger Murtaugh, portrayed by Damon Wayans. This action-packed drama series, based on the hit movie franchise of the same name is set to return for season two in Australia.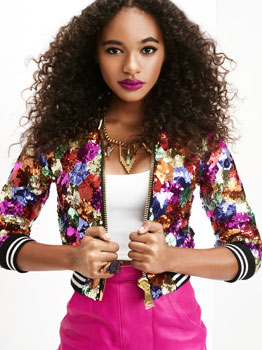 Born in Sacramento, CA, Chandler discovered a passion for the entertainment industry early on. As an avid dancer since the age of three, it became clear that Chandler was a destined performer, and her family relocated to Los Angeles so that she could pursuing her dreams of performing. Chandler joined the Debbie Allen Dance Company and Los Angeles Ballet Academy, practicing forms in ballet, jazz, contemporary, pointe nd hip-hop. She fell in love with acting when she was cast in Debbie Allen's stage musical Twist, starring in over 60 shows in Atlanta over the course of 3 months. While continuing to perfect her craft in acting classes, Chandler quickly landed her first national commercial for GAP's Talk to the Moose campaign. She has also made other commercial appearances including Jif Peanut Butter, KFC & State Farm Insurance alongside NBA star Chris Paul. Chandler went on to numerous guest starring roles on popular television shows including FX's American Horror Story- Asylum, Nickelodeon's Haunted Hathaways Disney's Girl Meets World and The CW's 90210. Chandler is also best known for her breakout role as Catherine Dillman on Amazon Prime Family's "Gortimer Gibbons Life on Normal Street."


When Chandler is not in front of the camera, she's dedicated to improving her strengths and
talents. She currently holds black belt in Tae Kwon Do and stays active through challenging workouts and dance. She lends her time and talents to Los Angeles and Midwestern charities by donating cozy hand-made blankets for foster children each winter. Chandler continually sponsors a child through the non-profit organization, Compassion International, and regularly writes back and forth with a child in Ethiopia. If that wasn't enough, Chandler founded her own non-profit organisation that gives back to children in need in the community.



Interview with Chandler Kinney
Question: What inspired you to get involved with Lethal Weapon?

Chandler Kinney: To be honest I hadn't seen the films when I first auditioned for the project as they were released before I was even born! When I read the role of Riana, I was immediately attracted to her clever wittiness and attitude. I had never had the opportunity to portray a fierce, outspoken character before, so I was excited at the chance of a new experience.


Question: How are you similar to your character of Riana Murtaguh?

Chandler Kinney: Both Riana and I are very passionate souls. We stand up for what we believe in with confidence and avidity. Also like myself, Riana can be quite stubborn. We are outgoing and always up for a challenge.


Question: What's the best part about being on set for Lethal Weapon?

Chandler Kinney: It's quite difficult to pinpoint the best part of my job. Being able to have a safe space to learn and grow is something I'm very grateful for. Although we move at a fast pace, our set is an environment that encourages creativity and artistry. Each scene that is filmed is approached with an open mind; every director we have has their vision, but still gives the actors the freedom to play and take risks within the given circumstances. This collaborative process isn't something that happens on every set, so we're really lucky. I deeply appreciate this specific element of our set as it has allowed me to experiment as an actor. It is through experience and experimentation that we grow from.


Question: What's it like working with Damon Wayans?

Chandler Kinney: Working with Damon really is a blessing. I've learned so much from him. He has had a tremendous amount of experience not only in the entertainment industry, but in life as well. I enjoy just listening to his stories and watching how he operates in front of camera, it's incredible. He has become someone whom I trust very much, I have a lot of love and respect for him.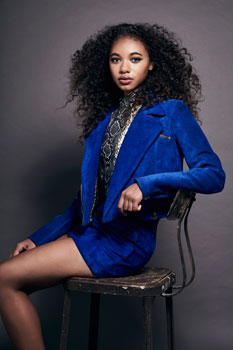 Question: Can you share your highlight for the year, with us?

Chandler Kinney: I think my highlight from this year has really been filming Lethal Weapon. The
show has given me so many wonderful opportunities and relationships that I am forever thankful for. In addition, this show has affected me personally, as well as so many different aspects of my life. I honestly don't know what my life would be like without Lethal Weapon.


Question: What's a typical day like, for you?

Chandler Kinney: There truly isn't a typical day for me! Somedays, I'm filming Lethal Weapon from morning to evening. Other days are filled with meetings, press, events, or errands. I rarely ever have days that I get to stay home and relax. I'm on the go and running from place to place most of the time! Honestly, I do enjoy my busy life and wouldn't trade it for anything.


Question: What inspired your passion for acting?

Chandler Kinney: I believe my love and deep appreciation for art, entertainment, and human interaction is what fueled my passion for acting (and still does!). I made the transition into acting from the dance world. I started dancing at 3 years old, and the feeling I had while performing was like no other. I enjoy making others feel different emotions through art, and that exactly is why I was able to move so easily into acting.


Question: How do you feel when you see yourself on the screen?

Chandler Kinney: Watching myself on screen isn't my favorite thing just because I'm a perfectionist and can be overly critical of my work. With that being said, whenever I watch my performance, I learn so much more about myself, my character, and acting in general. From filming to watching my work, it really is one big learning process, and I learn something new every single day.

Question: Can you tell us about the charities you volunteer your time to?

Chandler Kinney: I have had the amazing opportunity to create my own organisation called Chandler's Friends. We have held several events and have been involved in many different projects to better the lives of children who are at a disadvantage. I am also involved with Compassion International, an organization that connects a sponsor with a child in need from a third-world country. I sponsor a young girl in Ethiopia whom I write to and help support so she can receive health care, education, and other general needs. In addition, I am a big fan and supporter of ASPCA, which does great work to help prevent animal cruelty.



Question: How can we support your own non-profit organisation?

Chandler Kinney: You can follow @Chandlers_Friends on Instagram to stay updated on the work we're doing and ways to help out in the future. Thank you so much!


Question: What's next for you?

Chandler Kinney: As of now, I'm mostly focused on Season 2 of Lethal Weapon, but I love to keep busy so I assure you, more fun stuff will be coming soon!


Interview by Brooke Hunter
Photo Credit: Benjo Arwas