International Breakthrough Artist of the Year
Stunningly beautiful, multilingual, Dominican Republic-born actress Katherine Castro is making waves with her diverse background, talent, and passion for her career. After her feature on NBC Latino's Top 10 Standout Latinos at Sundance, Castro received the Hollywood FAME award for 'International Breakthrough Artist of the Year' and an award from the Women in Film Association in the Dominican Republic. Castro's empowering journey from TV host and actress to producer has made her Hollywood's next most lovable Latina.

Katherine stars in the highly anticipated new romantic-drama Someday opposite Chris Santos ("The Girlfriend Experience") helmed by J.S Mayank. The film follows two strangers, Melody and Adam, who meet on a 14-hour flight from Sydney to LA; Adam, (Santos), is a world-famous composer but Melody, (Castro), doesn't recognise her flight companion seated next to her. Along the way, they pour their hearts out - a connection made that is more beautiful, precisely because of its simple, fleeting nature.

Growing up in Santo Domingo, Dominican Republic, Castro always proved she was a performer. She took ballet, tap, and jazz lessons as a child to improve balance and quickly became one of the school's most outstanding dancers. Her passion for dance and determination led her to win various dance competitions. At age 17, Castro's natural on-camera talent landed her a spot on 'El Sotano," a daily national variety show. In addition, Katherine hosted 'Musica en ¼ de Hora for Show Del Mediodia' and 'A MIL" where she worked opposite one of the most beloved Dominican TV personalities, the late Freddy Beras Goico. Past film roles include 'El Gallo' filmed in Santo Domingo and directed by the highly acclaimed actor Juan Fernandez de Alarcon ('The Collector', 'A Man Apart'),'Silent Cry' filmed in San Francisco and Paris, the sci-fi thriller 'Subject 7' and the crime thriller 'Pulse of the Indigo.' Castro produced and played a female sniper assassin in "The Social Contract," landed a supporting role in the television pilot "Kidnap Radio," and starred as 'Isabel' in the 2016 film "American Violence."


As a woman of many accomplishments, Castro holds a degree in Journalism and speaks French, Portuguese, Spanish, and Arabic. Castro spent 1 year at the NY Film Academy and has worked with premier acting coach Aaron Speiser (Will Smith, J-Lo) and singing coach Carol D' Andrea (Broadway's West Side Story).

Katherine Castro currently resides in Los Angeles. In order to maintain her great shape, Castro loves to tango and enjoys practicing Pilates. She continues to master Brazilian Martial Arts, Aerial Silk-Trapeze, a
nd has pursued hip-hop, extreme martial arts, and acrobatic gymnastics with Osei "Axe" Vita (trainer for Willow and Jaden Smith, Taylor Lautner). When she's not cooking for friends and family, Castro tries new vegetarian dishes. She lends her time and talents to non-profit organizations like "Artists for Peace and Justice," which supports children in Haiti. She is actively involved with PETA and supports Step Up, which inspires young girls to fulfill their potential, the Michael Hoefflin Foundation, Make a Film Foundation and St. Jude Children's Research Hospital.




Interview with Katherine Castro
Question: How does it feel to win the award for International Breakthrough Artist of the Year?

Katherine Castro: It was a surreal and very humbling experience. For me, I'm just doing what I love. What I'm so fiercely passionate about since I was 2 years old. So it's never been about the awards and accolades, it's always been about fulfilling my soul's desire and purpose. So when I received the award it was quite a surprise! It was wonderful and I'm eternally grateful for it!


Question: Can you tell us about Someday?

Katherine Castro: Someday is a romantic drama based on a true story just told in a different and perhaps more artistic way. The film follows two strangers who meet on a 14-hr flight from Sydney to Los Angeles. Adam is a world-famous composer, but Melody doesn't recognize her flight companion seated next to her. Along the way they pour their hearts out, forging a connection that is more beautiful, precisely because of its simple, fleeting nature


Question: What attracted you to the script of Someday?

Katherine Castro: Well, Someday is based on something that happened to me so it's very personal. It is my baby. It all came together in such an unexpected and almost magical way. Because I travel a lot, I had always wanted to make a movie about two strangers meeting on a plane and falling in love. Having an 'affair" that would last the length of the flight. Will they see each other again? Will they see each other again and be in a relationship? We don't know….Then I had the experience myself! I knew it was a story that needed to be told and that anyone could relate to it. I posted on my social media if anyone knew a writer, and lucky me, J S Mayank (my director) saw the post and reached out to me. J S and I met some years ago. I was cast on a pilot he was directing. I fell in love with his work and we kept running into each other and we both wanted to work together again, so when he reached out I knew he would be perfect! We spoke about the experience and what I wanted to convey in the story. What he came back with was beyond my expectations. The most beautiful story, but then again, I'm not surprised. He's one of the most talented writers I know!


Question: What was it like working with Chris Santos?

Katherine Castro: It was wonderful working with Chris. He's such a dedicated actor and so committed and passionate about his craft. The beauty of working with Chris is that we were complete strangers and we had to learn how to dance Tango like professionals in two months. So during this time, we went from being strangers, to getting comfortable with being very close physically to one another for the tango. You have nowhere to hide. Tango is like 'making love." To dance like you are so passionately in love with a stranger is not the easiest thing. We went through so much together, frustrations, me almost fainting, fighting with each other, laughing, and rehearsing the Tango over and over again until we got it right. So by the time cameras began rolling, we already had a bond that was real, and this translated so beautifully on camera. Also, he's an incredibly generous and supportive actor. That's very rare. He's the epitome of a leading man. The ladies are in for a treat with Santos!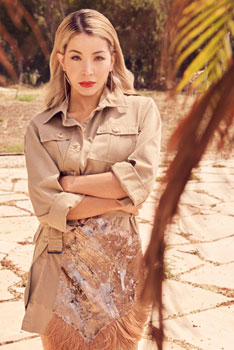 Question: How are you similar to your character of Melody?

Katherine Castro: J S did a great job in making us quite different, but our similitude lies in that we are both very realistic, but without being jaded. I think we both find the positives of every life experience even if at the moment it's happening, it doesn't feel like the best. There is always something positive that will come out of it. You might not realize right away, mind you, but you will see the reason behind why something happened the way that it did later on, guaranteed.


Question: What was the best thing about being on set for Someday?

Katherine Castro: The best part was being on set with everyone. The energy on set was the best. Everyone was happy to be on set, to be part of the movie, crew and actors. Everyone was always smiling and you could tell and feel that every single person that was there really wanted to be there. And making new friends. That's priceless!


Question: What did you learn about yourself whilst portraying Melody?

Katherine Castro: That I'm stronger than I know and that I can envision something and make it happen. Nothing can stop me but myself.


Question: Did you experience any difficulties whilst filming Someday?

Katherine Castro: Not while filming, but literally up until the day before filming. Obstacles kept presenting themselves, as they always will when making a movie. But we handled it. I was surrounded with an incredible and supportive team. We took care of every single thing that was thrown at us, and just when we thought that nothing else could possibly happen, it did, and we handled it. Sometimes working under pressure brings out the best in all of us. Welcome to the world of independent filmmaking!


Question: What inspired your passion for acting?

Katherine Castro: I always knew I wanted to act because since I was 1 year old (yes I remember when I was that age.) I was always the 'entertainer" of my family. Entertaining and dancing for the family guests. I felt wonderful to see them smile. To see that I had a positive effect on them. Then I started dancing and performing on stage at 5, and when you are performing you become a different character with each routine, and each time I saw people's response. On one side, I was the happiest when I was performing, pure ecstasy. On top of that, to know that what I was doing could make people feel something beautiful or positive, made it that much more inspiring to me.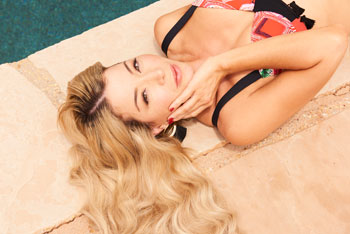 Question: What's a typical day like, for you?

Katherine Castro: There's no such thing as a typical day. You never know where you are going to be the next day. But when I'm in LA for more than 4 days, those days usually include my Pilates work out, going to the gym for some cardio and jumping on my trampoline. Responding to lots of emails local and international. Always reading a script, lots of scripts. Projects get sent over to me to see if I'm interested and recently I've discovered what has become two of my favorite things that compliment my Pilates work out and cardio at the gym: Infra-red sauna and Cryo Therapy at Tonic Boutique. It's my favorite spot right now. I especially love it after traveling. It resets you.


Question: What's next, for you?

Katherine Castro: We have started submitting Someday to festivals. We are very excited about it. I'm working on another project with J S, one I'm very much looking forward to. It's the complete opposite of Someday but with a very strong message. I'm booked on a feature film in the DR [Dominican Republic] next year, and a couple of other things here in LA. I'm very excited about it all!


Interview by Brooke Hunter
Images: Stephanie Girard