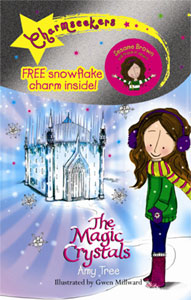 Charmseekers: The Magic Crystal
This Charmseeker Sesame Brown's seventh quest for the remaining seven magical charm belonging to the Queen of Karisma.

Charmseekers: The Magic Crystal is the seventh book in the series.

Ses and Maddy are skating when they tumble into the Ice Country. Zorgan is on their trail sending snowbeats and blizzards to make their task even more difficult. The race is on to find the seventh missing charm.

Charmseekers are charmingly written stories with appealing characters and a beautifully imagined world with its own language- plus a silver charm to add to your bracelet with each book! Collect them all- heart, horseshoe, shell, dolphin, moon, lantern, four leaf clover, snowflake, star, coin, cat and key- and complete the bracelet.

Amy Tree lives in Cornwall with her artist husband. She has two grown up daughters. Gwen Millward is a talented young illustrator whose picture book, The Bog Baby (Puffin), recently won the Booktrust EarlyYears Award.

Charmseekers: The Magic Crystal
Hachette Children's Books
Author: Amy Tree
ISBN: 9781842556559
Price: $12.99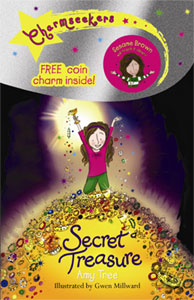 Charmseekers: The Secret Treasure
This is Charmseeker Sesame Brown's eighth quest for the magical lucky coin charm belonging to the Queen of Karisma.

The Secret Treasure is the eighth book in the Charmseeker series.

In Seasame Brown's quest to find the eighth magical charm- a silver coin- she must travel deep underground into passageways where dragons once slept.

Charmseekers: The Secret Treasure
Hachette Children's Books
Amy Tree lives in Cornwall with her artist husband. She has two grown up daughters. Gwen Millward is a talented young illustrator whose picture book, The Bog Baby (Puffin), recently won the Booktrust EarlyYears Award.

ISBN: 978144400009
Price: $12.29


Review: Charmseekers are totally addicitive. Exciting stories, with an added bonus to keep young readers entertained with a sensational charm bracelet with exciting new charms in each book.