Christina Applegate Vacation
Cast: Ed Helms, Chris Hemsworth, Leslie Mann, Chevy Chase, Christina Applegate
Directors: John Francis Daley, Jonathan M. Goldstein
Genre: Adventure, Comedy
Rated: MA
Running Time: 99 minutes

Synopsis: Rusty Griswold takes his own family on a road trip to "Walley World" in order to spice things up with his wife and reconnect with his sons.

Vacation
Release Date: August 20th, 2015


About The Production
RUSTY: Guys, I have exciting news.
The four of us are going on a trip.
DEBBIE: To Paris?!!
RUSTY: Much better. Walley World!

Ah, the summer. Those idyllic months between Memorial Day and Labor Day when the kids are out of school and mom and dad can finally spend some precious time with them, all together. Everybody has fond memories of those family vacations, some enjoyable, some…not so much. Like weddings, reunions or funerals, they never go quite the way they are planned. And sometimes they go wrong. Horribly…hysterically…wrong.

Famous for their own recreational mishaps, the Griswolds, the First Family of vacations, are on the road again in 'Vacation." This time, Rusty Griswold is all grown up and in the driver's seat and, along with his wife and kids, is pushing the envelope more than ever before.

The Griswolds first hit the screen over three decades ago in the classic comedy 'National Lampoon's Vacation," giving audiences lasting memories of the disasters that can befall a family on a cross-country road trip. Getting to Walley World, America's favorite adventure destination, was a hilarious hassle for Clark Griswold, his wife, Ellen, and their bickering kids, Rusty and Audrey. It was also an unforgettable trip for filmgoers around the world and became a major box office success. Over the years, the Griswolds took us on a 'European Vacation," a 'Vegas Vacation," and even shared a 'Christmas Vacation" with us, becoming part of our cultural fabric.

And now they're back. A little older, not so wiser. Ed Helms stars as Rusty Griswold, taking the vacation torch from his father, Clark, determined to get his own family to the now bigger, better Walley World theme park and getting into even more outrageous situations along the way.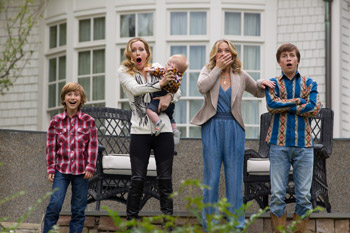 'Horrible Bosses" scribes Jonathan Goldstein and John Francis Daley wrote 'Vacation," which also marks their feature film directorial debut. Both are die-hard fans of the film franchise, particularly the one that launched it.

'We love -National Lampoon's Vacation'; it's legendary," Jonathan Goldstein attests. 'We wanted our new take on -Vacation' to work for people who know and love the original, but also for those who may not be familiar with it."

John Francis Daley agrees. 'It was important for the new movie to be able to stand on its own while still paying respects to its classic predecessor."

'The script was so damn funny, contemporary, totally fresh and original, but still in keeping with the comedic values of the original movie," Ed Helms states, thrilled to join the family. 'It was more than an exciting creative opportunity. As far as I'm concerned Chevy Chase and Beverly D'Angelo are comedy royalty, and it's a privilege to exist not only in the same universe that they brought to life as the Griswolds, but to actually be in this movie with them."

Christina Applegate stars as Debbie Griswold, the popular sorority girl who married Rusty.

Christina Applegate was also enthusiastic about continuing the 'Vacation" legacy. 'I'm a huge fan of the Griswolds and their saga. We all came on board because of what Beverly and Chevy created," says Christina Applegate. She was also drawn to what she describes as the directors' 'rapier wit.

It's sharp and smart and yet they are able to write heart. It can't all be snark; there has to be an emotional thread and it was there, woven into the crazy comedy and mishaps. That was a big plus for me."

Jonathan Goldstein and John Francis Daley's instincts convinced Chevy Chase and Beverly D'Angelo to slip into their familiar characters once again. Having the ones who started it all bless 'Vacation" with their presence was worth the price of admission for everyone involved. 'It was a dream come true. We were fan-boying the entire time we were directing," laughs Jonathan Goldstein.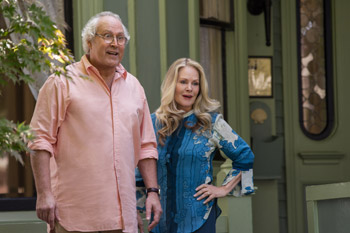 Chase, who returns as one of the world's best known"and wackiest"on-screen fathers, now a grandfather, reflects, 'There's something about the optimism in the Griswolds that is relatable. Regardless of everything going wrong that can go wrong, they're going to get to Walley World or wherever, and that's where everything's going to go right. Of course, it doesn't, but that's what it's all about, wanting it to, and it's those little comic moments along the way that really make it worth the trip. I loved the script and Jonathan Goldstein and John Francis Daley's take and was flattered to be invited along," he continues. 'I think this -Vacation' will make people laugh a lot."

D'Angelo, who returns as Ellen Griwsold, recalls, 'It became a kind of phenomenon that has never really gone away. I just think that there's something about Clark Griswold that struck a familiar chord in people, to make a dream come true against all odds. Somehow I think the Griswold family vacations embody that.

She continues, 'When I got the final script, I just started to smile by page three. I called Chevy and said, -They nailed it. It's funny, really, funny.' It's also a great team, the directors, the producers, Ed Helms and the lovely Christina Applegate, it's just an amazing cast. It's great to be part of this." Producers David Dobkin and Chris Bender had joined the conversation to revisit a franchise they also regard with great affection and were excited about Jonathan Goldstein and John Francis Daley's reverence for the original.

'Having worked with Jonathan Goldstein and John Francis Daley as comedy writers before, I knew their voice and their humor was a great match for the Griswold world," adds Chris Bender, who says he's seen the films more times than he can count. 'The script exceeded my expectations, capturing their specific comedic tone. Directing it was a must."

David Dobkin relates, 'Few comedies stand the test of time the way that film does. And the bar is set very high. If it wasn't for the extraordinary screenplay that Jonathan Goldstein and John Francis Daley wrote, the new -Vacation' never would have happened. It was clear that they had the vision to take it all the way"and they delivered as directors too, big time, like seasoned pros."

Preserving the beloved Griswold lore, Jonathan Goldstein and John Francis Daley made sure the same prone-to-mishaps Griswold DNA is steering the comedy wheel. 'Rusty has inherited that family curse of disaster following them on holiday," explains John Francis Daley. 'He's also stepped into his father's shoes, with Clark's unwavering resolve to get there and have fun, whatever it takes, dammit."

Rounding out the cast are Skyler Gisondo and Steele Stebbins as Rusty's sons, James and Kevin; Chris Hemsworth in the role of Stone Crandall, Rusty's irritatingly successful brother-in-law; and Leslie Mann ('The Other Woman") as Stone's wife, Rusty's sister, Audrey. Following another 'Vacation" tradition, a wealth of memorable characters pop up on the journey, and a host of actors signed on for the cameos, including Ron Livingston, Keegan-Michael Key, Regina Hall, Charlie Day, Michael Peña, Kaitlin Olson, Norman Reedus, Sports Illustrated swimwear model Hannah Davis, and Colin Hanks to name a few.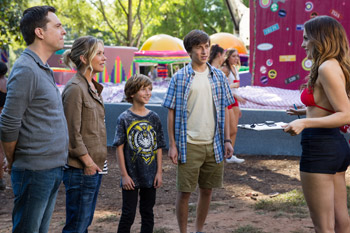 'I can hardly believe we got all these actors to come play with us," says John Francis Daley. 'We wanted to do the Griswolds justice and we really had an amazing cast to do just that."

'It's like being given the keys to your dad's car," says Jonathan Goldstein. 'It's exciting to take it out for a whirl."

Speaking of cars, Clark's Wagon Queen Family Truckster has some shiny new competition. There's a brand new ride for the Griswolds on the trip. The Tartan Prancer, a wildly fictional minivan with more bells and whistles"and confounding buttons"than Rusty bargains for when he rents it.

Buckle up. It's going to be a wild ride…

RUSTY GRISWOLD: I just thought we could sing Seal together, like normal families do.

Rusty may have made it to Europe when he was a teenager, but now his air travel only takes him between South Bend and Chicago, piloting an 18-minute flight each day on a low rent airline. But who needs a snappier uniform or hot flight attendants when you have a perfect suburban life with your wife and kids happily waiting for you at the end of every day? And who needs Paris when your family loves your yearly vacation destination to a cabin in Michigan, where they have a blast, just like the family vacations you had when you were a kid?

That eternal hope is a Griswold trait and was the springboard for creating a whole new grown up Rusty. Daley observes, 'We tried to imbue him with Clark's dogged positive outlook, but there's a difference too. Rusty has his own endearing qualities, including a real innocence as a dad who finds himself going up the proverbial creek. He doesn't go to the same dark places Clark might go."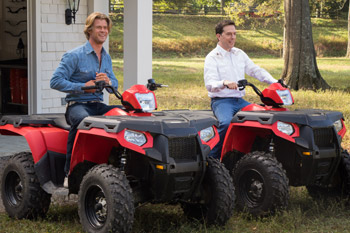 Jonathan Goldstein adds, 'Rusty's rich and humorous family history is layered in there, but it was cool to pretty much be able to write him how we imagined him best as an adult."

And everyone agreed Ed Helms was the best choice to pull off that transition and take the Griswolds into the 21st century. 'In creating a successor to Clark and Ellen's road trips, we knew Ed Helms was perfect to take on the mantle. In the sequence with Chevy and Ed, you believe they are truly father and son, Rusty having inherited that famous Griswold optimism," says Chris Bender.

Chase acknowledges, 'I loved Ed's Rusty and how much he's like Clark in many ways. Ed Helms was terrific and we had a lot of fun."

Helms immediately responded to the character, intrigued that 'Vacation" wasn't a re-make, but more of a continuation. 'It's an honor to step into the role," he says. 'I love that Rusty is now the dad. I was super psyched to play that because, although so many great actors portrayed him as a teen, the adult Rusty has never existed before. I looked at this character as a fully formed human being who's well past his teenage years. I think, realistically, adults are different than the teenage versions of ourselves. So it was exciting to have a clean slate going in."

David Dobkin attests, 'Ed Helms can move seamlessly between the emotional work and the comedy and always knows where the sweet spot of the scene is."

Although he had room to play, Rusty is definitely his father's son.

'The apple has not fallen far from the tree," affirms Ed Helms. 'He isn't striving for greatness, but he's a very earnest and enthusiastic dad. He's willing to fight to make it right when things go wrong and to make sure the family has fun in the face of ridiculous odds. It doesn't even matter if they're actually having fun, as long as they're just smiling and saying that they are. That's almost enough for Rusty and I think it's something he inherited from Clark Griswold"there's also a very unhealthy, but amusing, amount of denial in Rusty."

Jonathan Goldstein observes, 'Rusty has this idea that his family is a lot more functional than it actually is. He thinks he saves the day every day that he comes home and there's a fight going on between his kids. He thinks his wife is as happy as the day they got married."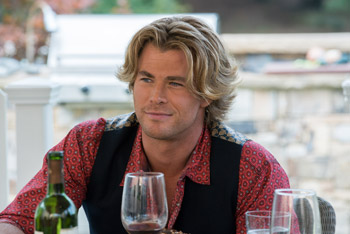 In fact, the kids don't really look up to him. And his wife is not so happy.

Describing the lopsided marital ties, Ed Helms offers, 'Debbie's a huge win for Rusty, to have scored such a remarkable woman. It's pretty clear that Rusty probably fell in love and popped the question pretty fast, because he felt at some level like she was out of his league and might disappear, so he had to lock it up."

Christina Applegate had a great time as Ed Helm's on-screen better half. 'It was impossible not to get swallowed up in Ed Helm's portrayal of Rusty; that childlike innocence and joy was infectious, and it was wonderful to watch. Ed Helms really kept us afloat, both our fictional characters and as actors. He's wonderful; he set the tone for us and we were all game for anything."

'Once we started shooting, Christina Applegate and Ed Helms had that chemistry you hope for. They just clicked," recalls Chris Bender. 'We knew we had something special."

Ed Helms says of his co-star, 'Christina Applegate's one of the most lovable human beings I've ever come across. She's the perfect Debbie and brought a great dynamic to Rusty and Debbie's relationship. It was such a wonderful process with Christina Applegate, a real mutual effort to get to the laugh. She's a pro, her instincts are dialed in and she knows how to make a moment funny that maybe didn't inherently scream comedy."

Before Rusty, Debbie went to college, got a Masters, had plans…and was even a bit of a wild child. Then she got married and had kids and things changed. Christina Applegate offers, 'She probably needed a Rusty, he's grounded. But even if you're happy and comfortable, there comes a time when you're watching your kids grow and they don't need you as much as they used to, and you want you back. That's where Debbie is. I like the fact that she wasn't written like the typical, supportive wife. I love that she's got spunk and she's got a mouth on her and she has an opinion. You know she's not just going along for the ride. She's her own person."

She also has a secret that pre-dates Rusty. And it's going to blow Rusty's mind.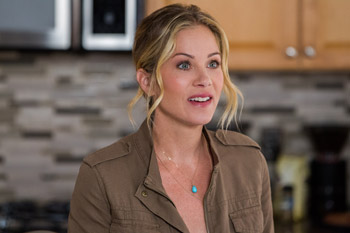 'I can't say enough good things about Christina Applegate. She just brings it," Goldstein recalls. 'At first, we didn't really know what to expect; neither of us had met her before and she was very shy and soft spoken and it was unclear how she would portray Debbie. Then we had our first table read and all of a sudden she transformed into this crazy, lively character. We would throw her lines and she'd make everything work."

While Rusty is flying planes, blissfully ignorant about the state of his family, Clark and Ellen Griswold are now running a bed and breakfast in San Francisco. Chevy Chase and Beverly D'Angelo were happy to play their infamous on-screen duo again.

'There's nobody like Clark. He's still a nut," Chevy Chase admits. 'Clark's a mediocre guy who would like to think he's better than that. He's a character that I can fall right into, but I wouldn't do it without Beverly, of course. She's like a second wife anyway, she comes over all the time and bothers my wife. And bothers me and I bother her. There's a lot of bothering," he laughs.

'We had chemistry from the first moment we met, a weird and funny connection that let us slip so easily into the characters of Clark and Ellen," Beverly D'Angelo agrees. 'I don't know how it happens, it just does. We get each other, or at least I get him," she grins. 'And it was great to see that Christina Applegate and Ed Helms have that undefinable connection too"their own magic in the Griswold world."

Christina Applegate shares, 'I'm a huge Beverly D'Angelo fan. I wanted to be Beverly D'Angelo from the time I saw her in 'Hair" when I was a little girl. And then, of course, I grew up watching Chevy Chase and everything that he's ever done. So to be able to be in a dinner scene with the two of them was just one of my greatest joys. It was pretty cool."

'Chevy Chase has been just a profound influence on my entire life," says Ed Helms. 'I do what I do in part because of Chevy Chase, so to have him and Beverly D'Angelo there was a thrill and a huge validation of the whole project for me."

Whereas Rusty is a regional pilot at a no-name airline, his brother-in-law, Stone Crandall, is a popular on-air forecaster who has done very well and is on the cusp of even more success, with the ranch and cattle and man toys to prove it. And as the trip spirals out of control, Rusty and his family find themselves on his doorstep.

To find the perfect man that is Stone Crandall, the filmmakers looked to the gods, or at least one of them. Chris Hemsworth, who has notably saved the world as the popular mythical figure Thor, was excited to come on board. 'I grew up on the -Vacation' films like most people my age, so I was all in," says Chris Hemsworth. 'But this was also an opportunity to do something different. I loved the script and the character and the cast involved. It was a no-brainer. I knew it would be a blast."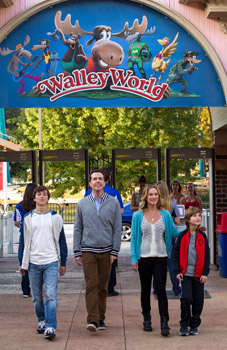 Chris Hemsworth describes his character as 'a cheesy weatherman, a bit of a douche bag who has some old-fashioned views of the world. He gets away with a lot of the outrageous things he's saying and doing because he's charming and you kind of forgive him for it."

Although Chris Hemsworth is known as a dramatic actor, he was thrown into the comedy deep end with the rest of the veteran cast.

'He was astounding. Just so funny and likeable," remarks John Francis Daley. 'You know, you wanna hate a guy who's that handsome but we all developed man crushes and just wanted to hang around him."

Chris Hemsworth describes Stone's relationship with his wife, Audrey, as 'hugely sexual, I believe. It's probably the only thing that they have in common or agree upon."

That isn't all that is huge. Even bigger than his ego are his family jewels. Stone Crandall is distractingly, epicly endowed. Unfortunately, having his brother-in-law's natural perfection literally in his face only makes things worse for Rusty, who holds his own relationship up to Stone's as a measuring stick….which leads to one of the film's most outrageous scenes.

Leslie Mann plays Stone's wife, Rusty's adult sibling, Audrey. She had not only collaborated previously with David Dobkin but had known John Francis Daley since he was a teen actor on 'Freaks and Geeks."

John Francis Daley observes, 'Audrey sees the world through more realistic eyes than Rusty, yet, at the same time, she's completely in her own world. There are different levels of darkness going on in Audrey's head that Leslie was so amazing at portraying. It was awesome."

Skyler Gisondo and Steele Stebbins are the youngest additions to the Griswold family tree. Thousands of kids across the country and in Vancouver auditioned for the roles of Rusty and Debbie's kids, who couldn't be more different"or create more backseat drama. 'We were lucky to get two amazing young actors," says Jonathan Goldstein. 'They're crazy good."

Skyler Gisondo plays Rusty's oldest son, James. 'I've always been a movie fanatic, so I'd seen all the -Vacation' films and love the Griswolds," he says.

James may be older and a good deal taller but he never has the upper hand with his younger, louder, obnoxious brother. Skyler Gisondo relates, 'James is very bookish, and extremely awkward around girls. His younger brother, who's way shorter than him and probably close to 100 pounds lighter, takes total advantage of him."

Skyler Gisondo admits being the youngest in his family he got away with some of that when he was a kid. 'I was very familiar with both sides of the situation," he comments.

Steele Stebbins plays Kevin, the younger sibling. 'It's amazing, everyone knows who the Griswolds are; everyone has seen the -Vacation' movies, including me. The script also made me laugh out loud, plus the cast was pretty cool," he says. Steele Stebbins' small stature next to James is not the only thing that makes the character outrageous. 'Kevin cusses…a lot. He pushes his older brother around and just thrashes him for everything. James is sensitive; obviously, Kevin is not. It's fun to play a jerk," Steele Stebbins grins.

'The only way that Kevin can get away with saying some of the things that he says in the movie is if he's also really likable. And that is Steele Stebbins," says John Francis Daley.

Day in and day out, Kevin harasses James and the clash only fuels the chaos of the already chaotic road trip. 'James probably has more of Rusty in him than Debbie. Kevin is a meanie with a potty mouth, and has more of Debbie in him," Christina Applegate observes.

Try as they might, Rusty and Debbie can't keep the peace. But the trip definitely has some unexpected and hysterical growing pains in store for both boys. 'Skyler Gisondo and Steele Stebbins really made Kevin and James' relationship," acknowledges Jonathan Goldstein. 'And, believe me, some pretty big surprises await both Griswold boys."

'Skyler Gisondo and Steele Stebbins are smart, professional, astounding, talented human beings and they lit up my day. I'm glad I got to work with them," Christina Applegate shares.

Skyler Gisondo and Steele Stebbins bonded with their screen parents immediately. It wasn't unusual for Ed Helms to make silly faces at them when they were doing close-ups.

Ed Helms reveals, 'Christina Applegate and I also became weirdly overprotective. These kids were just magic. They are sweet, smart, poised, and incredibly good actors; they're like little genius comedy robots. Boom, they do it and they do it funnier than you thought it was going to be. It was such a joy to work with them."

'They really melded like a family. They are the Griswolds," says David Dobkin.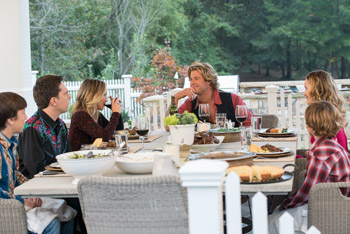 In all these years of taking his family to the same cabin in Cheboygan,"or Cheboring as Debbie and the kids have nicknamed it" Rusty has been blissfully unaware that they would rather be anywhere else. When he looks at their vacation pictures, however, he realizes Debbie is smiling a little less in each photo. Just as Rusty measures himself against his brother-in-law, he measures his family's happiness and his marriage by how much fun they have on vacation. There is only one solution: to surprise them with the same road trip that he went on 30 years ago with his mom and dad and Audrey…to Walley World. John Francis Daley offers, 'Rusty thinks if he can replicate that, all will be well with the Griswold family."

Unfortunately Rusty has a selective memory. He's blocked out all the terrible things that happened and only remembers the family bonding. 'That's Rusty's first mistake," says Jonathan Goldstein.

His second is renting the Tartan Prancer to get them there.

RUSTY: It's the Tartan Prancer. This baby is pretty sweet.
KEVIN: What do all the buttons do?
RUSTY: No clue. We'll figure it out.

One of the scene stealers of 'Vacation" is the Tartan Prancer. Filmmakers had a blast designing the fictional car for the famous Griswold family to take for a spin.

'We went through a lot of names for the Prancer," recalls Jonathan Goldstein. 'It was almost going to be the Squirt, I think. There were some pretty offensive ones." As they went down that conceptual road, the writers/directors' basic inspiration for the Tartan Prancer was a vehicle that is symmetrical"it looks like it has two front ends.

'It's absurd and ridiculous. You don't know if it's coming or going," laughs Jonathan Goldstein. 'Kind of like the Griswolds on a vacation," adds John Francis Daley.

They worked closely with production designer Barry Robison and the art department as well as David Dobkin and Chris Bender, and the rest of the film's creative team to work through numerous iterations of the Prancer until they had the perfect vacation vehicle.

The art department turned over the actual fabrication of the car to Dennis McCarthy and his team at Vehicle Effects. They sourced five 1995 Toyota Previas, and the transformation began. First, they sculpted front, back and side fiberglass molds that were then mounted on the Previas. Since the Previa is not a four door vehicle, a hunt began for four passenger side driver doors. After an extensive search, they were finally located in England and shipped to the U.S. The doors on both sides of the car were then converted to 'suicide" doors.

Sheet metal body siding was also added to eliminate the Previa body lines. Another clay mock-up was hand-formed to build a mold for the nose and tail fiberglass parts. Land Rover headlights were used on both the front and rear, and, in addition to the usual side mirrors, two inexplicable side mirrors"to reflect the road ahead"were installed. Because you never know when you will need those angles.

Wipers were also added on the back to mirror the front. Additionally, grills were created on both front and back which, when opened, reveal long cords with plugs for the hybrid engine. But this is no ordinary plug. One of the prongs is a corkscrew. Another perk: the very long cord is supposed to automatically retract.

The bells and whistles don't stop there.

How about those exterior cup holders? And then there's the door-slam injury protection, which Rusty demonstrates to his family"or tries to"before they get in the car.

Something that needs its own instruction manual is the Prancer's multi-function key fob which has icons on it that are so baffling Rusty has no clue how they correlate to actual functions on the vehicle. But he's pretty sure he won't hit the one that looks like a swastika. Apart from the obvious"a headlight, horn, open and closed locks, open hatch and plug"the more nonsensical choices include a rocket ship, sprinting rabbit, top hat, hubcap, leaf, and car swerving; the phrases 'Paç fat!" and 'Të dua"; the numbers 2 and 1; random letters NJ, dh, Ç, and ë; and three buttons with only dots. Oh, and a muffin. Let's just say Rusty might want to avoid pressing that one, too.

'We tried to make the buttons as random as possible. We thought of the first objects that popped into our heads. In a way, it's a glimpse into our subconscious," jokes John Francis Daley.

There are even more confounding buttons on the Prancer's interior. The ignition says shkoni, which actually means 'go" in Albanian. But that's as straightforward as it gets. Some correlate to the key fob. The rest are random icons, including a battery, lightning bolt, scissors, singing bird, bicycle, knife and fork set, and sailboat, to name a few. And then there are completely blank buttons. Good luck with that.

Jonathan Goldstein explains, 'We wanted all the icons and gauges to be as confusing and inscrutable as possible. One of my favourites is the temperature control knob that goes from blue to purple. Which is colder, blue or purple?"

Below is another panel with three large knobs that appear to turn to the right or left and, at first glance resemble airflow controls. A closer look reveals stick figures in a progression of action modes: throwing a punch, flailing backwards, half-kneeling, and falling backwards. Above these two panels is a multi-lingual GPS navigator. In the movie, what starts out as a lovely, calm female English voice becomes an angry Korean diatribe that the Griswolds can't translate.

The steering wheel and its console has its own set of mystery buttons: there are seven on the steering wheel, but only two are marked to indicate what they do: cruise control and coast control. On the console, the speedometer is flanked by two red warning lights as well as two fuel gauges on the left and water and RPM meters on the right. The Prancer has two gas tanks with one tiny glitch"as you press the accelerator, the speedometer isn't the only gauge that moves fast: the fuel gauge falls in sync.

And the icing on the cake"or muffin"is to the right of the GPS panel. In addition to AM radio, the Prancer has an actual CB radio which pops up out of a concealed bed of carpet in the dash. The art department supplied the design for the interior Tartan Prancer, which the vehicle special effects team built out. Jonathan Goldstein and John Francis Daley were very hands-on with all the interior details, including six ashtrays, front and rear cigarette lighters and the genuine cloth upholstery and interior color scheme. There's a little bit of everything: Stout corduroy headrests, Brentano vinyl and metallic vinyl dash, Brentano vinyl armrests, and a mixture of plain blue fabric trim with blue and tan diamond-patterned fabric for the front bucket seats and back bench seat.

The highlight is a driver seat that swivels, which could be entertaining…if you're in Park. It may, however, present a problem if you're on the freeway. To accomplish this in the movie, parts of the interior of the car were removed and the bench back seat was moved approximately one foot back. The special effects team inserted a motorized boat style seat and the real back of the driver's seat was separately attached to Ed Helms' back like a vest so when the motor was on it appeared that the entire driver's seat was moving around in a full circle.

Once the basic Prancers were built, other modifications were made by the special effects team to accomplish the practical shooting of the car stunts, like cutting out the bumper on the stunt Prancers and attaching a custom built rubber bumper to the cars with heavy duty magnets that they could disengage to drop the bumper.

One of the most complicated scenes involving the Prancer required the build of a massive rig that surrounded the Prancer so it could be rotated like a rotisserie. All of the actors were strapped inside the Prancer, which was inside the rotisserie rig and the vehicle was turned. This was shot green screen and items floating in the air around them were later added in post.

In fact, the actors spent a good deal of the shoot inside the car on a soundstage. Instead of 'that new car smell" the odor was more like gasoline. The actors were always getting stuck in the car. A door would jam or a handle would not work. The kids would have to climb over Helms and Applegate from the back to get out. Sometimes the cast had to crawl through the windshield. 'The Prancer is the gift that keeps on giving," Ed Helms quips.

'But it made us bond"or want to kill each other"just like the Griswolds," Christina Applegate laughs.

The rotisserie shot was done for a chase scene involving the Prancer darting in and out of traffic with a semi truck that seems to be following them from place to place. This is where Rusty channels his inner Vin Diesel. A third Prancer"a stock Previa that had wheels and tires to match the hero Prancer"was projected out of a ditch and on to the pavement. Ramps were built to jump the vehicle and visual effects were incorporated to track the body to later modify it digitally to look like the real Prancer. For another seminal scene involving pyrotechnics, the 'Burn Prancer," consisting of nothing but a shell, was used.

The Prancer's increasing decline as the Griswolds get into more and more scrapes along the way was art directed and then implemented by the film's transportation and special effects teams. Apart from the Prancer, Clark's good old Wagon Queen Family Truckster also makes an appearance. 'It felt like audiences would want to see a little of the first Griswoldmobile," says Jonathan Goldstein. 'I know we did."

Chevy Chase admits that upon being reunited with his old ride, 'I wet my pants when I saw it again. But the colour is still as hideous as I remember."

The Truckster used in the film belongs to a family in Georgia"actually named the Griswolds"who built a replica from the original 'Vacation" and took it on their own family vacation to all the spots across America the film family visited. They were thrilled to loan it to the filmmakers. The filmmakers admit that although they were glad to see the Truckster, if it came down to it, they would choose the Prancer for their own family vacation.

'If I had to pick, the Prancer's much roomier than the Truckster. More comfortable," says Jonathan Goldstein. 'Just don't press the rocket ship. Or the top hat…"

'…Or the rabbit. Or the muffin," adds Daley. 'In fact, don't press anything."

RUSTY: It was crazy to think I could make us closer by locking us in a car together for a week.
This trip has been a nightmare.
CLARK: That's what family vacations are. But you can't give up.
The journey sucks. It's what makes you appreciate the destination.

'Vacation" was shot primarily in and around Atlanta, Georgia, which happens to be Ed Helms' home town. 'It's a great city, I'm grateful to have grown up there," says Ed Helms. 'Being back evoked so many memories and really helped put me in the mindset of a family man."

To achieve the road trip look, a second unit shot the Griswolds' car making its way through the desert and past other national scenic landmarks.

Jonathan Goldstein and John Francis Daley collaborated with both production designer Barry Robison and director of photography Barry Peterson to create a palette that was bright and cheery at the outset, but as the Griswolds continue their trip, incorporated darker and more faded colours and surroundings to match the character's experiences.

Part of making the most out of each place was making the most out of the cameos that appear along the way. Jonathan Goldstein offers, 'I think it's interesting for an audience to see a recognisable face in a small role that doesn't necessarily show up again."

John Francis Daley adds," We figured we'd go for it and ask because it adds so much. It was like, wow, for us, that all these actors were willing to be a part of it."

To kick things off, Georgia World Congress Center in downtown Atlanta doubled for Midway International Airport, where a smarmy but cool pilot, played by Ron Livingston, bumps Rusty off a shuttle ride.

A private residence in a subdivision of Tucker, Georgia became Rusty's house. Its interior was the setting for a dinner party which included Keegan-Michael Key and Regina Hall as the Griswold's neighbors, who've been to Paris and don't hesitate to rub it in.

Once they're on the road, one of the highlights of the trip is a stop at the Grand Canyon for a Whitewater rafting trip. As luck would have it, the Griswolds are accompanied by an unhinged and unpredictable rafting guide, Chad, played by Charlie Day, for the perilous trip through the rapids. Along with signage, the production design team built a cabin on the grounds at the Bellwood Quarry for the Grand Canyon Whitewater rafting site. The rest of the Whitewater raft trip was filmed at the U.S. National Whitewater Center outside of Charlotte, North Carolina.

Another pit stop is the Wampum motel, consisting of large wigwams in a circle, with double beds inside. The fictional hotel was built on the soundstages at the Atlanta Film Studios in Hiram, Georgia. In the film, it is located at the Four Corners landmark in New Mexico, where Colorado, Utah, Arizona and New Mexico all converge. As Rusty's awareness that Debbie needs a change intensifies, he comes up with a risqué idea for the two of them at the site. Sneaking out of the wigwam in the middle of the night, Debbie and Rusty are in for a surprise, including over-caffeinated cops with rivalry issues from the four corner states: New Mexico represented by Michael Peña, Arizona by Kaitlin Olson, Colorado by Nick Kroll, and Utah by Tim Heidecker. The actors all enjoyed the ridiculous free-for-all that ensues.

Also constructed on the soundstages, the grungy Sleep -N Save Hotel is where Rusty is envisioning a romantic interlude to spice things up with Debbie. Unfortunately, the rooms have stained ceiling tiles, peeling wallpaper, cheap paintings and broken blinds, and what looks like bloodstains, along with mushrooms growing in the bathroom tub. Not exactly the environment to get in the mood. The hotel is also the setting for James' acoustic version of 'Summer Breeze" and his attempt to communicate with a cute girl he's seen before on the trip, played by Catherine Missal. Skyler Gisondo actually played the guitar and sang the vocals. Writer/director Jonathan Goldstein also appears as a guest who walks into a dicey talk between Rusty and James at the jacuzzi.

The impromptu visit to Debbie's former alma mater, Memphis State College, was shot at Twelve Oaks Bed and Breakfast in Covington, Georgia. When the Griswolds arrive, a benefit hosted by Tri-Pi, Debbie's sorority, is in progress. Contestants must drink a pitcher of beer and try to make it through an obstacle course with moving parts. The aptly named Tri-Pi Chug Run 'benefits Assburgers" as the sign on the porch of the sorority house proclaims. Debbie could successfully run it in 16 seconds flat when she was in college and is determined to do it again.

In the front yard, the production design team built the obstacle course for the Chug Run with moving parts that can slice and punch. Christina Applegate did her own stunts for the Chug Run.

A particularly gross mishap as Rusty and the kids make their way across the country is a stop at a natural spring which they rename Griswold Springs before they have all the facts. A below-ground plastic swimming pool ringed by greens was constructed and the water heated on a hillside near Atlanta's Bellwood Quarry.

Two different private homes in Atlanta stood in for Stone and Audrey's home in Texas, one for the rear of the house and a scene where Rusty tries, disastrously, to herd cattle, and one for the interior. A residence in Monroe, Georgia was used for the front of the sprawling ranch.

Shellmont Inn in midtown Atlanta doubled for Clark and Debbie's Ashbury Lane Bed and Breakfast in San Francisco, a green Victorian with yellow trim and picket fence, and booked with not-so-happy guests. Chase and D'Angelo filmed their scenes there over the span of one week, during which the cast and crew presented Chase with a cake for his 71st birthday, featuring Walley World's mascot, Marty the Moose.

Walley World has changed since Clark was there. Not only is the park bigger but Marty the Moose has come into the 21st century"holding a cell phone in a selfie pose. 'I did get a selfie with Marty the Moose," admits Ed Helms.

To recreate Walley World, the production shot at Six Flags Over Georgia in Austell for a week during off season, when it was closed. The production design team's challenge was creating a newer park at the older style park. Graphic designer Jack Finch came up with a visual design package which included the Velociraptor as a modern, exciting ride that can go 110 miles an hour and is 450 feet tall with a triple cork screw. Several rides were used to shoot the Velociraptor sequence, and the visual effects team, headed by Bruce Jones, added elements in post to enhance the size and scope of the ride. Writer/Director John Francis Daley makes a cameo appearance as a snotty Walley World employee who runs the rollercoaster. The actors all rode the rides and a camera was mounted in the car with them. Inserts were shot against green screen at the Atlanta Film Studios on the last day of shooting.

One of Jonathan Goldstein and John Francis Daley's favourite sequences involves the Griswolds' throw down with another family. The filmmakers used a phantom camera, which can shoot a thousand frames per second, to capture the fight in slow motion, with sweat flying and cheeks rippling.

In addition to Walley World and the Truckster, there are other throwbacks to the original 'Vacation," including swimsuit model Hannah Davis appearing as a girl in a red Ferrari who flirts with Rusty. 'People like to be reminded of what made them laugh before, and we had fun doing that here and there," says John Francis Daley.

The Griswold's journey is punctuated by Mark Mothersbaugh's score as well as some enjoyable tunes from other decades because, frankly, Rusty likes to sing along to the radio. Throughout the trip, Rusty, ever the optimist, hopes the family will sing along with him to Seal's 'Kiss From a Rose."

'He's trying so hard and they just don't get it," says Christina Applegate. 'He comes up against all these walls and yet he still has that enthusiasm and tenacity to get through all of these disasters with a real go-get--em attitude that things are going to work if they just push through as a family."

Ed Helms offers, 'It's those little things that make you relate to Rusty. He just wants to have a sing-a-long. Is that too much to ask? He wants his family to be happy. But the world makes that hard sometimes." He smiles, adding, 'The sometimes raunchy, usually insane situations the Griswolds wind up in, and how they handle it, will make people laugh, feel empathy….or cringe." Jonathan Goldstein adds, 'There's no such thing as a functional family. But we still want to believe there can be. We want the Griswolds to do it. We want them to get it right. They just can't."

'We hope the audience has fun rooting for them," relates John Frances Daley, 'and is relieved that at least their family's not that crazy."

Vacation
Release Date: August 20th, 2015