Ever Wonder?
Cast: Luke Evans, Rebecca Hall, Bella Heathcote
Director: Angela Robinson
Genre: Biography, Drama
Rated: MA
Running Time: 108 minutes

Synopsis: Writer/director Angela Robinson's Professor Marston & The Wonder Women, is a bold and illuminating true superhero origin story. It is also a tale of invention, perseverance and courage against the forces of oppression.

If behind every great man there is a great woman, Harvard psychologist Dr. William Moulton Marston (Luke Evans) had the good fortunate to have two: his wife Elizabeth Marston (Rebecca Hall) and their mutual lover Olive Byrne (Bella Heathcote). In addition to helping him perfect the lie detector test, the women in Marston's life aided him in his forward-thinking human research studies and inspired him to create the feminist superhero, Wonder Woman, a barrierbreaking, iconoclastic heroine, beloved by millions for the past eight decades.

According to writer/director Angela Robinson, Marston's life is the story of 'three unlikely rebels who dared not only to love each other but form a family together and how their collective experience led to the creation of Wonder Woman, one of the most enduring feminist icons of all time."

But there was a price to pay for the Marston's family's unconventional ideas. Professor Marston and his wife Elizabeth were banished from academia, financially hobbling their research and compromising their economic livelihood. In spite of these problems, the family persevered and Elizabeth and Olive's defiance and courage in the face of adversity moved the Professor to create his dream woman, the first comic book superhero Wonder Woman, a phenomenon as well as a lightning rod for the censors.

Like most individuals born ahead of their time, Marston and his wonder women are a testament to survival against the dark undercurrents of repression that continue to plague society to this day.

Professor Marston and the Wonder Women
Release Date: November 9th, 2017


About The Production
Stranger Than Fiction

Almost a decade ago, writer/director Angela Robinson (True Blood, The L Word), was leafing through a coffee table book about Wonder Woman, of whom she was a lifelong fan, when she came across some startling facts about the origins of the comic book superhero. 'There was one section that blew my mind," she recalls.

The chapter centered on the superhero's creator, Dr. William Moulton Marston, who was also responsible for the lie detector test. (Marston invented the systolic blood pressure test, which he then combined with the polygraph, after his wife, Elizabeth suggested a connection between emotion and blood pressure). Also contained in the chapter was a discussion of the sexual bondage controversy surrounding the Wonder Woman comics in its early days and Marston's polyamorous relationship with Elizabeth and one of his college students, Olive Byrne.

The information was bare bones, but after some careful sleuthing, Robinson unearthed a trove of equally fascinating information. Robinson read Marston's treatise 'Emotions of Normal People," in which he propounded his 'DISC theory" that all human interaction is broken down into four behaviors: dominance, inducement, submission and compliance. She also discovered that the character of Wonder Woman, which debuted in the early 1940s, was created as psychological propaganda. 'Marston believed that women were the superior sex and they should be running the world," Robinson notes. 'When I shared all this information with my friends, they all said, -you should write this as a movie.'"

Her initial impulse was to create a Marston biopic, 'but the more I learned about Elizabeth and Olive, the more I realized that I couldn't understand him without understanding the role they'd played in his life."

In particular, she was intrigued by the fact that Elizabeth and Olive (by whom Marston had two children each), continued to live together for thirty-eight years after his death, signifying a bond of affection and commitment beyond their connection to Marston. 'Elizabeth even named one of her daughters after Olive," Robinson mentions. 'This wasn't the story of a wife and a mistress living together. What I was looking at was a love story between three people."

In writing about a polyamorous relationship, Robinson contends, changing point of view became an essential element. 'Viewing the relationship from multiple perspectives was crucial in order for us to understand why the three of them stayed together."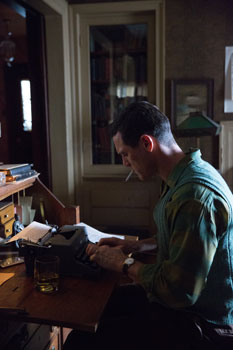 The script begins on Marston, then shifts to his wife, Elizabeth, and finally, to Olive, the object of their desire. Further, 'all the scenes examine a facet of Marston's DISC theory," says Robinson, 'looks and body language through which thoughts and intimacy are communicated. The power exchange was an important component of the story."

In order to explore the bondage element of the Marston triangular relationship, Robinson met with female dominatrices, 'because I wanted it to be explained from a woman's perspective and to include the emotional and intellectual reasons Marston found it attractive. My consultants explained that the submissive person is usually in charge, the guide to what's happening, which added another layer to their behavior."

The script she produced won high praise, but Robinson could find no takers. 'Part of it was because independent movies are hard to make, and frankly some people just didn't get it," she observes. 'I mean, after all, I'd written a love triangle in which the principles get involved in bondage and, along the way, one of them creates Wonder Woman, and I was asking audiences to root for their love. That's a pretty tall order."

Another factor was that Robinson was ahead of the curve. No sooner had she moved the project to the back burner than there was an explosion of interest in Wonder Woman and its creator. Part of it had to do with the scheduled appearance of the Wonder Woman character on film for the first time ever in Batman v Superman: Dawn of Justice, in order to build anticipation for a long in development Wonder Woman stand-alone feature film. Then, in 2014, Jill Lepore's book 'The Secret History of Wonder Woman," which was excerpted in the New Yorker, became a best seller. Other similarly themed books followed.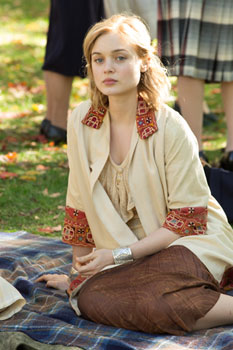 During a social encounter with producer Amy Redford, Robinson mentioned her long cherished project, and Redford expressed interested in reading the script.

For Redford, it proved to be love at first sight. 'The script was timely and well-constructed and moving and interesting and strange," she says. 'I couldn't believe this story hadn't been told before."

Not only were the female characters original and multi-faceted, Redford continues, but the male lead, Professor Marston, was a complex character as well. 'You don't usually get the combination of fascinating male and female characters in the same story," she observes.

What separated the script from standard biopics, says Redford, was that in examining how the three central characters forged ahead with their lives in the face of opposition, "it invites us to reevaluate what we consider a family, and how that family can be made of up different constructs, something we are just now beginning to embrace as a society. Not only were the main characters' love for one another daring for the time, but so was the fact that Elizabeth and Olive were trying to have careers for themselves. They were true pioneers in that respect."

Another facet that stood out in Robinson's script, according to Redford, "is how it delineates the architecture of the Wonder Woman character through the experiences and lives of Marston, Elizabeth and Olive. We get to peer behind the curtain and discover where the essence of comic book superhero came from as well as her iconic symbols, the costume, the bracelets, the tiara." And it was this last element that vaulted the project from script to actual production, mentions producer Terry Leonard. 'The Wonder Woman aspect of the story proved to be our strongest selling tool in raising financing," he says. "And once people read the script they became passionate about it."

The Fulcrum

The realisation of writer/director Robinson's vision of Professor Marston & The Wonder Women rested squarely on the shoulders of its three protagonists, the eponymous Professor, his wife Elizabeth and their lover Olive Byrne. According to Robinson, the chemistry between the three principals was vital to relaying both the literal story and the symbolic story of how Wonder Woman grew out of Marston's theories on women and psychology.

Producer Terry Leonard mentions that Robinson fought hard to cast the ideal actors in these roles. "She could have made it easier on herself by attaching one or two big box office names. But she was right. The story called for actors who would embody the characters and not be overshadowed by their movie star personae. Her script was made for the actors she chose. They became these parts and I can't imagine anyone else in them."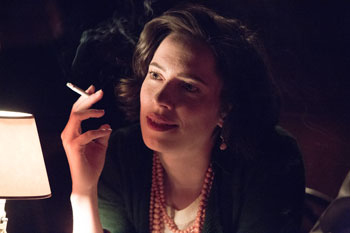 Adds producer Amy Redford: 'It was important to find actors who were compelling and charismatic and could handle all the difficult places these characters had to go. I'm still pinching myself at the dream cast Angela assembled."

The titular character was particularly risky. In the wrong hands, Marston could come across as insensitive and exploitative. The choice of Luke Evans, an actor who is as comfortable in period epics like The Hobbit: The Desolation of Smaug and Beauty and the Beast as in contemporary action and drama like The Fate of the Furious or The Girl on the Train, struck the perfect balance.

'I was looking for someone with a strong masculine energy, but also with the specificity and intelligence required to play Marston," says Robinson. 'A younger Russell Crowe or Harrison Ford, which is surprisingly hard to find. For that reason, I was passionate about Luke, who I'd been tracking since Dracula Untold; and fortunately, he became available."

Observes producer Redford, 'As an actor, Luke is inherently empathetic and understands human emotion on the level that this character requires. He immediately sunk his teeth into the role and never let go."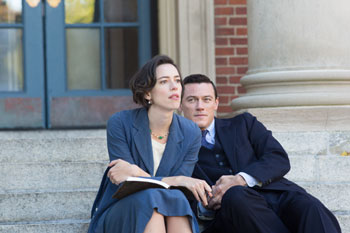 'Luke is a real star," says producer Leonard. 'He completely delivers on this story of a man driven by passion and love and the storytelling talents he had inside of him. Luke brings that all out in a powerful way."

What fascinated Evans about the project is how the three main intertwined characters managed to survive at a time when their relationship was not accepted or understood. "They sacrificed a lot to be with each other," Evans observes.

Marston's feelings for Elizabeth and Olive expanded his world view, Evans believes. "There was a lot of love there. And though at times, their problems tore them apart, he fought for that love and pulled them back together. Marston was one of the country's first vocal male feminists. He believed women were more loving and nurturing and if they were running the world it would be a better place. And I think this all grew out of living with two women and watching the love they had for each other and for their family."

Marston himself hailed from an upper-class historical Boston family. He was a scholar and researcher whose invention, the lie detector test, as well as the character of Wonder Woman were influenced by his DISC theory, says Evans. "He believed that all human interaction was broken down into four emotional categories, dominance, inducement, submission and compliance, and he stood by it his whole life."

In studying those theories, Evans discovered "how much fun it was to dig deeper into the mind and life of someone who actually existed on this planet and left his mark in two extraordinary ways. It wasn't difficult to slip under the skin of a man who lived his life to the fullest. He was extremely intelligent and loved his wife and Olive immensely. He had an enthusiasm for living and for discovery. He was also brave, unafraid to reach out and grasp at the unknown."

For the witty and brilliant Elizabeth Marston, Robinson zeroed in on actress Rebecca Hall who has shown her range in films as varied as Vicky Cristina Barcelona, The Town and The Prestige. 'When Rebecca said she was interested in the role, I danced a little jig," laughs Robinson. 'She's intelligent, sexy, bold and charismatic. And we were totally of the same mind about the character."

Robinson and Hall discussed some of the brilliant women they knew whose lives didn't turn out the way they wanted mainly due to lack of opportunity. 'And for both of us, Elizabeth Marston was a perfect example of that struggle," says Robinson.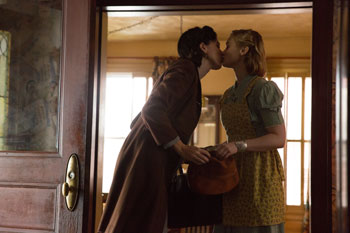 The beauty of an actress like Hall, according to Redford, "is her ability to communicate about twenty-five different things on camera in an efficient way and in a concentrated amount of time. She has an instinct of where a scene needs to go and what the tone should be, not only for herself but for the other actors. She understood that Elizabeth was a character we had to fall in love with, because in the film she's fighting an uphill battle, and women in that position can sometimes come off as shrill in the eyes of the public. She accomplished that by bringing heart, humor and sensuality to the character."

After reading Jill Lepore's 2014 article in the New Yorker about the genesis of Wonder Woman, Hall had herself flirted with the idea of making a movie about Marston. 'Until that time, my understanding of Wonder Woman had been that she was a token female superhero, who had been sexualized, objectified. After reading Jill's article, I realized that actually, she'd been written as feminist propaganda, a tool to convince young boys that it was acceptable for women to be powerful. When I explored getting the rights, I learned that Angela had been working on this story for several years before Jill's article was written. Six months later, I heard they were looking for someone to play Elizabeth, and I immediately phoned Angela."

Hall's attraction to Robinson's depiction of Elizabeth was immediate. Her screen career to date has included playing both introverted and extroverted characters and Elizabeth Marston is definitely the latter. "I was drawn to Elizabeth because she was so charming, but also infuriating, loud, outspoken and dominant. It was very appealing playing someone who had so much power within the social dynamic."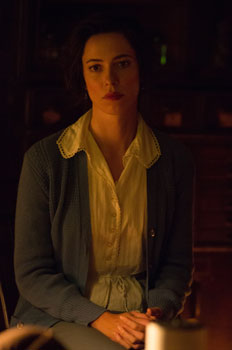 'Elizabeth is definitely the more dominant partner in the marriage, more open minded," she continues. 'When her husband develops a crush on one of his students, her gut response is to say she isn't jealous, though she is. But she becomes progressively interested in Olive herself, until she decides that the best way to deal with the situation is to suggest that they all have a relationship, which is a very complex truth to represent on film. Still, Olive and Elizabeth maintained a relationship for more than thirty years after Marston's death, so they must have had strong feelings for one another."

Yet, despite her outward bravado, Hall contends that Elizabeth was engaged in an inner struggle with herself and society at large. "She fought a deep-rooted puritanism and fear of being what she actually was, which today we would call someone on the queer spectrum," Hall says. 'She's fluid in her sexuality and, in a way, the film is her journey to accepting that and submitting to it on some level."

Olive Byrne, the third member of this unorthodox triangle, was a character that required an actress who could balance youthful innocence with sexual curiosity and daring, since it is she who declares her intentions to both Marston and his wife. All those attributes were found in actress Bella Heathcote, who recently co-starred in the erotic hit Fifty Shades Darker, and before that, The Neon Demon and Tim Burton's Dark Shadows.

The role of Olive Byrne, says Robinson, was perhaps the most difficult to cast and she auditioned numerous actresses before meeting with Heathcote. 'It's a deceptive part because Olive had to demonstrate different aspects of femininity as the film progressed: innocence, sexuality and maternity."

'I was blown away by Bella," Robinson reports. 'Like the character of Olive, she had a surprising depth and a very pure way of conveying emotional honesty."

According to Redford, Heathcote committed to the role with dedication and a refreshing lack of vanity. "She had a huge arc to play in this movie in a story that spans decades," says Redford. 'Bella managed to be strong and yet did it with grace, two elements that shouldn't be seen as mutually exclusive but, sadly, sometimes are."

"When Angela told me the Marston family story, I was shocked," Heathcote says. 'When I told friends what it was about, they thought it was fiction."

In preparing for the role and discussing it with Robinson, Heathcote came to realize that in many ways she had the easiest part to play. "Olive's arc is right there in Angela's script," she said. 'The other two characters sometimes play games, but Olive is always honest. She wears her heart on her sleeve. There's a lot of me in her, an openness and vulnerability."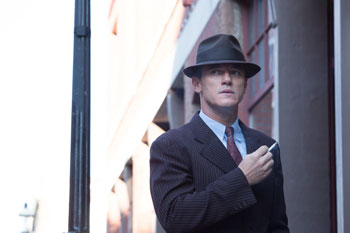 Heathcote describes the three-way relationship as a tripod in that it needed all three legs to work in order to survive. 'Olive and Bill try to manage Elizabeth's feelings, and Bill and Elizabeth make Olive feel safe. And both women love Bill despite his eccentricities, or perhaps because of them."

In addition to being a three-way love story, and a record of the man who invented the lie detector test and Wonder Woman, Heathcote sees the film as "a coming of age tale. All three characters grow so much over the course of the narrative, especially Olive. At the beginning, she is just a student, very unsure of herself. But over the course of the narrative, she figures out who she is and becomes comfortable with her sexuality. Her sense of self becomes more concrete."

About The Production

Professor Marston & The Wonder Women was shot in Massachusetts–mostly in the Boston area– over a concentrated twenty-five days. The time and budgetary constraints necessitated a strong team spirit and a hit-the-ground-running enthusiasm.

Fortunately, says Rebecca Hall, writer/director Angela Robinson had provided them with a fascinating, in-depth script that cogently explores the dynamics of a three-way relationship. "It was all right there on the page," Hall enthuses. "It presented everything that is potentially glamorous and exciting about the idea, but also the problems and complications."

In a peculiar way, Hall found that the film harkened back to classic Hollywood romantic comedies, but with a very modern twist. "The story is very colorful. These characters have rich fantasy lives. They're very playful. But it's all rooted in an intellectual reality, which allows them to be quick-witted and verbose. It's a great deal of fun to play such intelligent characters."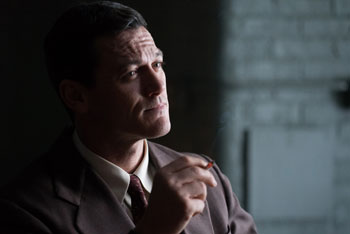 Effectively rendering the wit and complex emotions of the characters, depended heavily on the actors' trust for their director, Hall continues. "For Angela, it was all about her art and putting it out into the world. And that's incredibly rewarding for an actor to be around. It makes you feel confident. She's very gentle but at the same time knows precisely what she wants. I love that in a director, because it allows you to be free."

The greatest pleasure of working with Robinson, Luke Evans says, was that she welcomed collaboration. 'Angela worked on this project for eight years and she wanted us to understand why we were doing what we were doing and saying what we said. But she was completely open to ideas. It helped to be working with two such incredible actresses on such unusual subject matter. We all connected and thank God we did, because we had to dig quite deep into each other's psyches, physically and mentally. The film would not have worked otherwise." Heathcote describes the atmosphere on the set as joyous. "Angela was always making us laugh and both my co-stars were irreverent and funny and intelligent. I really trusted Angela, which was important given the sexual demands of the role and the polyamory. She created a very safe space in which to play."

Filming scenes involving nudity and sexual intimacy is often tricky, and this film had the added element of three-way interaction and bondage elements. From her past experience directing the TV series like The L Word, however, Robinson had developed a way to put her actors at ease: Loud music. 'I let the actors choose a playlist, then blasted it super loud while they were doing their scenes," says Robinson. 'Silence during intimacy can be uncomfortable and make it seem stilted. Using this technique, people get lost in the song and it dissolves their selfconsciousness."

The sex scenes, and particularly the bondage scenes, were approached without judgement, adds Robinson. 'Usually in movies, -kinky' scenes are shot as if what's going on is bad. I wanted to show just the opposite. I was less interested in what they were doing than in their psychological connection. The characters were always checking with each other and who was guiding the sex. Their intent was dramatized and spelled out. There was never any confusion or coercion."

The other vital component in executing Robinson's vision was the assemblage of a talented crew, which included cinematographer Bryce Fortner (Ingrid Goes West, Portlandia), production designer Carl Sprague (Infinitely Polar Bear, the upcoming Proud Mary), and costume designer Donna Maloney (The Reader, The Yellow Birds), who were tasked with bringing a richness and texture to the story, which spanned the 1920s through to the 1940s.

Given the film's limited budget, Fortner's biggest challenge, he says, was maintaining a rich period feel throughout. 'The story couldn't feel small or -indie' because that would cheapen the whole thing."

Fortner and Robinson worked out a visual plan beforehand that enabled them to convey the passage of time, and were careful never to let the film's look take on a nostalgic sheen. 'It was important to both of us to keep the look real and grounded," he relates, 'especially because it was the kind of story that can get over-romanticized and seem far-fetched if not approached correctly. We agreed that the lighting and camera work should never call attention to itself."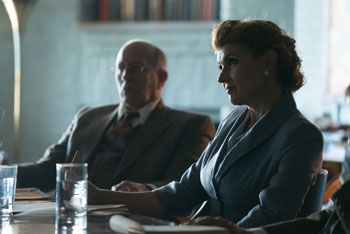 As the film progressed, and there were reversals in the Marston family's life, Fortner sought to hint at the changes visually without being too obvious. 'Angela and I didn't want each decade to feel drastically different. I preferred to turn down the color saturation instead. In the beginning the tones were warmer and the sun had more of a presence. As we went along the images became slightly cooler and we see the sun less and less."

Camera movement in the film was limited 'and we always did it with a purpose," says Fortner. 'I think performance should come first since dramatic momentum is key. If you slow things down on the set by setting up a move and relighting, it has to be for a good reason."

While most of the film was shot in a more classical style, in the more intimate scenes Fortner opted for a handheld camera. 'There is something immediate about handheld. It puts us right in there with the characters, which I believe makes those scenes more sensual, and also more real and tangible. The emotion becomes overt instead of us just getting caught up in -pretty' shots." Like Fortner, production designer Sprague signed on knowing full well the time and budgetary restrictions he was facing. 'The whole project became about ignoring those limitations," says Sprague. 'We dove in and just made it happen. There was no time to look back."

Fortunately, the environs of Boston provided the production with a great many colorful locations, in particular the large, sprawling Tewksbury Hospital where more than half the film was shot. 'Then there was Stonehurst with its magnificent H.H. Richardson interiors which provided all the 19th century Bostonian grandeur one could want," says Sprague.

Crucial period exteriors were shot in downtown Lowell, Blue Hills, Waltham, Wheaton College, as well as Arlington Town Hall and the adjacent Masonic Lodge. 'We were fortunate in all these locations were run by incredibly generous historians and curators. Even the location of the Marston house in Lowell belonged to Seth Cooper of the Tsongas Industrial History Center. All these people were as excited as we were to bring life to a past that is so beautifully preserved in these places."

While some of the locations required few if any changes, many sets 'were plugged and patched and pushed," Sprague admits. The production lucked into a wholesale deal on reproduction Edison lightbulbs and Sprague's art department unearthed vintage theatrical fixtures. Other searches including finding a period lie detector test, comic book graphics as well as vintage pornography and bondage materials. 'It's all out there somewhere," Sprague mentions. 'We just had to find it."

Being able to shoot so extensively in Tewksbury was vital to bringing the film in on time and on budget. 'We built three major sets at the hospital," says Sprague. 'Guyette's store was on the first floor, the DC publishing offices were on the second floor, and the Marston's Cambridge apartment was on the third floor. That last one was the most fun, because we had to open up five old attic bedrooms to create a plausible space. The paint and the windows were already perfect. But we had to lug a 1927 GE cheese box fridge up the stairs, and luckily it didn't burst its coils and leak toxic ninety-year-old ammonia coolant until the day after we finished."

A true find was the Marston family home, which Sprague located in the town of Lowell. 'The house was wonderfully untouched and except for some -groovy' 1960s updates, it had a great Victorian vibe. We embraced all the wear and tear and filled the place with lots of brown furniture. The house's owner joked that it was probably some of the same stuff he'd just gotten rid of at his recent estate sale."

Reflecting on her experience as costume designer on the film, Donna Maloney says, 'I don't know how we pulled it off, but we had a great time doing it. I think it had a lot to do with the fact that we were all in it together. Everyone was wonderful and collaborative."

Organization and teamwork were mandatory since the movie was shooting four or five scenes a day, entailing at least fifteen to twenty costume changes, and even more if the scenes included extras.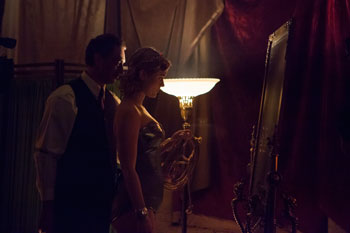 After researching the periods that are covered in the film, Maloney turned to vintage warehouses in New York and Pennsylvania. 'There's a vintage dealer in Manhattan who contacted his vendors across the country and I chose clothes based on the photographs they sent me," says Maloney. In the early scenes, the characters are wearing real 1920s shirts and blouses." Some suits and outfits were used several times with accessory changes, says Maloney, but that too is true to period and, in particular, to the characters portrayed. 'In those days, most men owned only one or two suits and they would change their shirt or tie. It was very realistic."

Dressing background performers sometimes necessitated scouting Boston area vintage clothing stores and finding apparel that approximated the period. 'Some of it was done on a wing and a prayer," Maloney recalls. 'But let's just say that every item we had was put to use at one point or another."

A true test was creating the two- piece leather 'Wonder Woman" outfit Heathcote wears, and which inspired the look of Marston's creation. Unsatisfied with her initial attempts, Maloney turned to a Boston seamstress who had spent many years working for the ballet. 'Leather can be complicated to work with and she understood how it needed to form-fit the body. She did an amazing job and then I found these copper wired wings that I appliqued over the bust once the suit was finished that evoked the Wonder Woman symbol. The scene was lit from behind and it looked amazing."

A Multi-Faceted Experience

'America's going to love the Marston's," says writer/director Angela Robinson. 'I really think the actors brought incredible joy and chemistry and heart to the story. We engage with these unique people and learn a great deal about them."

Apart from the historical aspects, says Rebecca Hall, the film is very entertaining. 'It's going to make you really laugh and cry. It has a richness of feeling that I think people crave when they go out to the movies."

Additionally, says Bella Heathcote, the film is relatable to contemporary audiences. 'It's a story about people trying to figure out who they are and what their place is, and who can't relate to that? It's also a beautiful love story and you watch these people grow and change over time. You see them struggle with their relationships and careers and their sense of self and emerge better at the end of it. I think audiences will be very satisfied with that journey."

If nothing else, says producer Terry Leonard, he hopes audiences come away from Professor Marston inspired by the main characters' creativity and "how people and their creative ideas should never be put down by anyone. Marston created something special, which resonates to this very day. So, I'm hoping that people are inspired by that and by the truth of the story."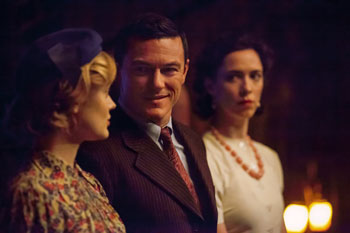 As for the Wonder Woman origin aspects of the film, "I think people are going to see Wonder Woman in a completely different light after they've seen this movie," says producer Amy Redford. 'They're going to be amazed at how this iconic character emerged from real life. And even if they have no particular attachment to Wonder Woman, they all have a family, a history, and a knowledge of the battles that women faced in the past, and even today. There are so many different ways to experience this movie."

For Luke Evans, the movie tells the origin story with depth and resonance. 'It's the perfect moment to tell the story of how Wonder Woman came to be. You see, there's a reason that Wonder Woman has withstood the test of time. She represents female strength and the power women can have. She's different from Superman or Batman. She possesses attributes and energies and techniques that men fail at, miserably so. She doesn't use her super powers to defeat. She uses them to make people tell the truth."

In conclusion, Robinson believes that Professor Marston & The Wonder Women has something of importance to impart to audiences. 'It's a powerful message about the nature of love and acceptance and having the courage to be who you are. Wonder Woman's mission is to stop violence, to stop war and to stand for peace. That's what I took away from the experience and I hope that's what everyone takes away."

Professor Marston and the Wonder Women
Release Date: November 9th, 2017