Emma Stone Battle of the Sexes
Cast: Emma Stone, Steve Carell, Sarah Silverman, Jessica McNamee
Directors: Jonathan Dayton, Valerie Faris
Genre: Biography, Comedy
Rated: PG
Running Time: 121 minutes

Synopsis: In the wake of the sexual revolution and the rise of the women's movement, the 1973 tennis match between women's world champion Billie Jean King (Emma Stone) and ex-men's-champ and serial hustler Bobby Riggs (Steve Carell) was billed as the Battle of the Sexes and became one of the most watched televised sports events of all time, reaching 90 million viewers around the world. As the rivalry between King and Riggs kicked into high gear, offcourt each was fighting more personal and complex battles. The fiercely private King was not only championing for equality, but also struggling to come to terms with her own sexuality, as her friendship with Marilyn Barnett (Andrea Riseborough) developed. And Riggs, one of the first self-made media-age celebrities, wrestled with his gambling demons, at the expense of his family and wife Priscilla (Elisabeth Shue). Together, Billie and Bobby served up a cultural spectacle that resonated far beyond the tennis court, sparking discussions in bedrooms and boardrooms that continue to reverberate today.

Battle of the Sexes
Release Date: September 28th, 2017


About The Production
"I started thinking about society and women and what this might mean… I knew I had to win." - Billie Jean King, 2015

1973: a watershed year of progress in American history – the start of Ms. magazine, passage of Title IX, Congressional ratification of the Equal Rights Amendment and the Supreme Court's ruling in Roe vs. Wade. But despite it all, women were still struggling just to get a credit card in their name. Then came one event that would strike a different kind of blow for equality, one that hit right to the heart of pop culture. It was cheekily dubbed 'Battle of the Sexes" – a single tennis match between rising 29 year-old women's star Billie Jean King and former men's champ Bobby Riggs.

As 90 million viewers worldwide sat at the edges of their couches, the confrontation between Bobby and Billie Jean was fated to be as surreal as it was world-shattering. By the time it was game, set and match, something new had emerged: an era of sports no longer separated from politics and social change, but part of making it.

The build up to the match, the spectacle it became and the quest for equality it continues to inspire all come to life in Battle Of The Sexes. Husband-and-wife directorial team Valerie Faris and Jonathan Dayton (Academy Award winning Little Miss Sunshine) explore a moment when social change was embodied by two complex people. Dayton and Faris brought together Oscar® winner Emma Stone, in a physically and emotionally demanding role unlike any she's yet tackled, with Oscar® nominee Steve Carell at his most complicated as self-made media celebrity Bobby Riggs.

The filmmakers recreated the era with meticulous period detail and camera work to explore the tipping point when the balance of power between men and women, the mainstream and the marginalized began to shift.

Says Faris: 'Battle Of The Sexes is both the story of an historic sporting event and of a woman's private, personal transformation while under intense public exposure. We were interested in how she was fighting both personal and political battles at the same time.

Adds Dayton: 'It was the most challenging project of our careers. It is at once a sports movie, a love story, a socio-political drama, and at times a comedy. 44 years after the Battle, the same issues are clearly still being debated. We were struck by how this circus-like event became a place where important social issues were played out."

'This match felt like a precursor to the way politics are working in our country today, how the debate is so often reduced to a game or entertainment," says Faris. 'We're often more caught up in who wins than in what is really at stake. We started work on the project during the 2016 primaries, when it appeared likely we'd see the first woman candidate for president. For a while everyone thought the film would show how far we've come since the Battle. Obviously the outcome of the election shed a very different light on the story."

This motivated them to focus even more on the personal stories of two people who were not as different as it might have appeared. Both were caught up in the media and in a moment larger than their individual struggles. 'The world has become even more polarized since we began making the film and we certainly don't want to contribute to that – that's why we chose to focus on the emotional lives of Billie Jean and Bobby," explains Faris. Dayton chimes in: 'Our goal was to empathize with all the characters and experience the complexity of the situation".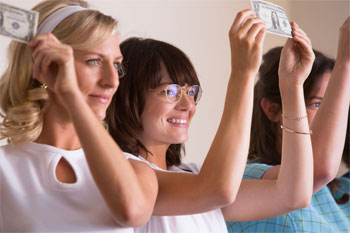 Behind-the-scenes, Faris and Dayton put together a female-dominated team of highly accomplished talent including editor Pamela Martin, Oscar-nominated for The Fighter; sound editor/sound designer Ai-Ling Lee, nominated for La La Land last year as well as working on another female driven movie, Wild; production designer Judy Becker, who has contributed to all of David O. Russell's movies as well as Todd Haynes' Carol; and costume designer Mary Zophres, Oscar-nominated for La La Land and True Grit.

Christian Colson, who joins with Danny Boyle and Robert Graf in producing the film, summarises: 'It's a story beautifully rendered by a writer, two directors, two stars and a great ensemble all at the very top of their game – and a story people will talk about on the way home. The film prompts us to ask what has changed, and what has stayed the same? On a personal level, it's about how we find the courage to live within our own skins. It's a very hopeful film and clings stubbornly to the conviction that there is more that unites us than divides us."

Still A Long Way To Go Baby: Background To The Battle

By 1973 all kinds of walls – of race, gender, religion and sexual orientation – were just starting to tumble. Women were organizing and marching like they never had before, yet were making just 58 cents on the dollar compared to men and doors to opportunity remained slammed shut in every walk of life.

There was still a long way to go, but it was a moment when change was palpable. That's part of what drew the filmmakers to Battle Of The Sexes.

'We were interested in 1973 as a time of great upheaval," says Dayton. 'You had the Equal rights amendment, Roe vs. Wade, the Vietnam War, Watergate, and everything seemed to be in question. Then, suddenly, the debate over women's equality finds a forum in a tennis match between the 29-year-old woman's champion Billie Jean King and 55-year-old former champ Bobby Riggs. As silly as it seemed on the surface, it became a huge deal. Bobby Riggs was on the cover of Time Magazine," points out Dayton.

It was Riggs who turned the match into a social debate that rang around the world. King had already been fighting for equality in tennis, where women were still earning as little as 1/12 of the men's prize money.

She pioneered the Virginia Slims Tour, which for the first time allowed women to set their financial terms, founded the Women's Tennis Association (WTA) and become the first female tennis player ever to top $100,000 a year. But it was the match against Riggs that broadened the conversation, as well as King's faith in what was possible.

Riggs had been a #1-ranked player of the 40s, winning both Wimbledon and the US Open. By 1973, now retired, he missed the drama of the game and having an outlet for his love of disruption and self-promotion. Seeing women gaining power in tennis as elsewhere, he saw an opportunity to create some interesting havoc. Riggs publicly opined that female tennis was inferior – and dared a woman player to prove otherwise by beating him. He knew the idea had commercial potential, and he knew King was the ultimate rival. When he played and beat women's #1 Margaret Court, King felt she had no choice but to take the risk of taking Riggs on. But neither could have foreseen just how wild a circus they would create or what it would mean for so many.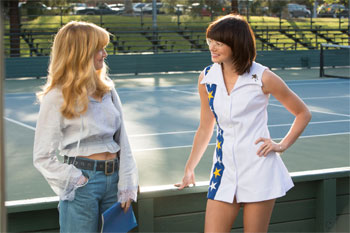 Says screenwriter Simon Beaufoy: 'The match was watched by the largest TV audience since the moon landing. It was a massive spectacle, filled with the sort of hoopla that had never been seen before or probably since on a tennis court. Yet, the match was almost a sideshow to the bigger battle that raged in America: man versus woman. I'm not sure there's been such a clear-cut binary debate since, either in politics or sport!"

For King, that day was a game-changer, and what started that day remains in motion. 'Today we're still having too many of the same discussions," King points out. 'White women still make 78 cents on the dollar, African American women 64, Hispanic and Native American women are at 54. We don't have a Congress of even 20% women. We have few women CEOs. And what people don't understand is that when women make less that means entire families make less. It's a no brainer that it causes families to suffer more, so why do we want that?" I hope the story of this match will continue the dialogue, will bring people together and remind us to think before discounting others for any reason. The things we fought for in 1973 I'm still fighting for and we've got to keep pushing."

The Screenplay and Its Winning Parts

Screenwriter Simon Beaufoy is no stranger to stories that combine a comedic edge with social observation. He earned an Academy Award® nomination for The Full Monty, the riotous story of six unemployed men who form a striptease act to make ends meet; then garnered Oscar, Golden Globe and BAFTA wins for the 2008 Best Picture-winning Slumdog Millionaire about an impoverished quiz show contender in contemporary India.

For Battle Of The Sexes, Beaufoy had to chance to excavate not just one of the most important and outlandish sporting events ever but also the personal lives of both Billie Jean King and Bobby Riggs, revealing how for each the 'battle" was about finding their true selves and changing the future.

'What was apparent on the first read," says producer Robert Graf, 'is the way Simon's script expertly blended the spectacle of the match, the cultural moment of 1970s feminism, and the private issues both Billie Jean and Bobby were grappling with. He combines elements that are comical, culturally significant and are also very human and moving, layering the personal and public and probing the question: how do you control your personal life when you're thrown into the cauldron of a hot public event?"

Adds Christian Colson: 'What I love about Simon's screenplay is how it reveals that for Billie and Bobbie things were much more complicated than anyone knew. The -Battle of the Sexes' was a public circus with farreaching social implications, but for Billie, struggling with her sexuality, and for Bobby, struggling to come to terms with his lost youth, the personal stakes were sky-high. Simon is a humanist and an immensely warm and generous writer. He likes people and he is interested in their flaws, and this informs and elevates all his work."

Beaufoy notes that he never really followed tennis as a sports fan. 'Tennis is amazing to watch for its skill and athleticism, but I confess it wasn't the tennis that intrigued me," he says. 'It was the contest between these two people, diametrically opposed in almost every way. The way Billie Jean did - and still does - step beyond the world of sports to challenge injustice was bold and frankly magnificent. The stakes for her, both personally and for the women's movement, were huge. Billie Jean is truly one of the greats and getting to know her was one of the great privileges of making the film."

King was his primary source and he spent hour upon hour with her – including one early script meeting that lasted 9 hours with just a 10-minute break for a turkey sandwich. 'By the end, I could barely speak, write or move, but Billie was just warming up. She could have gone another nine hours," muses Beaufoy. 'That's the focus of a champion. What surprised me most was her affection for Bobby. She wasn't really battling him, a man she actually liked, as much as she was battling a whole belief system that men were simply better than women. I did ask Billie to revisit areas of her life that are still uncomfortable to her for obvious reasons. I couldn't really write the movie without showing the very personal journey she was on – but she was always open, generous and incredibly trusting."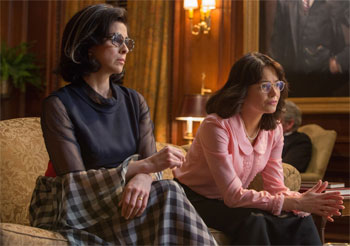 The more he talked to King the more it stood out for Beaufoy that the story of the match was also the story of a woman confronting her sexual identity and falling in love at the least desirable moment. 'The tension between the very public persona that Billie was becoming and her private life is the tension of the film," he points out.

'It's a film about somebody struggling to come to terms with who they really are when the stakes couldn't have been higher." Beaufoy notes that part of the heroism of King is that she did not seek out the contest with Riggs, nor was the timing right to take such a risk, but she enjoined the battle because she could not refuse a shot at making a difference.

'In 1973, her professional life had never been busier and everything was so complicated," says the writer. 'The last thing she needed was to be in the glare of the media spotlight. But Billie has never ducked a fight in her life. When Margaret Court lost to Bobby, Billie had no option but to step up and play. Somebody had to put Bobby in his place and there was only one person to do it."

The rampant sexism of the day is something Beaufoy got a taste of in his research. 'I came across the most appallingly sexist commercials that aired around the time of the match; they really leave you open-mouthed at the way women were publicly debased and humiliated. We've definitely improved on that, but it's obvious we've still got more to go," he says.

The producers saw an immediate affinity between Beaufoy's words and Faris and Dayton's sensibilities – one that only intensified as production took off. 'We went to Jon and Val for their subtlety, their great eye, and their lightness of touch"as with Simon, there is a generosity to their work which always makes you smile, which is never preachy and always classy," says Colson. 'They delivered on all that, but they added a real dramatic seriousness too. They insisted that the story should not be presented simply as a comedy, and were always looking to amplify the internal character conflicts and dramatic stress points in Simon's screenplay. They found just the right tone for movie: dramatic without being strident, and sustaining a lightness of touch without being whimsical." Perhaps fittingly, Faris and Dayton admit that this film sparked more battles between themselves than is usual with a couple known for their creative symbiosis – but it also united them.

'Val and I probably fought more on this project than on anything we've ever done," laughs Dayton. 'Arguing is always part of our creative process," points out Faris, 'in the back of our minds I think we were aware of an expectation that I was the spokesperson for women and Jonathan for men, but we never really see it that way. In truth, it's not a competition. It's an ongoing dialogue that leads to a shared vision."

Breaking The Mold: Billie Jean King

'The effect it had on Billie Jean King's life, on society and on sports was immense. I don't know that she could have possibly known just how incredibly impactful that day would be going forward in so many different areas. But in that moment, I think she did feel the weight of knowing she was representing the entire women's movement and that made her even more passionate about the game." - Emma Stone

Billie Jean King hailed from a working-class background but in the so-called 'country club sport" of tennis won nearly ever honor tennis and 39 Grand Slam titles. Even still, she refused to be satisfied with the way women inside and outside the sport were treated. She wowed audiences with her mercilessly aggressive game, but yearned just as much for social change. Even as she rose to be the most famous woman in the world while trying to keep her own sexuality secret, ultimately becoming one of the first prominent women to openly talk about being gay in the 1980s.

To evoke the story of an activist coming into her own, the filmmakers of Battle Of The Sexes were drawn to working with Academy Award winner Emma Stone. 'We've wanted to work with Emma for years. This seemed like the perfect opportunity," says Faris.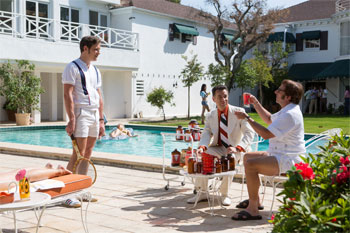 There was just one huge issue: Stone had no tennis background, and barely had held a racquet. But she was willing to throw herself into an intensive 4-month training program. 'We knew we could never raise Emma's tennis game to Billie Jean's level, but our hope was to capture King's physicality," Dayton explains. 'She transformed her body, putting on 15 pounds of muscle."

'Emma loves a challenge and she really wanted to take this on," notes Faris. 'We even delayed the start of production so she could have more time to work out. She trained with Matt Damon's trainer from the Bourne movies. But most importantly, Emma was able to capture Billie Jean's spirit. Billie Jean is so switched on and interested in everything and everyone around her. Emma's very much that same way."

For Stone, the lure of the project began with the fact that she knew so little about the 1973 match, and realised it was being lost to history for her generation. 'This amazing moment was not really in my consciousness at all until I read the script," Stone notes. 'I was especially struck by the reality that we really haven't come that far from these events that took place 43 years ago. I could relate strongly to Billie Jean's struggle and I think so many people will relate to these same themes today."

The fact that Stone is so emblematic of her generation captivated the filmmakers. Notes Christian Colson: 'Emma is such a brilliant representative somehow of who we are today, we thought it would be wonderful to see her play a figure from 50 years in the past. It's Emma Stone as we've not seen her before, and she absolutely disappears into the role, yet lends her freshness and currency to it. The film is set in the past, but it feels urgent in the present tense, and Emma is absolutely the driver of that."

Stone dove into her own research, reading, watching and absorbing all she could. 'I wanted to know as much as I possibly could about all Billie Jean was going through," explains Stone. 'There's so much that the public didn't see at that time - so much that was happening for her internally."

One thing that struck Stone is that King was clearly propelled by a force even bigger than becoming #1 – she definitely wanted that, but unusually, she also wanted much more. 'From an early age, I think Billie Jean was driven by these larger ideas of affecting change in the world and she saw tennis as her vehicle to make that happen because she was so great at it. You have to remember it was looked down upon for a woman to even be an athlete when she was young - especially an aggressive women's tennis player. From the start, she knew she was fighting for something bigger than herself."

Another aspect of King's mental makeup that impressed Stone is how she weathered extreme pressure – training to win the Riggs match while trying to build the pioneering WTA, confront her sexuality and deal with the fallout in her marriage. 'Billie Jean often says that pressure is a privilege, but this was an insane amount of pressure she was under. And I think she was still forming in so many ways," Stone reflects. 'While playing her I was trying to keep in mind all five or six things that were occurring in her life simultaneously and honestly … I don't know how she didn't completely shut down."

Spending time getting closer with King lent additional insight to Stone's approach. 'The more time I spent with her, the more I understood that she has a beautiful outlook in terms of her belief system. Being with her is like being in the room with a 15 year-old kid who is excited by the whole world in front of them and fully believes great things can happen at any moment," she elaborates.

Stone began to see the court as not so different from a stage or film set, as a platform on which one person stands, utterly exposed, baring their skills and emotions for all to see. 'That is how I related to Billie – we are both performers. The stage is my tennis court and I think for Billie tennis was always a kind of a dance," observes Stone.

Amid the all-out physical training and Stone's explorations of King's psyche, the filmmakers watched her transform uncannily. 'If you were trying to find an actress who looked exactly like Billie Jean King you might not pick Emma first," admits Robert Graf, 'but the way she inhabited the spirit of the character was amazing and that in itself made her resemble Billie Jean more than we imagined."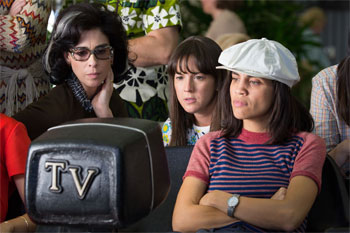 In addition to embodying King's physicality and determination, Stone had the challenge of portraying King falling in love just when she really didn't want to be in love. Though emotionally close to her husband Larry, King had long felt attracted to women, something she understood she could not reveal, let alone live out, for fear of tanking the fragile women's tour. Having grown up in a homophobic atmosphere, she was sure the world would ostracize her, and it also took time to accept her own feelings. That process began when she met Marilyn Barnett (played by Andrea Riseborough), who would become her covert partner.

Getting to the depth of this tricky triangle between King, the husband she adored and the lover shaking her foundations was key for Stone. 'This was not a slow burn romance," Stone muses. 'It was an instantaneous thing because it unlocked something Billie Jean had suppressed for so long. Suddenly, this connection was a spark and realisation that she maybe didn't know she was missing in her life. But because of the times, it had to be played out on an unspoken, deeply private level that no one else saw."

Stone also researched Riggs, developing her own take on what drove their light-hearted yet relentless rivalry. She sees them as each respecting the competitiveness in the other – but also each understanding they'd become part of something bigger once the match was in the offing. 'I think Billie Jean understood that Bobby wasn't so much making a point as he was trying to create a grand, unforgettable entertainment with himself at the center. But she also understood that if she could win, it could change the lives of millions," observes Stone.

The Bobby Riggs Show

Perhaps there could have been no better foil to Billie Jean King than Bobby Riggs, who set off the explosive events of 1973. Where King was intense, at peak fitness and ready to do anything to advance equality, Bobby was a witty raconteur, athletically retired and seduced by the growing media power of celebrities. The one thing they shared in common: an unmitigated love of tennis and competition.

Riggs won Wimbledon at the age of 21, but after exiting from a rewarding career in tennis, he was on a downward trajectory, working miserably as a businessman. Having always enjoyed a good hustle. It was only when Riggs suggested he could beat a top women's player at age 55 that he began to re-invent himself. Reigniting his love for the sport and the spotlight, he found a fresh way to become a household name and media-based celebrity, even if it came at the cost of portraying a villain.

'Bobby created this persona as a male chauvinistic pig, knowing that it would make him relevant again and get him back in the public eye. I think he really hoped that it was going to be the beginning of a new career," observes Faris. Riggs also had an idol in the sports world: 'Bobby was fascinated by Mohammed Ali and the way he promoted his matches. He saw how Ali spoke to the press outside the ring, and that inspired Bobby to reinvent himself," Dayton explains.

In casting Steve Carell, Faris and Dayton knew they would get a deeper view of Bobby than just as King's opponent. 'We weren't interested in portraying Bobby or anyone as a simple villain. Jack Kramer is the closest thing the film has to a bad guy, but in truth he was voicing the prevailing attitudes of the times," notes Faris.

As a kid, Carell remembers seeing through Riggs' chauvinist stance as a put-on. 'I remember a lot was being made about him being this sexist pig and people were so outraged," he recalls. 'But even as an 11 year-old I could distinguish between the act and the person, much in the same way you would see Ali saying really inflammatory things with such bravado, but you knew that it was just a performance. Bobby enjoyed getting people riled up and that was part of his charm."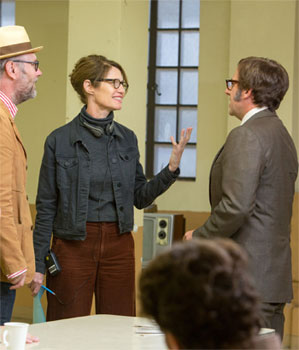 Faris and Dayton were thrilled to ultimately cast Carell, who is known for incisive yet darkly funny portraits in such films as Foxcatcher, for which he was Oscar® nominated, and The Big Short. It also marked a reunion for the trio, their first time working together again since 2005, when Carell took a breakout role as Proust scholar Frank Ginsberg in the Oscar®-winning Little Miss Sunshine.

Says Dayton: 'We love Steve's comic abilities but he's also such a skilled dramatic actor. We were excited that playing Bobby Riggs would allow audiences to see the full range of his skills in one role. One moment you're laughing, the next he's breaking your heart. Adds Faris: 'Like Emma, Steve felt a great responsibility to do justice to a real person. We all wanted Bobby to be seen as more than just a clown."

As he began to explore Riggs' life more deeply, Carell learned about Riggs' inability to resist a sly angle or high-flying bet but his respect for Riggs as a great athlete also grew, which inspired intensive training for the role. 'I think one part of this story people really don't know is that this guy was no joke as a player. He was not just a novelty act. He was a true champion," notes Carell, 'and even in his 50s, he still had it. The real problem for him was that he was out of the limelight. People weren't talking about him anymore and he craved that."

Though Carell came to the table with strong tennis skills, a vital part of his preparation was working with Bobby's original trainer and close friend, Lornie Kuhle. Authenticity ruled the day, with Carell training with the same 70s-vintage aluminum Head Master racquet and grips that Riggs used.

Kuhle also offered Carell precious insight into Riggs. 'I learned that his demeanor was impish, yet also sweet and likeable. He never shut up," laughs Carell. 'Lornie suggested that Bobby would never use 100 words when he could use 1,000. Most of all, Lornie said, Bobby loved the action. It wasn't so much about winning money per se but the love of the hustle. He loved the sport within the hustle."

Carell observes. 'In many ways, Bobby was as great at self-promotion as he was at tennis. I don't think he necessarily thought people were going to take the match as seriously as they did but at the same time I don't think he really cared about being hated by women as long as it was all in fun. He loved the fame. In fact, he got so wrapped up in the fame and the promotion that he stopped training!"

To some degree, observes Carell, the caricature of a bad boy that Riggs was presenting to the world began to consume him. 'All this money and instant celebrity was being thrown at him but it was a double-edged sword because at the same time the fame was not really for who he was but for this persona he was playing. People forgot he was a serious athlete and I think that hurt him," Carell says.

Carell especially got a kick out of taking on Riggs' distinctive look, replete with prosthetic teeth. 'Bobby had a special Clairol formulation he used so that his hair was reddish brown, but he left his sideburns gray. So for a while I was going around with these weird gray chops and red hair," he muses. 'I remember a flight attendant said, -hey Steve, groovy look!' I didn't explain it was not my choice. Bobby was so unique looking that I didn't just want to slap on a pair of glasses and call it a day. How he presented himself to the world was important to Bobby so it had to be right."

Christian Colson sees Carell as uncovering the depths of Riggs. 'The actual Bobby played the buffoon, but there's real tragedy in his story and dignity too, and that's what Steve finds," he comments. 'Here's a guy who had a genuine legacy as a great sportsman but gambled it away for one more shot at the limelight. He could have been remembered as the player who won the Triple at Wimbledon. Instead, he's the guy with the big mouth who lost to Billie Jean King. Steve's funny in the role of course but he also plays Bobby very poignantly, as a man out of time. He finds a humanity in him as a little boy lost, and ultimately a hint of redemption, too."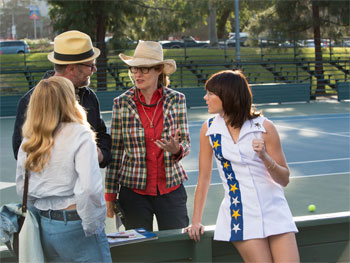 The Women Of Battle Of The Sexes

In Battle Of The Sexes, Billie Jean King is surrounded by an ensemble of women – colleagues, managers and friends – who forge a support system as she prepares for the biggest match of her life. But one woman stands out as changing her life entirely: hairdresser Marilyn Barnett, who would become King's first serious relationship with a woman.

Taking the role is British actress Andrea Riseborough who previously co-starred with Emma Stone in Birdman. 'Two things made me excited to join Battle Of The Sexes," says Riseborough. 'One was working with Emma again - especially entering into this intimate, beautiful love story with someone I trusted. Then what clinched it was meeting Jon and Val. They saw beyond the sports story to all these themes of equality, emancipation and LBGT rights. They were so deeply attuned to it all and I saw they were going to bring their remarkable taste and decorum to it."

Riseborough feels that for all of its cultural and social themes, the film is also very much a romance– and even more so, the story of a woman discovering love in a new way. 'I think there's a very specific way a woman loves – whether she's straight, gay, bi or whatever floats your boat – and that is what we got to explore in this movie. That's where Emma and I tried to take Simon's beautiful words."

Says Valerie Faris: 'Billie Jean was facing a truth about herself at that time that was a very, very hard thing to do. Marilyn pushed her and I think she needed that push. Marilyn is a complex subject for Billie Jean today but we all really wanted a positive love story at the center of the movie. It was important to us and to Billie Jean that this movie be empowering to those who may be struggling with their sexuality."

Another outspoken character comes from an entirely different world: the hard-nosed PR and tennis maven Gladys Heldman, played by Sarah Silverman, the gutsy businesswoman who made the Virginia Slims Circuit a major media success just as women's tennis seemed to be in trouble. 'Without Gladys there wouldn't be women's tennis as it is now," states King. 'Gladys was eccentric, brilliant, creative and knew how to make things happen. When I heard Sarah was going to portray her I thought it was perfect."

Silverman is becoming as known for her film and TV roles as she is for her innovative stand-up comedy, and most recently could be seen in The Book Of Henry. 'Sarah as Gladys was a stroke of casting genius," muses

Robert Graf. 'She has just the right blend of crazy toughness and charm."

Silverman was instantly attracted to Gladys. 'I really didn't know anything about her," admits Silverman. 'But when I read the script, I loved it and thought wow, she's so loud and rat-a-tat-tat. I had to try to wrap my head around what her inner life must have been like - she was so external. I know some people think I'm loud and external, but it was a challenge. She talks so fast and my brain doesn't move that quickly! She was a very nononsense woman and she didn't suffer fools."

Throughout, Silverman felt inspired by the atmosphere Faris and Dayton cultivated on set. 'The temperament of the director is everything on a movie set," she observes, 'and to have this lovely married couple who have such an incredible rhythm and vibe together was eye opening for me. I really didn't even know it was possible to direct a whole movie and also be so lovely until this experience."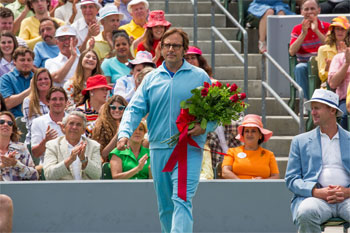 Oscar® nominee Elisabeth Shue plays Priscilla, Bobby Riggs' wealthy but estranged wife. Shue was intrigued by this woman from a very different generation and upbringing than her own. 'Priscilla had probably been taught to subordinate herself to the man. But I think she felt somewhat trapped in her role," says Shue. Shue goes on: 'When I was thinking about Priscilla, I was thinking about what it must have been like for my mom, who went to Wellesley College and is a very bright woman, yet never had a career. I think Priscilla must have been frustrated by never being allowed to follow her own dreams, to always have to live vicariously through Bobby, who had so much freedom. I think she was jealous of his liberty, while she tried to do whatever's best for their family."

Though Bobby dismayed Priscilla, Shue also wanted to imbue her performance with a deeper layer of love. 'I think at first Priscilla loved being around him and all his chaos. She was always on edge about his gambling and then, when he started the -Battle of the Sexes' matches, she saw him becoming a different version of himself. I don't think the male chauvinist persona was real; but his desperation for attention led him into an absurd level of showmanship."

One of the most contrasting players to King on the tour was the legendary Margaret Court, winner of a record-shattering 62 Grand Slam titles in doubles and singles, who later became a Christian minister. Though Court was one of the first women to bring an infant on the tour, and the first to take up Riggs' challenge, she was also outspoken in her diehard views against homosexuality.

Taking the role in Battle Of The Sexes is Australian actress Jessica McNamee. Says McNamee of Court: 'Margaret was quite old fashioned, and she joined the bandwagon of trying to get gender equality. She just loved tennis, loved to compete and wasn't interested in anything else. I don't think she even grasped the gravity of playing Bobby. To her it was just another match. She and Billie Jean had a massive rivalry on court but their rivalry also came from very different lifestyles. Margaret was straight-laced and even to this day she vociferously advocates against equal rights for the gay community."

Rounding out the women's side of the story are those dubbed 'The Nine," who formed the original Virginia Slims Circuit. They include Natalie Morales as feisty Rosie Casals who was Billie Jean King's much-decorated doubles partner; Martha MacIsaac as Jane 'Peaches" Bartkowicz; Mickey Sumner as Valerie Ziegenfuss; Bridey Elliot as Julie Heldman, daughter of Gladys; tennis tour veteran Ashley Weinhold as Kristy Pigeon; USC tennis star Kaitlyn Christian as Kerry Melville Reid; Louisville-based tennis pro Lauren Kline as Nancy Richey; and pro player Fidan Manashirova as Judy Dalton.

Doing research for the film introduced the women to a world that has dramatically changed, even though there is more to go. Especially fascinating for Morales was seeing the original broadcast of Howard Cosell and Casals, which is featured verbatim in the film. Says Morales: 'Rosie Casals was a co-commentator with Howard Cosell at the actual Battle. It's unbelievable now to see in the footage the way he talks to her, and looks down on her. When he introduces her, a tournament-winning tennis pro, he grabs her by the neck as if she was a child and says we're going to introduce little Rosie Casals. I don't think anyone understood then how insulting that was – it was considered normal because that's how deep that attitude went."

Sums up MacIsaac: 'For me, this is a rare story that tells of a woman's incredible journey. It's also Bobby Riggs' story but the heart and soul is watching Billie Jean go through this and see her with these other women stand up and rally the women's movement."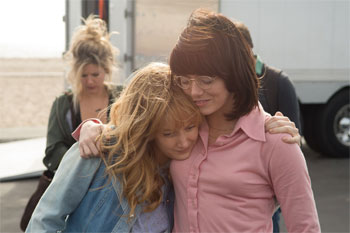 The Men Of Battle Of The Sexes

The men of Battle Of The Sexes were just as conflicted by the changing times. One of those most effected is Larry King (Austin Stowell), Billie Jean's husband, who was one of the organisers of the women's tennis tour and her unwavering supporter, even as he realized their marriage was foundering.

Says Stowell: 'Larry was kind of Billie Jean's everything. He was her best friend, her coach, her manager, her confidante, her trainer and even her therapist to a degree. He wore many hats. But he was her lover too - and I mean that wholeheartedly, because they did love each other from what I gather. No matter Billie Jean's sexuality, he was infatuated with her."

'There was so much going on between all these couples, between Larry and Billie Jean, between Bobby and Priscilla, between Marilyn and Billie Jean - it was everybody trying to figure out this confusing time.

What I originally thought might be a comedy became also a very emotional piece to me about people struggling with change. For me, the amazing thing about Larry is that he made this incredible choice to not reject the woman in front of him but to embrace her, to do what he could to build her up and give her the potential to become as great as she could be."

Another key figure in Billie Jean's life in the 1970s was Cuthbert Collingwood 'Ted" Tinling, the daring fashion designer who forged modern sports looks, dressing the Virginia Slims tour – and designing King's dress for the Battle.

In the role is Tony Award winner and Emmy and Golden Globe nominee Alan Cumming. Cumming was lured by the way Simon Beaufoy wove intricate themes into a fast-moving script. 'Simon made it feel so personal and authentic and made the core of it how people make their way through a maze of relationships in a changing time," he says.

Things got even more intriguing when Cumming started to research Tinling. 'Ted was fascinating: a former tennis player and actual World War II spy who segued into ladies fashion. He also was someone able to give counsel to Billie Jean as a gay man who had been around the block a few times," he observes. 'He did so many incredible things - one time he was banned from Wimbledon because his outfits were deemed too racy." He loved that Tinling was an unabashed pioneer. 'When the women's tour started it was such a radical, revolutionary idea that all bets were off fashion wise. It was uncharted territory and he took advantage of that," notes Cumming. 'Billie Jean told me Ted really bolstered her confidence. As an actor, I know that you often have a very vulnerable and special relationship with wardrobe people, and I think Ted had that same sort of relationship with the ladies on the tour, and especially Billie Jean."

King calls Tinling 'a creative, brilliant soul." She recalls: 'He always called me Madam Superstar. He was way ahead of his time in his fabrics and designs, always looking to the future."

Bobby Riggs' tennis coach and longtime friend Lornie Kuhle not only served as an advisor on the film, but is also a character, portrayed by Eric Christian Olsen. Olsen loved having the chance to pick Kuhle's brain.

'Lornie is a legend in the tennis world and he has such amazing stories," muses Olsen. 'He and Bobby had a beautiful friendship. They were great friends who looked out for each other."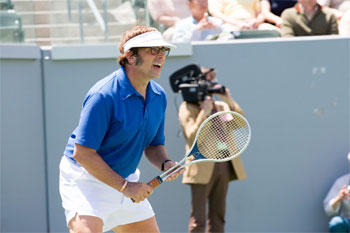 As for his take on the Battle, Kuhle says that Riggs had an unanticipated effect on the world that went beyond the money, fame and fun he was seeking. 'The irony is that in the end Bobby may have been the best thing that ever happened to women's tennis," he laughs.

Another tennis legend who played a role in the Battle is Jack Kramer (Bill Pullman). A former World No. 1 who played with Riggs, he was a tireless promoter of pro tennis in the 50s and 60s, leading the sport out of stuffy tradition and into the athlete-centered Open Era. But Kramer's holdover belief that women players couldn't sell tickets led to a showdown with King.

Notes Dayton, 'Kramer is an interesting character because on the one hand he's a gentleman, but he also has beliefs about women that belong to another era and he's not willing to change. I think it was quite hard for Bill to even say some of Jack's words but he would gather his strength, do the scene and then sort of shake it off." Pullman says he found empathy for Kramer as a man caught in a past that was being rapidly swept aside.

'I think Jack is representative of a lot of people at that time. We can look back at it now and think oh those stupid people - but the truth is that most of the populace was accepting of the social conventions. Jack had already been successful in breaking away from the controlling hierarchy of tennis and giving more power and negotiating strength to the players."

Pullman was also excited to work on the project with his actor son, Lewis Pullman, who plays Riggs' son, Larry. Lewis believes that Larry watched in a state of shock as his father transformed into a chauvinist symbol during the period depicted in the film. He explains: 'One thing Steve Carell told me that I found incredibly revealing was that when he talked to Larry about his dad, he said Bobby hadn't always been the eccentric character you see in the footage. He was a pretty steady office dad for a lot of Larry's life and it then this new personality suddenly developed as Bobby became a celebrity."

The most mysterious member of Riggs' entourage was Rheo Blair, a 'nutritionist to the stars" who became Riggs' health guru, insisting that his vitamin-and-protein regimen would pave the way to rejuvenation. Taking the role all the way is comedian, actor, musician and SNL-alum Fred Armisen.

Armisen was hooked in by the uniqueness of Blair. 'I looked up Rheo when they offered me the part, and it's sort of funny, but he does look a bit like me with big hair. Reading about him there's a sense of what is this guy up to?" Armisen laughs. 'It seems he was the precursor to things like Herbalife and all the super nutrition power bars of today -- just something else we can buy that makes us feel good about ourselves. But who knows what was in those pills? They could have been sugar for all I know."

Shooting The Battle

The events of Battle Of The Sexes take place in a 1973 that feels immediate and contemporary – thanks in part to Faris and Dayton choosing to shoot the film with the cinematic richness of 35mm film. They closely collaborated with a key quartet -- director of photography Linus Sandgren, editor Pamela Martin, production designer Judy Becker and costume designer Mary Zophres - to bring their vision to life. Sandgren and Becker previously worked together on the David O. Russell films Joy and Silver Linings Playbook while Zophres and Sandgren collaborated on La La Land, with both winning Oscars®. Martin's collaborations with Faris and Dayton include Little Miss Sunshine.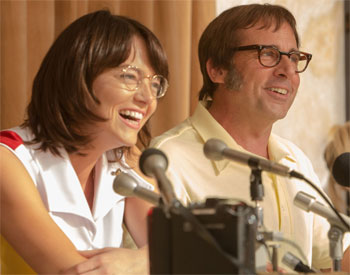 Sandgren came to the story with a lot of strong ideas. One was to differentiate between male and female perspectives. 'We felt it could be interesting to create a running visual metaphor where Billie Jean and the other women are often looking forward, while the men are looking back. It's something very subtle but we used those kinds of visual rules, which was fun to work with," the cinematographer says.

Along with Faris and Dayton, Sandgren re-watched some of the most aesthetically defining films of the 70s – especially the work of John Cassavetes and Robert Altman – but all were agreed they did not want the film to dip 18 into nostalgia or rumination on a past that isn't even close to being behind us. Sandgren says the biggest influence was the idea of making the camera an emotional weathervane.

'To me, this film was about having the camera reacting emotionally to the scene. It wasn't about a particular kind of style or camera movement, but always about the character's emotions," Sandgren describes. 'Part of the idea I had with Jon and Val was that the film shouldn't look like a film about the 70s; instead it should look like a film made in the 70s. And then we added to that the idea that the camera should never be too prominent or self-aware but more emotionally reactive."

Everyone agreed on not going down the digital path for this film. Sandgren elaborates: 'Because this is the 70s, it really helped the story to have a lot of visual grain and also to have very prominent colors without having to saturate the film in post-production. We wanted the world to feel very rich in every detail. We did consider shooting in 16mm but we felt that 16 was a touch too undetailed for shooting tennis, so we went with 35mm. And then we used vintage lenses from the 70s so that it would feel even more as if it had been shot it in the 70s."

To shoot the match itself, Sandgren hunted down vintage zoom lenses that let him get in close, like a sports cameraman of the era. 'We wanted the match to be exciting even if you know nothing about tennis," he notes, 'so the main idea was to really emphasize the scope of it, and all the craziness around that could distract Billie Jean from her intense focus. We also wanted to shoot it authentically like a real tennis match of the day so we used TV cameras, shooting the way television would. Only after the match, does the camera get more intimate and get in there personally with Bobby and Billie Jean as they react."

'We worked hard to get the tennis right," says Faris. 'In the final match, we decided to cover it as it was seen on television, staying in a wide court shot so you can see the full interaction of the players and the movement of the ball, reminding us that this was a very public event."

Editor Pamela Martin, an Oscar® nominee for The Fighter returns to a different one-on-one arena with Battle Of The Sexes. She was especially excited her to collaborate again with Faris and Dayton on what she sees as their most epic film yet. 'All their movies are about the human experience, but what's different about this movie is the scope," Martin says. 'It's really about the big battle for equality."

One of Martin's biggest problem-solving tasks from the start was how to balance the mix of emotion, sports suspense, and cultural spectacle. So a month before production even began she started watching and re-watching the historic TV footage. 'I was interested in every detail of it from the strategy of the game to how there was also this battle going on between Howard Cosell and Rosie Casals as announcers. And I thought would cut my own 10- minute piece out of it," she explains. That later would become a blueprint of how she edited the scene.

'Jon and Val came in with a lot of footage but I already had an idea of where we wanted to go; so it was just a matter of finding the gems and weaving all of character arcs into the match," she notes.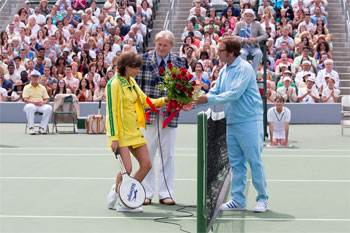 As for the tennis itself, Martin has played since she was a child but she gained insight while cutting boxing matches in The Fighter. 'With The Fighter, I learned a lot about how you can whittle a sports event down to a dramatic core and express a story inside of it," she explains.

Working with Faris and Dayton has always been something special for Martin but she felt Battle Of The Sexes seemed to take even greater advantage of having dual creative minds at the helm. 'The two of them don't always agree on everything but the remarkable thing is that they are clearly equals – they're equally intelligent, creative and insightful and because neither one dominates, they work in a really balletic way together. Of course, sometimes I end up being the mediator," she admits, 'but like most editors, I enjoy weighing two sides how to approach things. It's always fun for me because Jon and Val clearly love being in the edit room, and that was especially true on this film because we had so much story to tell along with Nick Britell's big score and all the music. Really, it's their grandest movie."

Designing The Battle

Production designer Judy Becker previously joined with Faris and Dayton on Ruby Sparks and knew Battle Of The Sexes it would be a highly creative experience. 'I love working with them," she comments, 'because they're so visually astute. As soon as we started talking, they were talking about avoiding all 70s clichés and how we should represent the women's tennis tour based on reality but in our own visual way, expanding the color palette. It was a great, highly stimulating, collaborative process."

For Becker, part of the fun was contrasting Riggs' and Kings' divergent lives. 'We were very conscious of distinguishing between Bobby's world, the tennis world and the Virginia Slims Tour, which is a jaunt through 70s motels. For Bobby's life before the match, we consciously used a palette that incorporates putty tones, neutrals and browns. We then contrast that with the bright greens, yellows, reds and navy blue of the tour, colors found in sports," the designer explains. 'That was something Jon, Val and I were excited about."

For a sports-based movie there were an unusually large number of sets to build and dress, including a constant stream of hotel lobbies, hotel rooms as well as tennis stadiums large and small. 'There are many different looks in the film and it was very ambitious for the budget," notes Becker. 'But Jon and Val have such great taste, there were high expectations for every set on both of our parts."

One of the most difficult locations to find was Bobby Riggs hosting a party at the Betty Grable mansion in Palm Springs. Scouring for houses to double as her mansion, the team came up with a Paul Williams-designed home in Holmby Hills with a period pool overlooking a period tennis court. 'It was a house Connie Stevens lived in but was a bit neglected because it had not been lived in for some time, so we brought it back up to the level of a movie star house in 1973. We refurbished the tennis court, the landscaping and all the furnishings – all of which was great fun," says Becker.

Los Angeles' Memorial Sports Arena doubles for Houston's Astrodome, which was damaged badly by Hurricane Katrina. A relic in its own right, the LA arena was demolished shortly after filming, but proved the perfect skeleton for recreating the electric, almost psychedelic atmosphere of an event that drew everyone from Helen Reddy singing 'I Am Woman" live to surrealist master Salvador Dali himself.

'Obviously, the Astrodome and the day of the event are very well documented so we were able to replicate the entire look of the match, right down to the fact that six inches of basketball court are peeking out from under the tennis court," explains Becker.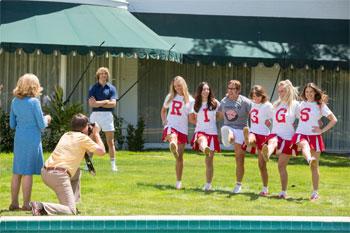 Becker watched in exhilaration as her lovingly made sets were infused with life as the actors stepped into them. 'It was kind of mind blowing to watch these actors transform on set. They weren't doing imitations. Emma really seemed to become Billie Jean King in an astonishing way," Becker says.

Beyond Tennis Whites: The Costumes

1973 was not only a year of social change, it was also a year of rapidly shifting fashion, which gave costume designer Mary Zophres a huge dose of inspiration. 'When you think about the history of fashion it was in the late 60s and 70s that the idea of self-expression through your clothes really started to come into play. And we wanted the film to touch on that," she explains.

The film marks Zophres' third time dressing Emma Stone, but things were different this time. 'Before this film, to me Emma was like a delicate flower. She had a bird like neck, and graceful arms. But what I saw from my own measurements before we started on this film is that she had completely transformed her body," Zophres muses. That was perfect for the look of Billie Jean King, inspired very much by the real thing. 'Anything that felt unathletic or too cute was discarded and we used button-down shirts, turtlenecks and vests. The object was to toughen Emma up a bit – and we learned she can go that way easily," says Zophres.

On court, Zophres went back to the Ted Tinling designs that rocked the tennis world at that time. 'Tinling had the most wonderful imagination," she describes. 'When he joined the women's tour, he embraced the idea that they no longer had to follow the old strict dress codes of tennis. His main thing was color, trim and eye-catching designs. Recreating his garments was just incredible fun -- I've never done anything like it before." King herself recalls Tinling as having a palpable effect on women's tennis, as well as her own public image. 'Ted designed dresses that were different for each of us," she remembers. 'For Rosie, Ted would add more sequins because she's so creative and acrobatic in her playing. He'd let you have big collars or small collars or no collars, a V or no V and he'd ask how we wanted the panels and color schemes. Every year he had a theme color and the year of the Riggs match it was mint green."

Indeed, King's dress for the Battle was a light green and blue-bodiced nylon wonder, replete with sequins and rhinestones, which would become an icon.

Perhaps the highest compliment paid to Zophres came when King visited the set during a camera test of the replica dress. 'When Billie Jean saw it, she said how in the world did you get that dress? That made me so happy to think that we had gotten it so right she thought it was the real dress," says Zophres.

Adds King: 'They did an unbelievable job getting it right, and that had to be tough to do."

Another challenge came in finding King's trademark shoes. 'I had blue Adidas shoes and I had to fight to wear them," recalls King. 'I think I was the first player ever to wear colored shoes and if you notice, the blue from the shoes matched my wristband. I was very picky about these things."

Adidas no longer makes a similar shoe and no vintage pairs could be found, so Zophres put in a special request. 'I think we took Adidas by surprise," muses Zophres. 'But they were very gracious and in the end they found the original pattern for those shoes and custom made them for Emma in the blue with three white stripes and Billie Jean's initials. All our tennis players went nuts for those shoes!"

When it came to creating the wardrobe for Bobby Riggs, Zophres worked closely with Steve Carell to set a strong, inimitable, head-to-toe silhouette from the second he's first seen on screen – poised between the buttoneddown world of the past and an eccentric urge to be his own man.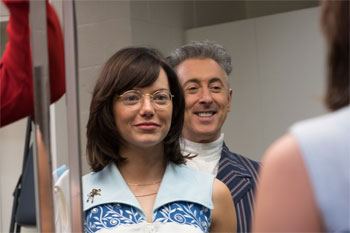 'We discussed the idea that Bobby would first be seen in a 60s suit right off the rack, a traditional cut, with a wider lapel and conservative wingtip shoes," Zophres describes. 'We didn't want Bobby to look like a swinger because he didn't in any of the footage. Even at parties, he's in traditional tennis wear. Or he'd be in some attentiongetting getup like the Little Bo Peep or Henry the VIII costumes he famously wore. But that was always a gag for the cameras. I never noticed in any of the research that he traveled outside of his comfort zone. His style had probably been set when he hit his stride, which would have been 1950. That was always in the back of Steve's head as well, that he was from that era."

Zophres also had fun creating a well-researched replica of the sweat-inducing Sugar Daddy jacket that Riggs contracted to wear, perhaps ill-advisedly, as the original had since been lost. 'Bobby was paid lots of money to wear that jacket but he got too hot, and he was kind of asphyxiating, so it was something we really wanted to follow as close to the original as we could," says the designer.

Another unusual recreation came literally down to Riggs' socks. Zophres was completely unable to find the striped low crew sock that was quintessential to Riggs' look. 'We found one on eBay but it was for a child," she recalls. 'So we had a company in North Carolina make the sock. Then we sewed a modern, cushy ortho-sock onto Steve's footpad and used just the striped part to peek out of his shoe."

When it came to Ted Tinling himself, Zophres followed the footage to outfit Alan Cummings. Says Valerie Faris 'If you see pictures of Ted, you see if anything we dressed Alan down from how he really dressed. He was such an eccentric guy, a very flamboyant, colorful character with great style."

As she began to research the character of bold Gladys Heldman, Zophres highlighted the generation gap she was bridging. 'Gladys was a force to be reckoned with but she was a bit older and from the few photos I saw, she wore a girdle, long-line bra and pantyhose. I pitched to Jon and Val that we should emphasize that she was from another generation - and that Gladys should be in dresses because being a proponent for women's lib doesn't mean you have to wear a pantsuit. I put her in vivid graphic prints, because it felt to me that when Gladys walks into a room, she's an instant disruption."

Sarah Silverman adored the look. 'I really just let the wardrobe, the glasses and the hairdo do all the acting," she quips. 'Really, as soon as I had Mary's amazing clothes on I felt like Gladys."

Zophres played with Bohemian styles in dressing Andrea Riseborough as Marilyn. 'I wanted her look to express somebody far more comfortable with her body and sexuality than Billie Jean – so we used lots of soft fabrics and denim. She's one of the only characters to wear purple!"

Perhaps the most thrilling for Zophres was designing the eye-popping panoply of costumes – from the latest trend-setting dresses to over-the-top advertising mascots – that filled the Houston Astrodome that day in September 1973. 'The scene at the Astrodome was about turning up the volume," she muses. 'It was very festive with lots of color and texture, but there were also these were very wealthy, conservative Houston people there in the front rows, so it was quite a mixture."

It was gratifying to Zophres to have the chance to bring modern audiences back into that moment that was not only a wild spectacle but made its mark on the world. 'Jon and Val really wanted to capture this and to do it right," she concludes, 'because many of us today no longer even know about the Battle of the Sexes or all that went into achieving the rights women have now. I think it's a wonderful story to be telling to a new generation and that's what excited me most about it."

Keeping The Score: Nicholas Britell On The Music

Battle Of The Sexes explores a wide range of themes – from competition, to love, to striving for equality. To forge an emotional, musical connection between these ideas, Faris and Dayton began a collaboration with composer Nicholas Britell, who was recently Oscar® nominated for his powerful, genre-bending score to the film Moonlight.

With Battle Of The Sexes, Britell felt a link right away with the material and with the directors. 'When I saw a rough cut of the film, I had an immediate feeling of excitement," he recalls. '[The film] is such a beautiful and significant story that speaks to our world in 2017. I soon discovered Jon and Val are passionate music lovers with their own extensive wealth of musical knowledge. When you share that wavelength with directors, anything is possible. We all agreed that we wanted to tell a story musically that runs parallel to the visuals, with a score that creates its own landscape."

Diving in, Britell focused on creating two musical worlds: the 'external" world of the film's sports and competition, and the 'internal" world of the film's characters and their personal journeys. In addition, he began grappling with how to reflect the 1970s soundscape in a fresh and unique way. 'Jon, Val, and I started talking about potentially using 70s rock band instrumentation, but we also felt that the scope of the film needed a bigger orchestration. We started utilizing woodwinds and strings, and this immediately felt right. The musical terrain isn't overtly 70s, but it does pay homage to how music was recorded at that time. We used vintage mics for our recording sessions, and we played with the audio quality and texture to give it the feel of that era."

Britell also started laying out what he calls the 'architecture" of the music, building a foundation of individual themes for Billie Jean and Bobby, exploring the tensions between them. 'Bobby's theme is a small jazz ensemble, with piano, double bass, drums, and subtle woodwinds; I hoped it would feel like a musical outgrowth of his own inner insecurities. It's intentionally spare, and Jon and Val felt it really connected with that feeling of Bobby." By contrast, Billie Jean's theme is more lush and powerful. 'Billie Jean has a very driving and athletic theme, and where Bobby's theme is based around an old upright piano, Billie Jean's is played on a beautiful Steinway concert grand – which becomes a musical metaphor for their characters as well."

Billie Jean's love story with Marilyn is echoed through an evolving set of musical colors. 'The music of their relationship starts out with delicate atmospheres and a quiet melody. But as their relationship develops, the musical backing strengthens, until finally it's played powerfully by a full orchestra towards the end of the film" Britell explains.

Britell's music plays counterpoint to the film's soundtrack, which includes such iconic songs as George Harrison's 'What Is Life", and Elton John's 'Rocket Man," which beautifully calls back to the 1970's era of the film and connects with a special moment between Billie Jean and Marilyn.

Gratifyingly, Britell had the chance to conduct and record the score with a 79-piece orchestra. 'An orchestra of that scope creates a truly incomparable sound," he says. 'It was an incredible experience to have these sounds that were in my head suddenly become alive on a huge scale. Jon and Val were there, too, and it was very emotional for all of us to hear the music come together in this way."

The Changing Of The Game

As Battle Of The Sexes builds to the climax of the match, Faris and Dayton committed to not only recreating the visual atmosphere of the match but also the tennis. 'We really wanted to capture the specific playing styles of Bobby and Billie. Lornie Kuhle trained Steve for many months, showing him the nuances of Bobby's game and giving him first hand insights into Bobby's persona," notes Faris. It was not an easy undertaking because tennis has undergone a massive sea change, with today's more athletic, baseline-dominated game – the kind you might see on ESPN in 2017 - looking quite different from the finesse game of 1973.

'The game is totally different now," says Billie Jean King. 'We couldn't crack an egg compared to the players today. The rackets were very heavy then -- now they have this big sweet spot on the rackets and 24 aerodynamically they're amazing. Young players are taught much better technique, so they're more powerful. We were taught to be very static. Also, 75% of play was on grass then. People think tennis is not as graceful and beautiful now, but the reason we served and volleyed so much was that we didn't want the ball to hit the ground because on grass it would bounce and roll. If you hit it in the air you had more control over the ball. And because there's more money in the sport the best players have coaches, agents, massage therapists, osteopaths, and chiropractors. We didn't even have coaches traveling with us."

King adds: 'Today's players are living out what the -Nine' dreamed about. And every time a women's player gets a check for winning or has a place to play – we know we helped to get that started." To get the tennis just right, two of the cast's pro tennis players stepped in to double for Emma Stone and Jessica McNamee: Kaitlyn Christian and Lauren Kline. They re-trained themselves to play in 'the old way" before courts changed, serve-and-volley grew passé and the modern power game took over.

One of the great thrills for Christian was the chance to play with King in order to emulate her, which she says was revelatory. 'I got to spend two hours on the court with Billie Jean while she taught me all of her little isms and how she plays," Christian says. 'The big difference between then and now is that players used to move forward to the net more because they had more time. But I learned things from playing the old way that I think will actually help my current tennis game."

She also garnered insight into King's game plan for playing Riggs. 'A big part of tennis is getting a feel for how your opponent plays," Christian explains. 'Billie Jean's strategy with Bobby was to come out and just make him run like a dog around the court. And it really worked. It's so impressive to watch. She was playing cat and mouse with him, just toying with him - which is the ultimate victory."

That victory, one of many in a chain that continues, is what kept everyone in the cast and crew motivated. The time felt ripe for a story at once about gutsy moves and compassionate tolerance. Sums up Billie Jean King: 'The Battle of the Sexes came in the middle of a wave of the women's movement and I feel like we're in another wave right now. Something's happening. When I played Bobby Riggs everyone thought it was pulling people apart but it actually drew many people together and made connections. There were discussions and more dialogue and I hope that's what will go on now."

'No one changes the world who isn't obsessed…" -Billie Jean King

Billie Jean King is the founder of the Billie Jean King Leadership Initiative and the co-founder of World TeamTennis. She has long been a champion for social change and equality. King created new inroads for men and women in sports and beyond during her legendary career and she continues to make her mark today. King was named one of the -100 Most Important Americans of the 20th Century' by Life Magazine and, in 2009, in recognition of her work in the social justice arena and her accomplishments in sports, President Obama awarded her with the Presidential Medal of Freedom, the nation's highest civilian honor.

Born in Long Beach, California, she first played tennis at the age of 11 in the public parks of southern California. King won her first of a record 20 Wimbledon titles when she captured the 1961 Wimbledon Ladies' Doubles Championship with Karen Hantze. She went on to win 39 Grand Slam singles, doubles and mixed doubles titles during her career. On September 20, 1973, she empowered women and educated men when she defeated Bobby Riggs in one of the greatest moments in sports history – the Battle of the Sexes. This match is remembered for its effect on society and its contribution to the women's movement.

In 2014, in partnership with Teneo, she launched the Billie Jean King Leadership Initiative to address inclusion and diversity issues in the workplace. In 2016 she addressed both the National Football League and FIFA, the international governing body of soccer, on issues related to gender equality and inclusion. In 2006 her accomplishments both on and off the court were recognized when the home of the U. S. Open was renamed the USTA Billie Jean King National Tennis Center. In 2008 King released her first book in more than 20 years. Titled Pressure is a Privilege, the book shares a collection of life lessons she has used throughout her life and career. In 1974 King co-founded World Team Tennis (WTT), the revolutionary professional tennis league. Now in its 42nd season and known as Mylan World Team Tennis, WTT showcases the best in professional team tennis competing for the King Trophy.

King continues her life mission to help the underserved, most notably through her efforts to provide programming and funding for those infected, affected or at risk of HIV/AIDS through her work with the Elton John AIDS Foundation (EJAF). A member of the organization's Board of Trustees, King has helped the organization raise more than $385 million over the past 24 years in support or worthy programs in more than 55 countries around the world. Since founding the Women's Sports Foundation in 1974, Billie Jean has led the organization in its mission to advance the lives of girls and women through sports and physical activity. Since its inception, the Foundation has awarded more than $50 million in educational and cash grants to advance participation, research and leadership in sports and physical activity for girls and women.

King also serves on the board of the Andy Roddick Foundation and is a past member of the President's Council on Fitness, Sports and Nutrition. In February 2014, King was named, by President Obama, to the Presidential Delegation to the Winter Olympics in Sochi, Russia.


Battle of the Sexes
Release Date: September 28th 2017