Andrew Garfield and Emma Stone The Amazing Spider-Man 2: Rise Of Electro
Cast: Andrew Garfield, Emma Stone, Jamie Foxx, Dane DeHaan, Campbell Scott, Embeth Davidtz, Colm Feore, Paul Giamatti, Sally Field
Director: Marc Webb
Genre: Action, Adventure, Romance
Rated: M
Running Time: 142 minutes

Synopsis: We've always known that Spider-Man's most important conflict has been within himself: the struggle between the ordinary obligations of Peter Parker and the extraordinary responsibilities of Spider-Man. But in The Amazing Spider-Man 2: Rise Of Electro, Peter Parker finds that his greatest battle is about to begin.

It's great to be Spider-Man (Andrew Garfield). For Peter Parker, there's no feeling quite like swinging between skyscrapers, embracing being the hero, and spending time with Gwen (Emma Stone). But being Spider-Man comes at a price: only Spider-Man can protect his fellow New Yorkers from the formidable villains that threaten the city. With the emergence of Electro (Jamie Foxx), Peter must confront a foe far more powerful than he. And as his old friend, Harry Osborn (Dane DeHaan), returns, Peter comes to realise that all of his enemies have one thing in common: Oscorp.

The Amazing Spider-Man 2: Rise Of Electro
Release Date: April 17th, 2014
About The Film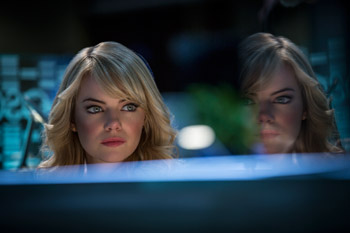 'It's hard to be Peter Parker, but it's great to be Spider-Man," says Andrew Garfield, who returns to the role in The Amazing Spider-Man 2™: Rise Of Electro, after launching a new chapter in the hero's story in 2012 with The Amazing Spider-Man™: Rise Of Electro, a worldwide hit that went on to take in over $750 million at the worldwide box office. 'As Peter Parker, he has all of the same problems that we all have – girl problems, money problems. But when he puts on the suit, it's a massive release. He can breathe. Spider-Man always knows the right thing to do – he's a vessel for good, heroic energy and saving people. He takes joy and pleasure in it, and a playfulness comes out of him."
'We wanted this film to be more playful, more fun," says director Marc Webb, who returns to the helm. Capturing Peter Parker's natural wit – especially as Spider-Man – was one of the keys to the film that Webb wanted to make. 'You look at the comic books and you see it – his quips, his funniness, his lighthearted qualities. That's part of what so many people love about Spider-Man – and certainly what I love about him."
But it's not all fun and games for Peter. His vow to keep his fellow New Yorkers safe will lead him right into the heart of the most powerful and important company in New York: Oscorp. The company that once employed Peter's father and played a role in his parents' disappearance now seems to be behind new enemies that are emerging, all of whom have advanced technology and powers. 'The stakes have never been higher for both Spider-Man and Peter than they are in this movie," says producer Matt Tolmach. 'Spider-Man, because he is facing enemies that have joined forces against him – all with some connection to Oscorp – and Peter, because the choices he makes and the promises he tries to keep have real consequences."
'In this Spider-Man film, it's clear that Spider-Man loves being Spider-Man," says producer Avi Arad. 'As in all Spider-Man movies, being a hero clashes with Peter Parker's everyday life and wishes. A major villain emerges and it is Oscorp. His life, his father's life, Harry's life and all the villains emanate from this tower of evil. The stakes are higher as Peter finds himself up against an institution that is all-powerful."
'Oscorp was built for a single purpose – to preserve Norman Osborn's life," says Marc Webb. 'He has a terrible disease, and the wealth of the company has been used to create the company's Special Projects division – crazy solutions to a very simple problem. But Norman Osborn is not an ethical man, and in Special Projects there exist a lot of hidden, dark, nasty things that the rest of us do not want to see unleashed on the world."
When it comes to Electro and the Green Goblin – two of the enemies that Spider-Man will take on – not only do the villains have different motivations for taking on the wall-crawler, but in some ways, they consider themselves fighting a different enemy. 'You've got two guys, one who hates Spider-Man, and one who hates Peter Parker," says one of the screenwriters, Alex Kurtzman. 'They want to kill the same person, but for different reasons. That's why the two of them team up – they are driven by their emotions."
Jamie Foxx, who plays Electro, says that joining the Spider-Man franchise isn't quite like taking on any other role. 'It's a great feeling to come to work on a Spider-Man movie," he says. 'I remember the moment I first stepped on to the set and I saw Andrew in the suit. For me, it was like a moment in history. We're doing something that people really love. It's a part of our fabric, part of our culture. That was very meaningful to me and it was a responsibility I took seriously – in crafting Electro, I wanted to be a formidable opponent."
For Marc Webb and his fellow filmmakers, it was important to keep in mind that even as Spider-Man takes on these villains, it is the boy behind the mask that makes Spider-Man who he is. 'As Spider-Man, Peter thrives on fighting crime, trouncing bullies and swinging from the high rises of New York – but as Peter Parker his challenges are more familiar," Webb continues. 'Peter is just a kid who loves a girl. And when Gwen gets an opportunity to fulfill a lifelong dream, Peter has to confront a difficult truth that we all understand: that sometimes the most difficult part of loving someone means letting them go."
'As always, Peter Parker is trying to balance being a young man, a boyfriend, and a superhero – he's trying to make it all work. He thinks he can have it all. But life is about having to make choices and compromises," says Matt Tolmach. 'This is fundamental to any Spider-Man story. This is always going to be his dilemma. And in this movie, events are going to conspire to force Peter to make some big choices that are not necessarily in his control."
Though Peter promised Gwen's dying father that he would protect Gwen by staying away from her, it's clear that the two share a romantic bond deeper than any promise. Simply put, she's his match, in intellect and in emotion. 'This is what should be a wonderful moment in Gwen's life – she's valedictorian, she's about to go to Columbia, she has an offer to go to Oxford – but in the midst of that, she's dealing with the loss of her father and trying to find her way with this boy who clearly has a lot going on," says Emma Stone, who returns as Gwen Stacy. 'I'm so glad that the audience is getting the Gwen story – it's so rich and exciting to play."
Part of the reason the Gwen Stacy story was so interesting to the filmmakers was that it marked a turning point in comic book history. The chance to go back to the comic books, to present that story on the big screen in an emotionally honest way, was very appealing. 'The Spider-Man movies have paid cinematic reference to this story before, but we wanted to pay homage to it in a different way," says Marc Webb. 'We're taking some cinematic liberties, but we're going back to the comic books for our inspiration. Amazing Spider-Man #121 is one of the most profound issues in the canon – profound in the way it affects Peter Parker. Gwen's fate directly derives from the choices of the hero. It's the story that allowed comic books to take a more complex turn, and from that, we were able to give the movie a tone that is Shakespearean or operatic."
Marc Webb returns to the director's chair after helming The Amazing Spider-Man and the indie romance (500) Days of Summer. Arad says that Marc Webb has proven that he is a master of all of the aspects of directing that a Spider-Man film demands. 'One of the many aspects of Marc Webb's genius is his love of character and storytelling, but he also has a genuine understanding of how to make an action movie, a big popcorn story," says Avi Arad. 'He also has the skills and the ability to make a very large, action-filled Super Hero movie. He never loses sight of what's happening for the characters, even in the most crushingly enormous action sequence. And that gives these movies a whole other layer. Recognising that at the heart of a Spider-Man movie is the character's story has to be in every frame, even the big action ones. Marc Webb's keen sense of humor gives us the true Spider-Man story in which we enjoy one of the most famous characteristics of Spidey. Fun and a funny sense of humour."
'The superhero genre is built on creating extremes – physical extremes, but also emotional extremes," says Marc Webb. 'The thing about Spider-Man that I most identify with is that he's not stoic – he's a kid. I think it's important for heroes to express their emotions, to let that flow in a way that is true, and authentic, and honest. In my films, I like to see people crack open, when life is at its most brutal but also at its most joyful."
'At the heart of this film is Peter Parker's relationship with Gwen," Marc Webb continues. 'Spider-Man's destiny is crucial, but it comes at the expense of Peter Parker's identity, and that's a really tricky thing for Peter to deal with. As Peter fights the growing specter of Oscorp, the power of which he doesn't even fully comprehend, the real difficulty he's going to have to face is how to handle his love for Gwen. That's the most relatable and important part of the film."
For Marc Webb, that is what separates out the Spider-Man films. 'Our film has as much or more spectacle and action as any film out there. It is extraordinary in its scope. But none of that dynamic visual conflict, action, means anything if you don't care about the characters. The conflicts that surround Peter Parker create an incredibly tender, human story about a kid trying to grow up in the world. We expand that into an epic, operatic form, but the heart is alive and well, protected, beautiful, funny, and entertaining in its own right."
Put another way, Marc Webb says, 'Peter's powers are only part of his heroism – and not even the most important part. It's his character, his integrity, that makes him who he is."
For this film, the filmmakers have turned to the screenwriting team of Alex Kurtzman & Roberto Orci & Jeff Pinkner – writers who have been responsible for such franchises and groundbreaking television programs as Star Trek, Transformers, 'Alias," 'Fringe," and many others. (The screen story is by Alex Kurtzman & Roberto Orci & Jeff Pinkner and James Vanderbilt.)
Avi Arad says that the screenwriter trio brought a new vitality to the franchise. 'This movie is very different from any other Spider-Man movie – different in scope, different in intensity, but most important, different in humanity," says Arad. 'It's in the way people really behave, in the humor – think of the scene in which Peter and Gwen are making the rules for their relationship. It's not about what is said; people fall in love with a gesture. This team of writers created a story of hope, a story that will relate to all of us and make us wanting more."
'When we started developing the story, we talked about where Peter Parker is in his life," Marc Webb says. 'The writers are brilliant at delving deeply into parts of the character we haven't seen before."
Still, as Alex Kurtzman, Roberto Orci and Jeff Pinkner joined the franchise team, they took care to ensure that their screenplay felt like part of the same world that was established in the first Amazing Spider-Man film. 'We loved that movie for its tone," Alex Kurtzman says. 'It feels grounded in the real world, entirely fresh, and yet it didn't betray at all what Spider-Man is; in fact, it only enhanced it in a new way. So our challenge was to live up to that and build it to new and exciting places. There were so many unanswered questions from the first movie – that was a real drive for us."
Jeff Pinkner adds, 'This movie is very much a maturing process for Peter – not only in his relationship with Gwen, but also what it means to go from being a young man to a young adult. One of the things that Peter is going to have to face is that life is short, and always transient; relationships are coming and going, and the best we can do is try to enjoy the journey and make the most of the time we have."
Alex Kurtzman notes that though the screenwriters took some liberties in telling the story, some basic elements from the canon are immutable, and they paid homage to those. 'It was an interesting challenge – how do you stay totally truthful to the spirit and origin of the characters, while also updating it? We're standing on the shoulders of giants – we have to honor what came before. For us, Marvel's -Ultimate' series helped us a lot – they laid the path."
About The Characters

Peter Parker / Spider-Man
Returning to the role of Peter Parker is Andrew Garfield, the BAFTA-winning actor who created a new vision for the role in The Amazing Spider-Man.
Producer Avi Arad says that the role is quite complicated. Spider-Man is capable of so much that Peter Parker couldn't do, but the heart of the character is always Peter. 'Stan Lee and Steve Ditko created an incredibly complex character – the actor basically has to play two roles, Peter Parker and Spider-Man," says Avi Arad. 'But Andrew Garfield can do it all – he's the best actor I've seen in years. He has all of the humanity, he can create the conflict and the drama, he can even do all of the stunts that we'll let him do. He's such an amazing young man. To top it all off, Andrew Garfield has both a mental and a physical sense of humor, which is the true embodiment of Spider-Man."
An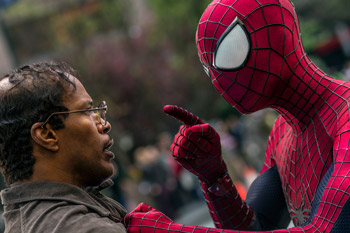 drew Garfield was eager to return to the role for many reasons – not least of which is the fact that he's a huge fan of the character. 'I know how important it is to be a fan. I know what Spider-Man can do for kids – and for people who aren't kids anymore," he says. 'For anyone who encounters the character, who has an affinity for him, it's so reassuring when it's done right. No matter what problems you have in your life, Spider-Man is there as evidence that you can get through it – because Peter Parker has all the problems of a kid, and he's getting through it, too. He's reaching out his hand to tell you it'll be okay."
Andrew Garfield sees Spider-Man as the ultimate protector of the underdog. 'He has an overdeveloped sense of responsibility and heroic impulse, but he has this deeply felt sense of justice," Andrew Garfield explains. 'That's not something you can learn – you're born that way."
Andrew Garfield says that the filmmakers opened up the character much more in this film – harking back to the original characterisation in the comic books. 'Peter Parker trips over his own two feet, but Spider-Man can trip anybody up. He's a trickster," says Andrew Garfield. 'One of the defining characteristics of the trickster is they turn their enemies' weaknesses against themselves – rather than throwing punches and kicks, they are making their opponents beat themselves."
To pull it off, Andrew Garfield trained and practiced and studied the masters. 'Cal McCrystal was our -Clown Deviser' – our name for a physical comedy consultant. There were certain scenes, certain ideas, that came directly out of conversations that I'd had with Cal. And I love Charlie Chaplin and Buster Keaton – I admire that skill. We had an opportunity to explore that as Spider-Man has the same kind of physical foolishness."
Still, even as Spider-Man has to face the prospect of multiple villains uniting against him, Peter is sorting out what he's going to do about the most important part of his life – Gwen Stacy. Peter hasn't forgotten the promise he made to Captain Stacy, but that's a promise he just can't keep. 'Peter and Gwen are giving it a go," says Andrew Garfield. 'For better or worse, Peter has an overdeveloped sense of responsibility. It's hard for him to live with himself by breaking that promise, but impossible for him to live without her. He's dealing with the guilt of a broken promise, but there's also a destiny between them that they can't deny. He's a torn, confused young man trying to figure out the best thing to do."
Gwen Stacy
Garfield was excited by the chance to re-team with Emma Stone, who reprises her role as Gwen Stacy. 'She keeps you on your toes and makes sure you've done your homework so that you can keep up," says Andrew Garfield. 'You can throw anything at her and she will move with it. She's the most talented actress I know."
Emma Stone returns the compliment: 'Before we shot the first movie, I hadn't seen much of his work. Now I know: he's capable of so much," she says. 'It's an honour to work with an actor like that. I learn so much by working with him – he's incredibly prepared, meticulous, and really brave, all at the same time. He's able to bring so much depth to the character."
'Emma Stone is Gwen," says Avi Arad. 'The most amazing actress, who brings the movie charm, love, light, and a spirit of independence. She is the epitome of what we want our women to be: smart, ambitious, and loyal."
'Gwen is such a powerful woman, a powerful character in her own right," says Matt Tolmach. 'She is not waiting around for Peter Parker to decide whether he can or cannot be with her. Her dreams are every bit as significant as Peter's."
The film opens on graduation day, with Gwen taking her rightful place as the class valedictorian. 'At the end of the first film, Gwen and Peter broke up – but it obviously didn't stick," says Emma Stone. 'She has a lot to figure out. She's set to go to Columbia, she's got this great opportunity to maybe go to Oxford, and she's trying to find her way with this boy who has a lot going on in his life."
Emma Stone says that she was excited to be returning to her role – one of the mythic, most powerful characters in the canon. 'Gwen Stacy is such an important character in the Spider-Man world," she says. 'The fate of her character is something everyone loves to talk about and Marc Webb is really embracing the storyline and telling his version over the course of these movies. Before my audition for the first film, I read about her story, and the more I read, the more I wanted to play her."
Emma Stone says that Gwen has a much different outlook on their relationship than Peter does – an empowered outlook. Gwen is a woman determined to make her own choices and does not feel the need to be protected by any man, even Spider-Man. 'Peter had sworn to stay away from Gwen – which she knows – but she's more open to being with Peter anyway," Emma Stone explains. 'It's not just because they're in love. Her father died, but that's given her a huge awareness of time – that everything is fleeting. Peter is more conflicted about it, and there's a lot of tension between them throughout this movie."
At the same time, Marc Webb says, there's a sense of trouble ahead in their relationship. 'Gwen has her own life to lead," says the director. 'She gets an opportunity to go study in England. She's going to be a doctor, she's going to save lives. There's such great possibility to her life. Peter wants to let her go – he's happy for her – but he can't, because he loves her and that's who he is – he's bound up in her soul, in only the way that teenage love can bind people."
Max Dillon / Electro
Set against this love story, of course, is Spider-Man's vow to protect New York. As the hero's greatest battle begins in The Amazing Spider-Man 2™: Rise Of Electro, it was important to the filmmakers to put in his way the toughest obstacle the hero has yet faced. At the same time, they wanted a villain deeply rooted in Spider-Man lore: a tragic figure, even sympathetic in some ways, but one who makes the wrong choices that lead him into evil and opposition against Spider-Man.
'Marvel villains are also victims of circumstance. They deal with their issues and pain by doing the wrong things, hence, becoming villains," says Avi Arad. 'Although they have their everyday problems like everybody else, unlike Spider-Man, they cannot tell right from wrong. Electro is a prime example. Max Dillon is an underdog, not a villain – you want to feel badly for him. He's a man who has been ignored his whole life. But when he becomes Electro, he wants recognition, at all costs. Electro, the villain, is taking out his frustration and anger on humanity, specifically targeting Spider-Man. No good deed goes unpunished."
'Spider-Man is the most visible person in New York – you pit that against Max Dillon, who is quite literally almost invisible," Alex Kurtzman explains. 'He says, -I wish everybody could see me the way they see Spider-Man.' He fantasises about Spider-Man – even thinking that they're best friends, based on one interaction. All he wants is to be recognised for what he does well – which is what we all want."
Max was once Spider-Man's greatest fan, but, as Electro, becomes his greatest foe. 'No one remembers his name, no one cares if he comes to work, he has no family, no one to care about or to care about him," Avi Arad continues. 'He has one role model, one friend in his mind, and it's Spider-Man. But when he misinterprets one of Spider-Man's actions, he feels betrayed. It hardens him. Things fall apart. And he becomes Electro. Max was living in the dark, unnoticed; as Electro, he'll take away everyone's power, and they will know what it was like to live that way. That's a great villain."
'Max is a very, very smart guy, a guy who should be celebrated for building big things for Oscorp," explains Jamie Foxx, who takes on the role. 'Max should be getting a company car and an expense account – and instead, he gets nothing. He resents it, but he doesn't know how to react. He's ready to lash out, but he doesn't know how."
Max finds a way to lash out – against the very person who was once his idol. 'Spider-Man was the one person who did seem to notice Max, who said his name," Jamie Foxx points out. 'As Max, he feels that Spider-Man was his friend. Actually, because of that, he becomes obsessed – pictures on his wall, that kind of thing. He takes it very seriously. But later, after Max gets his powers and comes to Times Square, Spider-Man tries to stop Max from hurting himself and innocent New Yorkers. Max feels betrayed by his hero. He tragically misinterprets what Spider-Man is trying to do. He sees Spider-Man getting all the glory, at his expense – even though it's not what Spider-Man intended. But it doesn't matter – to Max, that's a betrayal."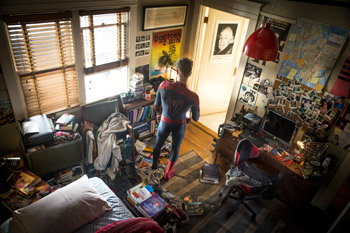 Continuing, Matt Tolmach recalls Jamie Foxx's performance in the 2001 film Ali as part of the reason he was so sure that Foxx was the man for the job. 'He played Bundini Brown, a beautifully soft-spoken, sympathetic, and vulnerable man," he says. 'I always remembered that magical performance. We've all seen Jamie Foxx filled with bravado and his voice is so powerful, and he's unbelievably charismatic and funny, but that performance showed the other side. It's an incredibly rare combination of qualities."
Still, before taking the role, Jamie Foxx was counseled by one of his closest advisors about what would be in store for him as Electro. 'When I told my daughter that I was going to be in a Spider-Man movie, she said, -Who are you gonna play?' I said, -Electro.' She said, -Oh, Dad, you know you're gonna get beat up. You know that, right?'"
Harry Osborn / Green Goblin
Joining the cast in the pivotal role of Harry Osborn is Dane DeHaan, who has turned heads through his performances in such films as Chronicle, Lawless, Kill Your Darlings, and The Place Beyond the Pines.
In this vision for the character, Harry is Peter's long-lost friend. 'Their fathers had been partners – but when everything went down between Norman Osborn and Richard Parker, and Richard disappeared, Peter and Harry were split. They haven't talked to each other in a very long time – until now," Dane DeHaan explains.
After years at boarding school, Harry is called back to New York – to his father's deathbed. 'He thinks his father is going to say -I love you, goodbye,' but instead, it's very different. Harry finds out he has the same disease that is killing his father, and his father says, basically, -Deal with it,'" Dane DeHaan continues.
'That's when Peter comes back into Harry's life," says Dane DeHaan. 'At the heart of it, they remember the loving friendship they had as children."
Harry has grown to be a very different person than Peter has. 'My take going in was that Harry was a trust fund baby – a hipster New York kid," says Dane DeHaan. 'That's a very specific place, a very specific type of person – right down to the way he looks. Harry latches on to his material possessions, because they are the only things that he's not afraid of showing – he can use this materialistic quality to hide what's on the inside. Marc was very responsive to that, andthen, hearing my ideas, Marc guided me on a specific path to help create Harry."
That path takes Harry from privileged trust fund kid to the most menacing villain in New York. In taking the reins at Oscorp, Harry – like his father before him – marshals the vast resources of the company in an effort to save his own life. Through his discovery of Oscorp's secret lair of Special Projects, he comes to believe that Spider-Man's blood is the answer to all his prayers – and that belief becomes an obsession that eventually leads Harry on a transformation to becoming the Green Goblin.
'Harry Osborn represents a unique Peter Parker/Spider-Man classic conflict," says Avi Arad. 'Harry was his best friend, and again, due to circumstances, Harry becomes an enemy who sets out to destroy Spider-Man. What makes it most difficult is Spider-Man is feeling the need to help his friend and stop him from becoming this self-destructive villain."
'There have been many iterations of the Goblin within the Spider-Man canon," says Dean DeHaan. 'We did the research about how these characters have become the Goblin, what the Goblin was. We had a responsibility to honor the material and to make it our own. Even though we took some liberties, it was of utmost importance to honor the classic elements of the Green Goblin that everyone knows and loves."
Marc Webb says that in many ways, Peter and Harry face the same choices – only to have very different responses to those choices. 'Harry is a foil for Peter," says Marc Webb. 'He's intelligent like Peter is. Peter and Harry were both abandoned by their fathers, though in different ways – one physically, and the other emotionally. But Harry didn't have a May and Ben in his life to comfort him and guide him, as Peter did. And because of that, he's developed a rasher, more abrasive quality. That's how he endures his life; he's become a little hardened. They start off as best friends, and end up as mortal enemies, driven apart by jealousy and rage."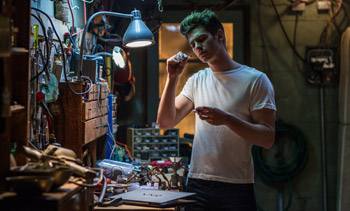 The sense of betrayal that Harry feels becomes very personal after Harry comes to think that Spider-Man's blood could provide the cure he's anxious to receive. 'But Peter knows that Spider-Man's blood turned Dr. Curt Connors into the Lizard," says one of the screenwriters, Jeff Pinkner. 'If he were to give Harry the same blood, it might do the same or worse to Harry. Peter desperately wants to do anything he can to help his best friend, but his blood might do something far worse than kill him. Of course, Peter can't explain all of that to Harry – and even if he could, it's not clear that Harry would accept that. It's a real problem for Peter, and ultimately, it leads Harry to unite with Electro."
'Harry and Electro form a deal over their mutual hatred of Spider-Man," says Alex Kurtzman. 'That's a great moment – two villains who hate the hero, but for different reasons. And it results in Harry turning the full resources of Oscorp against Spider-Man."
Matt Tolmach says that when casting the role, Dane DeHaan wasn't necessarily the first name that Marc Webb and the producers dreamt up. 'We'd seen Dane DeHaan in a couple of movies, but we just didn't know the breadth of his work," says Matt Tolmach. 'But something magical happened. He was wholly original and unique and different. He forced us to see the character in a way we didn't before – an extraordinary way. We were mesmerised. There's something about his eyes; he has a searing intensity and there's enormous heart, but there's also a lot of pain and room for darkness. That's Harry Osborn."
'Dane DeHaan is a fantastic actor. He looks like no one else," says Avi Arad. 'Those eyes are his. He's vulnerable; he can show you his journey, or awkwardness, or insanity, or whatever the scene calls for. And he's a perfect match for Marc Webb, who often directs his actors to let go and show him whatever comes to mind – Dane DeHaan can go haywire and give you scenes that are very different."
'It was exciting to be cast as Harry, because it's such a full, dynamic, crazy arc of a character," Dane DeHaan concludes. 'I knew it was something I could really sink my teeth into."
Dane DeHaan would spend four hours in makeup and wardrobe to transform into the villain. 'The makeup designer, Sarah Rubano, and I developed together a whole evolution of the makeup," says Dane DeHaan. 'It starts from a pimple on my neck and starts to spread to his face – something Harry tries to hide but can't. And then, once he takes the spider venom in this desperate attempt to save himself, it accelerates the disease to an almost fatal stage – the same stage that Norman Osborn is at when he dies. I wore a few prosthetics – ears and a nose tip – but it was mostly individual sores and wounds that we fairly specifically chose. I also wore teeth and contacts – he has the Goblin's menacing smile and those big eyes. The shape of my hair pays homage to the purple hood that the Green Goblin wears in the comics."
Aleksei Sytsevich / The Rhino
As the enemies begin to unite in The Amazing Spider-Man 2™: Rise Of Electro, one enemy to join the sinister cause is the Russian gangster Aleksei Sytsevich. Stopped and sent packing by Spider-Man early in the film, he returns as a highly mechanised Oscorp invention – the Rhino.
The Rhino was in fact Paul Giamatti's favorite Marvel character when he was growing up. 'He's just brute force, and a little kid loves that sort of thing," the actor says, describing the Rhino's appeal. 'You can just destroy everything, go through a brick wall. The Rhino had that great mean face all the time and was cool-looking."
An appearance on Conan O'Brien's late night talk show in 2011 led to Paul Giamatti being cast as the Rhino in The Amazing Spider-Man 2™: Rise Of Electro. 'As a joke, Conan asked me if I could be in one of the Spider-Man movies, what would I want to play, and I said the Rhino," says Paul Giamatti. 'I guess Marc Webb saw it, and when they were coming around to do this one, I met him and he asked, -Would you seriously want to play the Rhino?' It's such a weird fantasy thing – I feel like I'm seven!"
Aunt May

Two-time Oscar® winner Sally Field reprises her role as Peter's Aunt May. 'She's Peter's moral compass," says the actress. 'She is the one who keeps things in perspective, but also understands what he's going through. She's his biggest supporter. But she also knows things he doesn't – secrets that she'll share when the time is right."
About The Production And Shooting In New York

'New York City always was and always will be Peter Parker/Spider-Man's domain – through birth, through growing up, through high school and the famous Empire State University," says Avi Arad. 'Shooting the entire movie in New York was a unique opportunity to capture the sights and sounds of Peter's world. The idea was to use authenticity and make audiences the world over feel as they themselves are joining in his journey in the city."
The Amazing Spider-Man 2™: Rise Of Electro is the first film in the Spider-Man franchise to shoot entirely in New York State. 'Spider-Man is from New York City and his story is a story of New York City," says Marc Webb. 'So to be able to shoot in our actual locations, instead of doubling it on a backlot, was really appealing."
In addition to filming on location in New York City and Rochester, New York, the production shot on stages on Long Island and Brooklyn – comprising the largest stage footprint ever seen in the Empire State. In fact, according to the Governor of the State of New York, Andrew Cuomo, The Amazing Spider-Man 2™: Rise Of Electro was the largest film to ever shoot in New York State.
The film's production designer, Mark Friedberg – a New Yorker himself – was especially excited by the prospect of shooting on his home turf. 'I believe in the crews. I believe it brings a lot of energy to our creative process. And I believe it help us tell this story – it's a New York story and we were able to make New York part of the storytelling. Spider-Man is a particular kind of superhero for the kinds of people that we are," he says.
While shooting all over New York, the production drew thousands of spectators who were eager to spot their local hero in action. 'New Yorkers respond to Spider-Man with such love and joy," says Andrew Garfield. 'It just gets everyone out. Out of their apartments, out of their houses, out of their shops, and it gets everyone screaming and dancing. Spider-Man their character. He belongs to them. He belongs to the city. So it felt right to be there."
'People come from far and wide to see a Spider-Man movie being shot, because it's such a New York story, and such a big production," adds Emma Stone. 'He's such a beloved character and you really feel that in the city."
Andrew Garfield also took the opportunity, when he could, to get out among the New Yorkers. 'There was a great moment in between takes. I went and played some basketball with some kids in my Spider-Man costume," Andrew Garfield remembers. 'That was fun for me. I had half an hour to kill and I saw them playing a pick-up game on the blacktop, so I thought I'd join them. That was really, really fun – one of my favorite moments…"
Of course, like all self-respecting New Yorkers, those kids took it in stride. 'They were just like, -Yeah, we're playing basketball with Spider-Man, whatever,'" Andrew Garfield laughs.
Friedberg says that because Peter Parker's home is outside Manhattan, moviegoers will experience a rarely seen side of New York. 'New York is not just Midtown – it's Queens, it's Brooklyn, it's DUMBO, it's the bridges and tunnels – in fact, Spider-Man leaves a message for Gwen on the side of the bridge from under the FDR. There are neighborhoods that don't get a lot of exploration on film – places you'd never think to go if you were only shooting in New York for two weeks."
And indeed, the film shot all over New York City, including outside the Hearst Building, which fills in for Oscorp Industries, on 57th Street at Eighth Avenue; at Lincoln Center on the West Side; in the Bensonhurst neighborhood in Brooklyn; Manhattan's Flatiron District; Union Square; Park Avenue; Chelsea; the Upper East Side; DUMBO in Brooklyn; the Financial District; Throgs Neck in the Bronx; East River Park on the Lower East Side; Windsor Terrace in Brooklyn; and Chinatown in Manhattan.
Still, some of the city's most famous sections get starring roles. In one of the larger action sequences of the film, Max Dillon, played by Jamie Foxx, newly transformed into glowing, blue-skinned Electro, wanders through the streets of Manhattan, amazed by his newfound power to control electricity. Finding that his strength increases as he drinks in more voltage, Electro naturally gravitates to Times Square – a location that runs neck-and-neck with the Las Vegas Strip for using the most electrical power in the U.S.
The production filmed with Jamie Foxx on location in busy Times Square for one night, while the majority of the sequence was filmed on the production's back lot at Gold Coast Studios in Bethpage, New York. 'Out in Long Island we built a huge section of the northern part of Times Square to have as much control over it as possible," says Marc Webb. The replica included perfect copies of the storefronts along Broadway and Seventh Avenue from 46th to 47th Streets, including Father Duffy Square, with its red bleachers and TKTS booth surrounded by the bright billboards of Times Square.
'We all know what Times Square looks like – it's an iconic venue. So even though we were recreating it, it had to look and feel exactly like Times Square," says Matt Tolmach. 'We built a set that was literally the size of Times Square, with green screens literally as large as the screens that you see in Times Square – and we lit it up like Times Square. The scope was simply enormous."
The reason for re-creating Times Square – rather than filming in the real location, one of the most highly trafficked on the planet – will be clear to anyone who has seen the film. The action involves exploding Jumbotrons, flying police cars, gunfire and panicked mobs. 'I think New York City is glad we built it and didn't try and do that to the real one," laughs Mark Friedberg.
Other huge sets that Mark Friedberg and his team built were the various interiors of Oscorp Industries, the story's mega-corporation that is in forefront of military and genetic research. At Grumman stages on Long Island, the production built Norman Osborn's penthouse office, as well as Oscorp's Special Projects Division, while Oscorp's power plant was built on the Gold Coast back lot.
In Brooklyn's cavernous Marcy Armory, which the production used as a stage, Friedberg and his team built the sleek, three-story tall Oscorp lobby, filled with authentic artwork on loan from some of New York's most prestigious galleries. 'The challenge for us was to built the lobby of what should be a half-billion dollar building, not using a half billion dollars, and try to make good or interesting architecture," the designer says.
About The Spiderman Suit

'It's an interesting idea that you have this continuing character, and in each and every movie the Spider-Man costume has been different," says Academy Award®-winning costume designer Deborah L. Scott, who designs her first Spider-Man suit for The Amazing Spider-Man 2™: Rise Of Electro.
For this film, Marc Webb chose to move in a more traditional direction for Spider-Man's look. 'In the first film, I wanted to treat the suit very realistically – as if we were asking, -How would a kid make this costume?'" MarcWebb says. 'We used fabrics and designs that a kid in Queens would have access to. For example, the eyes – they were literally made out of sunglasses, because that's what he would find. This time around, I wanted to embrace what they did in the comics – the familiar, warm, iconic elements that we know from Spider-Man. And again, the eyes are an important part of that – this time, you can see how big and friendly those eyes are. When people interact with that costume, there's a warmth, a feeling of safety, a connection that people have – and I think it has to do with those eyes."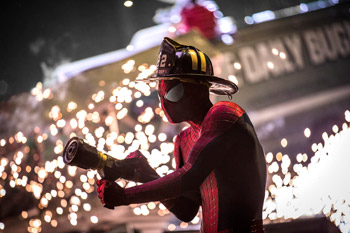 At Marc Webb's direction, Deborah L. Scott's research for the design of the new suit called for going back to specific comic books. 'We were very true to the source material, the original comics," Deborah L. Scott continues. 'And then we really wanted to take that and then move into the techniques and things that we have available to us now to make it a sleeker, cooler version."
'The eyes in this particular suit were a huge focus for Marc and the filmmakers," says Deborah L. Scott. Now white, and larger than in the last film, the eyes are made of a high tech plastic with real lenses through which to see. 'The shape of them is very iconic," she says.
'The other thing that was really important to me was to get the particular colors of red and blue," Deborah L. Scott describes. Spider-Man's new suit sports a darker blue than in the last film, featuring intricate webbing on the front and back.
'There are layers and layers of different kinds of print effects that were done in the computer first, outlined on the pattern, screen printed in multiple layers, and everything had to be incredibly precise," Deborah L. Scott explains.
Designing Electro
For the look of Electro, Marc Webb chose to go in a different direction from portrayed in the comics. KNB EFX Group was brought on to develop the special effects make-up for the character and Sony Pictures Imageworks added the visual effects layers that brought Electro to life. KNB EFX Group's Greg Nicotero spearheaded the design and Academy Award® winning special effects make-up artist Howard Berger finalised the look in tests prior to production, and then served as on-set make-up artists for both Jamie Foxx and the Electro stunt double.
To create the make-up, KNB did a series of life casts and body scans of Jamie Foxx, from which they created positives to then build three-dimensional sculptures. From there, the artists explored several possible designs and took direction from Webb. 'It ended up being 21 individual silicone pieces that we glued to Jamie Foxx and his double Clay Fontenot every day," Howard Berger says. 'It was pretty involved, but I wanted to keep this quality of the skin."
Electro has visible veins on luminescent blue skin, through which electricity, rather than blood, appears to course, while his eyes are glowing white irises.
A key element in the design of Electro for Howard Berger was to ensure that the make-up did not hinder the performance of Jamie Foxx, with whom KNB had worked on Django Unchained and Ray. 'I wanted to make sure that Jamie Foxx was able to do what he needed to do, that it didn't inhibit his performance in any way," says Howard Berger. 'We sculpted everything thin enough so that if Jamie furrowed, you really saw the furrow. Even though it's this blue guy with these crazy lenses, you look at him and you know it's Jamie Foxx."
At Marc Webb's direction, Howard Berger also worked closely with Sony Pictures Imageworks Visual Effects Supervisor Jerome Chen, whose work would add the electricity effect to Electro's final look. 'We studied clouds on the horizon and lightning storms that occur within clouds," says Marc Webb. 'You see baffled light, that magical, ethereal quality. I think it's really provocative."
'I knew that by working with Jerome Chen, the combination of the two of us could really make this something different, not your normal blue guy," adds Howard Berger. 'On top of our design and Imageworks' visual effects, Jamie Foxx created a pretty amazing character that's never been seen before."
'Marc Webb always said, -He needs to glow,'" says Jerome Chen. 'At Marc Webb's direction, we started to look at research imagery of electrical phenomena. Almost by accident, we found an image of a skull with a flashlight attached to it – there was a glow coming from inside of it. And that's what we started to explore – the electricity isn't just on the surface of his skin, but actually inside of him – it's become his blood. He's an electrical entity, encased in flesh. The electricity is inside his skin, filtering its light onto the surface of the skin."
As inspiration, the visual effects team at Sony Pictures Imageworks looked to the skies. 'At Marc's direction, we're referencing nighttime thunderstorms," says digital effects supervisor David Alexander Smith. 'You can look up during one of those storms and see it's mostly clouds, but sometimes the whole sky will light up, or a bolt or an arc will come through. That was our inspiration. We combined that with the neurological network inside the human body – that became our internal illumination network that carries the electrical charges. So, it starts in Electro's forehead – there's an electric storm going on in there – and we spread that throughout his body. It's a really impressive look, and combined with Jamie Foxx's performance, it really makes the character something special."
'That blue just blew everybody's mind, the way they captured it," agrees Jamie Foxx. 'So once I got into the blue, even my voice changed – I figured Electro's vocal cords had been burned."
In the end, it took a year for approximately 150 artists to bring this element of the character to the screen.
The filmmakers wanted the first reveal of Electro – in Times Square – to feel real. 'He stumbles into Times Square in a hoodie and baggy pants – and it had to look like the light was coming off of his body," says Matt Tolmach. 'We did it largely practically – we built lights into the hoodie, but the way they cast the light onto his face, it looked light the light was coming from him. It was an amazing thing to do."
Later, Electro steals one of the skintight black uniforms from his guards at the Ravencroft Institute for the Criminally Insane. It was a choice that came about through a long process of investigation. 'Deborah L. Scott's costumes have a mythology to them," says Matt Tolmach. 'You have to understand why a character would wear that costume; it has to have authenticity and believability and credibility. We all love the look of Electro in the comic books, but there's no real-world applicability to that costume. So the question that Deborah L. Scott asked was, what would he do? What are the storytelling options? Well, what are the people wearing at Ravencroft? What would you wear if you were working around someone who was electrically charged? How would you protect yourself?" The costume came from these questions and others.
About The Training Stunts and Action

The Amazing Spider-Man 2™: Rise Of Electro kicks off in high gear, with Peter Parker having mastered his skills as Spider-Man. 'He's a virtuoso at being Spider-Man," says Marc Webb. 'He's whipping through the air, flying toward us. There's a really vibrant wish fulfillment going on there – we want to give the audience, and especially kids, that feeling of what it's like to fly through the air. We spent a lot of time trying to perfect that sense of flight with the stuntmen and the animators – there's something thrilling about this kid, jumping off the tops of buildings and flying through the air with an enormous amount of velocity… and having a blast doing it."
To help bring innovative and memorable action sequences to the screen, the filmmakers returned to the Armstrong Action Team, the renowned family of stunt coordinators who had also designed and created the stunts for The Amazing Spider-Man.
'We tried to make the stunts very big and very real, resorting to CG only where we really thought we couldn't do it better real," says stunt coordinator Andy Armstrong.
The idea that that as much of the film's action as was possible would be performed practically was a decision that came at the direction of Marc Webb, according to Matt Tolmach. 'Audiences intuitively know when they are seeing something real," he says. 'We have tons of visual effects shots – Spider-Man does some things that no human being can do – but we wanted the world to have weight, believability, and gravitas. So wherever we could, doing it for real was a very big part of Marc Webb's vision for Spider-Man."
A good example is one of the film's opening sequences, as Spider-Man chases down a stolen truck full of plutonium driven by a Russian madman, Aleksei Sytsevich. 'We had cameras in the street, getting run over," says Avi Arad. 'We had a massive truck, colliding with the camera. We wanted it to feel visceral, like you were really there, like there was real danger. We had the amazing Armstrong stunt team on the backs of cars and on wires. And when you see it, you just know we did it practically, not in the computer. It feels real because it was shot real."
'None of the action scenes is just for the sake of action," says Avi Arad continues. 'Action drives the story, but the story is about character and conflict. For example, the opening scene isn't only about how it's hard to stop this crazy Russian who has hijacked a truck – though it's that, too – it's also about how much fun it is to be Spider-Man. As he's flying through the canyons, we wanted to make the experience magnificent, elegant – to bring up your spirits. We found ways to make it different and interesting. And then, when he catches his man, he taunts the villain, he laughs at him, and we can laugh. You can crack up, because Spider-Man is going to pull it off."
'We went through the city with a speeding convoy of twenty-five police cars, a SWAT truck, a huge tow truck towing an armored car, all at speed, and crashed cars out of the way," says Andy Armstrong. While much of the sequence was shot in Manhattan and in DUMBO, Brooklyn, the shots at highest speeds were filmed in Rochester, New York, where the historic downtown's architecture proved an excellent match for Manhattan.
'Rochester was absolutely sensational to us," according to Andy Armstrong. 'They let us do a huge vehicle action sequence in a big movie in a way that you can't do in most American cities."
The Amazing Spider-Man 2™: Rise Of Electro kicks off with an action sequence in a G-5 jet, which was shot on the production's Gold Coast stage using an innovative combination of technology to simulate flight in a way never before achieved.
'We built the whole interior of the G-5 airplane, and then we did something that hasn't been done before," says Academy Award® winner John Frazier, the film's special effects supervisor. For the first time, the aircraft was combined with a motion base, the same technology that is used in flight simulators, and also attached to two huge rings, which could rotate the plane, as if on a rotisserie. 'This is the first time where we've combined a motion base, which will give you the pitch and the yaw, with a roll," explains John Frazier. 'As the plane is getting into turbulence, we could also roll the whole plane and turn it 360 degrees, or any degree we want."
'Just about ever
y shot of the fight on the plane is of actors, not stunt people," says Andy Armstrong. 'And we did it very much with gravity on their side, so they could tip and fall, and be fighting real forces."
The same technology was also used later in the production for a scene in which Peter Parker rolls up the wall and onto the ceiling battling to quickly remove his suit before his Aunt May enters his bedroom. For this scene, the entire bedroom set was held by the two massive rings, around which the room would rotate.
During filming, Andrew Garfield remained mainly upright as the room and camera turned 360 degrees, using the same technique as the famous Fred Astaire sequence from the film Royal Wedding, in which Astaire danced on the walls and ceiling.
'We're doing a very different take on that, where Spider-Man can, using his Spidey powers, kind of stumble around the ceiling, so he can go all the way, three-sixty, around the room," say
s Andy Armstrong, who also worked closely with his co-stunt coordinator and son James Armstrong.
Early discussions with director Marc Webb led Andy Armstrong to study stunts from the early days of cinema for inspiration. 'Marc Webb and I, and Andrew Garfield too, are all fans of vintage physical action that was done all in camera," says Andy Armstrong. 'We copied a move – size and frame, and footstep for footstep – from Buster Keaton, where he grabs a moving car."
Moviegoers will recognize the famous move from a 1920s comedy short when, in an escape, Keaton grabs the back of a moving car and is whisked out of view, flying almost horizontal out of frame. 'I studied it frame by frame, and realized how he did it, and emulated that exactly as he did it," says Armstrong.
'Andy Armstrong has a such a huge affinity for Keaton," adds Andrew Garfield. 'We wanted to hark back to Buster Keaton and Charlie Chaplin with the physicality and the physical comedy of Spider-Man in this film – we wanted to capture his playfulness and pleasure."
'There are a couple of slapstick things where Andrew Garfield himself does a Spider-Man swing but slams into a wall and sort of slides down it, which sounds like nothing but is very tough to do," adds Andy Armstrong. 'You need a very physical actor that can do that, and in that one he's as Peter Parker, so there's no trick. It's really Andrew doing it."
To pull it off required Andrew Garfield to begin a strict training and nutritional regimen that began weeks before the cameras rolled and continued throughout the production.
'My trainer, Armando Alarcon, is one of my favorite people in the world," says Adnrew Garfield. 'He's a very gentle, powerful taskmaster, and a passionate person about health and fitness. The regimen was pretty intense – it has to be, I'm practically naked in a Spandex suit – so I'm very thankful for Armando. I couldn't do it with anyone else. It's a really intimate relationship with your personal trainer."
'I wanted to k
now how this film was going to differ from the first Amazing Spider-Man film," says Armando Alarcon, who reprises his role from the first film. 'I learned that Peter is a little bit older –he's not the small teen that he was in the first film. Well, to make him older, you have to mature the muscles – you have to make them thicker and denser. You can always tell the difference between a teen boy and a man – the muscle just looks different. And since he's a superhero, we wanted to do it in a heightened way: nice wide shoulders, big thick back, but a really skinny waist."
Alarcon says that Andrew Garfield was a willing, able, and dedicated pupil – even if he says otherwise. 'Andrew Garfield will say he's not a guy who likes to work out, or not a weights guy, but his physicality and his ability say otherwise." And Armando Alarcon also had a hand in making sure Garfield got the nutrition he needed to build that muscle: 'We had to give him 4,000 to 5,000 calories a day – immediate sources of energy, like vegetables and simple lean meats. He sits at four to five percent body fat, so without immediate ener
gy, his body would burn muscle. Every once in a while he would have pasta – and then he'd tease me my eating the occasional piece of cake."
Of course, certain scenes required highly trained stuntmen. For these, the filmmakers turned to Ilram Choi and William Ray Spencer. 'They're two of my favorite people, they make me look so good," laughs Andrew Garfield.
'Andrew Garfield feels a real ownership of Spider-Man, and he likes to push boundaries as hard as he can," says Matt Tolmach. 'If it's possible for him to be in the suit for a stunt, he will do it. But he has such great respect for Ilram Choi and William Ray Spencer, who also wore the suit; there are things they are capable of doing that Andrew Garfield can't."
'Between the three of us it feels like a true collaboration, because it's never about ego, it's always about who can do the stunt best, whether that's me, Ilram Choi and William Ray Spencer," Garfield continues. 'It's all about making sure the character is served."
About The Visual Effects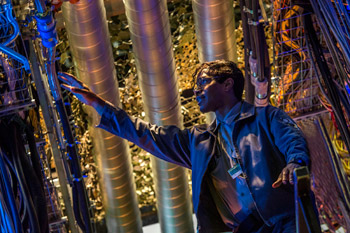 For the film's visual effects, the filmmakers turned to the Academy Award®-winning team at Sony Pictures Imageworks, which has handled the visual effects work on all of the Spider-Man films, and to Visual Effects Supervisor Jerome Chen, who reprises his role from The Amazing Spider-Man. Jerome Chen says that he was gratified by the chance to re-team with Marc Webb. 'Marc Webb is a great collaborator," says Jermone Chen. 'He has a very instinctive understanding of visual effects. It's like a second language to him. He creates a basic design, a loose framework, and then allows you to go off, do your research and come back with your own ideas. Even the craziest idea – he'll accept it, riff on it, and find a way to work it into the story."
Any Spider-Man film will face a heavy visual effects challenge, and The Amazing Spider-Man 2™: Rise Of Electro was no exception. One of the greatest challenges, Jermone Chen says, were creating the visual effects elements of Electro. The challenge expressed itself in two ways – first, to add an electrical element to the character himself, and second, to discover the ways that the electricity the character generates would manifest itself.
(For more information about the visual effects elements in the character, please see the section 'Designing Electro.")
It was important to Jermone Chen to make the electricity that Electro is able to fire off as visually exciting as possible. 'We wanted to do something unexpected," he says. So, they went to nature. 'We looked at colors and textures of photos from space and underwater animals," he says. 'We looked at nebulae, we looked at the hues and ranges of tropical animals. We introduced those colors into Max's transformation in the tank, and later, when Electro starts firing his lightning bolts, it's not a simple blue arc of electricity – there are oranges and purples. We keep the range much more colorful."
'The direction we were given early on was that Electro's electricity should be -beautiful but deadly,'" says one of the film's CG supervisors, Christopher Waegner. 'We studied high speed video footage of lightning bolts, to see the cracks and fingers of electricity. We studied Tesla coils, plasma balls, all of these representations of energy, and we put them all together. The lightning bolts are composed of about a dozen different layers of elements, depending on what type of lightning bolt he's shooting and how it's reacting with the environment."
The visual effects team was also responsible for digitally creating much of Times Square. Though the production design team built an enormous and impressive set, certain elements could only be achieved in the computer. This included buildings and building interiors, storefronts, signage, billboards, lighting, and even small details like planters and lampposts.
To re-create Times Square, the VFX team started with the real thing. 'Well before main production began, we shot an acquisition of Times Square – we covered every inch with a motion picture camera, still camera, and a team of surveyors," says digital effects supervisor David Alexander Smith. 'We captured every detail, brought it back to the shop, and detail by detail, we built it. We gave it a complex but efficient geometry that gets us where we need to be and makes it look authentic."
'Times Square, obviously, is an enormous place. For example, there are 140 Jumbotrons – all of which are playing different material," says Jermone Chen. 'We had to create our own material for each Jumbotron. So not only were we creating a digital environment, we were creating hundreds of clips of video. And later in the sequence, it becomes an important story point: all of these screens show either Spider-Man or Electro. For Marc Webb, this is a scene about how Electro wants to be seen, so when the screens switch to Spider-Man, it's a big turning point for Electro, as he realises that Spider-Man has taken the attention from him."
As if building one of the most iconic landscapes in the world were not enough to complicate the sequence, Marc Webb and Jerome Chen added another element – Spider Sense. 'Electro has destroyed one of Spider-Man's shooters, and Spider-Man has to figure out how to save the people on the stands," Jerome Chen explains. 'Marc had the idea that it was a frozen moment in time, with Spider-Man working out all the complexities of saving these people in a single moment. We called it the Spider Sense shot – everyone is standing in a frozen moment, and Spider-Man is moving through it."
Though there were a number of solutions in how to pull off the sequence, the filmmakers chose a surprisingly practical one. 'Andy Armstrong found dancers, athletes – people with very good muscle control – and we had them hold still, as best as they could, for the five or six minutes it took to get the camera through," Jerome Chen says. 'Everyone practiced for weeks, holding a pose – whether they were standing still or running or about to fall over. We built some stands to help them hold their weight, if they were in a dynamic pose. Then, in post-production, we could paint or freeze them the best we could – that was months of effort, to get the illusion to work."
The Amazing Spider-Man 2™: Rise Of Electro also represents a step forward in the way the film represents Spider-Man swinging through the city. 'He has become a kind of a daredevil," says Jerome Chen. 'He swings as high as he can go, and then falls as close to the ground as possible before he shoots his next web. So we had some moments when we allowed him to fall; we even have a shot that's as if he had a camera strapped to his chest – what would that look like? We had a lot of fun coming up with ways for him to interact with the city – and still had the gravity and physics that would make it believable."
Still, some things about Spider-Man will never change, and with the experience of the animators at Sony Pictures Imageworks, Jerome Chen couldn't have asked for a better team. 'Our animators are expert witnesses," he says. 'They study movements, whether it's going to be cartoony or realistic. They have an ability to mimic, and then they give it their own nuances. They'll watch Andrew Garfield move, and then do their own tests before animating key frames by hand and giving it their own touches. It's quite beautiful to watch the results."
The final visual effects element was the film's third villain – the Rhino. 'We had some creative license in creating a wonderful villain in the Rhino – one that would make people laugh and fear at the same time," says David Alexandra Smith. 'We looked at old Russian tanks and military equipment. We wanted it to feel substantial and not rickety, but at the same time it's kind of a hodgepodge. We ended up with something very strong and fun at the same time, playing off of the character that Paul Giamatti established."
Even though the Rhino costume would be entirely CG (2,295 pieces of CG geometry, including 263 nuts and bolts), Paul Giamatti performed on set in a 12-foot-tall, mobile unit. 'It was important for a few reasons to have Paul Giamatti in some sort of physical contraption on the set," says Jerome Chen. 'Marc Webb wanted Andrew Garfield and Paul Giamatti to have the correct eyelines to each other – they had to see and act with each other. Also, because this scene is in daylight on Park Avenue, we could have the correct lighting on Paul Giamatti when we put the CG suit around him. I'm sure that onlookers had no idea what they were looking at, but it looks great in the final film."
About The Music

For the film's music, the filmmakers are experimenting with a very unusual arrangement. Marc Webb has turned to Oscar® winning composer Hans Zimmer to form a supergroup, including Pharrell Williams (possibly the hottest talent in music today, who had a hand in the two biggest hits of 2013), The Smiths' Johnny Marr, Incubus' Michael Einziger and JunkieXL – among others – to work together on the music for the film.
The result is a score by a band: Hans Zimmer and The Magnificent Six featuring Pharrell Williams and Johnny Marr.
Hans Zimmer says, 'Marc Webb and I were talking about Spider-Man, and as the word got out many of our musicians-friends started calling us up, wanting to be a part of it simply because they love Spider-Man. That was the thing that united all of us – the great love for Spider-Man. With all of these hugely talented people wanting to join us, it was Marc Webb who said, -Why not start a band?'"
'Sound and image are inextricably linked," says Marc Webb. 'I can't think of one without the other. So when I was putting this film together, I wanted a musical collaborator who could bring in a lot of different voices to create a big sonic landscape. I also wanted rock music – the film takes place in New York, where punk rock started, where hip-hop started, where there's a huge electronic music scene, so through the music, we could make the film feel real and contemporary."
'I felt that, for me, superhero movies needed a new approach," Hans Zimmer continues. 'The ideas really came from a conversation Pharrell Williams and I had over a year ago on the nature of what makes music resonate in our lives. Spider-Man is a young man, just graduating college. He has big things going on in his life, but he deals with them in a different way than someone older, and deals with things with a sense of youthful humor and a New York young man's fearless attitude. I don't think he hears Wagnerian horns and Mahlerian strings in his head describing his emotions. He expresses himself through rock -n roll."
With that in mind, Hans Zimmer and his fellow musicians started from scratch. 'Spider-Man didn't have as much of a musical identity as we wanted him to have – he deserves an iconic quality. I wanted to play America but a new America. Marc wanted a fanfare and it took me a while to figure out how to reconcile that idea in my head with my -band' approach, which ultimately meant a great soloist – a great -front man,' not an orchestral section of trumpets. I thought of my favorite trumpet player, Arturo Sandoval. We took Johnny Marr's kinetic playing and juxtaposed it against Arturo's heroic tone to give wings to the tune. We did it in a very New York way; two cultures colliding, two strong musical personalities coming together to give you something fresh."
So, Hans Zimmer and his band began a reinvention of film music – an approach 180 degrees from the way it's usually done. 'We really embraced a rock and roll ethos," says Hans Zimmer. 'We said, -Let's start by writing an album's worth of songs, and then derive the score from the melodies that are in those songs."
To achieve that, Hans Zimmer pulled together some of the reigning legends in their fields. 'I wanted to create the chaos where everybody has to get to know each other through playing together. It's the easiest thing in the world for musicians to re-capture the feeling and energy of who you where, as twenty-year-olds and in your first band (well, Andrew K and Steve Mazzaro are twenty-year olds...). We had Johnny Marr, Pharrell Williams, and Mike Einziger; Ann Marie Simpson, who's a fabulous violinist; Steve Lipson, who was engineering and producing; Junkie XL, who can do so many things, but quickly realized he should be playing bass, so he grabbed a bass and now he's the bass player; Andy Page, a brilliant electronic musician. We just started jamming with Marc in the room, coming up with ideas like a garage-band, coming up with the sound of the movie. It was never about famous names. It was about them all being great musicians and bringing together that generous, playful spirit that has made them into famous names." The Magnificent Six are Pharrell Williams, Johnny Marr, Michael Einziger, Junkie XL, Andrew Kawczynski, and Steve Mazzaro.
Pharrell Williams notes that Hans Zimmer is his mentor and the undisputed leader of the band. 'Hans was the nucleus, the impetus," says Pharrell Williams. 'He led us on the path, like a general. We all had to look at our own propensities, and figure out what we would contribute to the direction that Hans brought. Hans doesn't even realise how these ideas he has are gigantic gestures for the rest of us."
'Working on The Amazing Spider-Man 2™: Rise Of Electro has been a good time and very interesting," says Johnny Marr. 'Hans Zimmer always keeps me on my toes and makes everyone think about the music in unusual ways. There are some themes that will surprise people."
As an example of the way the band worked together, Hans Zimmer cites the development of one of the themes. 'It started off with a motive Mikey Einziger came up with. Then Ann Marie Simpson pushed it a little bit further, in that naughty way that it became a real challenge for Mikey to play, which he of course embraced, because he likes a bit of a challenge. He went off to practice that, and I took that and added some of my notes, more complications, partly to push his limits and to turn the motive into more of a theme. This seedthen turned into a much larger theme once everybody else had added their ideas to it."
Or another: 'For the love theme, Johnny Marr came in one morning with a pretty complete set of chords. Johnny Marr and I were working on those and, as we did that, Pharrell was sitting there quietly, typing away on his cell phone. When Johnny Marr and I finished arguing about the chords, Pharrell Williams said, -OK, can I get a microphone?' Of course, Pharrell wasn't texting – he was writing the lyrics and the tune to the song that Johnny and I were working on. And there it was, our love theme."
For the Electro theme, the musicians again went in a different direction. 'Pharrell Williams, Marc Webb and I were looking at the character, and we said, -You know what we should do – we should write him an opera.' It's not an opera in the way your father thinks of an opera. The instrumentation is far more adventurous than you normally get in a film score – 12 woodwinds with distorted voices (did I mention that our director is a lapsed bassoonist?) combined with a serious Johnny Marr guitar riff and JunkieXL electronica. It's not overtly a song, it's not overtly a score cue; it's something else, and that's always what you reach for."
Hans Zimmer says he has another reason for collaborating with Pharrell Williams time and again: 'One of the reasons I love working with Pharrell Williams is that I come up with some moody chords, and he comes up with a beautiful tune."
Hans Zimmer also points out that the band had one more full and acknowledged member: director Marc Webb. 'He's a full-on musician at heart," says Hans Zimmer. 'He pretends that he knows nothing about classical music, and then he uses words like ostinato and diminuendo in conversation. He has the enthusiasm and passion of a musician, and then he can turn around and describe with great articulation what the subtext of a scene is about for him."
'There's never been a score like this," says Marc Webb. 'It doesn't sound like any other Hans Zimmer score. It draws inspiration from Purcell operas and dubstep in the same piece. The extremes of the musical spectrum that we got to explore is just extraordinary."
The music even hints at the threats to come. The song 'It's On Again," performed by Alicia Keys featuring Kendrick Lamar, featured in the film, contains a score theme that was created by Hans Zimmer and Pharrell Williams and woven into the song. The filmmakers and composers plan that this theme will, in future films, become the villainous theme of the Sinister Six.
'Ultimately, what brought everybody together was that everybody loves this character," Hans Zimmer concludes. 'Everybody grew up with the idea of Spider-Man, and it felt really great that we all could be a part of it."
The Amazing Spider-Man 2: Rise Of Electro
Release Date: April 17th, 2014