Emma Watson The Circle
Cast: Tom Hanks, John Boyega, Karen Gillan, Emma Watson
Director: James Ponsoldt
Genre: Drama, Sci-Fi
Rated: M
Running Time: 109 minutes

Synopsis: When Mae (Emma Watson) is hired to work for The Circle, the world's largest and most powerful tech and social media company, she sees it as the opportunity of a lifetime. As she rises through the ranks, she is encouraged by the company's charismatic founder, Eamon Bailey (Tom Hanks), to engage in a groundbreaking experiment that pushes the boundaries of privacy, ethics, and ultimately her personal freedom. Her participation in the experiment, and her every decision begin to affect the lives and future of her friends, family and that of humanity.

The film also stars John Boyega (Star Wars: The Force Awakens) and Patton Oswalt ('Agents of S.H.I.E.L.D," 'The Goldbergs") as the company's other founders. Bill Paxton (Edge of Tomorrow, 'Big Love", Titanic) and Glenne Headly (Don Juan, Mr. Holland's Opus) play Mae's parents. Karen Gillan (Guardians of the Galaxy, The Big Short) plays Annie, Mae's best friend. The film is directed by James Ponsoldt ('Master of None", The End of the Tour, The Spectacular Now) with a screenplay by James Ponsoldt and Dave Eggers, based on Eggers' novel.

The Circle
Release Date: July 13th, 2017



About the Production
Hey, do you mind if I ask you something? Would you be a better version of yourself if you knew you were being watched 24 hours a day? What would the implications be of a transparent society? There are people that we want to be transparent – our celebrities, our criminals – for our own voyeuristic pleasure, or our safety – and others of whom we feel entitled to demand their transparency – our elected officials, our law enforcement. Where is the line? The concept of totalitarianism is historically thought of as a construct that would be forced upon us – but what if we are complicit, even unwittingly, in our own oppression?

The gripping modern thriller The Circle is set in the not-too-distant future where privacy becomes criminal and we are forced to confront the question: What price are we willing to pay for knowledge?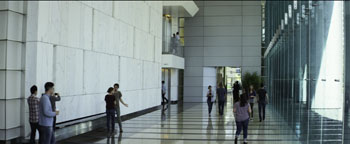 From Book To Screen

Adapting Dave Egger's critically acclaimed book 'The Circle" did not take the standard Hollywood route. Co-Writer/Director James Ponsoldt wrote the script on spec. Says James Ponsoldt, "I've been a big fan of Dave Eggers' writing since his first book, -A Heartbreaking Work of Staggering Genius.' So I was excited to read -The Circle.' I found it chilling, hilarious, and shockingly prescient in its examination of how utopian ideals might quickly transform into an invasive surveillance state. To be honest, I think I was most unnerved by how much I could relate to the novel's protagonist. While I was finishing my previous film, The End of the Tour, I began talking with Dave Eggers about the possibility of adapting -The Circle.' Dave Eggers was incredibly supportive throughout the entire process." Continues James Ponsoldt, 'It was nice to sort of be in a bubble for a bit, where I was just focusing on writing the script. It was just me initially. And when I was done the only people that read it were my wife and Dave Eggers."

Dave Eggers was confident enough in James Ponsoldt's script to pass it on to Tom Hanks, whom he had worked with on another of his book's adaptations Hologram for the King. And once Tom Hanks was interested, as James Ponsoldt smiles, 'then we were just off to the races."

Hanks brought the script to Gary Goetzman, his producing partner at Playtone. Gary Goetzman says, 'I saw James Ponsoldt's film The End of the Tour, and I could tell this was a guy who's got a lot of smarts. He's very clever in how he thinks out scenes, actors, motivations and has a vision of what he feels will be interesting on screen. We had a great time working with him."

James Ponsoldt assembled a crew of trusted professionals to bring the script to the screen. To bring Dave Eggers' vision alive, James Ponsoldt hired esteemed production designer Gerald Sullivan and cinematographer Matthew Libatique. He also brought on casting director Avy Kaufman, costume designer Emma Potter, and editor Lisa Lassek. Danny Elfman was hired to write the score.

Principal photography on the film began on September 11, 2015, in Los Angeles, California.

Adapting The Theme

Since the book's publication in 2013, many of its far-reaching technological and psychological aspects started to become realities. This created both a challenge and an opportunity for the filmmakers.

Periscope, Meerkat, and Facebook Live enabled anyone to go live from anywhere at any time, mirroring the SeeChange cameras featured in the film. The role social media played in the 2016 Presidential election with candidates using Twitter to communicate in mass and bypass the media were bringing the themes of transparency (or alternative transparency) closer to home every day. Meanwhile, 'Black Mirror," a British science fiction television anthology series addressing dark and satirical themes prevalent in modern society, particularly with regard to the unanticipated consequences of new technologies, popularized the genre.

This confluence was exciting to James Ponsoldt. He explains, 'My favorite challenge was choosing what should not be included in the film, because Dave Egger's book is so packed with ideas... it could be a great mini-series. This is a two-hour movie, so there were a lot of things that had to be omitted. We have to constantly ask ourselves 'What are the real issues at the core of this - that is at the core of any given scene, and how do we best stage it, shoot it, edit it?' So when you watch the movie again, in five years, in ten years, in twenty years, it doesn't feel terribly dated. I think it all comes down to putting the value system in the people and the relationships and let the technology fall into the background of it, hopefully invisibly. That's certainly the hope."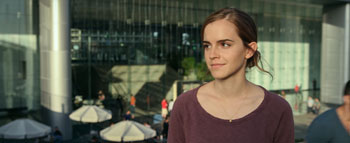 The Value System Of The People: Transparency vs Privacy

The core question of the film is: How does the world balance the benefits of a transparent society versus the human need for privacy?

This question was James Ponsoldt's primary focus as he adapted the book into a film, 'when I read Dave Egger's book I loved it and I was terrified of it. It's definitely a thriller, but there is an element of horror about it too. And mainly, and I think this will resonate with the audience as well, is because we see ourselves in the main character. I realized that Mae's addictions are my addictions, to all my gadgets. I like my right to privacy, I value it very much. I don't want to cede my privacy and I like that I can make a conscious choice about what I will share with the world. But there's a trade that we make."

Producer Anthony Bregman says, 'you're always looking for material that can tell you something about the world that we're in, without necessarily being a historical rendition of the world we're in. You look for poetic essays on our lives. And The Circle dealt with the interaction between human beings, technology and business in a way that felt very true and very real and something that we're all, you know, dealing with now, but going to be dealing with very soon… it's an uncanny, eerie, five seconds into the future book about the state of the world that we live in right now."

As the film addresses, the ever-increasing collection of data around human habits is not a black and white issue. The 'datafication" of our daily activities can be incredibly useful to advertisers, scientists, doctors, law enforcement, or educational systems to help improve our lives – by customizing information specifically for us and our families. In the book and film, The Circle's flagship product is TruYou, a single sign-in application that aggregates all of a user's applications, reducing the need to visit and log in and out of multiple applications. But just how much of our personal information are we willing to trade for convenience?

Mercer, played by Boyhood's Ellar Coltrane, is the anti-thesis of this movement. He is Mae's childhood friend. He is not online, does not participate in social media, and calls out Mae on the dangers of going totally transparent, both as a person and a society. Mae unsuccessfully tries to bring him into The Circle and show him the benefits of social media on his artwork, but this only drives him further away.

Tom Hank's character, Eamon Bailey, champions The Circle's mantra: 'Knowing is good. Knowing everything is better." When asked if this aligns with his personal beliefs Tom Hanks says, 'the message for me was that we are all participants in our destiny. And yes, it's great to be able to pay bills online or pull up any movie you want to watch at any time, but you need to ask yourself if that's good for you and healthy for you. And it takes a degree of vigilance to proactively evaluate what's healthy for you personally and what's healthy for society.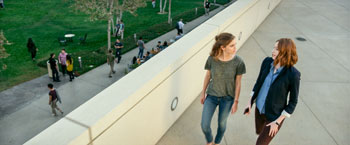 Personally I would never sign on to The Circle, I wouldn't want to be a member of something like that. In fact, I have friends that don't even have landlines anymore and are going back to flip phones without apps. People are going to find ways to become anonymous, people will opt out and I think it's going to be easier than people assume."

Mae (Emma Watson) wants the opposite of anonymity. With a nudge from the founders of The Circle she volunteers to be the first person to be totally transparent. This involves becoming the human embodiment of The Circle's mantra " wearing a camera during the day and letting viewers have access to everything she does in her life " every activity, conversation, action, and email.

Mae's allegiance to The Circle is solidified when the company agrees to take her father, who is succumbing to multiple sclerosis, onto the company's insurance plan. Tormented seeing his physical demise and watching helplessly as her mother struggles to secure needed services through their current insurance, Mae is relieved and grateful for The Circle's generous offer. After being taken into The Circle's health care system, she sees his immediate relief both physically and mentally, deepening her subconscious servitude to The Circle.

Energetic, youthful and representative of an age group that is used to having cameras present in their daily lives informs Mae's natural interest in going transparent. Buoyed by the success she's seen with her father's health, she fully buys into The Circle's belief that the more connected we are, and the more knowledge we share the better all of our lives will be.

What Is The Circle?

The Circle is an accelerated hybrid of all the major technology companies that we know today – Amazon, Facebook, YouTube, Apple. Its goal is to -close the circle' creating a community that is transparent with all experiences being shared. As Mae gets pulled deeper into The Circle and the founders' vision, she begins to agree that privacy is not only selfish but that keeping others from witnessing your experiences is actually criminal.

Its initial founder, Ty (who also goes by the name Kalden) is portrayed by John Boyega, who says of the technology, 'it was kind of a Facebook-light. A place where friends could hang out online and have fun." But as the technology grows under the direction of Eamon Bailey (Tom Hanks) and Tom Stenton (Patton Oswalt) it becomes more encompassing and Ty states 'this is not what I had in mind." He begs Mae to help him stop the trajectory he sees The Circle on, lamenting, 'everything is recorded, seen, broadcast and they can use it however they want." Another long term goal of the founders is to make a Circle account mandatory for every citizen.

As Eamon Bailey says early in the film 'I believe in the perfectibility of human beings." The Circle's leaders want to see users' accounts tied to their social security numbers and provide people the ability to pay taxes and vote through the app. And you can see the schism start – who wouldn't want to be able to vote from their smart phone? How much easier and more convenient would that be? As Eamon Bailey, Tom Stenton and eventually Mae opine, 'wouldn't that increase the number of eligible voters and wouldn't we be a richer democracy if everyone took part?" As she goes transparent, it is Mae, who is now a de facto executive, who wants to continue pushing the transparency agenda stating voting should be mandatory and your voting record should be public.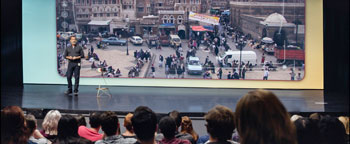 Life At The Circle

Production designer Gerald Sullivan, had his work cut out for him when trying to bring Dave Eggers' utopian work campus to life. 'It's a pretty fantastical world described in the book," says Sullivan. 'The idea is to create a workplace environment where you want to stay at work as long as possible. They achieve this by making all the creature comforts accessible and free." Karen Gillan, who plays Annie, Mae's best friend, adds 'having worked on this film, I decided I think it seems like a great place to work. There are so many perks working there – musicians, standup comedians, improv comedy groups, and lavish parties with banquets of food. They have on site dorms with room and maid service. They have even have 'doga" – which is dog yoga. Who wouldn't want that?"

Sullivan and James Ponsoldt chose empty tenant space in Playa Del Rey, California to create The Circle's campus. 'We picked and pulled pieces of buildings throughout Los Angeles that we thought could make up the environment of the Circle. We did a vast amount of architectural research before the film started and worked hard to integrate the green aspect of buildings and surroundings that seem to be very common these days in the tech industry."

But all these accoutrements and gorgeous office space don't come without some manacles. Gillan continues, 'Although there are many perks, The Circle gets a little darker as the story moves on. You are -strongly encouraged' to be very active on social media, documenting every move you make, commenting on other's activities, and participating in surveys. All of these behaviors give you a social ranking, your Participation Rank, which is public to the entire company. All the employees are trying to drive up their Participation Rank and it takes over the entire life of the characters."

Sullivan adds, 'The founders want The Circle to be both their social environment as well as their work environment. That can quickly turn creepy. So that's what we were after, a little bit of that."

A metaphor for this creep and intrusion is the mounting number of screens that Mae continues to get added to her desk. First it's just for her work, and then another for her social streams, and another to manage her chats, and another to manage her social ranking. Quickly her entire desk is covered in monitors. Her personal space slowly being eclipsed.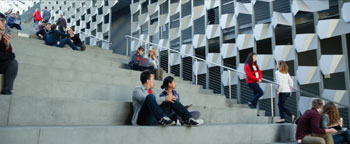 Casting
The Cast

When Tom Hanks, one of the most revered actors in the world, signed on to the film, getting all-star talent interested was not a problem. But finding the exact right actors to bring the book's characters to life necessitated that James Ponsoldt exercise some creativity to his casting choices. Through thoughtful choices, James Ponsoldt was able to easily assemble a veteran star studded cast.

Sullivan agrees, 'James Ponsoldt always amazes me and surprises me with this casting choices in a good way. They seem to always work out." Producer Gary Goetzman says, 'I think that's what so interesting about James. He has a lot of fresh ideas."

One of the most crucial casting choices was finding the right actress for Mae, the pivotal character in the The Circle. The filmmakers always had Emma Watson as one of their top choices. Goetzman says, 'Emma Watson is one of my favorite actors. She's an amazing actor that a generation of young people grew up with."

James Ponsoldt adds, 'Emma Watson's just brilliant. She has a strong ethical compass. She's the voice of a generation. She has a lot of heart, and she cares deeply. And there's something about her growing up on camera, and you could say that Tom [Hanks] and Ellar [Coltrane] did also, they have spent a great deal of their lives on camera so they have a unique and rare experience that not a lot of actors could bring to these roles."

Playing the elusive Circle Founder, Ty/Kalden is esteemed actor John Boyega, most popular for his role as Finn in Star Wars: The Force Awakens. Ponsoldt says, 'John Boyega is a brilliant actor and he's driven and focused and just wildly adept…. And I think he brought a characterization that sort of took it in a slightly different direction than what was on the page and all for the better."

Emma Watson
The producers and directors knew that a key to making the film successful was finding the right actress to carry the part of Mae, the catalyst for The Circle founders' vision. Tom Hanks explains, 'Mae is the blank canvas upon which Eamon Bailey and Tom Stenton can paint the future of the reality of The Circle. She is unencumbered, she is new, she is young. She is the perfect lingua franca of the status of your average human being. She is a person whose life can be defined by The Circle and widely improved by The Circle. And they co-opt her and bring her on as the version 1.0 of what life as a Circler can be."

The producer and director set out to find the actress who could portray all those layers and Emma Watson was on the top of their list.

Emma Watson is known mostly for her role as Hermione Granger in the Harry Potter film series. The first film, Harry Potter and the Sorcerer's Stone, was the highest grossing film in 2001. She is a consistent receiver of People's Choice Awards, including '30 Under 30' actress lists, TC Candler's Most Beautiful Faces, Forbes list of Top 100 celebrities and was chosen as the face of Burberry for their 2009 Fall/Winter campaign. Her Twitter account has almost 24 million followers.

In addition to all of her film work, Emma Watson also graduated from Brown University with a literary degree. Her proudest achievement, however, is her role as the U.N. Women's Global Goodwill Ambassador. In this role, Emma Watson promotes gender equality and the empowerment of young women.

Director James Ponsoldt says, 'Emma Watson, on top of being a remarkable human, is one of my favorite actors. I've seen all the Harry Potter movies. I loved her in Perks of Being a Wallflower and Bling Ring. Certainly for a generation of young people, they grew up with her.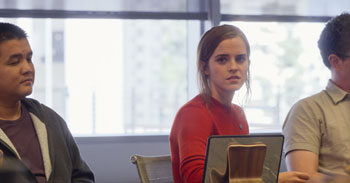 She grew up in films and they grew up with her. This is a film about post-college life and what are the ethics and morality that are going to guide the choices that you make. And I think she's a wonderful sort of guide on that journey. She has a strong ethical compass. She's the voice of a generation. She has lot of heart. She is both deeply caring and deeply powerful – not someone who should be underestimated. She is a strong, intentional, thoughtful person and actress."

Tom Hank agrees, 'I look at Emma Watson and see a seasoned veteran who is, you know, pretty low maintenance but hell bent on doing the work that is required in order to get where she needed to be as Mae."

Of what drew her to her character in The Circle, Emma Watson says, 'Mae is fascinating to me…both in the sense that she's kind of incredibly relatable, and in the sense that I could really understand why she made so many of the decisions that she made. There's something almost kind of otherworldly about her…she's really interesting because she's not black or white. She's very complex."

Tom Hanks
To play the public-facing visionary of the The Circle, Eamon Bailey, the producers needed an actor that was universally trusted and adored. Ponsoldt says it was Dave Eggers who suggested Tom Hanks, saying 'What do you think of Tom for this role, -cause I think he likes this character."

James Ponsoldt jumps in 'And when someone says, how do you feel about Tom Hanks? I have to be honest, which is what I told him, he's my favorite actor. So yeah when Tom Hanks agreed to the film I flipped."

Tom Hanks is one of the most beloved actors in the world, and the star of some of the world's most successful films including Toy Story, Splash, Big, Apollo 13 and Forrest Gump. He sets a record in a Harris Poll as America's Favorite Movie Star. Among his many accolades are two Academy Awards´â´Çfor his roles in Philadelphia and Forrest Gump, seven Emmy´â´ÇAwards for Executive Producer for numerous television shows, two Screen Actors Guild Awards, four Golden Globes´â, and a Presidential Medal of Freedom awarded by President Obama.

Of his character in The Circle, Tom Hanks says, 'Bailey is the dreamer. He sees every potential, he thinks -wouldn't it be a good idea, wouldn't it be a great idea, how about if we came up with, what if we got everyone involved….' he is a man with nothing but great imagination and the faith and wherewithal in order to turn these ideas into reality. I don't think there's anything that he says that is not true or true-ish." Says Bregman, 'Bailey is somebody who believes in his mission. He believes that all the technology that they're creating and selling around the world is for the benefit of mankind. And he is kind of caught halfway between Ty, who is a purist in terms of technology and terms of intention, and Stenton, who is a pragmatist and a ruthless businessman."

Bailey strongly advocates for total transparency. He asks Mae and The Circle employees, 'If you're being observed do you think you'd behave better than if you were alone?" Bailey sees it as fewer secrets lead to greater freedom, stating that, 'if we are liberated we can get past the guilt of our own self-service."

When asked if he personally shares any of Bailey's views Hanks says, 'Other people have had the same idea over the course of history, and it's never worked out too well. I think that if you believe that human nature can always be improved, everything he (Bailey) says is good. But I think the reality is human nature cannot be improved any more than reality can be legislated. You gotta take into account human behavior and that's always the greatest serendipity of all."

The other cast members enjoyed working with Hanks as well. Patton Oswalt is a Tom Hanks enthusiast, 'Working with Tom Hanks was pretty fantastic just because I've been a fan of his films for so long. And to get to be in scenes with him and talk with him about life and films, he's a big film buff like me so it was just fantastic."

Says Emma Watson, 'I never worked with Tom Hanks before. He's obviously an actor that I respect enormously, so amazing really to get the chance to work with him."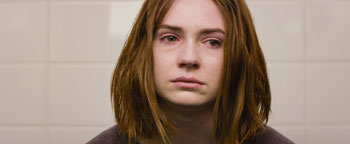 John Boyega
John Boyega became an instant celebrity when he was cast as Finn in Star Wars: The Force Awakens. Even while becoming a heroic icon for this generation, John Boyega has kept himself grounded even as figurines and postal stamps bear his face.

John Boyega was chosen to play the iconized boy-wonder visionary of The Circle, Ty, after Ponsoldt saw some of John Boyega's earlier films and became a fan. Says James Ponsoldt, 'When I saw him for the first time in Attack the Block, he blew me away. When we first met we started talking about video games. He's younger than I am, I started playing 8-bit Nintendo and he's a PS4 guy. And I was like, -oh yeah'. This is any kid, anywhere in the world who grew up playing video games in their parent's basement and that could be the kid that changes the world, that develops the next app."

James Ponsoldt saw something in James Boyega that made him think he'd be perfect, and the respect was mutual. John Boyega says about James Ponsoldt, 'James Ponsoldt is really, really intelligent and someone who I liked collaborating with. Throughout my whole career I've been blessed to work with people who are great directors, give good notes but are at the same time good at collaborating. And he's just fantastic with that. And this is the right project for him, for sure. It's a real character piece and it's a breath of fresh air for an actor. I come from theatre so it's a nice to be involved in a movie where you get to really get into the depths of character and kind of explore an arc for the whole movie."

Says Emma Watson,' [John is] incredibly charismatic, just, I think perfect for Ty. I think he brought a really interesting kind of slightly off center characterisation to – to Ty, which I thought was really cool."

Karen Gillan
Fresh from her galactic role as Nebula in the blockbuster Guardians of the Galaxy, Karen Gillan brings her talent to the role of Annie, a spunky rising-star executive of The Circle.

Annie is Mae's best friend and college roommate and uses her status to get Mae an interview at The Circle. The relationship is authentic but soon starts to unravel as Mae's stature rapidly begins to surpass Annie's in the company as Mae gains instant celebrity status as the first person to go transparent. As the women's relationship begins to strain, Annie's character flaws start to show.

Karen Gillan enjoyed playing a flawed character with a great arc: 'I just feel like Annie has so much cool stuff to do and I was really excited to play around with all of the coffee she's drinking and the Adderall she's taking and see how that manifests itself into her personality. That was challenging and exciting. Annie has a strong work ethic and rose through the company very quickly. She's happy and bubbly and loves her work and she's known and revered throughout the company. Then throughout the film we see her unraveling a little bit, and you see how all this work is taking its toll and basically we start to see her downward spiral." Adds Bregman, 'Annie is very close to the centers of power at the circle and she's responsible for a lot of the interaction between the Circle and governments around the world. She is overwhelmed with work. She's someone who's very ambitious and doesn't want to let anybody down and takes her job very, very seriously. And in some ways is a, is a victim of the kind of zealousness with which she, you know, approaches her job and approaches her-her devotion to The Circle." As for working with her co-star Emma Watson she reveals that from the beginning it was like working with a best friend, 'actually it was pretty instant with us, I feel like we had an immediate banter of sorts, and we're laughing immediately and we just kind of took that into the scenes."

Karen Gillan notes that one of her favorite scenes in the film is when Mae and Annie are in toilet cubicles. Because of Mae's transparency she only has three minutes of bathroom time when the audio of the camera is turned off, so they have to do a lot of communicating in that short time. Karen Gillan describes the scene, 'they're sort of having this very in-depth conversation with each other and it feels like a confessional almost, because we couldn't see each other and that sort of just gave this feeling of being able to reveal things, and in a different way than if you were face-to-face."

Karen Gillan is one of the younger cast members and feels that the film is very relevant to her generation, 'because of the amount of social media we engage in now, it kind of feels like this is where we are headed, it feels totally plausible, foreboding, and I don't know, if we are not careful we could definitely head toward something like that and I'm not sure that's necessarily a good thing."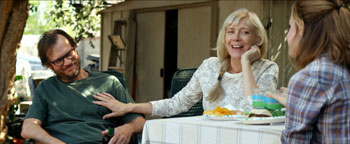 Supporting Cast

Ellar Coltrane
Ellar Coltrane first gained prominence when he was cast in Richard Linklater's groundbreaking film Boyhood, for which Coltrane garnered rave reviews. In The Circle he plays Mercer, Mae's long time childhood friend who rejects Mae's immersion into social transparence, and is an advocate for people who do not want to live their lives online. Patton Oswalt
No one was as surprised as Patton Oswalt himself when James Ponsoldt suggested he look at the role of Tom Stenton, the stoic money man of The Circle. Unlike Bailey, Tom Stenton is more comfortable behind the scenes. He's serious and controlled, not at all like the extroverted public persona of Patton Oswalt who remarks, 'I didn't picture myself as Tom when I read the book, but I thought that might be a really interesting take on it. So the fact they were willing to take those kind of risks, I said, -Yeah, let's do this.'"

Producer Gary Goetzman thought this was an ingenious combination, 'Patton Oswalt is of course, a wonderful comedian, actor, and writer. I think that Tom Hanks and Patton Oswalt make quite a pair."

Tom Hanks was fully supportive of the choice: 'I think Patton Oswalt's a genius, he's already a legend in so many other areas, so when they told me that Patton Oswalt was going to play Tom Stenton, I said -well, perfect'. Everything from his podcasts to the stuff he does at Largo, as well as who he plays in 'Veep" and the other movies he's been in, I just think he's one of those guys, a facile amazing actor who can do anything in any medium that exists today."

Patton Oswalt's career reflects the multi-faceted talents the star possesses. He is one of the most beloved members of the comedy community and stands out in Hollywood as a multitalented actor, comedian, writer, producer, and voice over artist. His stand-up has been lauded both by fellow comedians and audiences all across America. He has four albums, two of which reached the top of the Billboard Comedy chart. His television and film appearances include 'Modern Family", 'Parks and Recreation", 'Brooklyn Nine-Nine", 'Archer", 'Veep", and 'Agents of S.H.I.E.L.D". His film credits include Magnolia, Young Adult and Ratatouille.

When reflecting on this new type of character Patton Oswalt says, 'this character is probably the most controlled character I've ever played. He's a guy that's not comfortable in his own skin and you feel like every word he says he's gone over it three times in his mind before it leaves his mouth. He's bad at being a person, that's the best way to describe him."

The theme of total transparency in the film is not something Patton Oswalt would want in his life: 'I understand the endorphin rush of being rewarded with praise or validation from every picture you put online, but to need that 24 hours a day"I think that goes into a pathology."

Always affable, when asked what he would like audiences to take away from the film he responds, 'it would be nice if maybe they would not text in the theatre, that'd be nice. If that's all we end up doing then we've done the world a huge service."

Rounding out the exemplary cast are veteran actors Glenne Headly and (the late) Bill Paxton, who portray Mae's parents. In the film, Paxton Oswalt's character struggles with his multiple sclerosis diagnosis with his doting and supportive wife, played by Headly, at his side. Mae's opportunity to bring her parents onto The Circle's health plan, allowing her father access to better medical care, represents one of the key factors that drives up Mae's allegiance to The Circle. In exchange the parents agree to have SeeChange cameras placed throughout their house, so that Mae and her followers may witness their every move. When the cameras catch Mae's parents in an indiscrete moment, they begin to change their views, turning off the cameras and distancing themselves from Mae.

The Circle
Release Date: July 13th, 2017