A story can take just 'Five Minues More'. Even the busiest parent on the businest day can give a child give minutes.

In the next two gorgeous books, based on ABC TV series, you'll discover the wonderful world of five furry friends who live on a magical patchwork quilt - an endless landscape of unexpected locations waiting to be explored. More than anything, these five friends love to tell each other stories. One is always the storyteller, who sets the scene, one is the dedicated listener (and chief interrupter) and the other three create the characters and act out the stories with imagination and humour. This engaging series draws young readers in for 'Five Minutes More'.

The 'Five Minutes More' series was developed to encourage and foster a love of storytelling in children. Storytelling to children is important. It helps them to imagine ways that life could be. Nurturing our children's love of stories helps them to imagine the world tomorrow and to create change, which is the essence of life itself. It's great fun. It helps our children to develop the confidence to read to themselves and gives them the power to 'read' their world and respond to it. Every storytelling occasion is special. Long after our children have moved on to other stories, they will continue to remember being the centre of our world, being cuddled and spoken to softly.



Five Minutes More: Two Brave Knights
It's time for a story!

In 'Two Brave Knights', the people of Elindrew are terribly upset. A naughty dragon has stolen the town's beautiful clock. Two brave knights - Sir Percival and Sir Ganymede set out to find the dragon's hiding place and return the clock to it's rightful place.

Review: Sam learns that if you listen carefully you will always find your way through any problem.




ABC Books
Jan Page and Mellie Buse
ISBN: 9780733321375
RRP: $14.95



---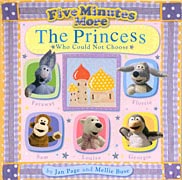 Five Minutes More: The Princess Who Could Not Choose
It's time for a story!

We meet Princess Dolores, who lives in a beautiful pink palace on top of a high hill. But Princess Dolores, can't make up her mind about anything! Hoping to teach her how to make decisions, her father sends her two footmen called Barnabas and Benedict to help. It's not until Barnabas and Benedict catch a cold that the Princess Dolores learns how to make up her mind.

Review: Louisa discovers that although it can be hard to decide, helping a friend is always the right choice.


ABC Books
Jan Page and Mellie Buse
ISBN: 9780733321382
RRP: $14.95



---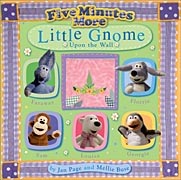 Five Minutes More: Little Gnome Upon the Wall
It's time for a story!

In this unique and classic television series, five wonderful puppets tell imaginative stories for young children aged between 2 and 5 years. It's Louisa's turn to tell a story today... The Fairy King and Fairy Queen argue all the time, every day, about who is the most important fairy in Fairyland. It takes a little gnome to show them that everyone is important in their own special way.

Review: What does it mean to be important? Five Minutes More teaches children that their is more important things than being important. Catchy, rhythmic start makes 'Five Minutes More' easy to read and children to learn and remember.

ABC Books
Jan Page and Mellie Buse
ISBN: 9780733321061
RRP: $14.95



---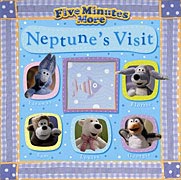 Five Minutes More: Neptune's Visit
It's time for a story!

In this unique and classic television series, five wonderful puppets tell imaginative stories for young children aged between 2 and 5 years. King Neptune is coming to visit and the creatures under the sea are all aflutter! How will they entertain his highness? Morva the mermaid (Florrie) is especially worried as she doesn't think she has any special talents. After all, Crab can recite poetry, the llittle fish can dance, but what can she do? She soon discovers she has a wonderful singing voice, and learns that everybody has their own special gift - we just have to be encouraged to find it!

Review: Morva (florrie) discovers that if you try something new you might find you like it and even be good at it too.

ABC Books
Jan Page and Mellie Buse
ISBN: 9780733321078
RRP: $14.95


Five Minutes More is available through ABC Shops, ABC Centres, ABC Online www.abcshop.com.au