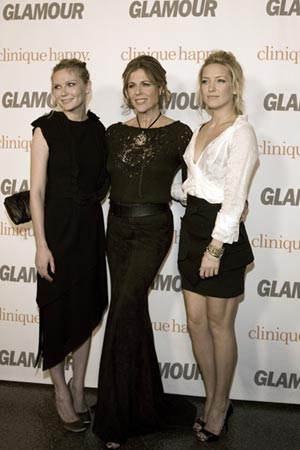 GLAMOUR REEL MOMENTS "HAPPY" TO HELP A-LIST WOMEN IN HOLLYWOOD GET BEHIND THE CAMERA
Rita Wilson, Kirsten Dunst and Kate Hudson Make Directorial Debuts For Glamour's Short Film Series, Presented by Clinique, That Promotes Women in Film
The Glamour Reel Moments Presented by Clinique Happy premiere was held at the Directors Guild of America on October 9th 2007. In conjunction with Clinique, Glamour magazine produced the series of three short films based on real women's stories written by Glamour readers. Each year the short film program benefits FilmAid International, an organisation that uses the power of film to promote health, strengthen communities and enrich the lives of women around the world.
The films originate from Glamour readers' real stories and feature leading Hollywood actresses directing films for the first time. The series includes three short films presented by Clinique to be released in October 2007.
Glamour Reel Moments gives women who are usually in front of the camera a chance to get behind the lens while telling real-life stories of "happiness" in all its myriad forms. Films included:
The Trap, directed by Rita Wilson, starring Jeanne Tripplehorn and written by Anna Fricke, tells the story of a woman who finds happiness in trying something new. Original story by Glamour reader, Michelle Cait of Encino, CA

Welcome, directed by Kirsten Dunst, stars Winona Ryder, and is a modern-day ghost story. Original story by Glamour reader, Cynthia Johnson of Yelm, WA

Cutlass, directed by Kate Hudson, stars Kurt Russell, Dakota Fanning, Virginia Madsen, Chevy Chase and Kristen Stewart. The film is a generational tale about family and tradition Original story by Glamour reader, Rosie Hartman of Tallahassee, FL

The films were shot in Los Angeles this summer and the talent involved is among the top of Hollywood's A-list. Kate Hudson, Kirsten Dunst, and Rita Wilson, have directed shorts for Glamour Reel Moments, and the films star Kurt Russell, Dakota Fanning, Virginia Madsen, Chevy Chase, Kristen Stewart, Winona Ryder, Jeanne Tripplehorn, Aisha Tyler, Camilla Belle, Channing Tatum.

In a contest that appeared in the January 2007 issue, Glamour readers were asked to write a short essay of 750 words or less, about an important event, encounter or moment in their lives when something made them victorious, empowered and happy. Three winners' stories have been chosen and Glamour has partnered with Clinique to script, produce and screen the three short films. The theme of this year's project is happiness, celebrating Clinique's Happy fragrance, and the films all feature happiness as a part of the storyline.

"Clinique Happy was scientifically tested to inspire happiness," says Executive Director of Global Marketing for Clinique, Catherine Frieder. "Like the fragrance, Glamour Reel Moments also creates happiness with stories by, for and about women. These films remind us why we should feel good and be Happy."

The films will premiere in Los Angeles on October 9 at the Director's Guild Theater. Rita Wilson's film, "The Trap," will be available for a limited time at Clinique counters nationwide October 13 and 14. All three films can be seen on glamour.com and clinique.com beginning October 15.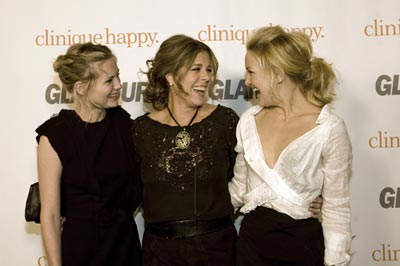 This year, Glamour is expanding the project with two new efforts to further encourage female directors and stories about women in the film industry. The first is a Reel Moments filmmaking grant which will give one female recipient in the industry the opportunity to make a directorial debut along with the high-profile women involved in the project. Additionally, Glamour is launching a Reel Moments summit which will reunite alumni of the project and notable women in the industry to discuss topics for women in film and identify the important stories about women that should be told on the big screen.

Glamour Reel Moments has established a genuine community of women in Hollywood and increased the number of female directors, currently only 7%. Jennifer Aniston, Gwyneth Paltrow, Bryce Dallas Howard and Trudie Styler have all made directorial debuts for Glamour Reel Moments which has breached the gates of over 25 film festivals including Berlin and Toronto. Oprah devoted an entire show to discuss the project's positive impact for women in film.