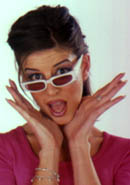 Here at GIRL, we love a good gossip session as much as the next gal does! So each month feast your eyes on the juiciest goss as our resident gossip queen DIVA gives you the inside scoop on all your fave celebs.

Britney Spears looks set to make a guest appearance on the fanatical US series "Sex and the City" playing a man-eating temptress who also happens to be the sex-crazed niece of Samantha, played by Kim Catrall. Britney's character will seduce Samantha's lover, stealing him from under her nose! Catrall asked Spears to take part in the show after appearing with her in the film "Crossroads."

And in more Britney news, it has just been announced that she will be jetsetting to Australia for the launch of her debut movie, "Crossroads" in April. While Spears will attend a premiere of the movie in Sydney on April 18, no public appearances have yet been planned during her day in Melbourne.

Thieves have ransacked the London home of singer/songwriter George Michael, taking off with $500,000 in property. Family heirlooms were also taken, along with art, jewellery and designer clothes. The thieves managed to enter the exclusive mansion after they disarmed a state-of-the-art security alarm system worth $60,000.

Stand by music lovers because a new wave of soapy stars, turned pop stars are about to emerge! Neighbours star Holly Valance and Home and Away's Rebecca Cartwright have each secured lucrative international recording contracts. Valance has signed a deal with London Records for the United Kingdom, the Warner Brothers label for the United States and EMI/Virgin for Australia. Meanwhile, Cartwright has been signed for an international deal through Warner Music. Tammin Sursok, another Home and Away regular, is also a keen singer, but has yet to secure a deal.

Pop Princess Kylie was a huge winner at the recent 2002 Brit Awards in London, winning awards for Best International Female Act and Best Album for "Fever" ahead of Bjork, Nelly Furtado, Anastacia and Alicia Keys. Kylie also performed her massive track "Can't Get You Out Of My Head" wowing the crowds in a white mini-dress and silver thigh-high boots. She was accompanied on the night by model boyfriend James Gooding and sister Dannii.

Ex-Russell Crowe flame Meg Ryan is reportedly considering starring in an erotic thriller which is to be produced by our very own Nicole Kidman. The film will be called "In The Cut" and will be directed by Jane Campion.

N'Sync member Lance Bass has been invited to be the third private citizen to ever set foot in space and if he agrees, it will cost him $50 million for the privilege. Bass will have to undergo training in Russia for 6 months before departure and the space journey will probably be a 7 or 8 day mission, with a possible stopover at the International Space Station. Wonder if his band mates will be over the moon about it?