Fans of the hugely popular "Hannah Montana" TV show will get the chance to experience the thrill of a front row seat to see their favorite singer, songwriter and actress, Miley Cyrus, perform her nationally sold-out HANNAH MONTANA & MILEY CYRUS: BEST OF BOTH WORLDS CONCERT on the big screen-for one week only-with this very special Disney Digital 3-D presentation. The exclusive event comes to theaters in Australia on March 20th, 2008.
Shot during her 69-city, standing-room-only concert tour, the film brings a whole new dimension to the pop idol, as state-of-the-art 3-D captures up close, and with stunning clarity, the music, persona and inside world of both Miley Cyrus and her rocking alter ego, Hannah Montana. With rapidly rising stars, Jonas Brothers, as her special guests and a stage filled with dancers, pyrotechnics and video imagery, HANNAH MONTANA & MILEY CYRUS: BEST OF BOTH WORLDS CONCERT showcases the exuberant magnetism that has led the 15year-old singer and actress to become a multimedia sensation and attracted legions of fans all over the world. In addition to its viscerally real concert footage, the film includes a "backstage pass" peek at Miley's life on tour.
HANNAH MONTANA & MILEY CYRUS: BEST OF BOTH WORLDS CONCERT is directed by Bruce Hendricks ("ESPN'S Ultimate X: The Movie") and produced by Art Repola ("ESPN'S Ultimate X: The Movie") from the concert-tour phenomenon that was conceived, produced and specially designed to be shot in 3-D by lauded choreographer Kenny Ortega ("High School Musical," "High School Musical 2").
The film's director of photography, Mitchell Amundsen ("Transformers" and Martin Scorsese's upcoming "Shine a Light"), simultaneously uses seven state-of-the-art, high-definition 3-D digital cameras provided by Cameron/Pace Designs-a pioneer in delivering the most captivating and immersive imagery available. The other directors of photography are Rodney Taylor and Reed Smoot. Also joining the filmmaking team is renowned editor Michael Tronick, A.C.E. ("Hairspray").
ABOUT THE PERFORMERS
MILEY CYRUS
When the Disney Channel Original Series "Hannah Montana" burst onto the scene in early 2006, tweens around the world instantly fell in love with Miley Stewart, the typical teenage girl with a secret life as international pop star Hannah Montana. What series star Miley Cyrus never imagined was that, in one whirlwind year, her real life would imitate art as she shot to superstardom not only as an actress but also as a multiplatinum-selling pop star with the hottest concert ticket this past fall.
Born November 23, 1992, in Nashville, Tennessee, Miley grew up watching her father- country music superstar and actor Billy Ray Cyrus-perform and soon caught the acting bug herself. After gaining experience as an extra in her father's television projects, Miley first acted opposite him in a recurring role on his television series "Doc." With that role under her belt, the young actress went on to appear in the Tim Burton film "Big Fish."
When Miley first auditioned for the role of Hannah Montana, she was considered too young for the part, but her thousand-watt smile and bigger-than-life singing voice had caught Disney Channel's attention. "At first they thought I was too small, and I was just a little string bean at the time," shares Miley, "but I'd always wanted to be able to sing and act, so I knew I couldn't give up." A couple of years later, Miley won the part she had worked so hard for, and her ascent to stardom started with a bang as the first season of "Hannah Montana" garnered some of the highest ratings ever for a Disney Channel Original Series.
In November 2006, the first "Hannah Montana" soundtrack was released on Walt Disney Records, featuring eight songs performed by Miley Cyrus as Hannah Montana and Miley's first duet with her father. The album rocketed to the top of the charts and became the first-ever TV soundtrack to debut at number one on the Billboard Top 200. The "Hannah Montana" soundtrack finished the year as the number eight best-selling album of 2006 across all genres (Nielsen SoundScan) and certified double platinum less than two months after its release.
Even with the unquestionable success of her Disney Channel series and album, the newly minted pop superstar was hungry for a fresh challenge-and a way to meet her incredible fans in person! In the fall of 2006, Miley (performing as Hannah Montana) rocked sold-out venues across the country in her first 22-city tour. Miley, again performing as Hannah, also set a new attendance record at Houston's Reliant Stadium where she headlined the Houston Livestock Show and Rodeo. The March 2007 event garnered an audience of more than 73,200 people.
On the "Hannah Montana 2" album, the first disc on the "Hannah Montana/Meet Miley Cyrus" two-disc set released last spring, the 15-year-old pop sensation performs ten original songs as her onscreen alter ego. The album continues the original soundtrack's positive messages with get-up-and-dance tracks like "Life's What You Make It," "Make Some Noise" and "Nobody's Perfect." Hannah Montana's continuing adventures in maintaining her secret identity are also captured in such playful, sassy songs as "Rockstar" and "Old Blue Jeans," which she also performed on her recent tour.
Cyrus co-wrote eight of the ten tracks on the "Meet Miley Cyrus" album, collaborating with the songwriting team of Antonina Armato and Tim James (Mariah Carey) on four songs and such hit-makers as Matthew Wilder (No Doubt, Kelly Clarkson), Shelly Peiken (Christina Aguilera, Keith Urban), and the team of Scott Cutler and Anne Preven (Dreamgirls soundtrack, Natalie Imbuglia).
With the "Hannah Montana & Miley Cyrus: Best of Both Worlds" tour, Miley shows the world that her breakout year was anything but a fluke and that both the fictional Hannah Montana and the very real Miley Cyrus have bright futures waiting ahead.
JONAS BROTHERS
Miley Cyrus' opening act on the "Hannah Montana & Miley Cyrus: Best of Both Worlds" tour features Hollywood Records' platinum-selling phenomenon Jonas Brothers, whose high-energy pop-punk music overflows with insanely catchy hooks, muscular guitar fuzz and mature songwriting that reveals a talent well beyond their young ages.
Hailing from Wyckoff, New Jersey, 15-year-old Nick, 18-year-old Joe and 20-year-old Kevin released "Jonas Brothers" in August of 2007. The brothers say their songwriting reveals a lifetime of influences-everything from My Chemical Romance to the Backstreet Boys to Stevie Wonder. Still, what you really hear in their sound is three young musicians finding their own voices-their own distinctive blend of Nick's way with an R&B vocal, Joe's love of danceable beats and Kevin's obsession with guitar solos.
Hollywood Records, which signed Jonas Brothers last year, released the self-titled album "Jonas Brothers," which climbed to number five on the Billboard Hot 200 chart in its first week of release. Disney has signed the brothers to a concert special, a movie, "Camp Rock," and a fictional television series titled "J.O.N.A.S." (Junior Operatives Networking as Spies), which will make its debut on the Disney Channel in 2008.
Life on Tour With Miley
HANNAH MONTANA & MILEY CYRUS: BEST OF BOTH WORLDS CONCERT not only delivers the experience of a live concert the film also provides a rare glimpse into Miley Cyrus' real backstage life on tour. Miley admits that despite the whirlwind schedule and hardships for a teenage star still in school, she loves being on tour-after all, she grew up traveling on the tour bus with her father. Those days remain some of her fondest childhood memories. "We would be on the bus for long stretches of time," she recalls, "and we got to hang out, play board games and just be together."
Miley is now sharing that same experience with her mother, Tish, and younger sister, Noah. They have adapted to living on a bus for a 3-month stretch, adding little touches of home- Miley's tour bus bed is decorated in a "Hello Kitty" theme, and she has turned her bunk into an additional closet, where she keeps her 18 pairs of blue jeans.
Meanwhile, Miley's father is filled with pride at what his daughter has accomplished in such short time in her career, noting that Miley co-wrote eight of the tunes heard in the "Meet Miley Cyrus" portion of the tour. Billy Ray has especially enjoyed getting the chance to star as Miley's father and manager, Robby, on the "Hannah Montana" show. "We get to spend a lot of time with each other, which I consider a major plus because life goes by so fast," he says.
For Miley, this tour has brought her something she cherishes more than anything: the chance to truly interact with her fans-whether on the stage or by knowing so many would see the 3-D concert film in the near future. She sums up, "There's nothing more fun than being out on stage and feeling the vibe from the crowd. I loved getting to see all of my awesome fans face-to-face when I was on tour. Their energy made me want to get on stage and give it my all every night."
The Tour That Became a Phenomenon
Long before tickets to Miley Cyrus' "The Best of Both Worlds Tour" sold out in a flash and became one of the hottest commodities in entertainment, Walt Disney Pictures decided to capture her live performance in a specially designed, cutting-edge Disney Digital 3-D concert film. Perhaps no one could have predicted the unprecedented pop-culture phenomenon her shows would become, with literally millions of anxious young fans clamoring to get a close-up glimpse of their idol. But it has been clear for some time that Miley Cyrus-and her rock star alter ego, Hannah Montana-was emerging as one of the most relatable, likable and, most of all, inspirational young female superstars of a new generation.
With upbeat songs that combine confidence, dreams and the exhilarating idea that kids can create their own futures, Miley has won the hearts of fans, in part, because even within her wildly fun fantasy life as Hannah Montana, she's a very real 15-year-old, whose persona and songs reflect a well-adjusted teen's view of life.
Now, with HANNAH MONTANA & MILEY CYRUS: BEST OF BOTH WORLDS CONCERT, Miley gets the chance to invite audiences to get to know her and her electrifying performance style even better-with a movie that provides the equivalent of a prized front-row seat as well as a backstage pass to the show that highlights her as both a musical superstar and an American teenager coming into her own.
"I'm really excited that fans will have a chance to get to know the person underneath the wig," says Miley. "I love writing music, playing guitar, singing and dancing as much as I love acting."
Miley, the daughter of country star Billy Ray Cyrus, first came to the fore less than two years ago when, after an extensive series of hard-fought auditions, she won the lead role in the "Hannah Montana" television show, which quickly earned some of the highest ratings ever for a Disney Channel Original Series. Now in its second smash season, the show features Miley as a Malibu teen who leads an ordinary teenage life dealing with high school, crushes and social concerns by day but transforms into the glamorous, powerful pop star Hannah Montana whenever she hits the stage.
The success of the "Hannah Montana" show is huge, but it is just the beginning of Miley's phenomenal rise. Her rapid ascent continued with the "Hannah Montana" soundtrack, released on Walt Disney Records, which shot to number one on the Billboard Top 200 in the US and then went double platinum in less than two months. Then, in the fall of 2006, Miley went out on her first concert tour. She quickly sold out her dates in all 22 cities, setting attendance records in huge stadiums. Along the way, her uplifting and sparkling persona sparked an entire multimedia world, spanning from video games to clothing lines.
All of these accomplishments led up to 2007's "The Best of Both Worlds Tour," which, as suggested by its title, is designed to bring audiences both the best of Hannah Montana while, at the same time, introducing them to the real Miley Cyrus. Miley incorporates her own distinct singing and songwriting style in an action-packed show conceived, produced, designed and choreographed by the Emmy Award-winning creative mastermind Kenny Ortega, who is also responsible for the record-setting "High School Musical" and "High School Musical 2" phenomenons.
Joining Miley as her special guests on the tour are Jonas Brothers, the platinum-selling music phenomenon headed by three teenaged brothers-Nick, Kevin and Joe. In August of 2007, the Jonas Brothers debuted at number five with their much anticipated album, "Jonas Brothers," which takes their trademark catchy hooks and power guitars into more mature songwriting territory, with tunes that are soulful and danceable and lyrics that are emotionally rich yet always evoke the brothers' positive vibe.
Jonas Brothers will embark on their own "Look You in the Eyes" headline tour January 31, in an exclusive multimillion-dollar deal with concert powerhouse Live Nation. Jonas Brothers recently had break-out performances on the American Music Awards and Dick Clark's New Year's Rocking Eve and will perform their new single "When You Look Me in the Eyes" on "Ellen" January 21.
AOL recently announced their top searches for 2007. Jonas Brothers ranked number four in the "Top Bands" category, topping such acclaimed bands as Linkin Park and U2.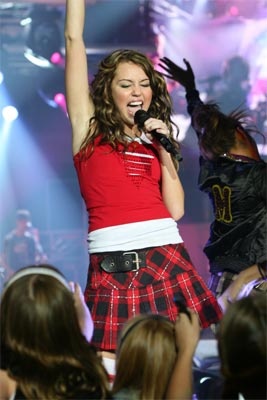 CONCERT CAST
STARRING: Miley Cyrus, Kenny Ortega, Billy Ray Cyrus
With SPECIAL GUEST: Jonas Brothers
DIRECTOR: Bruce Hendricks
HANNAH MONTANA/MILEY CYRUS BAND
MD/Drums. . . . . . . . . . . . . . . . . Stacy Jones
Guitars . . . . . . . . . . . . . . . . Jamie Arentzen
JACO CARACO
Bass . . . . . . . . . . . . . . . . . Vashon Johnson
Keyboard . . . . . . . . . . . . . . . . . Mike Schmid
Background Singers . . . . . Candice Accola
KAY HANLEY
JONAS BROTHERS BAND
Vocals . . . . . . . . . . . . . . . . . . . . . . . Joe Jonas
Vocals & Guitars. . . . . . . . . . . . Kevin Jonas
Vocal & Guitars . . . . . . . . . . . . . . Nick Jonas
MD/Guitar. . . . . . . . . . . . . . . . . John Taylor
Bass . . . . . . . . . . . . . . . . . Greg Garbowski
Drums. . . . . . . . . . . . . . . . . . . Jack Lawless
MUSIC
"We Got The Party"

Written by Kara DioGuardi
Performed by Hannah Montana
"Pumpin' Up The Party"

Written by Jamie Houston
Performed by Hannah Montana
"East Northumberland High"

Written by Antonina Armato, Tim James
and Samantha Jo Moore
"Let's Dance"

Written by Antonina Armato, Miley Cyrus and Tim James
Performed by Miley Cyrus
"Life's What You Make It"

Written by Matthew Gerrard and Robbie Nevil
Performed by Hannah Montana
"Old Blue Jeans"

Written by Michael Bradford and Pamela Sheyne
Performed by Hannah Montana
"The Best Of Both Worlds"

Written by Matthew Gerrard and Robbie Nevil
Performed by Miley Cyrus & Hannah Montana
"We Got The Party"

Written by Kara DioGuardi
Performed by Miley Cyrus and Jonas Brothers
"Year 3000"

Written by James Bourne, Matthew Fletcher, Mattie Jay, Stephen Paul Robson and Charlie Simpson
Performed by Jonas Brothers
"Rock Star"

Written by Aristedis Archontis, Jeannie Lurie and Chen Neeman
Performed by Hannah Montana
"Mickey"

Written by Mike Chapman and Nicky Chinn
"I Got Nerve"

Written by Aruna Abrams, Ken Hauptman and Jeannie Lurie
Performed by Hannah Montana
"Ready, Set, Don't Go"

Written by Billy Ray Cyrus and Casey Michael Beathard
Performed by Miley Cyrus and Billy Ray Cyrus
"Just Like You"

Written by Andy Dodd and Adam Watts
Performed by Hannah Montana
"Nobody's Perfect"

Written by Matthew Gerrard and Robbie Nevil
Performed by Hannah Montana
"Who Said"

Written by Matthew Gerrard, Jay Landers and Robbie Nevil
Performed by Miley Cyrus
"When You Look Me In The Eyes"

Written by Nicholas Jonas, Joseph Jonas, Kevin Jonas II, Kevin Jonas, Sr., PJ Bianco and Raymond A. Boyd
Performed by Jonas Brothers
"Start All Over"

Written by Scott Cutler, Anne Preven and Fefe Dobson
Performed by Miley Cyrus
"See You Again"

Written by Antonina Armato, Miley Cyrus and Tim James
Performed by Miley Cyrus
"Girls Night Out"

Written by Tamara Dunn and Matthew Wilder
Performed by Miley Cyrus
"I Miss You"

Written by Brian Green, Wendi Foy Green and Miley Cyrus
Performed by Miley Cyrus
"If We Were A Movie"

Written by Holly Mathis and Jeannie Lurie
Performed by Hannah Montana
Capturing the Tour in State-of-the-Art Hi-Def 3-D
From the beginning, the mission of the HANNAH MONTANA & MILEY CYRUS: BEST OF BOTH WORLDS CONCERT film was to bring audiences the electrifying experience of seeing Miley Cyrus live-from the vantage point of the very best seat in the house, a seat so incredible, it could give a fan all the angles. With its sharp, crisp imagery and lifelike appearance, Disney Digital 3-D proved to be a great medium for transporting audiences directly into the center of Miley's dynamic performance.
Bruce Hendricks knew that delving into 3-D would involve challenges, especially for Miley Cyrus, who would have to perform several shows with a whole team of cameras getting up close and personal and following her every move on stage. "Unlike the normal 2-D process, 3-D is best served shooting close and wide. So the performers can't be too conscious of the cameras, no matter how near they are," explains Hendricks. "That's not easy for anyone, but Miley was terrific."
The artistic and technical process began long before the tour kicked off, as Hendricks forged a rare creative collaboration with the show's director and choreographer, Kenny Ortega, who kept the 3-D shoot in his mind even as he came up with the vibrant staging and compelling dance moves that make Miley's performances so much fun. "Production designer Michael Cotten and I worked closely with Bruce to always ensure that we had a production look that would serve the 3-D aspect of the project," Ortega explains. "Ultimately, the entire design of the tour, including the choreography, lights, video and stage design factored into maximizing the potential of the 3-D."
With the show specially crafted to be experienced in three dimensions, Hendricks would need the latest state-of-the-art equipment to capture every inch of what was happening on stage...and beyond. That's why he turned to Vince Pace-whose company, PACE, is the world's leading innovator in advanced 3-D and Digital Cinema Systems-to develop a photographic system that would help translate the show onto the screen with its live-wire atmosphere intact. Ultimately, Hendricks, Pace and cinematographer Mitchell Amundsen set in motion a custom-crafted system utilizing the groundbreaking Fusion 3-D cameras recently invented by PACE-running seven at a time in the middle of Miley's show-to film the movie.
Pace was thrilled to be able to put his cutting-edge camera system at the service of bringing audiences a you-are-there experience with the performer that so many are yearning to see. "Miley is such a young, energetic, fun performer she's a real joy to watch in 3-D," he comments.
Pace originally designed the highly advanced Fusion 3-D cameras used to film HANNAH MONTANA & MILEY CYRUS: BEST OF BOTH WORLDS CONCERT with Academy Award-winning filmmaker James Cameron, who has been a leading pioneer in expanding the creative possibilities of 3-D. These cameras, which work on principles similar to human eyesight, are able to provide a depth of field and perspective never before seen in movie theaters. Cameron first used them to create acclaimed underwater documentaries, but more recently, filmmakers like Hendricks have started exploring how the Fusion 3-D cameras can bring hard-to-capture events, such as sports and concerts, to life in a way that harnesses the full emotional thrill of an in-the-moment experience.
"James Cameron and I set out to change entertainment as we know it by designing the tools necessary to shoot a new form of 3-D, one that is based more on experience than effect," Pace explains. "These cameras operate much like a person. They have two eyes, in this case two high-definition cameras, and a very powerful brain, that for us is the computer in the system. In a sense, our cameras capture the image just like a human person witnesses an event. Our images give the viewer the ability to experience exactly what it was like to be there."
Filming Miley took the Cameron/Pace cameras into new territory that pushed their limits. "We used the cameras on this film like an orchestra uses different instruments. Depending on what Bruce wanted for a particular shot, I would choose the right camera for the job. This is the first time that this has been done with 3-D," notes Pace. He adds that the film also marks the first time that a project captured in 3-D was also edited in 3-D, which occurred under the aegis of sought-after-editor Michael Tronick.
While envisioning, coordinating and shooting the film was a considerable technical challenge for Hendricks and his entire team, he notes that it was also a serious blast for them- in large part because Miley herself was such a pleasure and so cooperative, even with the creative intensity of the project. "Miley is just really focused and professional," Hendricks summarizes, "and the undeniable fact is that her instincts are great as an entertainer-and getting to capture that in the moment was always exciting."
Designing the Tour as a Multitalent, Multidimensional Showcase
From the moment Miley Cyrus is dramatically lowered onto the stage and begins performing as Hannah Montana, her Best of Both Worlds show is nonstop kinetic excitement-filled with glittering outfits, eye-popping pyrotechnics, multimedia imagery and show-stopping dance numbers that allow Miley's full range of talents, and both sides of her fictional and real persona, to shine.
Behind her hit show's celebratory rhythms and motions lies Kenny Ortega, who has long been sought after by the world's highest-profile rock and pop stars-from Cher to Madonna- to choreograph their Broadway-quality concerts and videos. More recently, Ortega has perfected his love of joyful, spirited musical numbers as the director of the runaway hits "High School Musical" and "High School Musical 2." Ortega had met Miley Cyrus when she performed a cameo in the finale of "High School Musical 2," and with all his years in entertainment watching young phenoms rise, he knew right away she was something special. Shortly after, he met with Miley and her parents to discuss the idea of working together, and a close partnership was born.
"I knew Miley was the real deal," recalls Ortega. "Her energy, spirit and enthusiasm reminded me of Cher, whom I had worked with for many years. I couldn't wait to get to work with her on her new tour."
As that work began, Ortega became even more impressed by what he was witnessing. "Every day in rehearsals I saw Miley grow, and on tour, in front of an audience, she had the poise and stage presence of someone twice her age and experience," he continues. "Watching her perform in front of thousands of screaming fans is like watching anyone else in the comfort of their living room. What I particularly enjoy and admire about Miley is that she is always present in the work. While some performers get lost in the choreography, Miley has an amazing sense of herself and never loses sight of that no matter what paces you're putting her through."
For the "Best of Both Worlds" tour, Ortega joined forces with Miley Cyrus's longtime choreographer, Teresa Espinosa, in designing the dance numbers and also credits ample creative input from Miley and her mother, Tish. For Ortega, this kind of multigenerational collaboration was, in itself, "the best of both worlds." "My background in music began in the early '70s when I was directing and choreographing videos and tours for the Tubes, Kiss, Fleetwood Mac, Elton, Devo, Madonna, Michael Jackson and many others. So it's a wonderful thing when you can share what you've learned and love with a whole new generation of artists. It just proves that everything old, with a little twist, can be new again," he muses.
When it came to designing the stage set for the show, Miley and Ortega agreed that they wanted something completely new and different than the same-old standard setup. "We set out to design a set that would serve each of the three acts as headliners: Jonas Brothers, Hannah Montana and Miley Cyrus. We first discussed that we didn't want Jonas Brothers to open the show in front of black curtain in the usual style. Instead, we designed their entrance with the three brothers lowered in on a flying truss," notes Ortega.
More excitement developed from there. Ortega continues: "Then it became important that we follow the Jonas Brothers' entrance with something equally as cool and surprising for both Hannah's and Miley's entrances. Since Hannah is a TV star, we thought lowering her to the stage in a giant video box would be really exciting and appropriate. Finally, when Miley kicks off her portion of the show with 'Start All Over,' we added an elevator entrance at the end of the runway because we wanted to introduce Miley to the stage as close to the audience as possible."
Ortega notes that production designer Michael Cotten was key to creating the unique and playful video dimension of the stage show. "Michael is a video and media wizard. What great fun it was working with a master in designing the video look of the tour," he comments.
More fun was had with the tour's costumes, which reflect both Hannah Montana's glitzy rocker style and Miley Cyrus' more typical teenage sense of fun. "I worked closely with Miley, Tish, Teresa and the costume design team of Dahlia Foroutan, Tiffany Feller and Jill Focke to come up with the looks. I also worked closely with the Jonas Brothers' stylist, Michelle Tomaszewski, for their look," notes Ortega.
The tour producer and choreographer loved having the opportunity to work with another exciting new act in the Jonas Brothers, who open Miley's show with a bang. "They are some of the most exciting young performers I've seen on stage in years," he says. "These guys don't waste a moment, and it shows in everything that they do. Their backgrounds in music and theatre and the dues they've paid for years on stage before anyone knew who they were have chiseled them into one of the great new up-and-coming forces in rock and roll. In my opinion, Jonas Brothers have only one place to go: up! I loved every minute with these guys in rehearsal and watching them thrill audiences all over the country as they exploded on to the stage night after night giving it all up."
It was that raw essence of vitality and emerging creativity in both the Jonas Brothers and Miley Cyrus that Ortega hopes his design of the show allows to come to the fore. "I really had great fun with them," admits Ortega. "When you see something click in a young performer, and you know that you've had something to do with leading them to that place, it's the greatest feeling. Gene Kelly did that for me and it's wonderful to see it happen again."
'Hannah Montana & Miley Cyrus: Best of Both Worlds Concert' opens March 20
for a limited season.