"Redheaded Mystery Girl"
Isabel Oliver Marcus, 17, plays the mysterious redhead (name and character motivation to be revealed in several episodes) on TV's, This Is Us.

A native of San Antonio, Texas, Isabel grew up within walking distance of the Alamo and the River Walk in a small house under a big pecan tree. Reared in a lively neighborhood that featured a community of visual artists, writers, and performers, as well as immigrants, working people, and professionals, Isabel had a variety of personalities to use as role models for the characters she would create in her backyard. With three giant boxes of costumes her mother had collected from thrift stores, Isabel (an only child) constructed other characters by putting costumes on sticks and flowerpots and forced her family to watch her performances.


She spent her elementary and middle school years at San Antonio's arts and language charter school, Bonham Academy, where she learned Spanish and starred in numerous productions of its award-winning theater program. She won every performance competition she entered in San Antonio, including play festivals and Texas school competitions.

When she was 11 years old she participated in a casting showcase in Austin, Texas, where representatives from Los Angeles agencies as well as Texas agencies saw her work: Of the 20 LA-based agencies in attendance, 18 expressed an interest in representing her. Texas agencies were less enthusiastic. That summer, Isabel and her mom packed their bags for California and started a three-year annual temporary residency. They lived in Los Angeles for 3-4 months each year, familiarising themselves with the city and the industry, and returned to San Antonio for the bulk of the school year each year so that Isabel could spend time with her father. During those years she appeared in student films, music videos, and a variety of works that often never made it out of post-production.

Isabel stayed in San Antonio through the first two years of high school, where she studied musical theater at North East School of the Arts. In 2016 she relocated permanently to Los Ang
eles to complete her high school years. A succession of lead roles for independent and student projects followed.

While on vacation in Mexico, Isabel's remarkable hair colour attracted the attention of a photographer and by age 8 she had appeared in advertising for Photo District News and in Hallmark Magazine.



Interview with Isabel Oliver Marcus
Question: What's next for the "redheaded mystery girl" in This is Us?

Isabel Oliver Marcus: I honestly don't know. I wish I could tell you, or tease something, but I really don't know. They tell me things only days in advance really. I have a lot of respect for their dedication to the story, and the experience of the story, so I can't begrudge them their secrecy. But I can't wait to find out!


Question: Can you tell us anything about your character on This is Us?

Isabel Oliver Marcus: Yeah, of course. Like I said, I don't know anything more about the story than you do, but I have done my own character work. You know, I've spent time thinking about who she is, what she likes to do. She's a big baker, but she wants to be a scientist. Go to Stanford, maybe. You know, she's a senior in high school, so the future is very much on her mind. That's one thing we have in common. We are different in some really important ways - where and when we grew, for instance. I have to spend time thinking about this too, what she would have been surrounded by at that place at that time. But I can only tell you what I know, and what I know is the work I've done.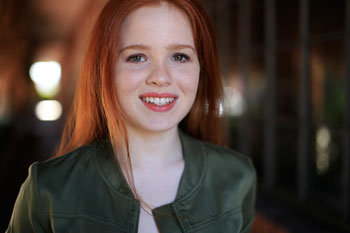 Question: What have you learnt, whilst filming This is Us?

Isabel Oliver Marcus: Oh, so much. It's so educational to work with such experienced actors. They aren't good just because they are talented (although they are very talented). What makes them good actors is how they behave on set-their kindness, professionalism, and their dedication to telling the story the best way they can. Milo Ventimiglia was an incredible example of this. He was so knowledgeable about the inner workings of the set, and he didn't hesitate to speak up to help out his fellow actors if he saw something or thought something that would contribute to the story. That's the main thing I've gotten from working on this set-being taught what it looks like to work at your highest level on a set.


Question: Where you a fan of the show, This is Us, before you began filming?

Isabel Oliver Marcus: Yes! Well, newly a fan. I hadn't seen the show when I got the audition, so I rushed to watch as much as I could. I got twenty minutes into the first episode and started bawling. So I was a big fan when I was on set a week later, but a baby fan.


Question: What's it like being on set with Mandy Moore and Sterling K. Brown?

Isabel Oliver Marcus: Amazing! Of course, I haven't gotten to work with Sterling K. Brown because we are on different timelines, but I got to meet him and Susan on my first day of set. They made me feel so at home! And, Mandy Moore's dedication to her character is just amazing. This season was very much Rebecca's season (at least in my mind), and she carried it so very well. I got to hug her once. Rebecca gives very good hugs.


Question: What inspired your passion for acting?

Isabel Oliver Marcus: That's such a difficult question, you know? At first, it was just the fun of it. As I've gotten more experienced, and homed in on what I really imagine my career and personal future looking like, I think I've developed a lot of passion for people. WHO they are, WHY they do things. It's just interesting. I just really want to tell people's stories. But also, it's just fun.


Question: What's a typical day like for you?

Isabel Oliver Marcus: Really just school… I have to take my dog for a walk, answer any emails (or just mark them -read', most are junk), and do a lot of schoolwork. I'm finishing up my last year of high school with online classes, and AP Tests are coming up... all sounds boring, doesn't it? I fly around in a cape and save cats from trees! There, that's better (laughs)!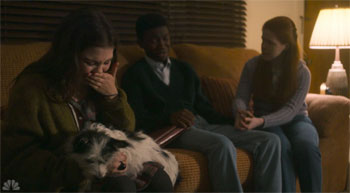 Question: Can you share your personal and professional goals for 2018, with us?

Isabel Oliver Marcus: Finish school, for one. You can tell where my mind really is. I just started a new acting class, and I feel like I'm growing a lot. I'm taking a gap year before college, during which I'm really looking forward to getting to know this city which I now call home (I moved out to LA from Texas about a year and a half ago). And, hopefully learn to make my own films. That's really where the industry is headed, self-made content, and I would like to be part of the trend. For once. Did you know fanny packs came back in style?


Question: What's next for you?

Isabel Oliver Marcus: Fanny packs! Oh, and I just finished the first book in a very long book series. So I'll be reading a lot.


Interview by Brooke Hunter