Isabela Moner Middle School: The Worst Years of My Life
Cast: Lauren Graham, Thomas Barbusca, Isabela Moner
Director: Steve Carr
Genre: Comedy
Rated: PG
Running Time: 92 minutes

Synopsis: Imaginative quiet teenager Rafe Katchadorian is tired of his middle school's obsession with the rules at the expense of any and all creativity. Desperate to shake things up, Rafe and his best friends have come up with a plan: break every single rule in the school and let the students run wild.

Middle School: The Worst Years of My Life
Release Date: January 12th, 2017
About The Production
It may come as a surprise to the legion of fans of blockbuster author James Patterson that some of his most successful works do not involve detectives, criminal behaviour or body counts. The author"the Guinness World Record holder for the most #1 New York Times bestsellers"has seen his funny and surprisingly moving young reader series title Middle School: The Worst Years of My Life reprinted more than any of his novels, and currently, more than 2.5 million copies of the book have been sold in 59 countries and 28 languages worldwide.



James Patterson is rightfully proud of such excitement among the young demographic. He comments, 'I've loved seeing schools embrace my Middle School series"like with all of my stories, I hope that it's gotten students into reading and kept them picking up more books."

Adult fans of his crime fiction may also be intrigued to know that James Patterson is the biggest selling living children's author. The writer's zeal for the genre was born a few years after his son, Jack, was, when he was driven to create works that would ignite the passion of reading in the young. 'I started writing children's books when Jack was eight. He was not a big reader. One summer, we said, -You need to read every day.' And he answered, -Oh, do I have to?' and I replied, -Yes…unless you want to live in a garage,'" James Patterson jokes. 'We got him a lot of cool books and, by the end of summer, his reading skills had gone crazy"and that's what really got me into it.

'I'm so devoted to writing for kids," he continues. 'If they don't become at least competent readers"especially at risk kids in certain areas"how are they going to get through high school? How are they going to get through life? That's why I did the book. It is also so gratifying writing for kids, because I receive thousands of fan letters.

Production

They are so passionate about it. And some have even memorised the books, because they have read them three, four, five or six times."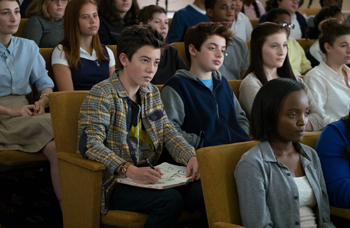 James Patterson contributes much, much more than his enjoyable and creative young adult fiction to the overall cause of upping readership in today's youth. Recognised by the National Book Foundation with their 2015 Literarian Award for Outstanding Service to the American Literary Community, Patterson was lauded as being a tireless champion of the power of books and reading. He has said that the mission of his new children's book imprint, Jimmy Patterson, is simple"'We want every kid who finishes a Jimmy Book to say, -Please give me another book!'" On the other side, proceeds from the sales of the children's imprint go to scholarships for teachers; helping bookstores; supporting school libraries; increasing the reach of his pro-reading website, ReadKiddoRead; and distributing books to kids who can't afford them.

In the past decade, James Patterson has given back more than any other author, including giving in excess of $28 million to Vanderbilt University, Manhattan College and the University of Wisconsin, as well as providing an additional $9.8 million for scholarships at 24 colleges and universities. In the last two years alone, James Patterson has donated $3.5 million to school libraries, more than $1.25 million to independent bookstores and booksellers and more than $1.5 million to fund reading, education and professional development programs.

He has placed books in the hands of more than 650,000 soldiers at home and overseas, and gifted over 200,000 books to kids across the United States.

James Patterson's overwhelming dedication to his cause and his active involvement with the project (he signed on as executive producer on the film) were both very attractive aspects to Lauren Graham, cast as Rafe's single mom Jules, who is trying to remain an active, supportive parent while holding down a demanding job as a sous chef in a popular restaurant. Jules also has her hands full with Rafe's younger sister, Georgia (played by Alexa Nisenson), who has a penchant for pushing to get to school ontime by driving Jules' car around to the front of the house, honking and saying, 'I'm not getting any younger here!"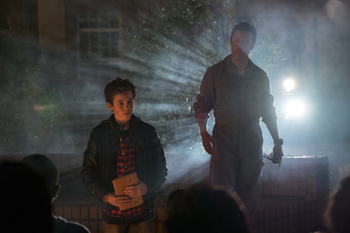 'Of course, I was familiar with James Patterson! You go to the man's website and realise he has written every book in the world," says Lauren Graham. 'And it is also very impressive that he has become this philanthropic entity who supports independent book stores and is very passionate about promoting reading and backing literacy issues."

Cast as the committed 'teach for the test" Principal Dwight, Andrew Daly echoes, 'James Patterson came to the table read in Atlanta and gave some opening remarks. From those, I knew that this is not just a guy who wrote a book they are making into a movie"he is heavily interested and invested, and cares very much about the project's outcome."

Out of the many books James Patterson has crafted aimed at young readers, the author and the filmmakers chose Middle School: The Worst Years of My Life as their first film adaptation with key reasons in mind (in addition to its engaging story, funny point-of-view and emotional truths). Co-president of James Patterson Entertainment and producer Leopoldo Gout comments, 'It is a project that was kicked off with an idea of how education in America has really gone in different ways, and James Patterson feels he can contribute. Middle School is a great framework for James Patterson to talk about education, art in schools and issues with standardized testing."

Executive producer/Participant Media's Senior Vice President of Production Robert Kessel states, 'Our team at Participant has long admired James Patterson's literary legacy and, most of all, his full commitment to championing literacy for kids, as well as supporting teachers and public libraries. To work with him on this beloved adaptation and create this film for young audiences to experience with their families was a real thrill for us. We all know that a book's success helps feed a film and, likewise, films can motivate kids to want to read the books. In addition, Middle School shines a gentle light in an entertaining way on the lack of arts in schools and the celebration of creativity and non-comformity in general – these are issues we always want to support. At Participant, we have always hoped to engage a wide range of audiences and have had success targeting more grown-up audiences with our serious dramas, but we like the idea of casting a wider net to families. Films like Middle School explore storytelling, which can help bring about social change for all audiences."

'With this book, we found that a lot of people related to and were drawn to the title alone," picks up producer Bill Robinson, who also shares the presidency of James Patterson Entertainment with Leopoldo Gout. 'They also related to Rafe, who is sort of an introvert and an outsider, and the adventures and misadventures he goes through. People found the book funny, but also connected to the heart of the book. It is that combination of humor and heart that we wanted to bring to the movie."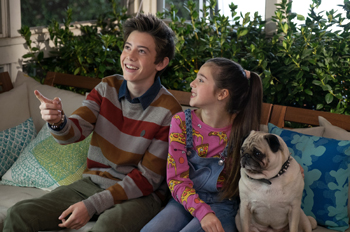 This pairing of cinematic qualities"lots of both laughs and emotion"are present in spades on director Steve Carr's C.V. (Paul Blart: Mall Cop, Daddy Day Care, Are We Done Yet?, Dr. Doolittle 2), who sought to bring aboard adept comic performers also able to hit the emotional beats. Steve Carr explains, 'When I got the opportunity to direct this film, I also got the opportunity to cast, which was unusual for me, because I've been attached to a lot of star-driven material"whether it was Eddie Murphy or Kevin James"so a lot of casting decisions were already decided. This was my first real chance to go find the actors that I love and cherry pick some people that I felt were perfect for the roles."

Bill Robinson speaks for the entire production when he says, 'We were really happy to get Steve"not only has he directed these big family comedies, but he also comes out of a music video, design and drawing background. Like Rafe, Steve Carr had created all of these notebooks full of sketches in his life and he brought them to our first meeting. It was like meeting Rafe from the book 20 years later. As we were going through all of them, looking at these amazing drawings, we realised that he truly gets the character of Rafe."

In casting, filmmakers continually looked for performers with comic chops who also had the ability to think on their feet. Gout says, 'Steve Carr really wanted people that know improvisational comedy. We all felt that we worked really hard on the script and that the book is great source material, but he wanted the adult actors to have that improv instinct, to really be able to play with the kids and each other and respond to the comedic things that emerge, not necessarily written on the page."

Lauren Graham observes, 'I am used to working with a lot of different ages, having just come from Parenthood. To me, it feels normal to have a lot of different stages of life represented on set. It is really impressive how these kids handle work. They really enjoy what they are doing and it is fun to be around them. And it keeps me up on music and pop culture references, and that makes me look very cool. And that is, obviously, a very important thing."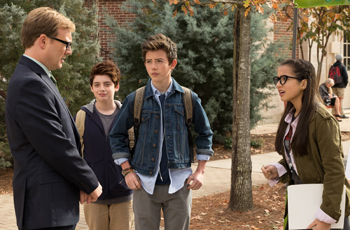 Griffin Gluck"already a veteran of the business at age 16"landed the part of Rafe. ('This is a comedy with heart, and Griffin Gluck supplies that heart," says James Patterson.)

The director relates, 'I had seen some tape of Griffin Gluck on a very funny show that I love called Silicon Valley, and he was wonderful. The thing about Griffin Gluck is that he is smart and he listens. A lot of young actors don't listen" they're just waiting to recite their lines. Griffin Gluck understands that it's a conversation"you can see he's always present, even when he's not talking."

Griffin Gluck says, 'My character is starting middle school at this new school. It's just weird for him. He doesn't have that many friends, and he is not Mr. Popular. Plus, he is a little socially awkward. He goes there not knowing what to do.

'I had read all of the books when I was in middle school myself, which was a really awkward time for me, just like Rafe," he continues. 'When I got the part, I reread them, and they're just as good as I remember. I really like that the screenplay differs from the book, but in a good way."

'Rafe's not a juvenile delinquent, but he does act up enough that he has gotten thrown out of other schools," explains James Patterson. The author believes that there are a few keys to understanding the character of Rafe"that essentially, he's a good kid, but he's gotten lost in the system. Not great in traditional subjects like math or history, where he truly excels is in art"without an art program, he's without a base or an identity, and the school has no tools for helping him grow. That's where his drawing steps in, providing him an outlet and, when his creations spring to life, company.

But perhaps better than his sketched creations is his confidant and companion in prank pulling and rule breaking, Leo, played by Thomas Barbusca. The young actor says, 'My character suggests all these crazy ideas and pranks, and encourages Rafe to break all the rules. Rafe is not having the best time at school or at home. Ultimately, Leo cares about him. He wants to make Rafe feel better and bring him out of his shell."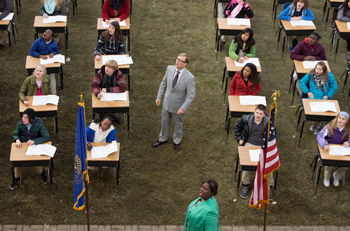 Rafe's mom, Jules, is trying her best"but things could be a little smoother at home. Lauren Graham explains, 'My character is a single mom, who may be a bit too lenient on her kids at times, but at the same time, she is trying to be strong for them while working at becoming a chef. She has started dating a questionable guy named Carl–at first, he seems like a lot of fun, but he starts to reveal himself to maybe not be the best match."

Rob Riggle plays Carl, a.k.a. Bear. Rob Riggle says, 'Carl is pretty much a buffoon, a big idiot and really not that great of a guy. The kids are not very happy about Bear becoming a part of the family, but they tolerate him because, at first, he makes their mom happy. He is self-absorbed and has his priorities screwed up. The bottom line is Carl loves Carl. He thinks he is pretty cool"too bad no one else does."

The same could be said for Principal Dwight, as Andy Daly attests, 'I think Dwight thinks of himself as a likable person, but he's very, very serious about his school doing incredibly well on the standardized tests that they administer every year"they're called B.L.A.A.R, or Baseline Assessment of Academic Readiness. This is the one and only priority of his professional and, it seems, personal life"that his students do well. So everything is organized around that. In fact, he's come up with this vast list of rules that are targeted toward getting the best possible results on this test."

Dwight's right hand is Assistant Principal Ida Stricker, the role comically embodied by Retta. The actress had just come off of a project that shot in Vancouver, and was unsure at first about being gone from home for much longer. But Middle School's helmer convinced her otherwise. She says, 'My manager told me that Steve Carr, the director, really wanted me. They told me that he was a very New York kinda guy, and I'm always amused by New York guys. Plus, I could tell he was confident in his comedic abilities, proven by his previous projects.

And I was one of those kids who loved school, and loved getting good grades"I was a stickler for the rules.

And now, here I am in this role. Who says typecasting doesn't work?" If Ida is the right hand, then surely Gus"the school's custodian/groundskeeper/maintenance man"is his left.

But there's more to Gus than a guy in coveralls might suggest. Still waters, in this particular case, do run deep.

Gus is played by Efren Ramirez, who observes, 'Gus understands there are rules and regulations, but also that some are meant to be broken. Discipline is like holding a bird in your hand. If you hold it too tight, you might injure it. If you hold it too loosely, it will fly away. He goes along with Dwight most of the time, but there does come a moment when he won't cross the line"he knows the difference between right and wrong. Gus sort of becomes the sensei to the students."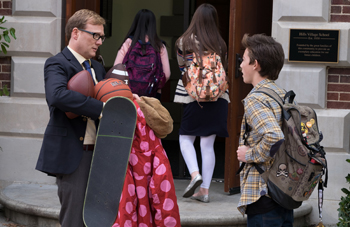 The character of Rafe's homeroom teacher"the cool, iconoclastic and inventive instructor, Mr. Teller"is one such change from the source material ('We turned Mrs. Donatello from the book into a male teacher, because we felt like it would be effective to have kind of a father figure in Rafe's life," states producer Robinson). Mr. Teller is portrayed by Adam Pally, who says, 'My class is valued by me as being outside-of-the-box thinkers, while they are viewed more by Dwight as underachievers, who thinks they are going to ruin the school's standardized test standing. Teller and Dwight are like oil and water. Teller is not at all about test scores, he wants to teach the kids through experience. He's laid back and thinks of his class as a positive place. He doesn't bog the kids down with the traditional way of teaching. He tries to help Rafe feel like less of an outsider than he thinks he is."

Among the reasons James Patterson says he likes writing about the middle school years is that, 'the boy/girl thing is beginning to happen just a little bit." For Rafe, that girl is Jeanne Goleta"smart, studious, motivated, outspoken"played by Isabela Moner. The young actress comments, 'My character is kind of an overachiever.

She cares a lot about academics, and she's the head of a lot of school clubs. When Rafe causes an uprising, Principal Dwight decides to cancel after-school clubs, which makes Jeanne really mad. Rafe sees that she is upset and, since he has this crush on her, he is inspired to break the rules even more. He wants to show Dwight that you can't mess with the students. I like that relationship that Rafe and Jeanne have."

Patterson adds, 'Jeanne Goleta was my girlfriend in high school. She is going to get a big kick out of this."

The other young strong-headed female in Rafe's life is his nine-year-old sister Georgia"Alexa Nisenson, a young Atlanta discovery of the filmmakers, fills the part. Alexa Nisenson states, 'Georgia is a tough cookie, a force of nature, but she definitely has a sweet side. She messes with her family, whom she loves, but nobody else can.

While she gets on her brother's nerves, when it really comes down to it, they are there for each other."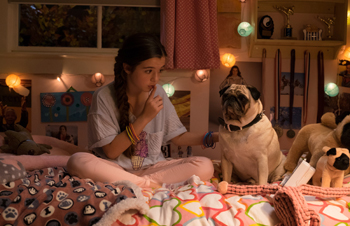 And what would a tale of school woes be without a bully? Enter Miller 'The Killer," who is unfortunately in Rafe's homeroom as well. Jacob Hopkins ('a really nice kid," says Robinson) was cast against type as Miller.

He confesses, 'Miller is the jerk that does whatever he wants to do. If he wants to give a random nerd a wedgie, then he gives him a wedgie. He is the bully protagonist that really gives Rafe a hard time by doing stuff"knocking books out of his hands, making fun of his name, kicking his chair over"just overall trying to keep Rafe in his place when he tries to step up."

Perhaps last"though certainly not least, and in no way forgettable"is the Khatchadorian family pet, Georgia's camera-ready dog named Mr. Giggles. The coveted role went to a six-year-old pug named Calvin, who's been working in -the business' with trainer Greg Tresan of Animal Casting – Atlanta since Greg cast the dog about five years ago. Originally envisioned as a 'smoosh-face cat," the part of Mr. Giggles came about once production saw the dog's expressive face and, since one of the animal's big scenes involved tolerating splashes of water and soap suds, were convinced that they couldn't send a cat in to do a dog's job. Also on tap for the pug were scenes that involved barking, chasing, going after Carl and just looking dejected. Greg Tresan discloses, 'He's a method actor, so he's been watching really depressing movies to get into character, when he needs to look sad and lonely.

'Actually, he's having a ball," laughs Greg Tresan. 'He loves all the treats; he loves the Alexa Nisenson; and one day on set, he got to sleep in bed all day, so he's been a pretty happy guy." Of her scene partner, Alexa Nisenson says, 'Calvin's adorable. I've actually never worked with an animal before, and it was so much fun and really interesting to see how they work. We had fun together."

The Imaginary Side Of Rafe's Life

As in Patterson's book"which features illustrations by Chicago-based cartoonist Laura Park"reality doesn't always sufficiently convey Rafe's story. As a kid with a vivid interior life, he is constantly reconfiguring the situations around him into more fanciful ones…or at least, ones that might stand a better chance of going his way. This is his alternate reality, and it's externalized in his drawings. It is, in fact, during one of Principal Dwight's diatribes about B.L.A.A.R. that he reimagines the authority figure as a risen zombie, screeching 'BLAAR!" The laughter and reactions to his drawing are what lead to the destruction of his beloved sketchbook.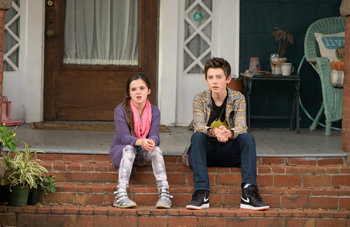 Filmmakers were adamant that Rafe's vivid imaginings also have a presence in the film. Producer Robinson: 'We felt really strongly about translating the illustrations from the book into animation in the film. It gives audiences an insight into how Rafe sees the world"it is how, in his mind, he processes what's going on around him, the good and the bad. It all comes out in this sketchbook, and we wanted to activate that for the audience and really have fun seeing it through the animation. It gives you a real sense of who he is and how kids like him see the world. Part of the fun, part of the challenge and part of the excitement of bringing the book to screen was seeing how we could visually tell that story and let you see into his mind. And the way we are doing that is through animation, which makes up about 10-percent of the movie."

Much of the duty of working on the incorporation of these special sequences fell to Christopher LeDoux, visual effects supervisor on Middle School. He comments, 'It came down to how we were going to composite these animated elements into live-action. The whole idea is that we're visualising someone's imagination, which is one of the exciting parts about the film, because we all do that. When I'm driving on the freeway, I sometimes envision machine guns popping up out of my hood, or just exiting and flying away from the road to escape to Playa del Rey or Alaska. It's a clever device to use and I think audiences can relate to that, whether you are a kid or an adult."

Here is where director Steve Carr's background as an artist with extensive experience in the world of music videos paid off. Steve Carr painstaking designed transitions from live-action to animation, working in tandem with director of photography, Julio Macat, animation producer Cecil Kramer, animation director Chris Sauve and visual effects artists. The director recounts, 'One of the main attractions to me about doing this film, other than my ability to connect to the main character, comes from my being a visual artist"I paint, I've designed album covers, that kind of stuff. And I've always had this yearning to get into animation…but to turn over an animation film that costs a hundred-million dollars to a guy who hasn't done animation before is fairly unlikely. Middle School offered me the opportunity to do the kind of movie that I love to do, one that I've done successfully, and also have this animation integrated, affording me the opportunity to dip my toe into it."

For animation director Chris Sauve, creative director at Duncan Studio, animation has been a lifelong pursuit, beginning with his re-drawing the art he saw in his beloved book, The Art of Walt Disney, at age eight. Working with a team of around 50 artists at Duncan"animators, background painters, colour ink and paint, comp and effects artists"Sauve aimed to create the 10 animated sequences, 'that work like exclamation points in the movie. We wanted Rafe's drawings to come to life"Rafe himself, Zombie Dwight, a cooler version of Gus, animals, creatures"and to look like they came out of his sketchbook." Animators utilized both digital creation with Cintiq tablets and drawing by hand (which were then scanned into the software) in their efforts to maintain a line art look. 'Some of the process we did just like they've been doing it for 80, 90 years," supplies Chris Sauve.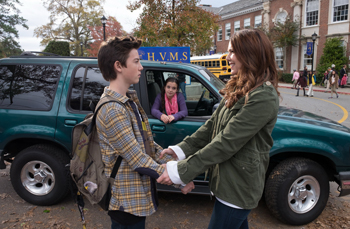 Ken Duncan, head of the studio, explains, 'James Patterson's funny and moving writing allowed us to understand the mindset of Rafe, and use the imaginative world animation to convey his inner conflicts. The animation was intended to be an offshoot of Rafe's sketchbook drawings. The line quality of the drawings were meant to be scratchy and not too smooth. The character designs would need angles and sharp edges in the design language. The colours were to have an intense, primary colours much like magic markers. The world, the environment that the animated characters 'live" in, would also have this graphic styling.

The animation itself the way characters moved, would need to be dynamic with fun posing, not too smooth and soft. The overall tone would show a teenage boy's imagination with some grit a unique style. We also wanted different sequences to be more intense based on Rafe's mood, with quicker editing and camera motion. We wanted to capture the varied experiences that Rafe was encountering in the script, to give the animation some texture."

Cinematographer Macat offers, 'One of the big challenges of the film, which I was really attracted to, was to see how flawlessly we could slide the film from the live-action sequences into the animation, and then come out of the animation, without relying on cutting in and out of a dream sequence or anything. Some ways we accomplished that was by playing with different camera speeds and by incorporating some practical elements from the set. For example, there's a sequence where the lockers are moving around in the animated world and chasing our animated characters. To transition out of that, we had a real locker that was falling down and then we used that movement onto our character within the shot. What we were aiming for was some of the animation feel to become incorporated into the live-action, and vice versa, to smooth out transitions."

Ken Duncan goes on, 'The animated sequences shouldn't be independent from the film's story"because all of the animation was an extension of Rafe's imagination, to understand how he was evolving in his real world, to understand the context for our sequences without upstaging the live-action. Chris Sauve was able to collaborate with Steve Carr on a daily basis, to throw ideas back and forth until the sequences solidified. From a technical standpoint, there were only a few sequences that combined animation with the live-action in the same shots. We were able to get live-action plates from the production and combine our animation into the shots and work with our compositing team to ensure the animation -fit' into the -real world.'"

For one of the most challenging of the mixed live-action/animation sequences"where Rafe's sketchbook is dropped into a bucket of cleaning fluid, and some of his characters attempt to escape the pending doom" LeDoux says it was time to hit the school books. He elaborates, 'The reason is because we had animated characters interacting with the liquid, which meant we had to run physics simulations, because water is one of the most complicated things you do in visual effects"not because of the way it looks, but because the way it reacts. You are actually looking at fluid dynamics. We had to get into the physics of it and solve that."

'There was quite a lot of back and forth between departments," adds Chris Sauve. 'It was key that those characters look like they were living in that set, sitting on that book in that bucket." In the end, per the animation director, a lot of the sequence"although it appears as pure live-action"was created by the comp artists at Duncan, who took elements from the live-action shoot, manipulated, lit and assembled them to create a believable scene with Rafe's creations coming to a gooey end.

Operation R.A.F.E.: Designs, Pranks And Filming

'My first encounter with Principal Dwight happens before I even get into the school. I'm ready to walk in, thinking I am prepared for the day, when all of a sudden, he stops me. And he starts looking at my clothes," says Gluck, describing Rafe's first day at Hills Village. 'He's like, -Hey, what are you doing? This is against dress code. These are against the rules. You need to change.' It's not a very good first impression with the principal."

Not only is Dwight domineering, his school also casts a repressive pall over the students"something filmmakers wanted audiences to 'get" in the appearance of the environment. When designing the look for the school, production designer Perry Andelin Blake said he realised that the school itself needed to be treated as a character in the film. The school had to reflect the strong arm of Principal Dwight and the lack of creativity allowed in the students' day-to-day activities and studies. For the location shoot in Atlanta, production chose the 1930's brick structure of Atlanta International School for the exteriors of Hills Village Middle School, which Perry Andelin Blake describes as having a very stately feel ('sometimes that can come across as oppressive, almost overbearing").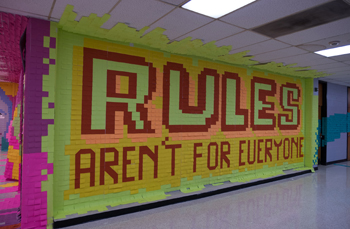 For the interiors, Blake transformed the spaces of Westlake High School (alma mater of the Carolina Panthers MVP quarterback Cam Newton). 'I went back and studied architecture from totalitarian regimes for ideas to capture the stark feel of the school's oppressive, Orwellian ambience," says Perry Andelin Blake. One of the keys was festooning common spaces with large banners that used bold type faces, block lettering and strong colours, trumpeting some of the heavy-fisted rules in place at H.V.M.S.: 'Obey the Rules," 'Respect Your Principal," 'No Joking," 'Assimilate" and 'Respect Authority." Perry Andelin Blake even took a cue from some of the 20th century's most despotic rulers when creating a photo of the principal in a dictatorial pose that is seen hanging throughout the school.

The one exception to the starkness of the place is Rafe's homeroom, Mr. Teller's classroom. Perry Andelin Blake asserts, 'Teller is that teacher, the cool dude, everybody's friend, so his room has more character and color. He's a bit of a rebel himself, and we see that in little ways"books by Thoreau and Whitman, rebels in their own eras, on his shelves."

Once Dwight makes the ill-advised decision to dissolve Rafe's sketches in a bucket of cleaning goo, Rafe"with a little prodding from Leo"kicks off his revenge strategy, a series of pranks designed to shatter each and every rule in the Code of Conduct, which is dubbed 'Operation R.A.F.E. (Rules Aren't For Everyone)."

Per producer Gout, 'He is going to turn the rules on their head to show everybody that they don't make any sense. He is going to get revenge"not just for himself, but for all the students who are forced to abide by the rules. It's not really about disobeying rules just to disobey"it's about standing up, free expression and individuality."

Among the more elaborate pranks are covering part of the school in Post-It notes, converting Dwight's cherished trophy case into an aquarium and sending coloured water through the school's sprinkler system. To drive home the point about the lack of art in the school (and the death of some of his beloved drawings), Rafe turns to new canvases, which he finds in the school's hallways and Dwight's office. He breaks in one night and covers Dwight's entire office"from floor to ceiling"in Post-It Notes, and also commandeers hall space for a banner of his artwork, which includes a portrait of Ms. Stricker, along with other intertwined interpretations of some of Rafe's drawings.

Perry Andelin Blake explains, 'We started with some of the images and ideas from Rafe's sketchbook, like the dragons, robots and the aliens. First, we drew them and then refined them, and then, we digitalised them, so each of the three-inch squares could actually be identified as a color. After a little experimenting, we discovered that we needed to use Post-Its from their Super Sticky line. It then took five people working over a three-week period to put up the more than 50,000 Post-it Notes on the hallway"a prank that Rafe achieves in the film overnight. It took about 7,000 notes in the office, with about 10 hours of work to accomplish that."

True, it would have taken a Herculean effort by a single person to pull off the Post-It prank, but filmmakers wanted to achieve at least a believability to what Rafe could accomplish, so they aimed to create the pranks as practically (hammer and nail) as possible…still, some issues did arise. For the trophy case to aquarium transformation"although a special case was constructed, through which Dwight's face and reactions could be filmed"some digital help was required when it came time to fill the thing with fish. Blake confesses, 'It wasn't just the handling of the water and getting glass strong enough to support the pressure and weight.

The biggest issue is trying to wrangle fish"they don't always do what you want them to do, strangely enough. Hit them with bright lights for filming, and they would most likely hide in the corners, and we would never see them."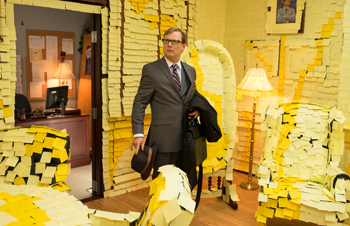 For one of Rafe's biggest, 'music video moment" stunts ('It is my character's coup-de-grace, as you adults would say," says Gluck), a special cross-departmental collaboration was required to achieve the sequence when the school's sprinkler system is set off, and the students and staff are drenched in multi-colored water (eliciting a schoolwide free-style dance, naturally).

Again, reality and basic chemistry had to rear their ugly heads"send different colours of water flowing freely through a single sprinkler system, and the resulting spray would most like be a murky and decidedly uncinematic brown/black…hardly the rainbow effect filmmakers wanted to achieve. So, the decision was made to send clear water through the pipes, and LeDoux and his visual effects team would transform it into an array of colors…additionally, costume designer Olivia Miles came up with an idea to sew dye packs into the costumes, to make it look like brightly coloured water was soaking the students.

Olivia Miles remembers, 'Certainly, I feel, the most challenging scene was the sprinkler scene, with all the kids in the hallway. It took weeks of testing, sewing dye packs into the shirts and using different temperatures of water to see what worked the best. In the end, we used lighter coloured shirts and rainbow coloured dye packs that we ironed into the insides of all the shirts and sweaters. When the warm water hit, it activated the dye, which bled out into the clothes"it created a sort of tie-dye effect."

The sequence wound up utilizing 75 extras, 15 homeroom students and 10 principals"the principals each had three identical costumes (allowing for three takes), and the extras and homeroom actors, two outfits. Accentuating what was informally known as the 'liberation" scene (with Rafe helping to break them free from the rules), director of photography Macat also added flashing lights from fireboxes, giving the shot 'a flashy, surrealistic feeling," adds Perry Blake.

Macat relates, 'We shot the sprinkler scene in a different camera speed, so there would be this magical feel to it. First, they are surprised by the water; then, they rejoice in it. It reminds me of scenes from Woodstock, where the flower children are free and just dancing to the music." Employing a shooting plan common in music video, the scene was covered with four waterproofed cameras. The water was warmed (which kept the performers comfortable and activated the dye more efficiently). Unfortunately, this created humidity in the hallway, fogging up one of the cameras"but the problem was solved with ventilation for the second (and final) take.

Director Carr says, 'Interestingly enough, the sprinkler scene had the crew in a tizzy. Everybody was worrying about having these kids dancing, all the colours, the music and the camera movement. Everybody else was nervous about it, but that kind of thing has been my bread butter. I've been doing music videos for 10 years"I've done it a thousand times. That day, on set, it was, -Listen, this is what we do. This is how we do it, and this is what's going to happen. The people are going to stand here, this is how they're going to dance and this is the speed we'll shoot it in.' It was like going back in time, shooting the videos I did at Def Jam, for all of those musical artists.

Hey, it was reminiscent of every Jay-Z video I've ever done!"
Griffin Gluck is more succinct when he states, 'It. Was. Awesome."

Interesting, Rafe isn't the only kid in the movie involved in pranking. Though not quite on the scale of her brother, Georgia does some pretty daring things on her own. Alexa Nisenson says, 'Georgia is obsessed with driving"anytime, anywhere. In one scene, I drive my mom's car. In another, as payback, I drive Bear's car and smash it into some trash cans. He gets super, super upset when he sees that it's all crashed"and that's probably when Jules begins to really see that he's not the one, because both of her kids are missing, and he's worried about his car, not them." (Of note: the pre-teen actress was made to appear to be piloting the automobiles when, in fact, they were always under the control of licensed adult technicians…although she confesses, 'Yeah, it would have been cool"I wish I did get to drive them.") Even with all of the concealed dye packs, super sticky notes, canine hijinks and underage driving, members of the cast are quick to point out that Carr was always the calm head in control of the production that, perhaps to the uninitiated, might seem a tad bit frenetic. The director even allowed the actors the time and space to have fun"per Efren Ramirez, 'It sounds cliche, but comedy is difficult, because it's about finding out what's funny in the situation. When you have a good director, like Steve, he knows how to keep you in the light of comedy, and keeps it tight, guiding and orchestrating the actors and the crew so that he gets what he wants in the shot. And after a couple of takes, he allowed us to play and find some elements that maybe weren't in the script. That's great for all of us."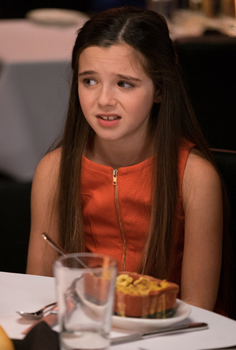 Rob Riggle's admiration for his youthful co-stars was obvious. He echoes the 'grown-up" actors when he says, 'These kids come to set with a great energy. They love what they're doing. They're funny and they're fun. Oncamera, off-camera, they're always willing to engage. They're total professionals, which, asking a kid to be a professional is crazy. I think about myself at their age…ha, I couldn't do what they're doing! They're wise and mature beyond their years."

Quick to return the compliments, Griffin, Alexa and the others bestow their highest praise when describing each and every on-screen adult as 'totally cool."

Making a film about such an emotionally-packed time in a kid's life"those formative years between grade school and high school"brought out shared stories and memories from filmmakers, cast and crew. And it was universally felt that the project had tapped into a number of commonalities in everyone's experiences: the struggle for identity, the search for paths, the special moments that involved a great teacher or a close friend… Producer Bill Robinson offers, 'Middle School is really about what a lot of people feel during their years there, which is what it is to be different…what it is to see the world in a way that you're not sure anybody else sees it, but finding your place in that world and discovering how you fit into it." Producer Leopoldo Gout echoes, 'The movie really talks about believing in yourself, chasing your own stars and building something with your own imagination. I think that is what makes this story so universal."

Author/executive producer James Patterson sums up, 'There are so many relatable things from people's lives in the movie"parents that are separated, a father that is nowhere to be found, a stepfather coming into the family. We have all either had the experience or know of someone who is a part of a family in flux. We can relate to the school dynamic, too"an incredibly uptight principal, a kid having trouble with the school system, the very caring teacher, a little budding romance and the issues around standardized testing. I've seen my writing come to life on the screen a few times. Sometimes, I haven't been that crazy about it, but this time, I love it. It's funny, it's touching, it's well shot and directed."


Middle School: The Worst Years of My Life
Release Date: January 12th, 2017