Jennifer Lawrence Passengers
Cast: Chris Pratt, Jennifer Lawrence, Michael Sheen
Director: Morten Tyldum
Genre: Adventure, Sci-Fi
Rated: M

Synopsis: Jennifer Lawrence (Aurora) and Chris Pratt (Jim) star in an exciting action-thriller about two strangers who are on a 120-year journey to another planet when their hibernation pods wake them 90 years too early. Jim and Aurora are forced to unravel the mystery behind the malfunction as the ship teeters on the brink of collapse, jeopardising the lives of the passengers on the greatest mass migration in human history.

Passengers
Release Date: January 1st, 2017


About The Production
'Passengers is about two people who were supposed to be on the trip of a lifetime – the 120-year journey to a new planet – when they get woken up 90 years too early," says Chris Pratt, who stars in Passengers alongside Jennifer Lawrence. 'But it turns out there's a reason they woke up early. They have to solve the mystery of the malfunction, and fix a ship that is quickly failing, if they are going to survive and save the lives of the passengers on the greatest mass migration in human history."

'It's about characters who face extreme situations and have to make extreme choices, and I always find that fascinating – what would you have done?" says Morten Tyldum, who directs the film, his first following his Oscar® nominated triumph with the hit The Imitation Game.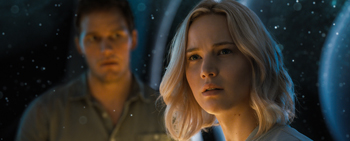 Against the story of high stakes action, the filmmakers set a sensitive story of two passengers who find each other in this moment of peril. It's a story that has attracted Hollywood for many years; writer Jon Spaihts' script has landed on the 'Black List" of the industry's best unproduced screenplays. 'One of the things that drew me to this script was the way Jon Spaihts set an intimate story on such a large stage," says producer Neal H. Moritz. 'It's an action film with epic spectacle, but it all hinges on these two incredible characters brought to life by Jennifer Lawrence and Chris Pratt."

Chris Pratt's character, Jim, decides to give up his life on Earth for very practical reasons. 'He's kind of a throwback," says Chris Pratt, 'very much a working class guy. He's considered a desirable trade, as a mechanical engineer, because he'll be helping to start a civilization. If something breaks, he'll be there to fix it."

When Jim and Aurora wake up 90 years before reaching that destination, those skills kick into high gear. 'He's a problem solver by trade, so he's trying to figure out how to get back to sleep or contact somebody for help. And then, it turns out that there's something very wrong with the ship."

'Chris is very different than Jim," says Jennifer Lawrence, who plays his fellow awakened passenger, Aurora. 'Jim acts like he's never really had a girlfriend, and he doesn't really know how to behave around women; that's charming and sweet, but it's not like Chris Pratt at all, who's married and funny. It was interesting to watch him go from Chris Pratt to a shy, insecure, romantic person."

In contrast to Jim's working-class hero, Aurora is part of a different social circle. She is a New York writer with a great assignment – she is making the 120-year journey to Homestead II, then will make the 120-year journey home. She will be the first person in human history to make the round trip. 'It's such a huge decision to make," says Jennifer Lawrence. 'It's a 120-year journey – when you arrive, everyone you know will be dead. You have to start a brand new life on a brand new planet that you've never been to. I can't imagine saying goodbye to everybody that I know and love – I understand her thirst for more, but I don't think I could make that kind of permanent decision."

'When Aurora first wakes up, I think her first reaction is to feel an incredible empathy for Jim," says Jennifer Lawrence. 'She's only been dealing with this problem for a few days, and he's been by himself, like a trapped animal, for more than a year. Seeing him react to a human being makes her feel bad for Jim."

Morten Tyldum says that it was apparent from the beginning that Jennifer Lawrence and Chris Pratt would be the perfect actors to bring Aurora and Jim to life. 'It's great that they are the biggest stars in the world, but first of all, I wanted to make sure that they were the right actors for these roles," he says. 'I had to get the feeling that they were going to click, that they would have chemistry. We sat for many hours – I had a four-hour dinner with Jennifer Lawrence – and I could immediately see that they would be perfect. They're very smart people who had a clear understanding of what they wanted the character to do. They really understood the choices, the motivations, the life these characters have to go through – so that made me feel that they really got it."

Producer Stephen Hamel was the first to team with writer Jon Spaihts on the concept. 'I'm deeply interested in original content, original voices," he says. 'There was something rather playful in Jon's writing that I loved – he took the time to allow the characters to be human, to have weaknesses. The originality of the story seemed really appropriate."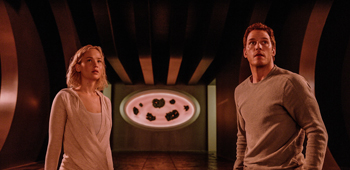 Ori Marmur, who works with Neal Moritz at Original Film, agrees. 'The screenplay is life-affirming and warm; it speaks to the human condition," says Ori Marmur. 'And as a first-generation-born American, the idea of two people leaving Earth and traveling a great distance for opportunity elsewhere resonated with me personally; my parents travelled a great distance to come to this country of opportunity – they didn't know anyone, and it worked out."

Aurora and Jim's different stations in life are thrown into contrast by their home: the spaceship itself. 'The Avalon is part badass spaceship, part luxury cruise liner," says Chris Pratt. 'They wake you up three or four months before you get to your destination, so you can party, swim in the pool, or rack up a big bill playing the slots or shopping in the high-end stores."

'The ship is really luxurious, almost like a cruise liner," says Jennifer Lawrence. 'There's an observation deck, a movie theater and grand concourse and amazing rooms – well, for my character. It looked very different; everything was beautiful and interesting. It was a different atmosphere for a movie."

'The sets were huge," says Chris Pratt. 'We had to break down a wall in the soundstages. I was looking around, and it was like looking at a real ship. Guy Hendrix Dyas's sets made the movie big in scope and as epic as this story needs to be. We had a great special effects team that built amazing props and toys and cars and screens everywhere. It was really cool."

Jim and Aurora's companion is Arthur, the bartender on board the ship. An android with a remarkably human upper half, he moves with efficiency, grace, and skill, and responds to passengers' worries and anxieties with a kind word and warm heart – if a little naïveté. 'Arthur is an important element to their mental state, because he's the closest thing to a human that they have besides each other," says Jennifer Lawrence.

'He's programmed to be the greatest bartender ever," says Michael Sheen, who plays Arthur. 'He's empathetic, he's able to listen, and he mixes a fantastic martini. But there's a limit to how much he's interacted with people: he's usually dealt with thousands of people in very short interactions, but he's in new territory with Jim, interacting with one person for a very long period of time."

So, because Arthur is not quite human, Michael Sheen and Morten Tyldum discussed just how to shade the performance subtly. 'Bartenders are the ultimate confidants, and when Jim meets me, I am someone he can talk to," says Michael Sheen. 'The challenge was I had to figure out the balance of how robotic and how human should Arthur be?"

That was an incredible challenge, one that Michael Sheen rose to meet with a creative, technically difficult, and utterly believable performance, according to Morten Tyldum. 'Michael Sheen had to bring humanity to it, and at the same time, you have to understand that beneath the surface is a machine, without making it a cliché," says the director. 'There's a naïveté and a wisdom to it at the same time. He becomes their friend, the one they talk to, the one who gives them advice. At the same time, there was such precision to the performance. He could never look at his hands while doing things, because a machine wouldn't have to. He was mixing drinks, very casually and with no effort, and talking with incredible comedic timing. That's incredibly hard, and he pulled it off so flawlessly."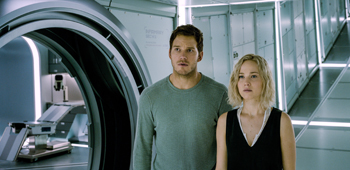 Part of Michael Sheen's performance came through a physical transformation, with the help of the on-set special effects team. The team designed a rig to move him swiftly back and forth behind the bar; with Michael Sheen kneeling on the rig, the filmmakers could control his movement, like an android's – later painting out Michael Sheen's legs and the rig with a robotic stand.

But as luxurious as the ship and their surroundings are, Aurora and Jim soon realize that something has gone terribly wrong.

'The ship is falling apart," Chris Pratt explains. 'Robots start to malfunction, lights flicker on and off. Ultimately, our characters find out that there's a reason why it's malfunctioning, and we are suddenly in a desperate situation, trying to fix a problem to save not only our own lives, but the lives of all of the other passengers on the ship."

But it is not until Laurence Fishburne's character Gus Mancuso wakes up that Jim and Aurora understand the gravity of the situation. 'He's a spacer – a man who fell in love with the stars and the notion of interplanetary travel at a young age, and has spent a lifetime traveling in space," Laurence Fishburne explains. 'Luckily, he's a crew chief, so he has access to certain things that they wouldn't have access to as passengers, and he helps them figure out what's wrong with the ship."

One of the problems on board the ship is that the gravity fails. Suddenly, Jim and Aurora find themselves weightless. 'I was pulled up by wires, but I had to pretend that gravity wasn't pulling down on my hands and feet. To do that, you're doing a plank in mid-air. It was one of the best ab workouts I've ever done! It was really difficult, and Morten was very particular – he wanted it to look perfect. He didn't move on until that angle was perfect for the whole take."

To create the appearance of Jim being weightless, stunt coordinator Garrett Warren created a spinning ring with an extension of a speed rail and a counter balance weight on the back of it. Chris Pratt would be able to move freely and then Garrett Warren's stunt team would use winches to fly him back and forth.

Aurora is in a swimming pool when the gravity fails. 'That was probably the hardest thing I've ever shot," says the Hunger Games star. 'Spending that much time in a pool, water up my nose, everywhere. But it was amazing – when I saw the CG example of what it was going to look like, I was really excited. I've never seen anything like that in a movie."

Even with these incredible action set-pieces, the filmmakers never lost sight of the movie they were making, says producer Neal H. Moritz. 'We tried to keep the emotional stakes of this movie well-grounded, so it would not be overwhelmed by the gadgets, sets, and space," he says. 'Though obviously these are important aspects of the story, they are not the heart of the movie. At the heart of the movie is the relationship between these two characters."

'Passengers is an epic, in that it really has everything in one movie," says Chris Pratt. 'It's adventure, it's romance, it's a thriller, it's scary, but it's emotionally resonant. There are great moments of humour and spectacle."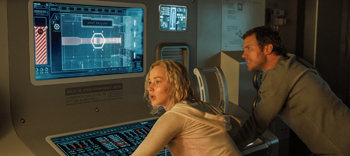 Production Design

'It's always good when you can create your own world," says Morten Tyldum, who creates a new vision of space travel in Passengers. 'I'm a huge sci-fi fan, and I also have such respect for the genre, so I wanted to try to do something that had never been done before."

The way the filmmakers did that, in Morten Tyldum's words, was 'to both look forwards and backwards." Looking to the future, they created a spaceship with an intricate design that uses the centrifugal force from spinning blades to create gravity, and contains the robots, holograms, and other technology that the future has in store. To that, Morten Tyldum marries what he calls a 'nostalgic design," inspired by Art Deco, classic Hollywood, and World War II uniforms. 'The past is with us – the past inspires us – and I wanted to have the past to be very present in the film. At the same time, it has robots, it's a smart ship, it has screens, it has AI. By combining this, on a pure aesthetic level, a visual level, I think it's unique. It feels very sci-fi, but also very grounded, very belonging to our world."

To make this vision a reality, Morten Tyldum turned to Guy Hendrix Dyas, an Oscar® nominee and BAFTA winner for his work with Christopher Nolan on Inception, and the designer of such varied films as Elizabeth: The Golden Age, Steve Jobs, and Indiana Jones and the Kingdom of the Crystal Skull. Dyas feels he was born to design Passengers; in fact, he was the only designer that Morten Tyldum interviewed for the job.

Since childhood, Guy Hendrix Dyas had dreamed of building a spaceship inside and out, and Passengers made that dream a reality. The result was a series of enormous, hugely memorable sets that brought the Avalon to life.

'We wanted to build as much as possible, because this is a character-driven movie, not a movie that is driven by special effects," says Morten Tyldum. 'We have a lot of big spectacle scenes, some mind-blowing effects, but the driving force is the characters and the performances. To get those performances, I didn't want Jennifer Lawrence and Chris Pratt to act against green screens – I wanted to build as much as possible so they can actually feel and understand the space they're in. I think it pays off because it feels more real."

Producer Ori Marmur recalls, 'No one involved in this movie has ever seen anything like these sets. One person walked on and said, -People are going to think your set is CG; they're not going to believe you guys actually built this.'"

From the beginning, Morten Tyldum and Guy Hendrix Dyas had intense, in-depth conversations about how to realise the look for Passengers that Morten Tyldum had in mind. The look was not to be the cold, distant vision of science fiction films past, nor a utilitarian, reality-based design. Instead, they took their inspiration from luxurious cruise lines: the Avalon would offer every amenity imaginable, with various looks inspired by classic designs.

'It was a challenge trying to design a science fiction film that has a soul, and a storyline that leans toward an interior design aesthetic – what would that aesthetic be like 400 years in the future," Guy Hendrix Dyas explains.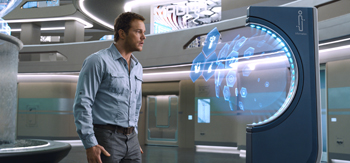 Before production, Guy Hendrix Dyas oversaw months of set construction – and for ten weeks before production began, Guy Hendrix Dyas and Morten Tyldum collaborated on designing the world of the Avalon.

They began with the exterior of the Avalon, Guy Hendrix Dyas says. 'The scale, the shape, and the science of the exterior would inform the interiors," he explains. The filmmakers would rely on the idea of a rotating vessel to create gravity, but rather than create a wheel, as seen in other films, Guy Hendrix Dyas created an entirely original device. 'I took the concept of the rotating wheel and stretched it out into an elongated shape, which naturally led to these wonderful, twisted blades. When you look at the spacecraft from the front, it looks like this classic rotating wheel – but the moment you turn, it becomes a three-dimensional object of extraordinary length."

With that design in place, Guy Hendrix Dyas could turn to the interiors: each of the three blades would represent a different aspect of life on the ship. He explains: 'One blade is the hibernation area, where 5000 passengers are sleeping. Another blade is the entertainment blade, where you have the grand concourse. The third blade is a giant container area, for getting supplies to the distant planet."

Each of the blades required a different look. 'First, you have the areas that the passengers live in," says Guy Hendrix Dyas. 'The main set, the Grand Concourse, looks very much like a high-tech shopping mall. Then you have the areas where the staff and crew go, and that is a second layer of environments that have a completely different feel – colour is less important, more information and graphics are on the walls. And then you have a third area that is off-limits to almost everybody: the reactor control room, the airlock, the exterior of the ship."

Connecting the blades is a zero-G elevator. 'When you take an elevator across a spinning object and you hit that central point in space, of course, you're at zero gravity. You'd better strap yourself in – you're going to experience lower gravity, and then increasing gravity as you reach the other side."

At the zenith of production, the dynamic sets of Passengers occupied seven stages at Pinewood Studios, Atlanta, and one 40,000 square foot stage at EUE Screen Gems stages also in Atlanta. As soon as filming was completed on each set, it was struck and a new set erected in the space. Each set was more memorable than the last with such builds as Hibernation Bay, Forward Observation Deck, Infirmary, Vienna Suite, Cafeteria, Aurora's Cabin, Jim's Cabin, Jim's Workshop, Swimming Pool, Corridors, The Bridge, and The Grand Concourse and Grand Concourse Bar.

Grand Concourse

The Grand Concourse set was built on location at the EUE Screen Gems stages. To accommodate this large build, the filmmakers merged two stages into one large 40,000 square foot space.

This Grand Concourse, a futuristic type of shopping mall space on the Avalon, was complete with storefronts, exercise facilities, a universe of restaurants including Japanese, Mexican, French restaurants, as well as a nod to days gone by with an art deco-themed bar.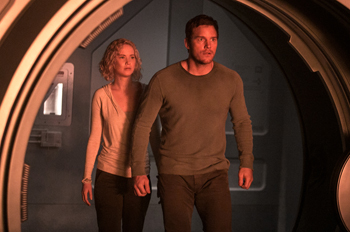 Also housed in this incredible set was the Zero G elevator, Basketball Court, Dance Machine, swimming pool, and a Communication Center where passengers can send messages to Earth.

The VFX team transformed this already-humongous set into an even bigger space by extending the storefronts to be a mile long and five stories high, with a glass ceiling giving shoppers a view of the beauty of space outside.

Grand Concourse Bar

The key location in the Grand Concourse is the Bar, a set that became distinctive even when compared with the impressive builds on this production. With a colour palette and design that was completely different from the rest of the ship, the Bar is like stepping back in time.

'The bar is an impression of what people five hundred years in the future would think Art Deco would look like," says Guy Hendrix Dyas. 'There would be some mistakes in the design. Historically they would have got things wrong. It has an over-the-top Art Deco feel."

Everything in the bar was custom-made for the set, including moulding, sculpture, scenic painting, specialist finishes, specially woven carpet, and even gold vinyl couches. The entrance to the bar has handmade Frank Lloyd Wright-inspired tiles that resemble the front silhouette of the exterior of the Avalon. On the wall is a period-style sculpt of the Avalon spaceship in flight on its way to a new planet. The counter of the bar is interactive, the idea being that when a customer finishes a drink and rests the empty glass on the bar counter, Arthur, the android bartender, senses the glass is empty and comes to give a refill.

'It was important to make sure the bar was very seductive, warm, and beckoning. It doesn't have any doors – I wanted Jim to be drawn into the bar every time he walked by," says Guy Hendrix Dyas. 'The golden, glowing light spilling out from those archways was always going to drag him in – not just to have a drink, but to get a dose of humanity (or synthetic humanity) from Arthur."

Making Arthur

Michael Sheen brought Arthur to life, but to make the android sufficiently robotic was a role that fell to the special effects and visual effects crew. (Special effects are physical rigs that capture effects on the set, in camera; visual effects are handled in post-production by computer graphics.)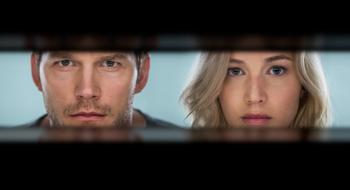 The SFX team, led by Special Effects Coordinator Daniel Sudick, designed a rig – a chair that had a leg brace – to move Michael Sheen swiftly back and forth behind the bar. Michael Sheen would kneel into the rig, which was on rails and could slide back and forth behind the bar at any speed.

'The computer-driven rig had to move really smooth and really fast," says Daniel Sudick. 'We would record a move in sync and in speed with the camera on the computer, and be able to play it back with precision as many times as it is needed." It took eight weeks for Daniel Sudick's team to build the Arthur rig, and another three weeks to test it to make sure everything worked well together.

Of course, the role required Michael Sheen to be prepared to move with a rig that would start and stop suddenly, without tensing or bracing his body and without revealing any discomfort in his facial expression. 'When I accepted the role, I didn't know what I was getting into," says Michael Sheen. 'The special effects rig moved really fast, but was a great practical build as it made the performance feel more real."

'The role required an actor with the core strength to do this extraordinarily fast move," says Erik Nordby, the film's VFX Supervisor. Without that physical strength, Erik Nordby says, it's possible that the actor would have had to be replaced with an entirely CG creation. 'Luckily, Michael Sheen is a true pro. He delivered the role in incredible fashion – almost effortlessly, he fell into the challenges of the rig. He'd rehearse once, twice, maybe three times, and he'd have it down so that you almost didn't notice any sway in his body at all. Morten Tyldum wanted it to look like his spine was rigid."

After production, the VFX department replaced the rig and Michael Sheen's lower half with the robotic design that controls the bartender's movements. 'It looks almost like the insides of a very intricate mechanical watch that has been taken apart and added to his bottom half," Guy Hendrix Dyas explains. 'Below his hips, he has a singular stalk that attaches him to a rig that runs back and forth.

The result – Michael Sheen's performance combined with the effects wizardry – is a character that is fully part of the world of the film, according to Morten Tyldum. 'You never one moment stop believing that he actually is an android," he says. 'You are fully immersed in the fact that he's not a human because Michael Sheen plays the nonhuman part so well, but at the same time you fall for him and you care for him so much. It's such a wonderful performance."

Hibernation Bay

The Hibernation Bay – where Jim and Aurora were supposed to slumber for 120 years – was an enormous set, measuring 120 feet wide by 190 feet long. It took ten weeks of prep to construct to create the set.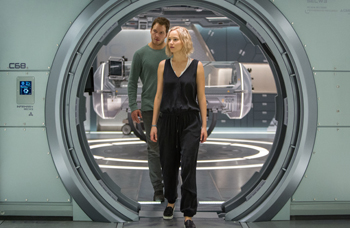 'When I'm processing any design, my go-to places are classic architecture and nature," says Guy Hendrix Dyas. 'For me, the arrangement of the sleepers is a circular arrangement around what I called the pod tree – eight-to-ten individuals on a single umbilical cord that would service those bodies collectively."

The central feature of each pod tree an enormous handmade disc light, measuring twelve feet in diameter, above each the tree. The idea is that each light would provide the life force and nutrients to keep the passengers alive.

What Morten Tyldum and Guy Hendrix Dyas didn't expect, but turned out to be one of those happy accidents, is that the bright lights of the pod trees created a sense of confusion in the dark space of the hibernation room, reinforcing Jim's mood. 'We had created a subliminal maze without putting up any walls," he says. 'The environment becomes confused, the audiences feels unsettled.

For filming, Guy Hendrix Dyas's team built 32 hibernation pods, some more detailed than others. The pods that audiences will see up close on camera, when Jim and Aurora wake up, were designed with hydraulics so they could open and then rise vertically. The pods were made of fiberglass and wood, then decorated by the graphics department, and then laden with electronic tablets to convey the feeling of future technology. These graphics and digital screens brought the set to life.

During filming in the Hibernation Bay set, thirty plus background extras were put into the hibernation sleep pods. The pods were laden with bubble wrap to give additional comfort for the actors. All of the extras did a great job – some of them actually falling asleep and getting woken up for the lunch break. Life imitates art.

In post-production, the VFX department extended the large set to a mammoth size, with hundreds of pods.

Vienna Suite

The Vienna Suite is the most luxurious of the ship's accommodations; it doesn't take long for Jim and Aurora to feel at home in the lap of luxury.

'There is an element of fantasy to this set," says Guy Hendrix Dyas. 'Morten Tyldum and I discussed what would be the most outrageous and unexpected accommodation you could have. A two-level, high end, New York apartment set in the future was the brief we set. Morten Tyldum wanted the palette to feel warm and sexy."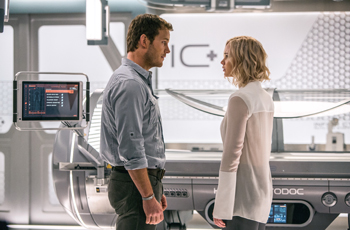 This two-story open plan construction has a lounging, reception, dining, and bedroom area. The sweeping stairs are grandiose with no banister. The window from this suite looks out onto the incredible view of space. This suite will have the largest personal space window on the entire Avalon spacecraft.

Guy Hendrix Dyas and Director of Photography Rodrigo Prieto were keen on developing glowing walls within the suite, so the occupants would have a sense of interaction with the building itself. The lit panels give off gold and yellow tones that added to the provocative space with its enormity in scale and height.

The most deceptively complex part of the set was the floating bed in the Vienna Suite. The art, construction, props, set dressing, and SFX departments were all involved.

Contrasting Aurora And Jim's Cabins

Aurora's Cabin, highlighted by warm gold and amber tones, is located in room 424 of the gold-class cabin of the spaceship. The circular cabin combines a limited palette of mauves and aubergines, creams, and silver decorate the space. There are different tones of metallic from white gold to aluminium and steel. The sweeping lines mimic those of the Grand Concourse. 'Our set decorator, Gene Serdena, made one of his many brilliant choices as the cabins are adorned with Earth artifacts like seas shells or a piece of driftwood, so you have a tactile connection with your planet Earth where you come from," says Guy Hendrix Dyas.

By contrast, Jim's accommodation on a lower deck has a utilitarian feel. His cabins is a small and dark space with crude rubber matting, a cramped bathroom, and a fold-out bed, showcasing the comparison in the classes of travel available on the spaceship. Connecting the cabins are a series of corridors that Guy Hendrix Dyas says are designed with warm tones to be beautiful and calming, but with a hint of menace. 'There are no windows there; it's extremely claustrophobic," he says. Once Tyldum saw Guy Hendrix Dyas's creation of the corridors, he began to set scenes there, such as when Aurora jogs through to show her frustration.

As the ship was designed to be a commercial transport vessel, the filmmakers brought on full-time graphic designers, Trey Shaffer and Kevin Kalaba, to create the overall corporate branding for the Spaceship Avalon and a corporate identity for Homestead Industries, the company that owns and runs the spaceship.

About The Visual Effects

At the center of Passengers is a very human, emotional story – but it is set in space, which required extensive visual effects. For Visual Effects Supervisor Erik Nordby and Visual Effects Co-Producer Greg Baxter, that required an approach to visual effects that was clean and supportive and rarely taking the spotlight. 'It's unique to have a movie of this size where the visual effects play a supporting role," says Erik Nordby. 'I relish that fact, because visual effects are always best when it's supporting something grander than itself. The narrative of Passengers is tender and humanistic on every level, and I think we've done our job well if at no point you feel in awe of the magnificence in front of you."

The visual effects fell into a few main categories. First, of course, are the entirely CG shots – the exterior of the spaceship, the establishing shots at the beginning of the film, and key moments outside. Then there is the extensive green screen work – the action scenes outside the spacecraft. Next are the set extensions: although Guy Hendrix Dyas's art department built several huge sets, the Avalon is so huge that those enormous sets – such as the hibernation bay and the cafeteria – required expansion by Nordby's computers. Finally, there are CG characters in the film – robots that float around the spaceship for maintenance.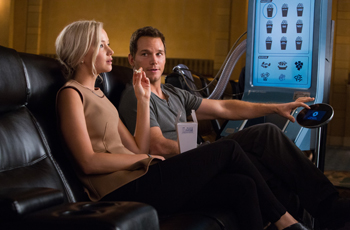 One of Erik Nordby's greatest challenge was in creating Jim's spacewalk at the end of the film. 'We wanted the audience to experience that same sense of vertigo that he gets, so they are right there with him," he explains.

Erik Nordby was confident that the artists would be able to create the vastness of space around Chris Pratt – a much larger challenge was to create the effect of light reflecting off of Chris Pratt's face as he tumbles. 'That brightness is what we want and what we were focusing on – that interactive light as it hits Chris Pratt' skin thru the helmet had to feel real."

The team came up with an effective solution: Chris Pratt, in costume in his spacesuit, got inside a three-sided light box featuring panels of tiny, extraordinarily bright LED lights. Though the box was disorienting, Chris Pratt took it in stride. 'It was the most incredible thing to watch Chris Pratt in the spacesuit inside the box, enduring all of these physical challenges," says Erik Nordby. 'Inside his helmet was a two-way microphone system so he and Morten Tyldum could talk to each other. No one knew what they were saying except each other. It showed the passion Morten Tyldum and Chris Pratt have for this this film and what it requires, and how truly intimate it can be if you let it."

For Chris Pratt, more than the light box, the challenge was the suit itself. During rehearsals, one comment was that Chris Pratt didn't necessarily look weightless inside the suit. 'I said, -I'm not. I weigh a lot and this suit weighs about 70 pounds.' But the suit looks so good – it's beautiful, the best costume in the movie."

Editing The Film

On any film, the telling of the story comes together in the editing room. On Passengers, Maryann Brandon, an Oscar® nominee for her editing work on Star Wars: Episode VII – The Force Awakens, took charge of cutting the film. 'Part of my job as the editor is to protect the vision of people like Morten Tyldum, Rodrigo, Guy Hendrix Dyas, and Erik Nordby," she says. 'I try to open all of communication between departments. I want to be able to go to Erik Nordby and propose an idea and see if it's possible to achieve before I pitch it to Morten Tyldum. I need to be able to talk to Rodrigo and ask him how he wants a scene to look and feel. I like to feel that we have one goal and that's to make a great film."

Maryann Brandon was especially excited to join the project for a number of reasons – not least of which was to work with Morten Tyldum. 'The script and cast are amazing, and I'd seen Morten Tyldum's two previous films, The Imitation Game and Head Hunters, and I loved those films. I thought it was a great opportunity for me to work with a super talented guy. It meant going right back to work, right after completing Star Wars, but how often does one get an opportunity to work on such a great script?"

Those early conversations with Morten Tyldum showed Maryann Brandon that though the impressive script was going to remain at the heart of the film, the director intended to give that story a huge size and scale. 'It is a much bigger film than it reads on the page," she says. 'Ultimately, Passengers is an intimate story set on a spaceship. It has to be real; you can't change the language of it by adding CGI creatures or alien spaces. There isn't the light and dark side – just people.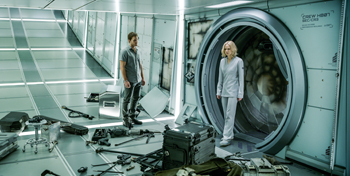 The chance to balance the actors' performances with incredible CG sequences also represented a wonderful opportunity. 'My approach to a big effects film is to keep it real and allow my imagination to explore the possibilities," she explains. 'It's important to have real elements in the shot; it anchors the CGI. In some ways, the straightforward narrative is more difficult – I really have to make the story work without relying on anything else, and if a performance isn't working it will never sell the action."

She continues, 'Chris Pratt is so good at being likable, but what surprised me is how deep he went into the character of Jim. Jennifer Lawrence is so strong as Aurora, she and Chris Pratt have an amazing chemistry – not that I'm surprised but Jennifer Lawrence makes it look so easy. Much of Passengers is enhanced by CGI, but the essence of it is practical interior sets that convey an intimate story. Every cut I make is story- and performance-driven."

Sometimes, an editor will take a first pass at a cut of the film and bring those ideas to the director. However, Maryann Brandon and Morten Tyldum created a close relationship that encouraged a more hands-on approach. 'I convinced Morten Tyldum not to look at a first cut of the film but to jump right into the film and start cutting together," she says. 'I learned that method from J.J. Abrams. It allows the director to enter into the editing process straight away."

'Maryann Brandon came in and did a wonderful job with the performances," says Morten Tyldum. 'It's wonderful to have an editor who knows that the focus has to be the story and the characters – she never falls into the trap of focusing so much on the epic scale that you lose the story. At the same time, she'd say we need something exciting here, we need something fun here. She is a wonderful storyteller."


Passengers
Release Date: January 1st, 2017