Judi Dench Victoria and Abdul
Cast: Olivia Williams, Judi Dench, Michael Gambon
Director: Stephen Frears
Genre: Drama

Synopsis: Academy Award winner Judi Dench (Shakespeare in Love) reunites with Academy Award-nominated director Stephen Frears (The Queen), and returns to the role of Queen Victoria, in Victoria & Abdul.

The screenplay of Victoria & Abdul is by Academy Award nominee Lee Hall (Billy Elliot), based on journalist Shrabani Basu's book Victoria & Abdul: The True Story of the Queen's Closest Confidant, which brought to light the long-hidden history of Victoria and Abdul from their own diaries and journals.

Victoria & Abdul tells the extraordinary true story of the amazing and unlikely friendship between Queen Victoria (Judi Dench) and a young clerk, Abdul Karim (Ali Fazal), who becomes her teacher, her spiritual advisor, and her devoted friend.

In 1887, Abdul travels from India to present a ceremonial medal as part of the Queen's Golden Jubilee but surprisingly finds favor with the elderly Queen. The unprecedented and unlikely relationship causes a battle royale within the royal household, pitting the Queen against court and family. Victoria & Abdul humorously explores questions of race, religion, power, and the farce of Empire through the prism of a highly unusual and deeply moving friendship.

Victoria and Abdul
Release Date: September 14th, 2017


About The Production
The world well knows Victoria, the iconic leader who ruled an empire spanning the world – but, who was Abdul?

'She was the Queen of England and he was a humble clerk from India," recounts author Shrabani Basu. 'Their friendship would shock the palace and lead to a near-revolt against the Queen."

The story of their friendship, deliberately hidden for a century, is now told for moviegoers in Victoria & Abdul.

In 2001 Shrabani Basu was researching a book on the history of curry. She learned that Queen Victoria enjoyed eating curries. Shrabani Basu visited Osborne House, Victoria's Isle of Wight residence, and was most intrigued to see two portraits and one bronze bust of a regal-looking Indian man. In Victoria's dressing room, she spotted another portrait of the Indian man, situated directly beneath that of Victoria's beloved John Brown. On a larger scale, Osborne's Durbar Room, crammed with treasures from India, was a monument to Victoria's fascination with 'the jewel in the crown;" even though she was the Empress of India, she never visited. Shrabani Basu notes, 'For safety reasons, she couldn't go to India, so she had India come to her."

In 2006 she visited Balmoral, the Queen's castle in the Scottish Highlands, where she saw Karim Cottage, the house that Victoria had built for Abdul. She realised there was an importance to the mysterious Indian man known as the Munshi (i.e., teacher), and she set herself the task of finding out what it was.

The Queen's son Bertie, later King Edward VII, had destroyed all correspondence between his mother and the Munshi – but had not thought to touch her Hindustani journals. In those journals, Shrabani Basu discovered the story of Queen Victoria and her beloved Munshi, Abdul Karim. Handwritten by Victoria in Urdu, the journals had sat in the Royal Archive, entirely left out of any and all Western versions of Victorian history because none of the historians read Urdu. Shrabani Basu reports, 'I can understand Urdu, though I can't read the script. Abdul had written lines in Roman for Victoria, and I understood these. Where there was only Urdu script, I had it translated. There were 13 volumes." From their pages the relationship of Victoria and Abdul emerged.

There was one further volume to be unearthed, as Shrabani Basu's investigation took her to Karachi, Pakistan. Abdul never had any children, but his grand-nephew led her to a journal, stored away in a trunk. Abdul had started the journal in 1887, when he was summoned all the way from India to serve at the Queen's Golden Jubilee commemorating her 50 years on the throne. His diary gave Shrabani Basu a firsthand account that confirmed much of what she had found in the Queen's Urdu writings. 'Finally," she says, 'I had found Abdul's voice."

The details captivated the author. She reports, 'Abdul was 24 years old when he was sent from India to the U.K. He caught Victoria's eye and was rapidly promoted. Extra English lessons were arranged for him so that they could converse more easily. He gave her lessons in Urdu every evening. He read Ghalib's poetry to her. The two of them became inseparable.

'Her household plotted against him, threatening that the Prince of Wales [Bertie's title at the time] would have to step in. Victoria stood by Abdul like a rock."

Culling from the diary and the journals, Basu wrote Victoria & Abdul: The True Story of the Queen's Closest Confidant.

BAFTA Award-winning filmmaker Beeban Kidron of Cross Street Films read a newspaper article about the book in 2010 and was immediately taken with the tale. She remarks, 'What intrigued me was that here was a previously untold history, a gem hidden away for over a century. It was a revelation that Queen Victoria had a very close relationship with not only a servant but a Muslim servant. The reaction within her royal household was quite telling, and relevant to what's going on now in the world – about acknowledging tension between cultures and having open-mindedness."

Kidron's Cross Street partner, Lee Hall, the Academy Award-nominated screenwriter of Billy Elliot, heard Shrabani Basu on the radio and was equally intrigued. So the two arranged a meeting with her. By this point, Cross Street was not the only production company interested in optioning Shrabani Basu's book for a movie version. But their response to the story resonated with the author. Kidron remembers, 'What interested Shrabani Basu was how we saw Victoria & Abdul as a story of an outsider; it was a clash of class and culture, and we felt it would be invigorating to see Victoria's world from the vantage point of an ordinary young man from Agra who made it to the top of an empire.

'Also, we saw this as a film that could play in the multiplexes, something funny and entertaining – a story about the royal family that audiences haven't seen before – while also having something to say about prejudice."

Shrabani Basu granted Cross Street the rights, and Cross Street began further developing the project with Christine Langan at BBC Films, who was excited by the prospect of a mainstream film with a message. The turning point for the feature came when Kidron and Hall brought Victoria & Abdul to their longtime friend and frequent collaborator Eric Fellner, co-chair with Tim Bevan of one of the world's leading film production companies, Working Title Films. The Academy Award-nominated producer remarks, 'I saw this as a story for our times, and I knew that as screenwriter Lee had the skill to adapt Shrabani Basu's book. He gravitates towards stories that explore class, and being on the outside looking in – and vice versa."

The producers set out to make a movie that would offer the sumptuous interiors, epic landscapes, and lavish costumes that audiences expect from a historical drama – while giving them a story of friendship and loyalty that they might not expect.

Kidron reflects, 'It was energizing for us to make a movie that combined big scenes, requiring scores of extras who had to be costumed at 5 in the morning so we could be shooting by 8, with scenes of two people having intimate conversations that were serious and touching.

'The relationship between Victoria and Abdul speaks to, and about, different generations. Her age and his youth are no barrier to love, and they are both transformed by the experience, which was something new to them and something which we feel will be special for audiences as well."

As with any historical tale that is made into a two-hour film, some events and people were conflated for dramatic purposes. Kidron notes, 'We all talked about how the screenplay had to make a story out of the wealth of detail in Shrabani Basu's book, which is beautifully written and evocative but has a journalistic approach. Our picture is more of a fable; it is true to the spirit but by necessity has to create dramatic moments. Lee's story is a delightful confection but at its heart stands a deeply touching relationship. That's what he loves to do in his storytelling: make the audience laugh and then make them cry.

'Since Shrabani Basu wrote her book with access to the diaries of both Victoria and Abdul, there is a generous flow of factual information running through the story which Lee taps into throughout. Much of what's in the script, however ludicrous it might seem, comes from Queen Victoria herself!"

Shrabani Basu states, 'Lee has taken out just the right bits from the book, and he's developed some parts and characters more. He's certainly retained the humanity."

The ability to parse both the weight of history and impart a witty perspective on same is a hallmark of Academy Award-nominated director Stephen Frears' work. Kidron always wanted him to take the helm. She says, 'I knew he would be great for Victoria & Abdul because he gets at the humor in situations yet he doesn't lose sight of the seriousness."

The producers waited until Hall was a couple of drafts into the screenplay adaptation before taking the project to Stephen Frears. He was keen to board the project, responding to what he calls 'a very good script which was full of lively, sparky writing. Lee writes in an elevated style, in a sophisticated manner which I love."

Stephen Frears' longtime producer, Academy Award nominee Tracey Seaward (The Queen), joined the project with him. She felt strongly that the film could explore themes the team had addressed before in their films, 'such as race relations. On that topic, this story from over 100 years ago feels even more relevant now. First and foremost, this is an important story that Shrabani illuminated: a young Muslim becoming the loyal companion of an Anglo nation's longest-surviving reigning monarch."

Shrabani Basu was consulted throughout the process, and as the filmmaking collective coalesced she realised that the story was being fielded by 'a dream team. I could not have asked for more, or better – and the casting was the icing on the cake."

When thoughts turned to identifying an actress who could embody the stature, pride, probing intelligence, wit, and fragility of 'the Grandmother of Europe" there was really only one person anyone and everyone had in mind. Stephen Frears, having collaborated with Dame Judi Dench previously, knew her to be 'a brilliant actress – and one who looks like Victoria!

'But she had portrayed Victoria already, in Mrs. Brown [1997], so I wondered that the idea might well be a nonstarter with her."

Fortunately for all concerned, the Academy Award winner rather liked the prospect of returning to a fascinating woman she had portrayed at a later stage in life. Judi Dench reveals, 'I was very pleased that this suddenly came up. I had become absolutely absorbed in her story when we made Mrs. Brown and done all the homework, so, why say no? I admire Victoria as a remarkable person, and this was an irresistible story that had only recently come to light.

'With Shakespeare, you can come back to a play hoping that in the interim you've learnt something more about how to play the part. Whereas this was a proper progression for a real person. I had a sweet letter from [Mrs. Brown director] John Madden, who said he was so glad I would be revisiting Victoria."

The two stories' respective central relationships crystallised during very different eras in Victoria's life, but Judi Dench felt there was a connection. She explains, 'Victoria was happy when she was with [her husband, Prince] Albert, and then [her Scottish aide] John Brown, and then Abdul. The continuity there is, she was relaxed, completely relaxed, in someone's company without all the c"p of court, people saying, -You've got to be here at this time and there at that time.'"

When she met Abdul, Victoria was decades into her then-unprecedented reign of 63 years on the throne. 'Victoria was a prisoner of convention, like most of us become," reflects Stephen Frears.

Seaward adds, 'Can you imagine ascending to the throne at age 18 and remaining there forever after? Yet, in her 70s, she becomes a quiet revolutionary, learning Urdu and reading the Koran. Already a fascinating lady, she became even more so in her last years. She was the Empress of India, but she realised that she needed to know more about India."

Judi Dench herself has felt a deep connection with India for several years, nurturing it ever since she filmed The Best Exotic Marigold Hotel there. She states, 'It's completely my spiritual home. I can't wait to go back."

Another draw for the leading lady was the chance to reunite with a favorite director. She says, 'He has taste, Stephen Frears, and I like him so much as a person. When working with him, you put yourself completely in his hands. He may be enigmatic, but you know it's for the best. You want to please him.

'We have a shorthand. I know him so well that when he says after a take, -Do you want to go again?' that's usually because he wants to go again. Aside from all that, Stephen Frears and I have very much the same sense of humor so we make each other laugh a lot!"

Since Victoria & Abdul highlights a rebellious streak in the character of Queen Victoria, as she bucks tradition, her household, and the culture of the time, Stephen Frears knew that the role would tap into Dench's own 'mischievous and subversive qualities."

'That no one else could have played Victoria was brought home each and every day of filming," marvels Kidron. 'Judi has a phenomenal sense of humor and yet there is a seriousness to her at her core. So she can at once convey, and combine, funny and dramatic tones. Her contribution to the telling of the story is immeasurable.

'She has an extraordinary deadpan manner that she sustains through the humorous scenes, and then pivots invisibly to an emotive powerhouse as she charges up the dramatic epiphanies."

Picking up on the latter quality, Seaward says that 'Judi Dench is possibly the most empathetic artist acting on film. Her truthfulness as a performer shines through."

Judi Dench says, 'I don't ever make up my mind about -liking' or -not liking' a character. I just try to relate as humanely and as honestly to the part as I can so that people can understand who I am portraying."

Casting the young man who would share the screen with a doyenne of acting called for a worldwide consideration of talent. 'We were looking for a fresh face," notes Kidron. 'Ali was not known to us, but he is well-known in India. So when we went to Mumbai to read actors for this role with casting director Nandini Shrikent, he was among the many we saw.

'As Ali left the room, Stephen Frears said, -I can see Queen Victoria being quite taken with him.'" Eventually, Fazal made his first-ever visit to the U.K. for a screen test in London.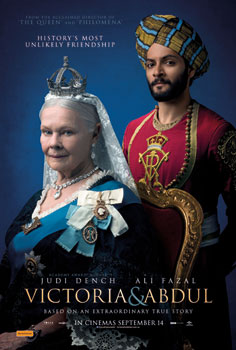 Kidron muses, 'Ali's journey mirrored Abdul's, both in a geographical regard – and in that he knocked the socks off of us and got the gig!"

Stephen Frears elaborates, 'Ali was charming, attractive – all to the good. But it had been clear to me that there was a wide-eyed quality which the actor playing Abdul would have to be able to access. I felt we weren't going to find that in an actor who had been born or brought up in England. Adeel Akhtar, who we had cast [as Abdul's fellow Indian visitor, Mohammed] first, needed to convey a more seasoned perspective, and Adeel has been in England all his life. But for Abdul we needed innocence and amazement; they were crucial to the character, and Ali Fazal understood this."

Ali Fazal immersed himself in materials of the time period, spending two months on research including extensive handwriting and voice work. Further conversations with the director led the actor to a greater understanding of how the characterisation could best progress. Ali Fazal says, 'Stephen Frears is one of my favorite directors, and I wanted my performance to be consistent with his vision of the story."

He reflects, 'Abdul takes everything as it comes, and completely at face value. This does lead to some comedic moments because, unlike others, he means what he says. The Queen is so fond of him, and wants more of him. Stephen said to me, -Please watch Peter Sellers in a film called Being There,' for reference – a beautiful movie…

'Abdul came from a place of innocence and I wanted to keep that throughout. Yet he still has layers to him, and Lee's script shows those nuances."

Ali Fazal grew his own beard for the role, because he was 'determined to get the look right. Daniel Phillips' [hair and make-up] team worked on it all with me."

Kidron reports, 'Ali Fazal clicked with Judi Dench and she clicked with him. He was very respectful but would rise to the dramatic challenges; the scenes required someone who was willing to play with her, and Ali was."

Judi Dench assesses her leading man as 'a beautiful young man. He's kind of a romantic, and also a laugher; that's a good mixture! We got on very well indeed."

Ali Fazal states, 'Judi Dench is a gem of a person, and she is everything an actor should be; I've come through this project with a great friend."

Playing out the unexpected connection and empowering friendship called for both actors to consider the growth of both characters, as an aging, ailing monarch saw the potential for change through a bright and youthful spirit. 'Theirs was an incongruous meeting," admits Stephen Frears. 'That's what so satisfying about getting this story told. The nature of love is to change everything between two people, so Victoria & Abdul is most certainly a love story."

Judi Dench offers, 'It was quite easy to imagine how Victoria, by then cross and a bit tired, suddenly looked up and saw somebody at last to talk to and somebody at last pleasing to look at. He came to the Golden Jubilee to present her with a coin, but, seeing him, she wasn't so interested in the coin…

'Abdul was like an injection of youth and enthusiasm for Victoria. She could enjoy conversation with him, and he also afforded her something new to learn – language, culture. It was like a blood transfusion for her at that time. She adored him, and wanted to make the effort for him."

As with Victoria's other close relationships, latter-day discussion inevitably turns to questions of degrees of intimacy. Kidron muses, 'I believe theirs was an affair of the heart, and this is something that I believe audiences will respond to in Victoria & Abdul: two people can share respect and profound care and something that looks a lot like love, but it doesn't have to be sexual.

'We each of us have loved people who we don't have sexual relationships with and we have loved people that we might have if the circumstances were different. This is a universal experience, and one not very well-represented in films today, so I'm proud ours shows this."

Seaward states, 'Abdul was one of the great loves of Victoria's life, and she was of his as well. Theirs was a very tender relationship. Imagine having all that power but feeling alone and needing a true friend."

Ali Fazal sensed that 'it became a little spiritual for both of them. Reading the letters between them, you see that through learning Urdu, she started thinking about God in many ways.

'As for whether it was -about the physical,' well, holding hands was a big event. This was a unique relationship, about an intimacy and trust much more than the physical component."

While Abdul grew close to a monarch who was in many ways a lightning rod for many of his countrymen, the filmmakers show another perspective by way of his compatriot Mohammed. Akhtar comments, 'Some might say that Abdul is too positive and hopeful. Then there's my character, who is on the other extreme; Mohammed is a bit cantankerous and something of a naysayer. They're at two ends of a spectrum, and we've all gone to those ends when somewhere in between is where we should be.

'When I read, in the screenplay, Mohammed's speech to Bertie and Sir Henry I knew there was a good and real reason to do the movie; it gives context to the journey that countries went on to find independence from the Empire."

Stephen Frears notes, 'Victoria never went to India because there was a fatwa [i.e., religious decree] against her; she had become Empress in 1858, after what the Empire called the mutiny but what India would refer to as the uprising.

'Abdul certainly prefers to look on the sunny side. He's embracing an adventure where there are no problems in sight."

Until, there are; Victoria's court – friends, family, staff, hangers-on – would close ranks to become wholly, fiercely set against Abdul and his relationship with the Queen. Stephen Frears says, 'It's racial prejudice and bigotry to start with, but in terms of their utter interference it was also because they had something to protect and Abdul was a threat to them. The Indian continent itself was a threat to the Empire, so it was kept down – and kept down by members of the class that were also surrounding the Queen.

'This became enjoyable for us making the movie – not because of those terrible attitudes, but because we had English character actors who were very good with the humor of the opinions and reactions."

Casting directors Leo Davis and Lissy Holm convened accomplished performers who would bring heft and verve to the household conflict. Kidron remarks, 'Who doesn't want to be in a film with Judi Dench? And Stephen Frears gives performers a lot of room to create a character so they love him to bits. The actors responded to the script and the prospect of exploring its politics. So we were lucky enough to be able to cherry-pick talent."

Paul Higgins, cast as Dr. Reid, reflects, 'The establishment really needed the Queen to be popular, and to be seen as sane, otherwise they feared being swept away with the new century. But the household just wouldn't treat Abdul as an equal and would meet to say -What can we do about this?'"

Kidron adds, 'It is the job of the drama to explore the culture of the time which was openly racist. But what I love the most are all the lines that talk about the jockeying for position and favor at the court. Of course, we can't know exactly what happened behind closed doors 150 years ago so you have to take each line with a pinch of salt. But what we do know is that Abdul upset the order of things; that is clear."

Actress Fenella Woolgar looked at real-life photos of her character, lady-in-waiting Miss Phipps, and found that 'she looked a lot tougher than she is written in the screenplay, in which she is bullied by the rest of the household. But I'd been given this dream-come-true scene with Judi Dench to play, so I went with the script and it was quite fun to play Phipps as terrified of Victoria.

'Much of the time, a lady-in-waiting was indeed kept waiting in her room; sit and wait, and you might be called upon to go and entertain the Queen or do secretarial work or tend to children. You gave up your freedom."

Another real-life member of Victoria's court was groom-in-waiting Alick Yorke, portrayed in Victoria & Abdul by Julian Wadham. The actor reports, 'I researched Alick Yorke. He was gay, and flamboyantly so. That famous expression said by Queen Victoria, -We are not amused,' was directed at Alick Yorke; he had been laughing uproariously at a foreign dignitary's inappropriate story and Queen Victoria came up to them and asked what they were laughing about. Alick Yorke was obliged to repeat the story – and then she said it.

'The script taps into our obsession with the royal family. I imagine that the household's response to Abdul was even more intense in real life, although we are playing up the comedy; when we filmed the -union meetings' with all these people crammed into a room it became hilarious."

British Independent Film Award winner Olivia Williams was cast as Lady Churchill. But her character is, she reveals, 'an amalgamation of two real-life people, one of whom was, yes, Winston Churchill's mother. I played the role as a bit of both, and with relish.

'The character is a hypocrite. She is living an unconventional life yet disapproves – highly disapproves! – of others doing the same. A closeted, miserable world that is so convention-bound gets upset by a beautiful, passionate friendship."

Most formidable in his opposition to Abdul growing so close to the Queen is her son Bertie, Prince of Wales – who was next in line for the throne and would become King Edward VII. Eddie Izzard, cast in the role, remarks, 'Bertie had hierarchic privilege, but Victoria had kept him out of politics and so he postured a lot. For most of their lives, they didn't like each other.

'He had big appetites – for food, for women – because he was unhappy. I tried to get at his sadness. But you didn't want to get in his way."

Playing scenes alongside Judi Dench and actors making up the Queen's court, BAFTA Award winner Tim Pigott-Smith (The Jewel in the Crown) portrays Sir Henry Ponsonby, Victoria's longtime private secretary. This was to be one of his final performances, and Victoria & Abdul carries a dedication to the late actor.

Filming got underway in September 2016. Once it did, Kidron found that 'Stephen Frears leads from the front. You can feel it on the set, him putting so much joyful energy into every shot – which helped our film. We wanted the humor and emotion he brought to this story – you knew immediately it wouldn't be a laborious -period film.'"

Further enhancing the dynamism of the story, Hall had deliberately scripted an itinerary of locations for the physical surroundings. He notes, 'First, we start in India – with Abdul and Mohammed – and then it's Windsor Castle, and then we go to Scotland. There's a little visit to Florence, and then most of the rest of the story takes place in Osborne House, which was Victoria's family home and seaside residence. Each location has a completely different architecture and feel.

'It was a gift to me to be able to have four acts take place in very real, very distinctive places. I loved the idea of going from the dark gothic of Windsor and eventually getting to the almost Mediterranean-style Osborne. This tracks the emotional journey for Victoria, which is reflected in the locations."

The Scottish Highlands setting is pivotal, elaborates the screenwriter, because 'her visit to Scotland at first is quite arduous. There is terrible weather and everything seems to be miserable, and yet this is the turning point of Victoria & Abdul, as light is coming into her life.

'Ali is marvelous in these scenes; we see on Abdul's face when he views the Highlands landscape for the first time how delighted and amazed he is. How rare that journey would have been then, and how extraordinary to have made it in the company of the Queen."

It is in Scotland that Victoria's history with John Brown resonates and strengthens her new bond with Abdul. Hall explains, 'Glassalt Shiel was Victoria's remote, private little house where she would retire to be on her own, sometimes with John Brown. After his death, she had avoided going there. But from the diaries we found that she took Abdul there. There is a romance to the place; they share an appreciation of the glorious landscape, and they grow closer.

'This is the moment where Victoria realises that he has much to teach her, including about the Koran. She's in despair about her life, and he offers her a little bit of hope, so she declares that he will be her Munshi; Abdul goes up into the Highlands as a servant and he comes down as the Queen's teacher. It's not long into their relationship, but it defines what follows."

Alan Macdonald, the frequent production designer on Stephen Frears' films, marvels that 'this little cottage, set in a spectacular landscape by a loch, was such a source of comfort and inspiration for Queen Victoria. We wanted to convey all that while also accurately recreating its spatial parameters."

To do so, Alan Macdonald and his team got to work in another part of Scotland, Glen Affric, which he asserts 'has one of the most spectacular views in the Highlands, and definitely has the most beautiful 19th-century Scottish Baronial lodge." Cast and crew journeyed to and from the location in vehicles at speeds of no more than 15 miles per hour, given the winds buffeting the single-track roads in the region.

Everyone felt it was well worth the trek. Alan Macdonald recounts, 'We redesigned a bit, manipulating the setting to illustrate intimacy and domesticity in contrast to the pomp and majesty of Windsor Castle or Balmoral. The landscape is so magnificent that it provokes for Victoria strong memories of her past loves, and it is an enveloping catalyst for a highly emotional scene that Judi performs.

'I feel that when an audience is watching a film, they should not be too aware of the detail. There needs to be an authenticity so that ultimately they are not questioning what they're seeing; they just believe."

Authenticity was further achieved at one all-encompassing location, as the production was granted access to Osborne House itself. Palatial yet welcoming, Osborne was Queen Victoria's Isle of Wight holiday home – which she and her husband Prince Albert had acquired a few years after they married in 1840 – and perhaps the one place where she felt she could take respite, which she did there for several months annually. Osborne's overall grand Italianate architecture style had been overseen by Albert.

Osborne's house and grounds – which include stunning gardens, a flag and clock tower, and a terrace fountain soon to be restored to working order – have long been admired around the world and are open to visitors. But its interiors are being seen on the big screen for the first time in Victoria & Abdul. Supervising location manager Adam Richards reports, 'We were the first big-scale feature to film in the house, and we were very lucky that English Heritage [which looks after Osborne] was open to our filming there. It's what Stephen Frears really wanted, since Osborne has its own style and essential authenticity."

Stephen Frears allows, 'Rather than our having to manufacture something, everything would be present and would therefore inspire us to concentrate on the scenes and make use of the great spaces. They were so generous to us, opening up all sorts of possibilities for our filming."

Judiu Dench was elated to spend several weeks working at Osborne. She remembers, 'It was glorious being in one place with such lovely actors. It was like a theatre company in a way. We would all sit outside at one big table."

Higgins recalls that the troupe would also convene, after the day's filming ended, at their nearby Isle of Wight hotel, where 'very early on I found myself watching University Challenge in Judi's room with Eddie, Tim, and Olivia."

Of Osborne, Judi Dench notes, 'Last time [on Mrs. Brown], the nearest we got was the private beach [near the home]. Being allowed to film in the study where Victoria wrote…being able to look out the window and see exactly what she saw, the trees and the surroundings…well, you can't get better than that. Everyone at Osborne was absolutely wonderful."

After filming ended, Judi Dench was invited to become patron of the Friends of Osborne group that helps run and maintain the home, and she quickly accepted.

The India-centric Durbar Room was commissioned by Queen Victoria from Punjabi architect Bhai Ram Singh to host state functions and it sports an elaborate ceiling designed by Lockwood Kipling (the father of famed author Rudyard Kipling); the two men collaborated on the project as a whole for a couple of years. The Durbar, full of artifacts and gifts from India, offers 'an extraordinary interior that could not be re-created," marvels Richards. 'If it had been the only place at Osborne where we were allowed to film, we still would have come. That we were allowed to film in other areas was fantastic."

Also at Osborne, Victoria had ordered new kitchen spaces built so that spices could be prepared for her curry luncheons. Moviegoers will also get to see the opulent yellow drawing room with luxurious upholstery and drapes as well as the stunning Grand Corridor with decorative tiles.

Beyond Osborne, filming was done at other English Heritage sites in the U.K., including Chatham Dockyard in Kent, aboard a vintage ship. 200 extras joined principal actors Ali Fazal, Adeel Akhtar, and Robin Soans for the sequence in which the Indian visitors are briefed on royal protocol before they can even disembark.

Robin Soans, in his second royalty-themed film for Stephen Frears after The Queen, portrays Arthur Bigge, another real-life member of the Queen's court. Robin Soans remarks, 'The key, for him, was loyalty – to Victoria and to the throne. He was an Army man, upright and efficient.

'On the ship with Abdul and Mohammed, he is articulating for them the very strong sense of hierarchy that he is part of running. They're to do as they're told – but it all goes pear-shaped, and so we have a film!"

Another English Heritage site, the Old Royal Naval College in London's Greenwich, became the site for an even bigger scene: the royal banquet sequence at Windsor Castle bringing Victoria and Abdul together for the first time. While some 300 people, including extras, toiled underneath spectacular ceilings, Kidron expresses 'huge gratitude to the cooks who made Victorian meals again and again so the actors could be seen eating them."

Food stylist Katharine Tidy confides, 'Sometimes the food is edible and sometimes it's just display. There's a lot of documentation of the Victorian period, so we were able to refer to menus.

'I worked closely with Alan Macdonald and his department. We had scale maps in advance, including dimensions of the table."

Further U.K. filming locations included Twickenham Studios, a favorite of the director's; Knebworth House, which doubled as both Windsor Castle and Balmoral; and the National Railway Museum in York, which is Judi Dench's home town. Wherever the production was based, curry would be among the luncheon options for cast and crew. Italian food was added to the menu during lensing at West Wycombe House of the Florence sequence, as Simon Callow joined the troupe to portray legendary opera composer Giacomo Puccini, who performs for Victoria and her entourage. With dozens of long, thin candles setting the scene, Stephen Frears and Oscar-nominated director of photography Danny Cohen rolled three cameras to capture the event, which culminates in an unexpected turn for Victoria.

Simon Callow reveals, 'I was very excited to be asked to play Puccini because I know quite a lot about him; I've directed some of his operas and have been to his birthplace in Lucca, Tuscany. I had to sing an aria from Manon Lescaut, Puccini's first big success, and learning the aria was a joy.

'It's dramatic license on Lee Hall's part, bringing a burst of Italian emotionalism into the story as Victoria herself feels more emotions. The Queen and Puccini never met in real life and he never sang in public, but it's a beautiful fiction."

At no point did the production consider cheating India. Kidron says, 'We wanted to honor a culture and a history that have too often been minimised and rejected over the past century-and-a-half. Filming in the city of Agra reaffirmed that we were bringing Abdul's story out. He was from there, in every sense of the phrase.

'Many people will feel they have a stake in Abdul's story. That was very evident when Shrabani published her book, and we wanted to respect that for our movie. Although the movie has a tonal quality that makes it more fable than gritty, we sought to convey whose side we were on. The world of the Queen's court is not the real world; the real world belongs to Abdul."

Seaward adds, 'The Taj Mahal makes Agra a destination point, but it is an iconic building for all of India, one of the Wonders of the World. It is a building that was created through love, and a monument to love. For us it sits right in the context of the relationship between Victoria and Abdul.

'We were very lucky to be able to shoot near the Taj Mahal."

Fashioning both the traditional English garb and the Indian finery is twice-Oscar-nominated costume designer Consolata Boyle, a key collaborator of Stephen Frears' for some 25 years. The director says, 'Consolata has tremendous attention to detail and such confidence. For Victoria & Abdul, she needed to operate on several levels – and did so."

Consolata Boyle remarks, 'When you're telling a story that goes back in time, you have to satisfy people's expectations – do your research – and once you've done that then you can fly. Within parameters, you can use your imagination.

'I believe that costumes shouldn't -talk too much,' but they should be able to help tell the story. Filmmaking is all about collaboration, which is one reason it is the most magical and extraordinary art form."

Hundreds of costumes were made, with several dozen required for Judi Dench and Ali Fazal. Consolata Boyle's department often referred to the historical record for the smallest of references.

Consolata Boyle comments, 'We have Victoria very dark at the beginning, in lots of blacks and black textures. There is a progress in how she dresses. As the relationship between she and Abdul deepens, he opens her eyes and her costumes follow suit; they lighten up and the colors lighten.

'The peak comes when they go to Florence. After that, there is conflict in her household and doubt creeps in, so her clothes and costumes become darker again."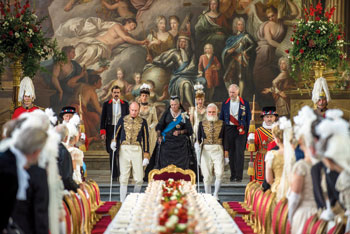 Abdul's costumes may seem quirky because, as Consolata Boyle explains, 'They're all based on what would have been a European sensibility of Asia style. After they arrive in the U.K., Abdul and Mohammed are taken to a tailor where royal servants' uniforms are made. What is the frame of reference? A copy of something that the tailors have seen in the National Gallery. It's an amalgam of looks; it has a feeling of India, but it's very much European what with all the royal and blazoned monograms on the front. It comes off as exotic because it's a mix."

Eventually, Abdul's costumes get grander and more elaborate as the character's confidence crests. Stephen Frears recalls sitting for hours with the 'turban guru" who, adds Boyle, 'gave us all training in turban-wrapping."

Ali Fazal notes, 'For me, costuming is critical; it is the backbone of my character. If they get my costume right, I'm sorted, I'm done; half my battle's won. Something Lee had worked into the script was how you see the growth of the characters through the growth of the costumes, even though the characters are almost out of time or in a fantastical land.

'When Abdul comes back to the U.K. after a visit home to India, you notice the difference in his stature as he's become more proud of his position in the Queen's household. He now sports all these medals and has the sword…and he's gained a little weight…"

Some of the costuming was less visible but no less authentic; actors wearing waistcoats found themselves adjusting to the period detail of 19th-century stiff shirt fronts underneath, rather than 21st-century soft cotton shirts.

Ali Fazal adds, 'I lost count of the number of layers Consolata Boyle put on me. She had a field day – and she is a genius."

Seaward states, 'Consolata Boyle applies sophistication and elegance to the way that she draws a character – and she will pay attention to somebody who is in the background as much as she will to principal characters. The way that she informs the costumes informs the storytelling, so she is an integral part of Victoria & Abdul.

'In fact, Consolata Boyle, Alan Macdonald, and Danny Cohen are a triumvirate now after all their films together for Stephen. They are all in synch, and it's like they share a common language, which makes the movie stronger."

As to his own approach and overview, Stephen Frears demurs, saying, 'I start out rather helpless before the material, but I try to be instinctive. You just honor it and, gradually, it gives you its secrets. Things emerge and you see it more and more clearly. What came clear for this story was how very funny and very tender it was but how there would be a trace of tragedy."

BAFTA Award-winning film editor Melanie Ann Oliver concurs. She notes, 'What became clear very quickly was the importance of the humor. There was bravery in the way Lee had written it and in the way Stephen Frears had shot it. You had to trust that it would work, that it would come together.

'The greatest joy was seeing it with an initial preview audience, watching them pick up on the humor and really understand the message."

Kidron adds, 'But what we could not have anticipated is just how much more relevant it would feel now – beyond when we started work on the project and embraced that from the first.

'Different people can have different takes on India and England, and on Victoria and her reign; this is only one tale from a multitude of stories. But we have tried to show you Queen Victoria like you've never seen her before."

Judi Dench muses, 'When you look at those great statues of Victoria, she does seem indomitable. With this story, we now learn about Victoria's vulnerability."


Victoria and Abdul
Release Date: September 14th, 2017