Rock of Ages
Cast: Tom Cruise, Bryan Cranston, Julianne Hough, Diego Boneta, Russell Brand, Catherine Zeta-Jones, Alec Baldwin, Will Forte
Director: Adam Shankman
Genre: Drama, Comedy, Musical

Synopsis: "Rock of Ages" tells the story of small town girl Sherrie and city boy Drew, who meet on the Sunset Strip while pursuing their Hollywood dreams. Their rock 'n' roll romance is told through the heart-pounding hits of Def Leppard, Joan Jett, Journey, Foreigner, Bon Jovi, Night Ranger, REO Speedwagon, Pat Benatar, Twisted Sister, Poison, Whitesnake, and more.

Release Date: May 31st, 2012
Website: www.rockofagesmovie.com

Julianne Hough (Sherrie Christian) A true triple-threat, singer/actress/dancer Julianne Hough was already known to millions of fans as the two-time professional dance champion on ABC-TV's top-rated "Dancing With the Stars" before expanding into the worlds of music and film.

Although she has been winning world dance titles since her early teens, Julianne Hough's ultimate goal has always been a career in country music. Her self-titled debut album, released by Universal Music Group Nashville in 2008, hit the Billboard Country charts at #1 and entered the Billboard 200 at #3, marking the highest debut for a country artist since 2006. Her first two singles from the album, "That Song in My Head" and "My Hallelujah Song," soared up the country charts and she earned her first two 2009 Academy of Country Music Awards for Top New Female Vocalist and Top New Artist. Hitting the road for the first time as a recording artist, Julianne Hough opened for superstar Brad Paisley and later toured with George Strait, playing over 100 shows in 2009. Her second album, The Julianne Hough Holiday Collection, became an instant holiday classic for her legions of fans, distributed exclusively at Target. Her much-anticipated follow-up album will be released by Mercury Nashville later this year. Julianne Hough has written multiple tracks for the new album, working with Dann Huff, one the hottest producers in country music today (Martina McBride, Keith Urban, Rascal Flatts, among others).

Having become a household name virtually overnight on "Dancing With the Stars," then making a seamless transition to recording artist, Julianne Hough has also made her mark in the world of motion pictures. She was cast in the star-studded ensemble of Screen Gems' dramatic musical "Burlesque," working alongside an all-star cast, including Cher, Christina Aguilera, Stanley Tucci, Eric Dane, Kristen Bell and Cam Gigandet. "Burlesque" opened at the end of 2010 and was nominated for a Golden Globe Award for Best Picture, Musical or Comedy. Julianne Hough also made headlines by edging out a bevy of established actresses to win the female lead role in Paramount's remake of the classic movie musical, "Footloose," which is slated for an October, 2011 release.

A born entertainer, Julianne Hough (pronounced "Huff") always loved singing, dancing and acting. At age 10, she was presented with an opportunity to study performing arts in London, which established her fierce independence and was the beginning of a period of intense training and education. She returned to Utah at age 15 and, after graduating high school, moved to Los Angeles to pursue her dreams of a career in entertainment.

Quickly earning a solid reputation for her talent, discipline and professionalism, it took less than a month for Julianne Hough to land a job as a dancer on the ABC game show, "Show Me The Money," and shortly thereafter joined the "Dancing With the Stars" tour as a company dancer before joining the cast of the hit series in the show's fourth season, where she was paired with two-time Olympic Gold Medal winner Apolo Anton Ohno. She toured with the troupe again, before returning to the hit show for seasons five through eight, pairing with Indy race champion Helio Castroneves, comedian Adam Carolla, actor Cody Linley and country singer Chuck Wicks. Hough remains the youngest dancer to have won the coveted "Dancing with the Stars" competition twice, with partners Ohno and Castroneves, and she earned an Emmy nomination in 2008 for Best Choreography for her work on the show. Her skills as a choreographer also led to a collaboration with Gwen Stefani on the singer's "Wind It Up" video.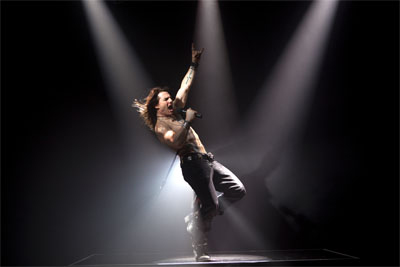 In 2009, Julianne Hough starred in her first fitness DVD, "Cardio Ballroom," the first in a series designed to motivate exercise novices and enthusiasts alike on the dance floor. The second, "Just Dance!," was released in November, 2010.

She is also highly sought-after in the world of commercials and endorsements, as an international spokesperson for Proactiv Solution and as the official spokesperson for Venus Embrace, co-authoring their "Goddess Guide to Getting Closer" for the company's 2009 marketing campaign. She sang an updated version of the Wrigley's Juicy Fruit gum theme, "The Taste is Gonna Move Ya" and has numerous other campaigns in the works.

While devoting most of her time to recording, touring and now filmmaking, Julianne is also active in a range of philanthropic endeavors, charities and humanitarian efforts including the Susan G. Komen Foundation, Clothes Off Our Back, St. Jude's Children's Hospital and serves on the American Red Cross Cabinet.

In addition to an already stellar line-up of projects for 2010, Julianne Hough also kicked off the new year with an invitation to perform in We Are The World 25 For Haiti, an all-star update to the iconic 1985 philanthropic anthem to benefit the Haitian earthquake relief efforts and the rebuilding of Haiti. Produced once again by Quincy Jones and Lionel Richie and recorded in the same studio as the original 25 years earlier, the new video (directed by Academy Award-winning filmmaker Paul Haggis) debuted on February 12, 2010, during the Opening Ceremony of the Vancouver Winter Olympics featuring such music legends as Barbra Streisand, Tony Bennett, Celine Dion and Gladys Knight and contemporary superstars including Will.I.Am, Jennifer Hudson, Pink, Fergie and Kanye West, amongst countless other artists from virtually every musical genre.

Deigo Boneta (Drew Boley) is an International pop star who is is quickly establishing himself as a highly sought after young actor and musician in the United States. Diego recently wrapped "Mean Girls 2" in Atlanta.

This Summer Diego Boneta can be seen recurring on ABC Family's highly anticipated new drama "Pretty Little Liars" alongside Lucy Hale and Ashley Benson. He plays "Alex Santiago" a handsome employee at the Tennis Club who becomes involved with Spencer (Troian Bellisario). He was recently seen guest-starring on Disney XD's "Zeke and Luther" and in a three episode arc on The CW's "90210." On "92010," Diego Boneta played "Javier," a famous Latin pop star who offered "Adrianna" (Jessica Lowndes) the opportunity of a lifetime - to open for him on his summer tour. In the season finale he performed an original single "Siempre Tu," from his new album. The single is currently available on iTunes.

Born in Mexico City, Diego began his career at the age of 12 when he participated in "Codigo Fama," a children's singing reality series in Mexico. After finishing inside the top 5 on the show, he landed his first television role starring as "Ricardo" on "Alegrijes y Rebujos" which also had a musical group attached to the series. Along with this musical group, Diego Boneta was nominated for the Best Children's Group at the Latin Grammys in 2004. He was nominated for his second Latin Grammy in 2005 for the soundtrack of "Mision SOS."

Soon after he joined "Rebelde," one of the most popular and longest running Novelas across Latin America. In 2006, he released his debut album Diego Mas through EMI Mexico. The album lead to two Top 10 hits in Mexico and reached gold status in Chile and Brazil. He toured with Rebelde's musical group, RBD, throughout Latin America, Europe and the U.S.A. as a solo artist. Diego was nominated for Best New Artist at the 2006 MTV Awards Latin America.

In 2008, he executive produced of his second album Indigo. Diego Boneta wrote 9 of the 11 songs in this album and it received gold status within the month of its release. He was nominated as the Best Solo Singer at the MTV Awards Latin America. He is currently in the studio working on his third album.

Paul Giamatt (Paul Gill) has a diverse roster of finely etched, award-winning and critically acclaimed performances, and has established himself as one of the most versatile actors of his generation.

In 2008, Paul Giamatt won an Emmy Award for Best Actor in a Miniseries for his portrayal of the title character in the HBO 7 Part Emmy Award Winning Mini-Series "John Adams." Directed by Emmy Award Winning director Tom Hooper, Paul Giamatt played President John Adams in a cast that also included award-winning actors Laura Linney, Tom Wilkinson, David Morse and Stephen Dillane.

In 2006, Paul Giamatt's performance in Ron Howard's "Cinderella Man" earned him a SAG Award and Broadcast Film Critics' Award for Best Supporting Actor, as well as Academy Award and Golden Globe nominations in the same category.

Paul Giamatt can currently be seen in "Win-Win," a film written and directed by Oscar nominee Tom McCarthy, in which he portrays 'Mike Flaherty', a disheartened attorney moonlighting as a high school wrestling coach who stumbles across a star athlete through some questionable business dealings. He can also be seen in Ironclad, in which he portrays 'King John' in the year 1215 as he tried to gain control of Rochester Castle from the Knights of Templar.

Paul Giamatt was last seen in "Barney's Version," based on the best-selling novel of the same name by Mordechai Richler, in which he portrays the title character 'Barney Panofsky'. The film was directed by Richard J. Lewis and co-stars Dustin Hoffman, Rosamund Pike and Minnie Driver. His performance earned him his second Golden Globe.

He can also be seen in the upcoming HBO movie "Too Big To Fail" for director Curtis Hanson portraying Ben Bernanke opposite William Hurt and Billy Crudup, as well as the recently released "The Hangover 2" for director Todd Phillips.

Paul Giamatt has recently wrapped filming of "Ides of March," directed by George Clooney.

For his role in Alexander Payne's critically-lauded Sideways, Paul Giamatt earned several accolades for his performance including Best Actor from the Independent Spirit Awards, New York Film Critics Circle and a Golden Globe nomination.

In 2004, Paul Giamatt garnered outstanding reviews and commendations (Independent Spirit Award nomination for Best Actor, National Board of Review Breakthrough performance of the Year) for his portrayal of Harvey Pekar in Shari Springer Berman and Robert Pulcini's "American Splendor."

Paul Giamatt first captured the eyes of America in Betty Thomas' hit comedy "Private Parts." His extensive list of film credits also includes "The Last Station" opposite Christopher Plummer and Helen Mirren, Tony Gilroy's "Duplicity," "Cold Souls," which Paul Giamatt also Executive Produced, David Dobkin's Fred Claus, "Shoot Em' Up" opposite Clive Owen, Shari Springer Berman and Roger Pulcini's "The Nanny Diaries," M. Night Shyamalan's "Lady in the Water," "The Illusionist," directed by Neil Burger, Milos Forman's "Man on the Moon," Julian Goldberger's "The Hawk is Dying," Tim Robbins' "The Cradle Will Rock," F. Gary Gray's The Negotiator, Steven Spielberg's "Saving Private Ryan," Peter Weir's "The Truman Show," Mike Newell's "Donnie Brasco," Todd Solondz' "Storytelling," Tim Burton's "Planet of the Apes," "Duets," opposite Gwyneth Paltrow, the animated film "Robots" and "Big Momma's House," co-starring Martin Lawrence. Paul Giamatt also appeared in James Foley's "Confidence" and John Woo's "Paycheck."

As an accomplished stage actor, Paul Giamatt received a Drama Desk nomination for Best Supporting Actor as "Jimmy Tomorrow" in Kevin Spacey's Broadway revival of "The Iceman Cometh." His other Broadway credits include "The Three Sisters" directed by Scott Elliot; "Racing Demon" directed by Richard Eyre; and Arcadia directed by Trevor Nunn. He was also seen Off-Broadway in the ensemble cast of The Resistible Rise of Arturo Ui with Al Pacino.

For television, Paul Giamatt appeared in "The Pentagon Papers" with James Spader, HBO's "Winchell" opposite Stanley Tucci and Jane Anderson's "If These Walls Could Talk 2."

Russell Brand (Lonny Barnett) shot to fame in the U.S. in 2008 when he was seen as rocker 'Aldous Snow' in the Judd Apatow-produced comedy "Forgetting Sarah Marshall." The same year he was seen as 'Mickey' in Disney's hit feature film, "Bedtime Stories" opposite Adam Sandler. Since then, the British star has become an international comedic success.

In April 2011, Russell Brand starred in and produced Warner Bros adaptation of the 1981 film "Arthur" for director Jason Winer. This film marked Brand's first time as a producer.

Russell Brand was also seen in Universal's live-animated feature, "HOP." Brand voiced the role of "E.B." alongside James Marsden and Kaley Cuoco. The film grossed $168,748,000 million worldwide at the box office.

In 2010 Russell Brand was seen in Universal's hit comedy, "Get Him To The Greek." Russell Brand reunited with producer, Judd Apatow, reprising his iconic role as 'Aldous Snow.' Russell Brand also lent his voice to the role of Dr. Nefario in Universal's hit, animated feature film "Despicable Me, "which included the vocal talents of Steve Carell and Jason Segal. The film grossed an amazing $543,113,985 million at the box office.

Additionally, Russell Brand starred as 'Trinculo' in Julie Taymor's adaptation of "The Tempest" for Miramax. The ensemble cast featured Helen Mirren,Felicity Jones, Djimon Hounsou, and Alfred Molina.

Also an acclaimed author, Russell Brand has written two books, "My Booky Wook: A Memoir of Sex, Drugs and Stand-Up," which was on The New York Times best-seller list for five weeks in a row, and the follow up, "Booky Wook 2: This Time It's Personal."

Russell Brand hosted the MTV Video Music Awards in 2008; he hosted the MTV VMA's again in 2009 and garnered the biggest VMA audience since 2004, with nearly nine million viewers.

Beginning his career as a stand-up comedian, Russell Brand rose to fame in the UK in 2003 for his "Big Brother" spin-off, "Big Brother's Big Mouth." He launched his first nationwide tour, Shame, in 2006; the show was released on DVD as Russell Brand: Live. Brand launched his second nationwide tour in 2007, Russell Brand: Only Joking; released on DVD as Russell Brand: Doin' Life. He brought his stand-up comedy tour to the United States in 2009 with his tour, Russell Brand: Scandalous.

Mary J. Blige (Justice Charlier) Mary J. Blige has sold over 50 million albums worldwide since her 1992 debut, What's The 411?,

Among her many accolades, Mary J. Blige can claim eight multi-platinum albums, 9 Grammy Awards (she has been nominated for a staggering 29) and 4 American Music Awards. Mary J. Blige is the co-founder of the Foundation for the Advancement of Women Now (FFAWN), whose mission is to empower women from all walks of life to reach their full individual potential.

On July 31, 2010, Mary J. Blige sold over 60 thousand bottles of her "My Life" perfume on the Home Shopping Network. Her perfume was the first to sell over 60,000 bottles in one day on HSN and $1 from each purchase was donated to FFAWN.

She is releasing her highly anticipated new album called "My Life Too, The Journey Continues" on September 20th. She also has an original song in "The Help," which will be released on August 19th - the song already has buzz that it could be an award contender. On the acting front, Mary J. Blige will play Nina Simone in the story of her life in a film shooting late this summer as well as a lead in Rock of Ages, the Tony nominated hit Broadway musical that will be out next June. For more information please visit www.mjblige.com.

Malin Akerman (Constance Stack) was named one of Variety's "10 Actors to Watch" in 2007, and has since been tearing up Hollywood with her beauty, charisma, and moxie. The Swedish-Canadian actress, best known for her sharp comedic timing and cover-girl good looks, has also wowed audiences with her touching dramatic performances.

At the 2011 Tribeca Film Festival, Malin Akerman shared the screen with Ryan Philippe and Taylor Kitsch in Steven Silver's film "The Bang Bang Club." The drama premiered at the 2010 Toronto International Film Festival and is based on the true-life experiences of four combat photographers capturing the final days of South African apartheid.

In November 2011, Malin Akerman will join Paul Rudd and Jennifer Aniston for the Judd Apatow-produced comedy "Wanderlust."

She recently wrapped production on Simon West's "Medallion," starring alongside Nicolas Cage and Danny Huston. She is also slated to star in "Inferno," the Linda Lovelace biopic.

In March 2011, Malin Akerman was seen in theaters nationwide in the 2010 Sundance Film Festival Audience-Award-Winner "Happythankyoumoreplease." She joins Kate Mara, Zoe Kazan, and Josh Radnor in Radnor's directorial debut. As Annie-a woman struggling with alopecia- Malin Akerman gives "one of the most genuine and heartfelt performances from this year" (Erik Davis, Fandango). Also in March, Malin Akerman appeared in Sebastian Gutierrez's fun and sexy "Elektra Luxx," which premiered at the 2010 SXSW Festival.

In September 2010, Malin Akerman starred in the charming indie rom-com "The Romantics," directed by Galt Niederhoffer. "The Romantics" also premiered at the 2010 Sundance Film Festival and co-stars Katie Holmes, Anna Paquin, Josh Duhamel, Adam Brody, and Elijah Wood.

In October 2009, Malin Akerman was seen in the Peter Billingsley-directed hit comedy Couples Retreat opposite Vince Vaughn, Kristen Bell, Jason Bateman and Jon Favreau. In March of the same year, she co-starred as Laurie/Silk Spectre in Zack Snyder's blockbuster "Watchmen," which opened at number one with more than $50 million in box office sales. She was nominated for a Teen Choice Award for this role.

In 2008, Malin Akerman starred in the hit romantic comedy "27 Dresses," with Katherine Heigl, James Marsden and Edward Burns, under the direction of Anne Fletcher. Malin Akerman recently reunited with Fletcher to join Sandra Bullock and Ryan Reynolds in the romantic comedy "The Proposal," which also topped the box office after its debut and has grossed more than $100 million to date.

In 2007, Malin Akerman could be seen alongside Ben Stiller in the comedy The "Heartbreak Kid," directed by the Farrelly brothers. She is often remembered her delightful portrayal of wacky nut job Lila in this cult-classic. Malin Akerman's other credits include "Harold and Kumar Go to White Castle" and "The Brothers Solomon."

Despite her wide-ranging experience with feature films, Malin Akerman is also no stranger to the small screen. Her breakthrough came in 2005 on the HBO series "The Comeback," starring Lisa Kudrow as a washed up sitcom actress. Malin Akerman gained the attention of both critics and audiences for her role Juna Millken, a popular model/musician who befriends Lisa Kudrow's character as she tries to resuscitate her career. Malin Akerman also had a memorable recurring role on the third season of HBO's hit series "Entourage." She was recently seen in a special episode of "How I Met Your Mother" and graces TV screens while co-starring in the second season of Adult Swim's "Children's Hospital"-a hilarious medical-drama parody.

Born in Stockholm, Sweden, Malin Akerman moved to Toronto, Canada at the age of two. By age five, she had already begun to model and act in television commercials, and at 17, she won the "Ford Supermodel of Canada" search. After attending college as a psychology major, Malin Akerman relocated to California to focus on acting. It was here where Malin Akerman met her drummer husband Roberto while performing as the lead singer of the alternative rock band The Petalstones. The two currently reside in Los Angeles.

Bryan Cranston (Mayor Mike Whitmore) recently received his third consecutive Emmy® win as Outstanding Lead Actor in a Drama Series for his portrayal of Walter White on AMC's "Breaking Bad." Bryan Cranston holds the honor of being the first actor in a cable series, and the second lead actor in the history of the Emmy® Awards to receive three consecutive wins. His performance has also earned him a Television Critics Association award, a Golden Globe nomination and two Screen Actors Guild Award nominations.

On the big screen, Bryan Cranston will next appear opposite Tom Hanks and Julie Roberts in the Hanks-directed "Larry Crowne" for Universal Pictures. He'll also star in Nicolas Winding Refn's "Drive," opposite Ryan Gosling and Carey Mulligan, which will be released by Film District on September 16, 2011; Steven Soderbergh's "Contagion," opposite Matt Damon, Marion Cotillard and Gwyneth Paltrow, which will be released by Warner Bros. on October 21, 2011; and Andrew Stanton's "John Carter of Mars," which will be released by Walt Disney Pictures on June 8, 2012.

Bryan Cranston was recently cast as the villain, Vilos Cohaagen, in the highly anticipated Len Wiseman remake of "Total Recall." The film is expected to begin production in May.

Bryan Cranston's additional feature film credits include "The Lincoln Lawyer," "Saving Private Ryan," "Little Miss Sunshine," "Seeing Other People," "That Thing You Do! " Born to a show business family and raised in Southern California, Bryan Cranston made his acting debut at the age of eight in a United Way commercial. It wasn't until he finished college that acting became a serious consideration. While on a cross-country motorcycle trip with his brother, he discovered community theater and began exploring every aspect of the stage. Soon, he was cast in a summer stock company.

Bryan Cranston returned to Los Angeles and quickly landed a role on the television movie "Love Without End," which led to his being signed as an original cast member of ABC's Loving. He went on to appear in numerous television roles including a seven-year run as Hal on FOX's "Malcolm in the Middle," for which he was nominated for a Golden Globe and three Emmys; the recurring role of Dentist, Tim Whatley on "Seinfeld," HBO's acclaimed miniseries, "From the Earth to the Moon," as Buzz Aldrin, and the made-for-television movie "I Know My First Name is Steven," among others. He has guest starred on numerous TV programs.

Bryan Cranston continues to pursue his love for theater whenever possible. Credits include: "The God of Hell," "Chapter Two," "The Taming of the Shrew," "A Doll's House," "Eastern Standard," "Wrestlers," "Barefoot in the Park" and "The Steven Weed Show," for which he won a Drama-Logue Award.

Bryan Cranston is also a dedicated screenwriter and director. He wrote the original romantic drama, "Last Chance" as a birthday gift for his wife, Robin Dearden, and directed and starred in the film. Bryan Cranston has also directed several episodes of "Malcolm in the Middle," the Comedy Central pilot "Special Unit" and episodes of "Breaking Bad."

In early 2011, Bryan Cranston served as executive producer and star of an exclusive online series called "The Handlers" for Atom.com. The comedic short series followed Bryan Cranston as the character Jack Powers and his race to win a seat on the State Senate.

Bryan Cranston also produced an instructional DVD called "KidSmartz," which is designed to educate families on how to stay safe from child abduction and Internet predators. "KidSmartz" raises money for the National Center for Missing & Exploited Children.

Catherine Zeta-Jones (Patricia Whitmore) is a multi-award winning actress whose talents range from film to theater. She garnered an Academy Award for her portrayal of the notorious Velma Kelly, in the screen adaptation of the Broadway musical "Chicago." The film, which won the Oscar and Golden Globe for "Best Picture," also starred Renee Zellweger and Richard Gere. Catherine Zeta-Jones was nominated for a Golden Globe and took home the Critics' Choice Award, a Screen Actors Guild Award and the BAFTA Award for "Best Supporting Actress" for her performance.

She has recently completed her critically acclaimed debut on Broadway as Desirée Armfeldt in Stephen Sondheim's "A Little Night Music", for which she won the Tony Award for Lead Actress in a Musical. The musical was a box office success co-starring the legendary Angela Lansbury.

Her recent films include "The Rebound" opposite Justin Bartha; the Warner Bros' hit romantic comedy "No Reservations," also starring Aaron Eckhart; and the romantic thriller "Death Defying Acts," with Guy Pearce.

In 2005, she reprised her role as Elena de La Vega in "The Legend of Zorro," the sequel to the blockbuster film "The Mask of Zorro." She starred in Steven Soderbergh's "Ocean's 12," and prior to that appeared opposite Tom Hanks in Steven Spielberg's "The Terminal." Zeta-Jones also starred with George Clooney in the Coen Brothers' comedy "Intolerable Cruelty."

Catherine Zeta-Jones earned a Golden Globe nomination for her portrayal of the wife of a drug-runner in Steven Soderbergh's "Traffic." The cast of the critically praised film received a SAG Award for "Outstanding Performance by the Cast of a Theatrical Motion Picture."

She first captured international recognition in the action adventure film, "The Mask of Zorro," opposite Antonio Banderas and Anthony Hopkins. Catherine Zeta-Jones continued to captivate audiences in 1999, in Jon Amiel's romantic-thriller "Entrapment," opposite screen legend Sean Connery . She also starred with Julia Roberts, Billy Crystal and John Cusack in the ensemble comedy "America's Sweethearts."

Born in Wales, Catherine Zeta-Jones began her career on the stage in London and following that was cast in the popular Yorkshire Television series, "The Darling Buds of May," based on the novels of H.E. Bates.

In 2010, Catherine Zeta-Jones was awarded a Commander of the British Empire (CBE) in the Queen's Birthday Honours List for her services to the film industry and charity.

Zeta-Jones is married to actor Michael Douglas. They have a son, Dylan, and a daughter, Carys.

Alec Baldwin (Dennis Dupree) is a graduate of New York University (BFA-Tisch, 94) and was presented with an Honorary Doctorate of Fine Arts from NYU in 2010. He last appeared on stage in the 2010 Guild Hall (East Hampton) production of Peter Shaffer's Equus," directed by Tony Walton. Other stage includes the Roundabout Theatre Company's 2006 production of Joe Orton's Entertaining Mr. Sloane, directed by Scott Ellis. "Loot" (Broadway-1986; Theatre World Award), Caryl Churchill's "Serious Money" (Broadway-1988), "Prelude to a Kiss" (Circle Rep.- 1990; Obie Award), "A Street Car Named Desire" (Broadway-1992; Tony nomination), "Macbeth" (NYSF-1998), "The Twentieth Century" (Roundabout-2004). (Also The Hartman in Stamford, Williamstown, Bay Street). Baldwin has appeared in over forty films, including "Beetle Juice," "Working Girl," "Miami Blues," "The Hunt for Red October," "Glengarry Glen Ross," "Malice," "The Juror," "The Edge," "Ghosts of Mississippi," "State and Main," "The Cat in the Hat," "The Cooler" (National Board of Review Award for Best Supporting Actor, Oscar nomination), "The Aviator," "The Departed," and "It's Complicated," among many others. On television Baldwin currently stars with Tina Fey on NBC's "30 Rock", winner of the 2007, 2008 and 2009 Emmy for Outstanding Comedy Series. Baldwin has received five SAG Awards, three Golden Globes, the Television Critics Award and two Emmy awards as Best Actor in a Comedy Series for his performance on the show. In 2011, Alec Baldwin received his Star on the Hollywood Walk of Fame. His company, El Dorado Pictures, has produced several projects including "Nuremberg: Infamy On Trial" for TNT television (Emmy nomination), "The Confession" for Showtime (WGA award for best adapted screenplay) and David Mamet's film, "State and Main."

Alec Baldwin is also a dedicated supporter of numerous causes related to public policy and the arts. He serves on the boards of People For The American Way, The Hamptons International Film Festival and Guild Hall of East Hampton. He is an active supporter of The Radiation and Public Health Project, East Hampton Day Care Center, The Actors Fund, The Public Theatre/New York Shakespeare Festival, The Roundabout Theatre, People for the Ethical treatment of Animals and The Water Keeper Alliance, among many others. Baldwin's book, A Promise To Ourselves (St. Martin's Press) was published in paperback in the Fall of 2009.

Tom Cruise (Roy Miller) has achieved extraordinary success as an actor, producer, and philanthropist in a career spanning over two decades. He is a three-time Academy Award nominee and three-time Golden Globe Award winner whose films have earned in excess of six billion dollars worldwide-an incomparable accomplishment.

In the 28 years since becoming an actor, Tom Cruise's versatility is evidenced by the varied films and roles he chooses. He has made 37 films and has worked with a remarkable list of acclaimed film directors, including Francis Ford Coppola. Paul Brickman, Ridley Scott, Tony Scott, Martin Scorsese, Barry Levinson, Oliver Stone, Ron Howard, Rob Reiner, Sydney Pollack, Neil Jordan, Brian de Palma, Cameron Crowe, Stanley Kubrick, Paul Thomas Anderson, John Woo, Steven Spielberg, Michael Mann, J.J. Abrams, Robert Redford, Bryan Singer and most recently James Mangold.

Tom Cruise was most recently seen starring with Cameron Diaz in the romantic-action-comedy "Knight and Day." He will next be seen in "Mission: Impossible IV," releasing this December. This franchise has grossed over two billion dollars worldwide since Cruise began producing the films at Paramount, and starring as the legendary spy Ethan Hunt. "Mission: Impossible" was Paramount's highest grossing film of 1996. Cruise is producing "Mission: Impossible IV" with J.J. Abrams.

In 2008, Tom Cruise played German officer Colonel Claus von Stauffenberg in the critically acclaimed, worldwide hit "Valkyrie," the historical thriller about the attempted assassination of Adolf Hitler during World War II. Directed by Bryan Singer, the film grossed nearly $200 million internationally, making it the fifth highest grossing WWII-set film. Tom Cruise also appeared in Ben Stiller's comedy smash "Tropic Thunder" as the hip hopping foul-mouthed Hollywood movie mogul Les Grossman. Tom Cruise earned his seventh Golden Globe Award nomination for his performance as Grossman, a character he created.

Tom Cruise received Academy Award® nominations for Best Actor for "Born on the Fourth of July" and "Jerry Maguire," in addition to a Best Supporting Actor nomination for "Magnolia." He also received Golden Globe Awards for Best Actor for "Born on the Fourth of July" and "Jerry Maguire," as well as Best Supporting Actor for "Magnolia," and nominations for his roles in "Risky Business," "A Few Good Men," "The Last Samurai " and "Tropic Thunder." Cruise has also earned acting nominations and awards from BAFTA, the Screen Actors Guild®, the Chicago Film Critics Association, and the National Board of Review.

Tom Cruise has produced or executive produced 17 films, including "Valkyrie," all the "Mission: Impossible" films, "The Last Samurai," "Narc," "Vanilla Sky," "The Others," "Shattered Glass" and "Without Limits," among others.

Tom Cruise has been honored with tributes ranging from Harvard's Hasty Pudding Man of the Year Award to the John Huston Award from the Artists Rights Foundation, and The American Cinematheque Award for Distinguished Achievement in Film. He has been memorialised as being the only Hollywood star to have his own day in Japan - Tom Cruise Day - celebrated annually in that country on October 6.

While continuing to explore new artistic challenges, Tom Cruise has used his professional success as a vehicle for positive change, becoming an international advocate, activist and philanthropist in the fields of health and education. He has been honored by the Mentor-LA organisation for his work on behalf of the children of Los Angeles and around the world. In May, 2011 he received the Simon Wiesenthal Humanitarian Award.

Tom Cruise lives in Los Angeles with his wife, Kate, and his three children.