Margaret
Cast
: Anna Paquin, J. Smith-Cameron, Jean Reno, Jeannie Berlin, Allison Janney, Matthew Broderick, Kieran Culkin, Mark Ruffalo, Matt Damon
Director
: Kenneth Lonergan
Genre
: Drama
Rated
: MA
Running Time
: 149 minutes
Synopsis
: Margaret centres on Lisa, a 17-year-old New York City high-school student who feels certain that she inadvertently played a role in a traffic accident that has claimed a woman's life.
In her attempts to set things right she meets with opposition at every step. Torn apart with frustration, she begins emotionally brutalising her family, her friends, her teachers, and most of all, herself.
She has been confronted quite unexpectedly with a basic truth: that her youthful ideals are on a collision course against the realities and compromises of the adult world.
Release Date
: June 14th, 2012
About the Production
"I've wanted to tell this story for a long time," says Kenneth Lonergan, writer-director of the acclaimed You Can Count On Me. "It's meant to be a kind of a teen epic-a documentary urban opera built on the everyday details, frustrations and obstacles that make real life so challenging, so funny and so painful. It's a very close look at somebody who learns the hard way that you can't get the world to do what you want because there are millions of others right next to you trying to do the exact same thing, and that once you've run through your idealism, all you've got is your character and your capacity for love."
After having a great experience working with Fox Searchlight on Garden State, producer Gary Gilbert sat down with Fox Searchlight to try and find another picture they could work on together. "We were big fans of Kenneth Lonergan's work and his script was incredible. Soon after meeting with Searchlight, I met Kenneth Lonergan along with the other producers. The project had all the right ingredients and together we decided to move forward," says Gary Gilbert.
Margaret tells the story of 17-year-old Manhattan high school student Lisa Cohen who finds herself at a moral and ethical crossroads. Feeling responsible for playing a part in a fatal traffic accident, she tries to reconcile the situation and her guilt but becomes increasingly outraged at society's inability to meet her moralistic ideals.
The idea for Margaret was one that had been percolating inside Kenneth Lonergan's mind for years. "I had heard about an incident like this when I was in high school, and thought it was both very interesting and very horrible." says Kenneth Lonergan.
"When hit with this crisis, Lisa asks many adults in her life what to do, and they all have advice for her, but none of it is what she wants to hear. And that's one of the things the story is about: the simultaneous idealism and naiveté of teenagers, and how savagely hard they are on adults for having compromised ideals." says Kenneth Lonergan.
Young but accomplished Anna Paquin was instantly drawn to the character of Lisa. "I mean, it's an entire film about a seventeen-year-old girl who actually gets to do more things than just be somebody's girlfriend! Lisa is so intelligent, and has such a strong moral compass. She has a sense of what the right thing is to do, and though she stumbles along the way, she has a persistent instinct for the greater good. When we first see her, she's bright, but not extraordinarily mature for her age. She's pretty much your average seventeen-year-old who's coming into her own in terms of sexuality and her own womanhood. Then a trauma occurs for which she is partly responsible. She doesn't do the right thing at first, and it takes her a while to realise that she actually can't live with that. I think ultimately that's sort of what makes her real and human as even good people don't necessarily always do the right thing. But she is basically a deeply good person, and she just can't sit and let that go by."
Anna Paquin starred in the London production of Lonergan's hit play This Is Our Youth, and has been a longtime admirer of his work. "He's so phenomenally talented, if he'd asked me to be a plant standing in the corner on this movie I would have done it," she laughs. "So I really felt lucky to be asked to play the lead. Even the small characters in this film are just so real and so complex, and Kenneth Lonergan has the whole backstory on everything and everyone. It's right there in the writing. I've been fortunate to work with several writer/directors like Kenny, including Jane Campion and Noah Baumbach, and there is always such precision to their work because they've agonised over every word, every comma."
The Supporting Cast
For the ensemble that makes up the cast of Margaret, Kenneth Lonergan brought together an impressive array of actors including Mark Ruffalo, Matt Damon, Matthew Broderick, J. Smith-Cameron, and Jean Reno among others.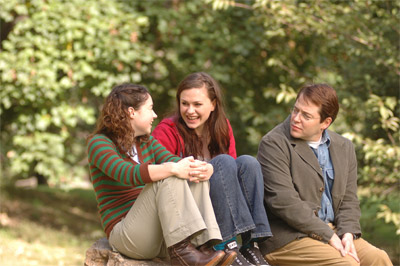 Matt Damon plays Lisa's geometry teacher, Mr. Aaron. "He is very idealistic. He came from Indiana to the big city thinking he can have a big impact on the students' lives. He believes in the power of teaching and when he meets Lisa, he forms a very unique relationship with her," says Matt Damon.
Also starring in This Is Our Youth in London, Damon was eager to join the cast. "I did a play in London for Kenneth Lonergan a couple of years ago and loved working with him. He is very good at giving very specific direction about what specifically a line means because nothing is random or simplified or reductive. It is all very complex and very well thought out."
Kenneth Lonergan also had the pleasure of creating a major role for his wife J. Smith-Cameron, who plays Lisa's mother. The award-winning actress has long been a favourite of New York theatre critics and audiences alike and was directed by her husband once before in a smaller, more comic role in You Can Count On Me. "She's a great actress," says Kenneth Lonergan, "and I wrote the part for her, which I don't normally do. I think she's fantastic and everyone in New York does too, so maybe this will be a chance for other people to see how amazing she is too."
J. Smith-Cameron herself takes a more sanguine view. "I don't think Kenneth Lonergan had me in mind from the very beginning," she insists. "But I think that as he went along, the role began to be right for me." In her character, she caught a glimpse of what might lie in store for her years in the future. "In Margaret, when the movie starts, the mother and daughter are quite close. My character is divorced and Lisa lives with her, they're used to doing everything together, talking almost like girlfriends; it's that kind of teenage daughter-and-mom relationship that's really tight. I can see them borrowing each other's clothes and being able to talk about everything together, and then the circumstances of the movie happen. I think Joan is really trying to do the right thing with Lisa by trying to guess what would feel good, and she just misses the mark. She thinks, 'Gosh, I've heard that teenagers suddenly turn on their parents, but I didn't see this coming.' She can't figure it out."
To play the romantic love interest for Joan, Kenneth Lonergan cast international star Jean Reno as Ramon. "When you start reading the script all of a sudden you surprise yourself because you feel you already know some of the lines. To me that means a script is very well written. It is a portrait of a young girl today and how she's fighting with herself to find a light somehow," says Jean Reno. "It is difficult being a teenager, we've all been in similar situations once or twice in our life, so anyone can relate to the story."
Kenneth Lonergan's old high-school friend Matthew Broderick appears as Lisa's Humanities teacher. "Kenneth Lonergan is really my closest friend, and getting to work with him was strange and fun," says Matthew Broderick. "Especially because a lot of this was based on our own high-school experience together." Matthew Broderick and Kenneth Lonergan attended The Walden School, a progressive private school on New York's Upper West Side. "Walden was a very liberally-oriented high school where they encouraged us to think for ourselves, and we did a lot of discussing of current events," says Kenneth Lonergan. "I especially enjoyed filming those classroom scenes, because the kids have these violent opinions about events overseas which they're only half-informed on-which I don't feel is all that different from many of the adult conversations I've participated in. So often, teenagers are depicted as idealised, beautiful, perfectly hip, MTV creatures. Nothing wrong with MTV, but it's not real life. And teenagers are also depicted as disaffected, bored, uninterested--and every teenager I know is very interested in what's going on in the world."
For Anna Paquin, the scene in which she has an impassioned classroom confrontation with another student over the Middle East crisis was one of the high points of the filming. "That's an angry scene," says Anna Paquin, "but it was fun because it's so rare that you get to hear young people speaking intelligently but still sounding like young people--where neither side is necessarily a hundred percent accurate with their facts yet pursuing their point with absolute ferocity and passion. It's not your average high-school movie scene. It was very arduous trying to get all of the overlapping dialogue in place. The scene is written with the dialogue in two columns, for the most part, and it took forever to get it timed correctly, but it was so worth it, and so much fun."
About the Film's Design
Although much of Margaret takes place on Manhattan's Upper West side, and most of the locations were real ones rather than studio sets, the scenes of Lisa at home were actually filmed at the Fort Totten army base across the East River on College Point in Queens. Fort Totten's spacious grounds are filled with Victorian-era homes that once housed officers and their families. As these were built at approximately the same time as the townhouses of the Upper West Side, their interiors were remarkably similar to the apartment where Lisa, her mother, and her brother would have lived. "The interior details are very much the same-the ceiling heights, room sizes, moldings and hardware," says production designer Dan Leigh. "That worked very much in our favour. Fort Totten turned out to be a perfect solution for us. If we had filmed in a real apartment, it would have been a month of getting it ready, then three weeks of shooting, then a month or more to restore it once the shooting was completed."
"I think the most challenging part of the shoot was the bus accident itself. It took 6 days to shoot on location right at the corner of 75th and Broadway on Manhattan's Upper West Side. Keeping a very curious neighborhood away from the set at such a busy intersection was quite a challenge," says producer Gary Gilbert.
Costume designer Melissa Toth also stressed a realistic wardrobe for the cast, particularly Anna Paquin. "Anna had 50-odd costume changes in the film," says Melissa Toth. "A girl of Lisa's age doesn't really have a uniform that she sticks to; she changes what she wears to suit her mood. Lisa is not too fashion-forward; she's not overly concerned about her clothes, but she does want to be in the flashpoint of what her friends are doing. For the scenes where she visits the lawyers or where she visits Emily, Lisa dresses more conservatively. And because that's something Lisa doesn't normally do, we wanted those choices to look a little awkward-almost overly conservative. That also helped Anna Paquin, because in those scenes her character is supposed to be more on her guard, and having to fit uneasily into a more serious adult environment." Melissa Toth found working with Anna Paquin to be a particularly satisfying experience. "Anna Paquin is such an interesting looking young woman," she says. "She's not your normal bubblegum blonde, that Hollywood cliché, she's actually a seasoned-looking girl. I've always said that fifty percent of costume design is casting. It made it easy to dress her. And I always appreciated her input, it was never a struggle. We were very much on the same page from the beginning. That doesn't happen very often."
There are two sequences in Margaret set at the Metropolitan Opera, and, in a precedent-setting move, the cast and crew were allowed to film there. No feature film had been shot at the Met since Moonstruck some 20 years before. The filming took place over two separate Sundays and covered the entire magnificent house-from the lobby to the Grand Staircase to the auditorium to the stage. Months of negotiations were required before the Met granted this access. For those two Sundays, the crew had free rein of the theatre. Hundreds of extras were brought in, as were cherry-picker cranes, lighting grids, and enormous helium balloons containing floodlights that gave the entire auditorium a luminescent soft glow. The film's final sequence also takes place at the Met, with scenes in the auditorium, lobby, and outside on the huge balcony overlooking Lincoln Center Plaza.
"It was an incredible experience shooting at the Met, it's such a beautiful setting and so emblematic of New York. It was such an honor," says Gary Gilbert.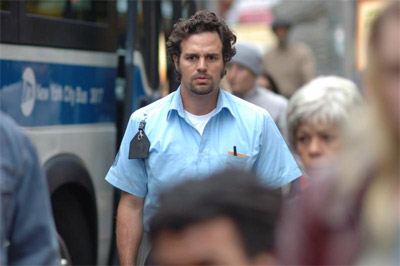 Also keeping the scene up to Met standards was the luxury casting of operatic superstars, soprano Renée Fleming, soprano Christine Goerke and mezzo Susan Graham. They were in New York singing at the Met that season and were available to take part in the day's filming. They previously worked together on the famed Hoffmann Barcarolle duet with conductor Daniel Beckwith. The entire sequence was pre-lit and blocked on a Saturday, and the following day was spent doing the actual filming. Every element had been put so firmly into place that the day of shooting unfolded without a snag.
Margaret is a New York story. Its writer-director is a New Yorker. And it was filmed entirely within the limits of New York City. "The details in Kenneth Lonergan's script are completely based in the world he grew up in," says Anna Paquin. "This is the world he's written about with such love and detail, so it was great that we all got to work where we were supposed to."