A Little Bit of Heaven
Cast: Kate Hudson, Gael Garcia Bernal, Kathy Bates, Whoopi Goldberg
Director: Nicole Kassell
Genre: Comedy, Drama, Romance
Rated: M
Running Time: 100 minutes

Synopsis: A Little Bit of Heaven is a love story set in New Orleans about an irreverent young woman who unexpectedly falls in love with her doctor. Academy Award nominee Hudson is joined by Academy Award winners Kathy Bates and Whoopi Goldberg, as well as Gael Garcia Bernal (Letters to Juliet), Lucy Punch (Dinner for Schmucks), Romany Malco (The 40 Year Old Virgin), Rosemarie DeWitt (Rachel Getting Married), Steven Weber (My One AndOnly) and Treat Williams (What Happens in Vegas). The Film is directed by Nicole Kassell (The Woodsman) from an original screenplay by Gren Wells.

Marley Corbett (Kate Hudson) is young, beautiful, and wildly funny, but she's afraid of opening herself up to true love and commitment. Though she uses her humor to prevent matters from getting serious, a life-changing visit to her doctor (Gael Garcia Bernal) sends both of them on an eye-opening adventure of mutual discovery, leading to revelations neither thought possible.

Release Date: March 1st, 2012



About the Production
The story of how the script came to producer John Davis is not uncommon in Hollywood. While waiting for a friend at the Four Seasons hotel in Los Angeles, John Davis struck up a conversation with someone sitting next to him. She had a script, he loved the idea, and the rest is history. But what is uncommon is the delicate mix of comedy and emotion that come together to tell the story of one woman's ultimate self discovery.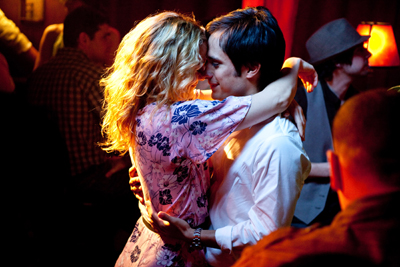 "A Little Bit of Heaven is a story about a heroic character who, faced with the possibility of her own demise, never lets her comedy down," explains John Davis. "Marley has everything, but uses humor to deflect the pressure to commit emotionally in a relationship. Through the process of finding out that she might die, Marley finds the meaning of her life." The film was originally set up at a major studio with various actresses and directors attached, but John Davis knew that it required a special balance between the comedy and drama for its emotional impact to shine through. He sought a production environment that would be open to the atypical story and found it at The Film Department, a new film finance and production company founded by former Miramax and Warner Bros executives Mark Gill and Neil Sacker.

"Rarely do you read a script where you laugh out loud and you cry, and cry hard," Neil Sacker says.

"Here's a woman who is larger than life, everybody's best friend, who brings joy to everybody's life and has everything to look forward to. She finds out that she may have a very limited time to live and in the process she teaches everybody else how to live. I've read the script many, many times; I still laugh and cry every time I read it. It's a great lesson for all of us about making the most of life in the short time that we all have." Together John Davis and The Film Department began the process of casting the lead actress, as well as finding the film's director. Kate Hudson and director Nicole Kassell "felt like they were a great combination, and it finally just gelled," said John Davis, who worked on the script for eight years before it started production. Nicole Kassell's directing debut, the critically acclaimed The Woodsman, confirmed her ability to work with actors on the subtle levels the script demanded to obtain a mix of comedic, heroic, and dramatic performance.

Not long after celebrating her recent promotion with friends, Marley is diagnosed with a life-threatening cancer. "What really struck me was her journey and the way it affects all those around her; as she in the process of possibly leaving, they are all coming down to Earth," said Nicole Kassell. "I thought, wow this script is a really truthful treatment of the subject matter; it spoke to me and felt like it was a story that would resonate."

"I love the story and I feel that a movie like this hasn't been made in a long time," said Kate Hudson. "I remember after I read the script I cried for 20 minutes. I met with Nicky and realised that the story was representative of so many brave people who have accepted their life as it is. It made me want to join Nicky in making this film and doing it in a way that hopefully you can laugh and you can cry and everyone will be able to relate to."

"Nicky was passionate about the script from the first meeting," Mark Gill said. "Based on what we'd seen in The Woodsman, we expected her to have a great take on the drama, which she did. But she also completely understood and relished the humor, which is so crucial to making the film work. It was a very easy and unanimous decision to hire her, and that's not often the case."

Said Nicole Kassell: "I was very honest with them about how I felt the film could be, and that we would laugh hard and cry hard."

"There will be moments in the movie that people will feel more connected to because it is so close to home," explained Kate Hudson. "Every time I read the script or we did a scene, something about that scene hit me more than it did a previous time. The characters are so full and rounded, and you get to know their dysfunctions and how they deal with their own issues throughout Marley's journey."

Kate Hudson also believes many people will relate to Marley's struggle with her mother and father. Marley's parents, Beverly (Kathy Bates) and Jack (Treat Williams) rush to her side, but the overbearing mother and estranged absentee father don't make for easy company. "Beverly is an emotional freak and a bit of a drama queen at the beginning," said Kathy Bates of her character, who we first meet at a dinner with her daughter and ex-husband. "It's funny how we all push each other's buttons, especially when there's unresolved stuff," said Treat Williams of the not-so-idyllic family reunion. "Kathy Bates has this great capacity to make things simultaneously very funny and very real. Marley is caught in this crossfire of hatred and it was fun to enjoy Kathy Bate's performance and be in the scene at the same time," recalled Treat Williams, who worked with Kathy Bates previously in The Late Shift, and was also directed by her in Everwood.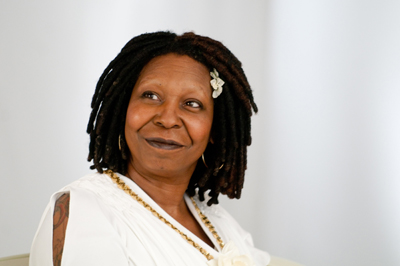 "Beverly is always trying to get involved in things, and Marley has spent her life trying to get away from her mother," Kate Hudson said. "She comes barreling back into my life, and it's the one relationship that I have to really forgive myself for, for making it difficult on my mother throughout our life together. She's the one person that's always there, so you fight them so hard because you know they're not going anywhere. Then to tell them that you might be going is not the easiest thing in the world to do. That was an amazing thing to play, especially with Kathy Bates who is such an incredible actress."

"In my mind Beverly has always wanted to be more like a buddy and a friend, and in the course of this story she has to sink into the role of being a mom," said Nicole Kassell, who first met with Kathy Bates in her hometown of Memphis, Tenn. The actress was doing some work for the Methodist Health Care Foundation and over lunch they discussed relationships, their mothers and families.

"She goes from being somebody who needs all the attention to realising it's time to give someone else the attention. She has to grow up and it's really profound and beautiful."

"When I read it I was somewhat touched that Jack really doesn't know how to find his way back to a relationship with Marley," said Treat Williams, who as Marley's detached father can only offer the best medical care money can buy. "He doesn't have the tools to understand women very well. Jack is just trying to control everything and he doesn't have any room for being vulnerable or listening to her, who she is, listening to her heart."

"Treat Williams was just such a perfect Jack because you see him struggling with it, he didn't have it in him to come to terms with his mistakes, and when he does it's so genuine and sweet," Kate Hudson said. There is a key moment between Marley and her father, "they're at a meal and he's just trying to do the superficial thing that he's always done with her, and she can't do it anymore, there's no time for chit chat," continues Nicole Kassell, who discovered in early conversations with the actor that his own relationship with his father was difficult. "Marley calls him on it, he rises to the occasion, and it's very moving."

"Marley has had Beverly for a mother, someone who sort of sucks all of the air out of the room," said Kathy Bates. She says she laughed more than she cried while reading the script. "I think it's been a very emotional experience for all of us for different reasons. Nicky is very quiet but quiet waters do run deep and I think she has a real fundamental understanding of how she wants to tell the story, and she is very wise about the human condition."

Sarah (Lucy Punch) is Marley's co-worker at the ad agency and her after-hours party partner. The two women share the same ribald humor and their relationship is obviously complicit in an early scene when Marley arrives late for a big client meeting. Their seamless banter tracks from the moment Marley breezes into the office and "she dumps her stuff, she has her bike, she changes her shoes, she's putting on her jacket, she's doing her hair, she's looking for the story boards, she's in the room, she's does the pitch, she wins the client," recalled Lucy Punch, who thought Kate Hudson's naturally vivacious personality added an unexpected element to the unfolding of Marley's story, and motivated Lucy Punch to take the role.

"The prospect of losing her childhood friend is crushing, but Sarah makes a promise to herself she's not going to cry or be sad in front of her," Lucy Punch said. Added Kate Hudson, "She's the only character in the film who always lets me deal with everything through my sense of humor and helps me keep myself normal."

"Marley is a very specific type of person who loves being surrounded by a group of friends that evoke different emotions," says Romany Malco, who plays Peter, Marley's friend and neighbor.

"All her friends serve different purposes, and Peter is a very earnest and engaging individual who has complete understanding that the last thing Marley needs in this scenario is sympathy. When a friend may be dying, you almost instinctively make it about you because selfishly you don't want to lose them. Peter became a servant from the beginning and I found that to be an extremely touching and evolved way to go about it." Marley's friend Renee (Rosemarie DeWitt), mother of 2-year-old Cammie and pregnant again when the story begins, is more pragmatic about the situation. "They are the kind of friends who challenge each other and support each other in leading the biggest, best life," said Rosemarie DeWitt, who was drawn to the "messiness" of the big things that happen in our life and the film's mix of drama, buoyancy and life.

"She's a bit of a fixer and thinks the way to Marley's happiness is to get a guy, get a house, and have some kids. But Marley is always living life to the fullest and I think that causes a lot of concern, so they kind of go separate ways for a time."

During her early visits with Dr. Julian Goldstein (Gael Garcia Bernal), Marley deflects the seriousness of his questions with humor. "Dr. Julian Goldstein diagnoses Marley and attends to her early in her illness and becomes an accomplice in her journey," says Gael Garcia Bernal. Said Kate Hudson: "In the beginning, he's so straight and against every type Marley's ever known and yet he's so available for her to be vulnerable. She has to literally get naked in front of this man and he's accepting of it. He truly accepts her."

"I love casting in kind of unexpected ways and allowing actors to show work that they haven't necessarily gotten to do, and he hasn't done an American film of this type, so it feels very exciting," said

Nicole Kassell about bringing Gael Garcia Bernal to the production. "I got very emotional when I read it, because it's surprising in the nuances and the way that it deals with the matter of death and the enjoyment of life," said Gael Garcia Bernal. "They fall in love with there being no certainty of a future, so it's perhaps a very pure love in the sense that it's an uninterested love, and they accompany each other and they live the moment very strongly."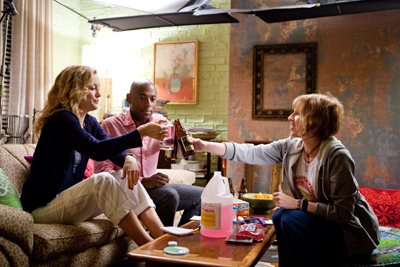 When Gael Garcia Bernal expressed interest in the part, the producers pushed the start date of the film three months to accommodate his schedule. "He brings so much charm to the role," said John Davis. "He's mysterious and so accessible at the same time."

Marley's joie de vivre is synonymous with the heart and soul of New Orleans, so it is fitting that the production eventually chose to call that city Marley's home. "It's a strong choice for a place to live for someone and Marley is not from here," explained Nicole Kassell. "Having lived here through the shoot, I found a lot of people come here and never leave. And Marley fits that mold."