Kirsten Dunst The Two Faces Of January
Cast: Kirsten Dunst, Viggo Mortensen, Oscar Isaac
Director: Hassein Amini
Genre: Drama, Thriller
Rated: M
Running Time: 96 minutes

Synopsis: An alluring, mysterious couple draws an unsuspecting young man into a labyrinth of deception and desire in Oscar-nominated writer Hossein Amini's adaptation of Patricia Highsmith's suspenseful romantic thriller. A brilliant con artist, Chester MacFarland (Viggo Mortensen), accidently kills a private detective who has tracked him down from the US to Athens. He flees from the international police with his wife (Kirsten Dunst) and a young American (Oscar Isaac) across the Greek islands through to Istanbul. Their flight will involve a web of manipulation and betrayal that binds them together in a way that only death could do them part.

The Two Faces Of January
Release Date: June 19th, 2014



About The Production
The Two Faces Of January is a suspense thriller starring Academy Award nominee Viggo Mortensen (The Lord Of The Rings, The Road, A History Of Violence), Golden Globe nominee and Cannes Best Actress winner Kirsten Dunst (Spider - Man, Melancholia, Marie - Antoinette) and Oscar Isaac (Drive, The Bourne Legacy, Inside Llewyn Davis). It is based on the novel of the same name by Patricia Highsmith and adapted by Academy Award nominee Hossein Amini (Drive, Snow White And The Hunt sman). The film is Amini's directorial debut.

1962. A glamorous American couple, the charismatic Chester Macfarland (Viggo Mortensen) and his alluring younger wife Collette (Kirsten Dunst), are in Athens during a European vacation. While sightseeing at the Acropolis they encounter Rydal (Oscar Isaac), a young, Greek - speaking American who is working as a tour guide, scamming female tourists on the side. Drawn to Colette' s beauty and impressed by Chester' s wealth and sophistication, Rydal glad
ly accepts their invitation to dinner.

All is not as it seems with the MacFarlands, however. Chester's affable exterior hides darker secrets. When Rydal visits the couple at their exclusive hotel, Chester presses him to help move the body of a seemingly unconscious man who he claims attacked him. In the heat of the moment , Rydal agrees but as events take a more sinister turn he finds himself compromised and unable to pull himself free. His increasing infatuation with the vulnerable and responsive Colette gives rise to Ch ester's jealousy and paranoia, leading to a tense and dangerous battle of wits between the two men. Their journey takes them from Greece to Turkey, and to a dramatic finale played out in the back alleys of Istanbul' s Grand Bazaar.

The Two Faces Of January is produced by Tom Sternberg (The Talented Mr. Ripley), Working Title's Tim Bevan & Eric Fellner and Robyn

Slovo (Tinker Tailor Soldier Spy). Executive producers are Tim Bricknell (Breaking And Entering), Ron Halpern ( Inside Llewyn Davis) and Max Minghella. The creative team includes director of photography Marcel Zyskind (A Mighty Heart, Mammoth) , production designer Michae l Carlin (The Last King Of Scotland, The Duchess), costume designer Steven Noble (Never Let Me Go, Under The Skin), editor s Ni colas Chaudeurge (Fish Tank, Wuthering Heights) and Jon Harris (Kick - Ass, 127 Hours) and composer Alberto Iglesias (The Constant Gardener, Tinker Tailor Soldier Spy).

The Two Faces Of January is a Working Title and Timnick Films production for Studiocancal. Studiocancal will distribute the film in the UK, Germany, France, Australia and New Zealand and handle international sales for the rest of the world.

Director's Statement

Patricia Highsmith's The Two Faces Of January was a book I first read over 20 years ago. It was loosely plotted, inconsistent at times, often illogical, but somehow the story and its flawed characters got under my skin and never left.

It was the only book I've ever adapted that I felt compel led to d irect, mostly because I recognis ed so many of the characters' emotional contradictions and shortcomings in myself. Highsmith has an uncanny ability to shine a light on the parts of ourselves we'd rather hide, especially the indignity of human emoti ons and behaviour.

Her characters are liars, conmen, drunks; they become irrationally jealous, paranoid, and often stupid. Yet these very flaws and contradictions are what make them so painfully human and relatable.

The darker side of human nature is oft en explored in films but rarely the weaker side. That is what fascinated me about this book. There's a line at the beginning of the film where Rydal talks about -the cruel tricks Gods play on men'. The three principle characters in the film are at the merc y of the Gods, but they are also defiant in the way they struggle against their fate.

As a director, I felt passionately about all three of them. I didn't want to study them through a microscope, but to be complicit in their mistakes, sympathise with thei r moral and emotional dilemmas and share in their fear and heartbreak.

I didn't want to depict a postcard version of 1960s Greece or Turkey either, but rather to show a world that reflected their psychological state of mind and their descent into a perso nal underworld.

For me, despite all their flaws, these characters are heroic in their own way. Life conspires to defeat them, but in defeat they are at their most dignified and human, and that is their cry of defiance against the Gods.
– Hossein Amini, London, January 2014

In The Beginnging

For first - time director Hossein Amini, The Two Faces Of January is a passion project that has stirred his creative imagination for nearly 15 years. From the time he first read Patricia Highsmith's psychological thriller, which was originally published in 1964 , he was hooked, and per severed through thick and thin for more than a decade to bring The Two Faces of January to the big screen. Hassein Amini's attraction to Highsmith's offbeat and absorbing suspense novel – which counts as one of the more obscure of her writings , even for aficionados – came down to the three main characters and the tangled triangle that develops between them over the course of the story.

'I first read The Two Fac es Of January at university," says Hassein Amini, an acclaimed screenwriter who was Oscar - and BAFTA - nominated for The Wings Of The Dove (1997) and whose scripts for Jude (1996), The Four Feathers (2002) and Drive (2011) were also highly praised. 'The characters really stuck with me. Chester is a real Highsmith villain but he does something so surprising and redemptive at the end that it made me work backwards and think about the extraordinary compassion she has for very troubled, bad, dangerous people. She doesn 't just put readers in the villain's shoes, she makes you feel oddly compassionate and understanding towards them. She loves her villains and there's something about that that got under my skin. Every time I'd stop between other projects, it would be the b ook that kept coming back to me."

Hassein Amini always recognised that undertaking an adaptation of this lesser - known Highsmith work would prove challenging. The book was published nine years after her greatest success, The Talented Mr. Ripley, but never embraced with the same fervour; Highsmith even received a rejection letter from her publisher declaring 'a story can handle two neurotic characters but not three". But despite struggling to find copies of the book in the intervening years , as it was often out of print , The Two Faces Of January cont inued to exert a potent hold over Hassein Amini. 'Every time I came back to it, I found something new," he says. 'I learnt even more about the book doing the adaptation. I assumed that I was getting further away fro m the book but, in fact, so much of it has invisibly made its way into the film."

Even a skilled, insightful screenwriter like Hassein Amini can find it daunting working out how to get audiences to fall for unlikeable characters. But he embraced it as an exciting challenge, and set out to craft an adaptation that incorporated the finest elements of a sophisticated, old - school psychological thriller but would also, through its pacing and avoidance of artificial plot devices, still feel modern. Hassein Amini, who has tailored scripts from Jude The Obscure by Thomas Hardy, The Wings Of The Dove by Henry James, The Four Feathers by A.E.W. Mason and Killshot by Elmore Leonard, felt he understood Highsmith's thriller more than any other novel he's previously adapted.

Regarding his desire to direct The Two Faces Of January, Hassein Amini, as he's known to most, would clarify that becoming a director wasn't the chief attraction, it was specifically this story he wanted to tell . Shortly thereafter, in a meeting with Tom Sternberg, who had been a producer on The Talented Mr. Ripley and was in London developing a new adaptation of Sleuth with Jude Law (eventually released in 2007), Hassein Amini shared his ambitions but explained that he wasn't making any headway with the late author's publishing house, Diogenes, to secure the option.

Thanks to his work on The Talented Mr. Ripley, Tom Sternberg had an existing relationship with Diogenes , which is highly protective with the late author's works.

'I was moved by Hassein Amini's passion and said, -Okay, let's do it,'" says Tom Sternberg. 'There was a long negotiation and I got the rights optioned very reasonably."

Thanks to Tom Sternberg's Talented Mr. Ripley connections, the project subsequently landed at Mirage Enterprises, the production venture co-owned by Anthony Minghella and Sydney Pollack , writer - director and executive producer respectively on that 1999 Highsmith adaptation.

The UK Film Council, which has since been folded into the BFI Film Fund, came on board in a development capacity and the deal was made for Hassein Amini to write and direct. Before Minghella passed away in 2008, Tom Sternberg sent the highly respected filmmaker an early draft of Hassein Amini's script and received a paragraph of notes in return, but the projects's stay at Mirage was brief when Sydney Pollack died two months after Minghella.

With the rights reverting back to Tom Sternberg and Hassein Amini, the latter worked on further drafts until arriving at a version they were both happy with in January 2010.

After the script began circulating, it quickly ended up in Viggo Mortensen's hands. The actor met with Hassein Amini at his home in Madrid late in 2010, enthusiast ically attaching himself to star as Chester MacFarland and remaining steadfast throughout efforts to get the film in front of the camera.

'He has been incredibly gracious and generous throughout the whole process," says Hassein Amini. 'He's been a real partner."

Once Viggo Mortensen was attached, Studiocancal agreed to finance The Two Faces Of January, pre-selling distribution rights in territories like Spain and Argentina where the Spanish - speaking actor has a large following .

Studiocancal also invited Working Title Films to come on board in a production capacity, h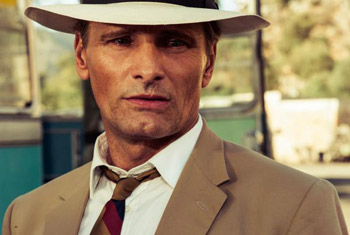 aving enjoyed a similar, successful arrangement with the British production company on Tinker Tailor Soldier Spy (2011). Robyn Slovo, Working Title's producer on Tinker, Tailor, Soldier, Spy, joined The Two Faces Of January in the same role in early 2012, working closely with Hassein Amini to further develop the script and to shepherd the film through its production cycle.

'It was a natural fit because Studiocancal and Working Title had just done Tinker Tailor together," says Robyn Slovo, 'and this is the same kind of classy, intelligent, adult film."

Robyn Slovo and Hassein Amini recruited an outstanding team of creative collaborators, including director of p hotography Marcel Zyskind, whose work with Michael Winterbottom Hassein Amini had admired, production designer Michael Carlin and costume d esigner Steven Noble .

'Hassein Amini and I met everybody together and we took the decisions together," says Robyn Slovo.

'For Hassein Amini, it was very useful to have somebody who was always as involved in the process as he was."

The Three Faces Of January

After Viggo Mortensen committed to playing Chester MacFarland, Hassein Amini slightly tweaked his conception of the character . 'Viggo Mortensen looks heroic and there's an element of Gatsby in the character, which doesn't exist in the book so much," says the British - Iranian Amini. 'I love that e lement of striking, handsome, charismatic men who are destined to be defeated somehow; Chester struck me as that sort of character, whereas in the book he is a little more wasted from the very beginning."

Oscar Isaac was the next to sign on as Rydal Keener. The two men had worked together on Nicolas Winding Refn's stylish thriller Drive, in which the up - and - coming actor had portrayed Carey Mulligan's Latino boyfriend. But although Hassein Amini was going around in circles try ing to find the right actor to portray the small - time conman who falls under the MacFarland's glamorous spell, Oscar Isaac admits that when Hassein Amini first let him read the script while they were on Drive, 'it would have been unrealistic for m e to expect to play Rydal". When the Coen brothers subsequently cast him as the lead in Inside Llewyn Davis, however, doors suddenly flung wide open for Oscar Isaac.

'I met with a lot of actors but I just kept thinking, -God, Oscar Issac would be perfect,'" says Hassein Amini. 'Luckily, the Coens hired him first, making it much easier for us to cast him. I think he's an extraordinary actor. There's a softness he has . When you have close - ups of his eyes, you see real innocence and vulnerability."

As with Viggo Mortensen, Oscar Isaac's entrance somewhat altered Hassein Amini's approach, steering him further away from F. Scott Fitzgerald's notion of 'golden people" towards a slightly grittier representation. Finding the right actress to play Colette was the last significant piece ofHassein Amini 's casting puzzle – and the hardest of the three roles to cast be cause the character had moved furthest from book to screenplay. 'In the book, Colette is very different," says Hassein Amini.

'She's almost a nymphomaniac, not very educated; she really comes on to Rydal and is almost an unwitting part of what happens to her in the story."

While he was initially considering another actress, when KirstenDunst expressed interest he agreed to meet with her and was instantly won over, deciding she was the only one he wanted for Colette.

'Kirsten Dunst automatically brings real intelligence and sophistication to any part she plays," he says. 'The more I thought about it, I realised that she makes the character more three - dimensional. All three parts are so inspired by the book, but they're also quite different in many ways, and her's particularly. She's much more aware of what's going on in the film."

The filmmakers m anaged to secure the actress, who was fresh off her Best Actress triumph for Lars Von Trier's Melancholia at the Cannes Film Festival. 'She's the younger wife of an older man," notes Robyn Slovo. 'It was crucial that the two actors playing Chester and Colette absolutely look like they could be married. Viggo Mortesen and Kirsten Dunst made that relationship work wonderfully. They made it very plausible."

None of the stars were concerned about Hassein Amini's inexperience behind the camera. 'It didn't feel like we were working with a first - time director at all," says Viggo Mortensen. 'Hassein Amini is really well prepared, he's making the most of this opportunity. But he's also allowed everyone to contribute and make suggestions. He knows the story so well but he didn't mind it evolving either on set. He let us take chances and push it right to the line sometimes. I like that because it's unorthodox. It was always correct in terms of the dialogue and the period and the look but it's also human because it's surprising sometimes."

'As a person, I find him to be a genuine gentleman," says Oscar Isaac. 'We'd had a really good working relationship on Drive, where w e really changed my character from the script. I had a lot of trust in him from that experience."

Although all three were aware of Highsmith's work, none of them had read The Two Faces Of January, but did so after they'd committed to the project. Oscar Isaac praises Hassein Amini for adding depth and substance to Highsmith's slim volume and for making the characters much more layered and well - rounded. 'There's something more dynamic and grounded about our story," says the actor. 'In the book, Rydal tends to be a more pa ssive character but in the film he's a much more active part of the story."

'The script has a lot of nuances to it," echoes Viggo Mortensen , who studied the history of ancient Greece in preparation for playing Chester. 'The characters don't always say what they mean, or they say things to achieve some other goal. Even in playing the scenes, we'd find by the end of the day that there was a lot more to it than we even realised. And we had all studied it pretty well by th at point. I kept finding new layers. It's not just the con that they try to pull on each other, what it's about changes as the story goes on .

"Chester and Rydal are both fairly emotional men. Rydal, in particular, is very sensitive – he even writes poetry. They're also both con artists , albeit operating at different levels in scamming terms. Chester has fleeced wealthy investors in America by selling them shares in a non-existent oil well, accruing large sums and facing the consequen ces of his illegal actions when a private detective tracks him down in Athens. Rydal operates on a smaller playing field, using his knowledge of the Greek language and customs to skim money from naïve tourists relying on his services as a local tour guide .

'We were playing with the idea that he finds it easy to do but he's not wholly comfortable in that position," says Oscar Isaac. 'He's doing to make ends meet. I wouldn't say he feels guilt, more discomfort at having to skim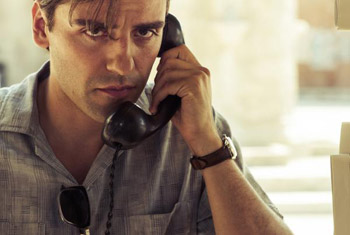 money because he can and because he needs it. He wishes he was above that. The first time he sees Chester, he kind of wants what Chester has but he also disdains him a little bit. And, of course, he completely underestimates who Chester is."

'When we meet him, there's an unease about Rydal," the actor continues. 'He's searching; he's looking for an identity; he's looking for a father figure. The book describes him as someone who constantly looks in to people's eyes to see if there's an adventure there. He's eager for that."

Whereas Rydal spots Chester as a liar and cheat early on in Highsmith's novel, which also pits them as antagonists from the start, Hassein Amini waits until halfway through to set them at loggerheads, with t he balance of power between the two shifting throughout t he film, particularly as they become inextricably linked through events and the father - son dynamics take hold. Estranged from his own father, who recently passed away, Rydal initially looks up to Chester with a son's innocent admiration, a theme Amini enco uraged the actor to explore; for his part, Chester recognises Rydal's veneration and exploits it as the psychological duel between the two men escalates.

This duel, and the duality that exists between Chester and Rydal, is reflected in the film's title. The Romans named January after Janus, the god of beginnings and transitions. Opening a door onto each new year, January represents the end of the old and the birth of the new. It also signifies the duality of man, with Janus traditionally depicted as having two faces looking in opposite directions, one to the future and the other to the past. As Chester and Rydal's fates intertwine, they, too, become twinned like Janus.

It's an accepted fact that the female characters in Highsmith's novels are invariably less interesting and more one - dimensional than their male counterparts, and Colette MacFarland certainly falls into that mould . Both Hassein Amini and Kirsten Dunst acknowledge this, and while they worked successfully to bring more dimensionality to the role, they could only push so far without disrupting the narrative's thriller essence. It wasn't an issue that overly concerned Kirsten Dunst.

'What interested me first and foremost was the story," says the actress. 'For me, it's not always necessarily about needing to play a certain role. It was more that I wanted to be part of making this story come to life. You strive to be a part of movies like this and when you are, it makes you really work hard. I loved the dynamic between these three characters. It created a very alive energy of, What's going to happen next?"

In some ways, Chester and Colette fall out of love as the strain of being pursued by Greek police and the fact that her husband lied to her about the fate of their late - night visitor in Athens begins to take its toll. There is also a growing attraction to Rydal, who is closer in age and seems to offer the things her husband can't, namely understanding and compassion. 'I was playing that line of loving someone but falling out of love with them," says Dunst. 'Colette's idea of what her marriage is starts falling apart. Chester kind of turns into a monster in her eyes and she starts to see Rydal as her knight in shining armour."

Hoss's Influences

Following in the footsteps of the successful translations of her work, which include Anthony Minghella's The Talented Mr. Ripley and Alfred Hitchcock's Strangers On The Train, Hassein Amini was aware of the lofty expectations that come with any Highsmith adaptation: sophistication, intelligence , complicated, contradictory and deeply flawed characters who find them selves in tense, stressful scenarios, and dark thrills. 'This is a more tightly - knitted psychological thriller than The Talented Mr. Ripley because you're following the same three characters constantly," says Robyn Slovo. Of the complex moral decisions that come in to play in The Two Faces Of January, she adds, 'None of the characters are going to heaven. Not without an argument anyway."

Hassein Amini absorbed multiple cinematic references in preparing for his directorial debut: the influence of Hitchcock, godfather of the modern - day thriller, is evident. Hassein Amini also steeped himself in movies made around the time The Two Faces Of January is set, in particular French and Italian thrillers from the era 'just to get a sense of the world and the landscape and the composition", including Michelangelo Antonioni's 1960 classic L'Avventura and Jean - Luc Godard's Le Mepris for its portrait of a crumbling marriage. He sees The Two Faces Of January as closer in spirit to Plein Soleil, the original 1960 French adaptation of The Talented Mr. Ripley featuring the great Alain Delon in the role of Tom Ripley, than Minghella's sumptuous 1999 adaptation starring Matt Damon and Jude Law. His film was also heavily influenced by Hassein Amini's love of American and French film noir, in particular its themes of fate undermining the protagonists' hopes and dreams and its somewhat unforgiving world view.

'Hassein Amini has made a psychological thriller in the truest sense of the word," observes Oscar Isaac. 'It's about exploring the neuroses of these people as they come together and collide."

'The psychological battle between the two men is the theme that has always resonated with me the most," says Hassein Amini. ' I love the idea of two men going against each other and even though one will have to destroy the other, there is a respect and almost an affectionate love between the two while that's going on. Initially, I thought of this story as a sort of love triangle with Theseus, Ariadne and the Minotaur. But gradually it became much more about Zeus and Cronos, the idea that the son has to kill the father in order to become a man."

While all three characters behave badly in degrees, Viggo Mortensen doesn't view any of them as amoral. 'Everybody's got their secrets; even the nicest, calmest nun has got the possibility to think strange things or have resentments," notes the actor. 'All these characters have their secret desires and resentments, and their own sense of morality. Chester's just an opportunist. No one's purely good or purely bad in this story."

From Crete To Athens To Istanbul To London

Two Faces Of January went into production in October 2012 on the island of Crete. Highsmith's thriller stretches across the Continent, taking in Paris, Istanbul and Greece, the Cradle of Civilisation . Because of the economic meltdown in Greece at the time and the resulting anti-government demonstrations, the production at first looked to shoot entirely in and around Istanbul before transferring to Ealing Studios in London for interiors. But when it proved difficult to find certain locations in Turkey without hopping on a plane from Istanbul, they decided to add in Crete and a brief stint in Athens as well as Istanbul (Hassein Aminii opted to leave the MacFarland's Paris sojourn out of his adaptation). The $21m production ended up filming for three weeks in Crete, four days in Athens and four weeks in Istanbul, before finish ing off with two weeks at Ealing Studios.

Highsmith's writings explored the gold en age of travel for American tourists in Europe, and it was crucial to convey that sense on screen for the MacFarlands. '1962 would have been an interesting time for Americans to travel," says Viggo Mortensen. 'They were maybe a bit hapless, maybe a bit loud, you could definitely make money off them. But they weren't, for most people, the bad guys then. Generally for a European, even if you might think Americans were a bit foolish, it was that golden period of goodwill after World War II."

The Two Faces Of January opens at the Acropolis in Athens, the preeminent archaeological monument of ancient Greece, which includes the Parthenon. This is where Chester and Colette MacFarland first encounter Rydal, who is offering his tour - guide services to a gaggle of young, wealthy American women. Incredibly, the production gained permission to film inside the Parthenon, where visitors are normally restricted to walking around the perimeter. To film in one of the busiest tourist destinations in Greece, production designer Michael Carlin's crew needed to cover up the contemporary lighting and signage arou nd the Acropolis and Parthenon with polystyrene rubble. Hassein Amini was also required to shoot around a pair huge cranes sitting on the ancient site, choosing angles that minimise d their appearance in the frame and removing the rest in digital post - production.

With only two days to capture everything they needed, Hassein Amini admits the task was daunting. 'There were hundreds of tourists just off came rain every shot," he smiles. 'We had to depend on their charity. Most people were very nice about it but every once in a while there would be an irate person who'd say, -I paid my money, I'm walking right through your set!'"

Istanbul and Crete served as the other two locations. To stand in for the cavernous lobby of the grand hotel in Athens where Chester and Colette are staying when they first meet Rydal, the locations team found a Turkish university building, while a scene at Athens airport toward s the end of the film was accomplished at a racetrack facility in Istanbul. The climactic encounter between Rydal and Chester, which begins with an intense confrontation at an outdoor café before turning into a foot chase, was shot in Istanbul's Grand Bazaar, one of the oldest and largest covered markets in the world. The cat - and - mouse pursuit through its maze - like, criss - crossing avenues and alleyways, involving the Greek police who have come to arrest Chester, is an enth ralling, impressionistic, noir sequence in which Hassein Amini tips his hat to The Third Man.

'Ironically, one of the biggest feats was turning the Grand Bazaar into the Grand Bazaar," says Production Designer Michael Carlin. 'You can only shoot in the Grand Bazaar at night when it's closed. And when it's closed, every shop is shuttered up and dark and the owners know how to negotiate. In many cases, it was cheaper or easier to build shop fronts over the existing stop fronts although m ost people were very cooperative."

The crew had to cover up modern signage and replaced new windows with old wooden frames. 'It was almost more difficult than building Blenheim Palace," Michael Carlin jokes. From start to finish, the sequence took eight days to complete. 'For the sequence around the café, which is right in the middle of the more labyrinthine part of the Bazaar, we had a dozen shops in four directions dressed and theatrical wings going off in different directions and we shot over two nights . Then overnight i t was all moved and shuffled into other configurations and places. The Turkish were very good at that logistical organisation."

Istanbul also stood in for the Athenian street market where Rydal takes the MacFarlands on a day tour and Chester ends up purchasing a bracelet for Colette, with Rydal explaining the significance of the snake - headed bangle – a Cretan design representing immortality and worn as a protective charm – and speaking fluent Greek to haggle down the price while grifting a tidy profit for himself without his American companions' knowledge. Taking over a side street in the Ballat district, which was once the Greek area of the city, the art direction and costume teams festooned it with market stalls and appropriately attired extras, making it feel like you were stepping back in time. Shutters had been added to the side of the buildings to conceal plastic windows, and store facades and signage were dressed appropriately.

The most relaxed portion of the shoot happened on the island of Crete, with the production basing itself in the picturesque harbour town of Chania and radiating out from there to shoot sequences in the dusty hills nearby and in the city's lanes, alleyways and seafront. One tip of the harbour is currently an archaeological site, where an old Ottoman mosque once sat and offering sweeping views of the old Venetian lighthouses. The production created a vibrant seafront square in the space for sequences where the trio dine together after they've gone on the run, and, later, a panicked Chester pushes through the crowds in search of his wife and Rydal. 'I really loved Chania," enthuses Oscar Isaac. 'I've never been anywhere as magical as that. My mother came out to visit me there and everything about it I just adored. It's an amazing place."

A national strike ended up working fortuitously for the production when cast and crew were able to shoot at Knossos, the Bronze Age Minoan city which bore the myth of Theseus and the Minotaur, without vast crowds of tourists, as the ancient site's guards were swept up in the labour protest. Although the interiors of Knossos were recreated at Ealing Studios, Hassein Amini shot for two days at Knossos , which serves as the site for the narrative's most shocking turn of events.

'They prepared all of the locations really well," observes Viggo Mortensen. 'The mountains in Crete, Knossos, Istanbul, getting permission to shoot inside the Parthenon – it was all amazing. In Knossos, we got a lucky break because we had the place to ourselves but that happened thro ughout the shoot with the weather and locations. There's a Persian saying: -Luck smiles on the efficient'. We were ready so it's great when something fortunate like that happens."

At Ealing Studios, Hassein Amini recreated the interior of the Athens hotel, the interior of a Chania guesthouse , and the underground portions of Knossos. 'We had to remember how hot it was in Greece and Turkey when we were in London shooting on a stage," laughs Kirsten Dunst. The exterior of the Grand Hotel was also sourced in London after an Istanbul location fell through. 'We turned up one day and there was scaffolding all around the building," says Michael Carlin. 'Things move at a very fast pace in Istanbul."

Working symbiotically with Hassein Amini throughout the shoot , enabling him to achieve his ambitious vision, was Danish cinematographer Zyskind. 'He's young and dynamic and I needed him to shoot quickly because we were moving around so much on location, " says the writer - director. Hassein Amini had considered shooting on celluloid but ended up going digital; however, Zyskind used anamorphic lenses, which allows for a closer resemblance to celluloid by creating a softer, more classic - appearing image. 'We've had people tell us it's a very good example of how close digital can come to film."

Ready To Wear

As befits a sophisticated, stylish American couple touring Europe in 1962, what Chester and Colette wear reflects their wealth and own sense of elegance. While Chester predominantly wears suits, including a cream linen number that figures prominently after th e outlaws flee Athens and for which costume designer Steven Noble took inspiration from The Great Gatsby, Colette is mostly attired in smart daywear. Steven Noble sourced two vintage dresses for Kirsten Dunst to wear, designing the remainder using digital reprints of original fabrics and adding a contemporary update by reducing th e number of accessories – hats and gloves , mainly – that a woman of Colette's standing would have worn at the time.

'She's very on trend for '62, which is when they'd just got rid of the big petticoated -50s look to go much slimmer," says Steven Noble. 'But the hemlines are still below the knee. The silhouette I went for with Kirsten Dunst was a figure - hugging pencil line to give her that wiggle when she walks, that sexiness."

For reference in dressing the cast, Steven Noble relied on magazines and films of the time, as well as a treasure trove of home movies taken by Cretans in the early and mid - 20th century . With Rydal, Steven Noble dressed Oscar Isaac in as many Greek labels from the period as he could to reflect someone who has been residing in Athens for two years. Most are originals, which Steven Noble actually sourced from a costume hire outfit in London. 'The owner's Greek so that helped," he smiles .

'As soon as I put the costumes on, they made me walk differently and behave differently," says Kirsten Dunst. 'My least favourite thing was the shoes because they were tiny, wobbly vintage shoes. Walking around the Parthenon was not comfortable. "

Steven Noble and his team also worked hard to ensure that every extra was fully attired in appropriate period clothing and hairstyles, a factor that aided the three main actors. 'A lot of times, even in big movies, people in the deep background might not always be dressed appropriately in terms of the quality of the costume or the period," says Viggo Mortensen. 'Or their wigs will be kind of crooked. There's just not as much care taken. With this movie, every single person in the background or that we walk past, whether it was in Greece or the Grand Bazaar, looked right. It makes you feel like you're there."

Although the film is set in 1962, Hassein Amini and his cast were keen that The Two Faces Of January never feel like a stuffy period piece. Viggo Mortensen deemed it important that the actors not feel constrained by an overly precise definition of period detail and felt Hassein Amini's approach was the opposite of stifling, allowing for a sense of freedom. 'We had crew members that were as obsessive, if not more than we were, about everything being really right," he says. 'The right tie, the right cufflink, every book or lamp or trinket. But within that, thanks to Hassein Amini's way of doing things, we didn't feel cons trained by the visually correct aspect of the period or the language."

This Is The End

To compose the film's score, Hassein Amini selected Alberto Iglesias, who has worked extensively with Pedro Almodovar. 'I felt we needed a classic, sort of Bernard Herrmann - esque score and Alberto Iglesias is one of the very few composers who could do that well," says Hassein Amini. 'He's got incredible range in terms of what he can do. His score is in love with the characters in a way that maybe the audience might not have been without it there.

It's a fine balance with these three characters. You need to put the audience in their shoes and Alberto Iglesias's music allows you to feel closer to them. "

For Hassein Amini, the most challenging aspect of the entire production was sitting in the editing suite and trying to craft the suspenseful narrative with his editor. He confesses to feeling a bit of 'snow blindness" in the early stages as he toiled to find the right balance and fine - tuned the narrative.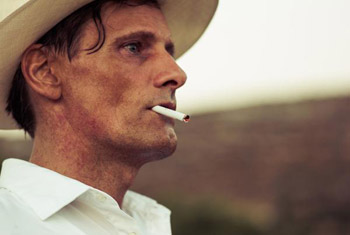 'I learned so many things in the editing," says Hassein Amini. 'One lesson was that you can start as a drama but when it turns into a thriller, you can't then go back to being a drama because the audience are on a different and faster ride by then."

'It was interesting to find that we could take it from two hours to 90 minutes and yet still tell almost the same amount of story in less time," he continues . 'When you're shooting in beautiful places like Greece and Turkey, and you have an amazing DP, the temptation is to think that I've got to preserve the beauty of everything we've shot. But the audience will still get that impression whether a shot lasts six seconds or three seconds."

Having declared that his directing ambitions were restricted to The Two Faces Of January, Hassein Amini has since been bitten by the filmmaking bug and hopes to find further opportunities to direct in the future . 'Having done it, it's quite addictive," he says. Adds Kirsten Dunst with a laugh: 'I think by the second day, Hassein Amini was already saying, -I love this, I can't wait to do it again.'"

'Of course Hassein Amini had a few sleepless nights," says Robyn Slovo. 'What director doesn't? But he's to the manor born. He loves directing and he's very good at it. Directors have all sorts of different styles but the good ones know what they want and know when they've got it."

Hassein Amini is understandably proud of the film he's made, and singles out the performances of Viggo Mortensen, Kirsten Dunst and Oliver Isaac as one of its strongest suits. 'It goes back to what the strengths of the book are, which is three compelling characters," he says. ' I always liked the ambition of trying to make an audience like three unlikeable characters. It's a film about jealousy, drunkenness, rivalry. They're negative qualities but they're also human qualities and it goes back to that whole idea behind Greek tragedy, where men pit themselves against the Gods and lose but in defeat are heroic. Your humanity is your victory."

The Two Faces Of January
Release Date: June 19th, 2014