You wax mine I'll wax yours!
Prepare for a sexy summer with a bunch of your best girlfriends. Book the bathroom, banish your brother and invite the girls over for 'frantic de fuzz' with
Lilliane Caron's Waxaway
and
Peelaway
. Emerge many laughs later from your home salon smooth, shiny, ready to take on the beach (and the boys).
Waxaway
The original microwavable wax.
Warm wax Available in 350g tubs with 6 reusable strips.
Warm waxes are enjoying a resurgence in popularity simply because they are the most effective and professional method of temporary hair removal (hair can take up to six weeks to grow back). Beauty therapists favour traditional methods for this very reason and with
Lilliane Caron's
warm waxes; there is no reason why you shouldn't be able to achieve professional results!
Lilliane Caron's Waxaway
was the first warm tub wax to appear on supermarket shelves. Waxaway is unique because it is made from an original recipe (sugar based) that is "cooked". Cooking gives the Waxaway a firm honey like consistency, which enables a strong grip and less stickiness. Alpha Hydroxy Fruit acids will revitalise and soften the skin.
RRP: $9.75PeelawayPeelaway
is based on the traditional method of hair removal and is extremely easy to use. Simply heat the wax and apply to the area of the body that requires treatment, wait a few seconds, then remove with your fingertips. Peelaway is different to other hard waxes on the market because it comes in two varieties.
Peelaway with Almond Oil
is for sensitive skin and is ideal for women who are prone to skin breakouts and allergies. Almond oil helps to replenish moisture and active ingredients reduce redness.
Peelaway with Bees wax
contains a natural blend of oils free of chemicals and additives so it can be used on the bikini line, underarm and face.
RRP: $12.95Battle of the Sexes
Is your boyfriend becoming more conscious of grooming himself? Are your depilatory products rapidly and unexplainably diminishing? It may (or may not) surprise you to know that guys are taking a greater interest in their appearance, and like the rest of us want to feel confident about braving the beach and the holiday party scene. Depilatory creams are the hot growth item in the depilatory market, particularly amongst guys who want an easy instant solution to excess body hair.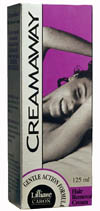 CreamawayCream formulation Hair Removal CreamCreamaway
is a mild dermatologically tested formula providing a gentle and very soothing hair removal option. Simply apply
Creamaway
to the area of unwanted hair and wait for 5-7 minutes. The hair will dissolve on contact with the formula and after rinsing off with warm water, will leave the skin hair free, soft and silky. Be prepared to share this product with your man in order to maintain harmony, otherwise tell him to buy his own!
RRP: $8.95
Lilliane Caron products are available at: Priceline, Target, K-mart, Coles, Bi-Lo, Foodland (WA), Petra, My Chemist, Full Life Pharmacy, Tomeo & Laslett.
CLICK HERE to view more of the Lilliane Caron Depilatory Range