ED'S PICK FOR THESE YUMMY PRODUCTS!

I had the pleasure of road-testing the following products and they are all pretty fab! Give them a try!
1. BRAND : RED EARTH
PRODUCT: Body Lotion
FRAGRANCE: Honeysuckle (with a touch of jasmine)
This moisturising body lotion is enriched with vitamin E to help nourish and assist in hydrating the skin. Your skin will hopefully feel like mine did; soft, silky and smooth with no greasy afterfeel and IT DOESN'T TAKE FOREVER TO RUB IN!!! Use regularly and massage into the skin to help restore your skin's natural balance. Yummy soft scent lasts on the skin for hours!
RATING: 8/10
2. BRAND : RED EARTH
PRODUCT: Bath & Shower Gel
FRAGRANCE: Honeysuckle (with a touch of jasmine)
Gently cleansing, moisturising and ph balanced this product really is delightful. The fragrance is not too strong and leaves a lovely scent on the skin for some time after using. Leaves your skin soft and smooth. You can lather up with a sponge in the shower or you can poor in the running bath water for a fun bubble bath. Suitable for all skin types, massage it all over your body and indulge!!!
RATING: 8/10
3. BRAND : The Body Shop/General Merchandise.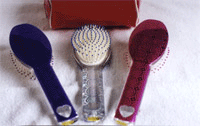 PRODUCT: Hairbrushes
COLOUR: All kinds of groovy colours
I found these cooler than cool hairbrushes while meandering in the deliciously smelling Body Shop! They stuck out to my "girly" eye because of all the gorgeous colours they come in as well as the "psychadelic" pattern on them. They work very well, do the trick and brush well but they do tend to create a bit of static! But hey, they are priced well and they do work!
RATING: 7/10
4. BRAND : Rexona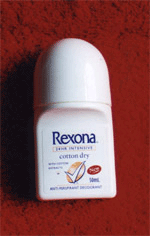 PRODUCT: 24HR intensive deodorant
COLOUR: N/A
Well, I must confess, when it comes to deodorant I am ultra fussy! SO this one from Rexona really gets a big tick from me! This 24 hour intensive, roll on deodorant really does do what it says. Cotton dry, it keeps your clothes dry and doesn't leave marks on your clothing. It contains cotton extracts which assists in keeping the moisture at bay, has a lovely fresh fragrance and lasts all day!
RATING: 9/10
- Michelle Palmer (
michelle@girl.com.au
)