Active WomanStripaway
is extremely versatile and has been designed for active women. Whether you are an all year gym junkie, party girl or simply busy,
Stripaway
is the fast, convenient and effective do it yourself solution to hair removal.
Stripaway 20's for body RRP: $9.65 Stripaway 16's (for face) RRP: $8.95Five Times Lucky with Stripaway VersatilesSripaway's
new ultra soft formulation provides an even layer of wax already applied to the strips. This special formulation is actually used in professional salons, providing an extremely effective hair removal solution. The strips are easy to use and can be applied to all parts of the face and body. There is no heating, spatulas or messy residue associated with the routine, which is why pre- waxed strips are currently enjoying immense popularity.
The
Stripaway
strip can be applied up to five times on different areas of your body throughout your routine. One routine can last up to 6-8 weeks.
Stripaway
is not water soluble, for best results use in conjunction with
Lilliane Caron's After Waxing Oil.Getting Fresh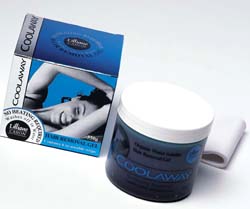 Coolaway
Cool Hair removal gel, available 350g tub with 6 re-usable strips.
Want a
Coolaway
to remove your winter coat? If you are sick of the fuss associated with preparing warm wax,
Coolaway
will provide a totally convenient hair removal solution that requires absolutely no heating. The
Coolaway
formula combines a powerful grip that is able to remove hairs as small as 1mm from the surface whilst removing the roots of the hair, retarding growth for up to 6 weeks. The formula is water- soluble and contains antiseptic peppermint oil to soothe the skin and alleviate potential irritation.
Coolaway
is suitable for all parts of the body.
RRP $15.95

Routine Round UpNo Greasies- After Waxing Oil with Tea Tree
The best way to cleanse and soothe the skin after waxing,
Caron's After Waxing Oil
is a non-greasy, dry oil that moisturises and removes all waxy residue. Tea Tree Oil acts as an antiseptic to remove any bacteria that is prone to causing pimples and pustules after waxing.
Because the unique formula is lighter than other greasy lotions on the market, it can be used as part of your everyday body moisturising routine and it won't stain clothing.
RRP: $ 7.95
Lilliane Caron products are available at: Priceline, Target, K-mart, Coles, Bi-Lo, Foodland (WA), Petra, My Chemist, Full Life Pharmacy, Tomeo & Laslett.