New invigorating Nivea Deodorant Energy Fresh ticks the boxes for all your deodorant requirements, giving you peace of mind and an almighty fresh kick to your day.
Take a deep breath and revive, awaken and invigorate yours senses with a citrus burst of lemongrass designed to give you an energising feeling that lasts.
Boasting a unique and vibrant burst of freshness, Nivea Deodorant Energy Fresh is a highly effective deodorant enriched with zesty lemongrass. The aromatic fragrance leaves you feeling cool, clean and shower-fresh and the anti-perspirant formula gives you the confidence you need 24 hours a day. It's time to get energetic.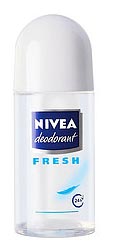 So with an aerosol and roll-on to choose from make sure you get energised with new Nivea Deodorant Energy Fresh and enjoy a fresh feeling all day no matter what you do.
Nivea Deodorant Energy Fresh Aerosol - RRP: $4.72
Nivea Deodorant Energy Fresh Roll-on - RRP: $3.50
For stockists information call 1800 103 023