What will the cost be to the family?
Cast: Domhnall Gleeson, Margot Robbie
Director: Simon Curtis
Genre: Biography, Family
Rated: PG
Running Time: 107 minutes

Synopsis: A rare glimpse into the relationship between beloved children's author A. A. Milne (Domhnall Gleeson) and his son Christopher Robin, whose toys inspired the magical world of Winnie the Pooh. Along with his mother Daphne (Margot Robbie), and his nanny Olive, Christopher Robin and his family are swept up in the international success of the books; the enchanting tales bringing hope and comfort to England after the First World War. But with the eyes of the world on Christopher Robin, what will the cost be to the family?

Goodbye Christopher Robin
Release Date: November 23rd, 2017
About The Production
Goodbye Christopher Robin shines a light on the creation of renowned childhood icon Winnie-the-Pooh. The team of director Simon Curtis and producers Damian Jones and the late Steve Christian along with writers Frank Cottrell-Boyce and Simon Vaughn have brought creator A.A. Milne's extraordinary life to the screen, creating a strikingly visual and stunningly colorful world told through the prism of a post war England eagerly awaiting for something, anything to lift their spirits.

When writer A.A. Milne abandoned London for life in the English countryside, his unexpected transformation from essayist and playwright thrust him into the role for which he would be best remembered forever. In the woodlands of East Sussex, Milne began to spin fanciful tales for his only child, Christopher Robin. The fantastical stories starred the little boy and his growing collection of stuffed animals, most notably his teddy bear, known as Winnie-the-Pooh. Collected into two volumes, Winnie-the-Pooh and The House at Pooh Corner, the stories were instant successes when published in 1926 and 1928 respectively and have remained a staple of childhoods around the world for nearly a century.

Goodbye Christopher Robin's journey to the big screen began when writer and executive producer Simon Vaughan approached producers Damian Jones and Steve Christian with an early script tracing the origins of Milne's beloved bear. 'Everyone knows Winnie-the-Pooh," said Steve Christian. 'We've all been brought up with the stories, but very few of us actually know the story behind Pooh. We thought it was something more people should know about."

'Simon Vaughan found the story and his draft revealed this bitter sweet father-son legacy of one of the best loved children's books in the world," says Damian Jones. Though he admits that it had never occurred to him that Christopher Robin was actually Milne's own son, Christopher. 'It was fascinating to learn where Pooh came from," he says. 'Like Steve Christian, I felt a great obligation to reveal it to the wider world."

When the producers asked award winning writer Frank Cottrell-Boyce (Millions, Chitty Chitty Bang Bang series) for suggestions on how to develop the story in more depth, the project began to gather further momentum.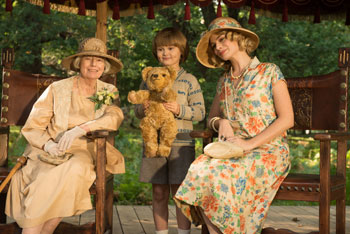 The producers were able to raise the film's public profile considerably when director Simon Curtis agreed to join the team. 'I thought Simon's romanticism and his warmth were very good for this," says Damian Jones. 'He had great comments on the script and a great dialogue with Frank Cottrell-Boyce, so he seemed perfect for the film." Dreams were realised when they were able to cast today's fastest-rising stars Domhnall Gleeson and Margot Robbie in the lead roles of Mr. and Mrs. A.A. Milne.

'I think Milne's a cracking writer," says Frank Cottrell-Boyce. 'And this is a great story about success and its consequences, which is always an interesting subject. A.A. Milne was phenomenally and unexpectedly successful, which became troubling for him and particularly for his son. We rarely tell stories about how success can make life very difficult."

While Milne's writing has been a favorite with children around the world for almost a century, the filmmakers agreed from the start that the movie they wanted to make was an adult drama. 'It is a fascinating depiction of parenting in another era," says Damian Jones. 'But in addition to this magical story about a father and son when they are left alone to create what was intended to be their own private world, we also deal with post-traumatic stress disorder "-shell shock' as it was called then " after World War I. Milne returned from the war quite damaged and his escape to the countryside was the beginning of Pooh."

Director Simon Curtis was captivated by the script when he read it. 'It touched on so many issues that are really close to my heart. It's about being a parent and having children and then having to let them go. It's about England between the wars, which was such a momentous time. It's also about the act of creation, about the writing of one of the most beloved stories ever written."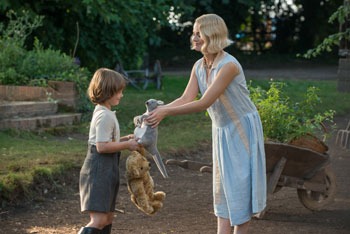 Frank Cottrell-Boyce says that Simon Curtis is a very different director than anyone he had worked with before. 'He is super prepared and walked a big mile to get the right things, the right locations and the right cast. He really honed in on the things that are important. Simon Curtis is someone who could go to a real place and make it look magical, rather than commission a magical looking place."

The director was ready to put his stamp on the project almost immediately and became a champion for the film, according to Christian. 'Simon Curtis understood exactly where he wanted to take it. He instantly had a vision for the film, and beyond that, he had an enthusiasm for it. With Simon Curtis and Frank Cottrell-Boyce together, it became far more than the sum of the parts. And it was just one of those very lucky things. Everybody just happened to be in the right place at the right time, and in the right frame of mind."

Simon Curtis describes the film as the story of how the Milnes became wealthy and famous beyond their dreams through the stories, and the impact that had on their lives. 'But the center of the film is this magical period when father and son are left alone in the country for the first time. They discover each other, they enjoy each other's imaginations and that inspires Milne to create Winnie-the-Pooh. The time he spends with Christopher Robin helps him through the recovery from what we now know as PTSD."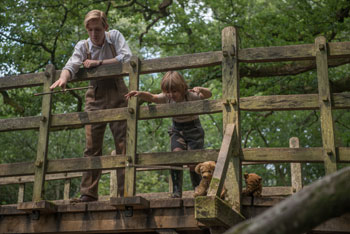 Although it concentrates primarily on the few years that gave birth to Winnie-the-Pooh and the global phenomenon that followed, Goodbye Christopher Robin is able to tell a much larger story about Britain during a difficult era. 'Winnie-the-Pooh and his friends enchanted and charmed the world with their innocence, but they were actually born in a harrowing time for the country and written by a man who had been traumatised by World War I," Simon Curtis explains. 'All of that, plus the fact that Frank Cottrell-Boyce is one of my favorite writers, made this project irresistible for me."

Casting The Milnes

Alan Alexander Milne, known to friends and family as 'Blue" and to the world as the creator of Winnie-the-Pooh, was already a well-known humorist and successful West End playwright when he became world famous for his children's books. Known for breezy, sophisticated comedies in the manner of Noel Coward, Milne never expected that the fanciful tales he concocted for his son would win him literary immortality and place the son he called 'Billy Moon" in the glaring spotlight of celebrity.

Irish actor Domhnall Gleeson, who plays Milne, had just completed filming Star Wars: The Last Jedi and was looking forward to some time off, when his agent insisted he read this script. 'I read it very quickly, which is always a good sign," says Domhnall Gleeson. 'It actually took me a couple of goes to realise how much was going on in the script. Every time I read it, I found myself asking more and more questions. The script kept on getting deeper. That I liked Simon Curtis very much also had a big part to play in my wanting to do this."

Domhnall Gleeson, says the director, had to dig deep to play Milne, a man whose personality is the opposite of his own. 'Domhnall Gleeson is naturally quite gregarious," says Simon Curtis, 'He had to play a very restrained man. But the joy was finding those chinks in the restraint, those moments where he finds the love and the fun."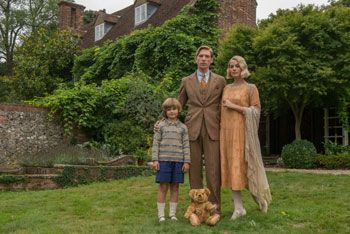 Simon Curtis was also thrilled by Margot Robbie's response to the script. 'I loved working with her and think she's very special," he says. 'In Domhnall Gleeson and Margot Robbie I got the two smartest, most brilliant of a new generation of actors. I had never worked with either of them before and it was a joy. They bring so much to their roles."

Daphne Milne plays no small role in the creation of A.A. Milne as a children's writer. She brings Christopher Robin the stuffed animals that inspire Pooh, Piglet and the rest, and the two play elaborate games with them. When her husband writes his first poem for the boy, it is Daphne who makes sure it is published. 'She becomes the driving force," Margot Robbie says. 'She does it all with the best of intentions, never realising the strain it will put on her family. They never expected the Winnie-the-Pooh stories to become the phenomenon that it did and they definitely didn't expect their son to become one of the most recognizable faces in England."

Determined to do justice to the beloved author, Domhnall Gleeson dived into his research. He began by reading Thwaite's biography, then moved on to Christopher Robin Milne's memoirs. 'When you play somebody who really existed, you're not making a documentary, although you really want to represent the person accurately," he says. 'But it also has to work for the story that you're trying to tell and this isn't just Alan's story."

Domhnall Gleeson found as much inspiration in what A.A. Milne did not reveal about himself as what he does. 'Christopher Milne famously said that his father spent his whole life with his heart buttoned up inside his chest," says the actor. 'In Christopher's book, his father skips over the war terribly quickly. -I was very lucky' is essentially the extent of what he says. He mentions seeing somebody else get killed, but it's a throwaway. He concentrates mostly on his childhood, which was apparently glorious, and then a bit about his work after that."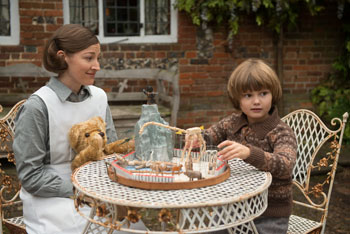 Milne's retreat to the countryside was an attempt to find peace of mind, Domhnall Gleeson believes. 'I think he found real solace in nature. Watching his son grow up in a place that was pure, after seeing the absolute worst parts of humanity in vivid action, brought him some hope. And certainly for our film, it's a very clear antidote that he finds."

The actor appreciated Simon Curtis' collaborative approach to filmmaking. 'He will let you try everything. You feel like you're being given some room to maneuver, but it's all within his framework and it's all pointed in the direction that he needs the film to go. He's really interested in the best that everybody has to offer and that, for a director, is such an important thing."

Milne's wife Daphne was remarkable in many ways, but she had no time for tears or sentimentality. Like other women of her class, she kept her child at arm's length and preferred London's social whirl to a quiet country life.

'Daphne's part could have been written very two dimensionally," observes Damian Jones. 'But Frank Cottrell-Boyce created a full, beautifully rendered character. Her relationships with her son and her husband are complex and nuanced."

For Australian actress Margot Robbie, best known for her roles in Suicide Squad and The Wolf Of Wall Street, playing Daphne Milne is a complete departure. 'We've seen Margot Robbie do what Margot Robbie does brilliantly," said Christian. 'Can you imagine a bigger contrast from Suicide Squad than Milne? But from the first day, she attacked it so brilliantly. What a great contrast to everything else that she's ever done."

According to Frank Cottrell-Boyce, casting Margot Robbie as the brittle, controlling socialite was a stroke of genius. 'On the page, Daphne is a really exciting character, but she's unsympathetic and difficult to like. She's not exactly a villain, but she isn't a lovable person at all. With Margot Robbie in the role, she becomes much more interesting."

Margot Robbie was not deliberately looking for a role so far outside her comfort zone, but says playing Daphne was a refreshing challenge. 'The script had a magical quality about it and it captivated me," she says. 'I wanted to stay in that world a little longer. Simon Curtis and Damian Jones' approach toward the story and the characters was very thoughtful. Daphne is a very complicated woman, especially when you look at her through modern eyes. I didn't want to shy away from any of her faults. We found ways to embrace her character without making her a villain."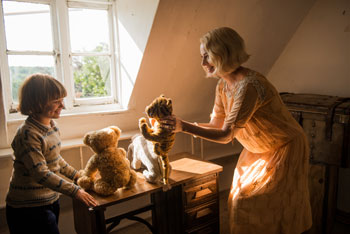 For the part of Christopher Robin, the filmmakers mounted a massive talent hunt, recruiting young hopefuls from theatrical and modeling agencies, drama schools and prep schools. After a lengthy search, they cast newcomer Will Tilston. 'It became clear early on that Will Tilston was not only going to be able to immerse himself in the part, but also that he had the temperament and stamina needed for eight weeks of filming in a completely new environment," says casting director Alex Johnson.

Finding a leading man born in 2009 is the stuff of nightmares for a director, Simon Curtis says. The last time he cast a 9-year-old boy in a lead role, it was Daniel Radcliffe, in the young actor's first job as David Copperfield. 'That gave me some confidence that I'd find another and we did. We were totally blessed in finding Will. He is a real joy to work with. I can honestly say, he is one of the best actors I have ever worked with " and I have worked with Helen Mirren, Kenneth Branagh and Vanessa Redgrave, just to name a few. He always knows the scene and he made it very easy. We all adore him."

Among the rooms full of young contenders, Will Tilston stood out immediately, according to Christian. 'You know the feeling when you walk into a room with movie stars and you get that instant charisma? You don't often get that from a 9-year-old. He's just a very cool little dude." Domhnall Gleeson, the actor who worked most closely with Will Tilston, says that the youngster fit in right away. 'He's generous and he's kind. He's a very young person, but he's got a good take on life and he's nice to people. Will Tilston's an incredible mix of things and I really enjoyed working with him. I treated him same way I would any actor."

Margot Robbie also found Will Tilston's maturity remarkable for a first-timer. 'He's word perfect," she says. 'He asks for another take if he needs another take. It took me a couple of years to get the courage to do that."

For his part, Will Tilston seems surprisingly unaffected by his sudden success. 'Sometimes it was just what I expected, and sometimes not, but it was generally really fun," says the young actor. 'I had to do about eight auditions to get the part. At the first audition, I was only in the room for about one minute and all I had to say was my name and how old I was. I thought, oh, what was the point of that? It seemed over and done with."

But in the end, the part was his and it's an opportunity he's aware he was fortunate to have. 'I've learned quite a few things and I've made a lot of friends," Will Tilston says. 'Simon Curtis really helped me improve in my acting. Everyone was really nice and they've all really helped me."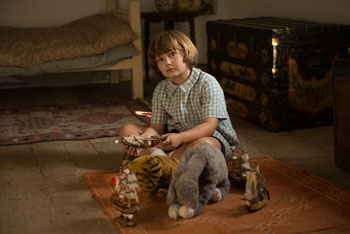 A Beloved Nanny

For the role Christopher Robin's nanny, Olive, known as Nou, Kelly Macdonald was always the filmmakers' first choice. 'Kelly Macdonald has such empathy and humanity and a twinkle in her eye," says Simon Curtis. 'She was someone we wanted right from the get-go, and she certainly delivered."

Olive became Christopher Robin's nanny when he was very young. His parents, like many of their generation, are distant figures who see him for a few minutes at the beginning and end of the day, so she becomes the person that he loves most in the world. 'You've got to have an anchor for Christopher Robin," said Christian. 'Kelly Macdonald's character allows you to continue to like everybody, because you know the child is safe. She first read the script at least two years earlier and had always been really keen to play that role. It's wonderful that somebody so talented was so invested in the material."

Before making the film, Kelly Macdonald admits, the only thing she knew about A.A. Milne was the he had written Winnie-the-Pooh. 'He and Daphne were apparently a very dynamic couple and very witty, like something out of F. Scott Fitzgerald," she notes. 'The Milnes' attitude toward children was actually pretty normal for that time, but when I read Christopher Milne's autobiography, it is quite heartbreaking."

As much as she was able to learn about the family from her reading, there was little information available about Olive. 'She was a religious woman and she obviously really loved this little boy," says the actress. 'But I didn't want to make her too much of a goody two-shoes.

She was doing the job she was hired for, but without Olive, he would have been in a much worse situation."

Kelly Macdonald is grateful to Simon Curtis and the producers for allowing the actors to have an enormous amount of input into the characters they play. Usually, she says, by the time the actors come along, the other people involved in a project have been on board for years and have developed firm ideas about the roles. 'The lovely thing with Simon Curtis is that nothing is set in stone," says the actress. 'It was all just coming to life. We were so blessed to have Will, who is just one of the best actors I've ever worked with. And Domhnall Gleeson's just amazing as this very stiff, unemotional man of his time, but the emotion comes out in all the right places. Every moment in the film has such depth."

Even Christopher Robin couldn't stay young forever, however. In the film's later scenes, Alex Lawther, best known for his role as the young Alan Turing in The Imitation Game, plays him as young man. 'We were very lucky to get Alex Lawther for the part," says Simon Curtis. 'He manages the tricky task of playing those very emotional scenes at the end of the film without having the usual build-up of the whole film to get used to it, and he did it so well."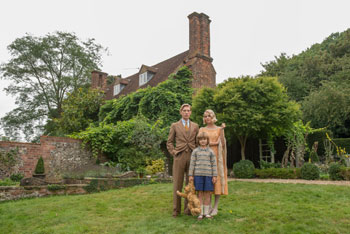 Alex Lawther sees Christopher Robin as the original child star, struggling with both the privilege and the disadvantages that still go along with youthful notoriety. 'Winnie-the-Pooh became so enormously popular," he says. 'The stories are so full of joy, but there is a sense that what at first was enjoyable became quite difficult for both Christopher and Alan."

The actor read Christopher Milne's autobiographies for information on his character, but his portrayal is based more on what he found in Frank Cottle-Boyce's screenplay, he says. 'When you're playing a biopic or a story about living people, you're still playing what's in the script. So for me Christopher's own writings were sort of just interesting reference points and supporting material for the script."

Actor Stephen Campbell Moore, who previously worked with Simon Jones on Lady In The Van and History Boys, plays E.H. Shepard, illustrator of the Pooh books, as well as the original Wind in the Willows. 'Shepard has a very interesting relationship with Milne," says Simon Jones. 'He met him when they worked at Punch before the war. They both suffered from PTSD but Milne is a bit more buttoned up and finds it really hard to cope. Shepard is slightly better able to deal with it, even though he also has moments of trauma."

Stephen Campbell Moore was able to view some of Shepard's initial sketches and original drawings at a recent exhibition at the Victoria and Albert Museum in London. He was charmed by the simplicity of the iconic illustrations and the way in which the artist managed to create personalities for the toys. 'Shepard was able to say quite a lot with very little," according to the actor. 'It was very interesting to get into his style of drawing. I felt like I understood more about him by following the lines. It's quite an unusual way into a character."

Back To The House At Pooh Corner

Goodbye Christopher Robin opens in the soft, clear light of the English countryside, at Cotchford Farm, the bucolic retreat that Milne and Daphne created for his recovery. It moves back in time to the 1916 Battle of the Somme, where Milne encountered the worst of the Great War and on to Roaring '20s London and its Bright Young Things, before returning to Cotchford Farm and the beginnings of Pooh.

Production designer David Roger created the contrasting worlds of sparkling, sophisticated London and the rural East Sussex estate that Milne so loved. The Milne family's country escape is a sun-dappled portrait of a dreamlike England between the wars: beautiful, safe and cozy. That idealized rusticity becomes the setting for all of Pooh and Christopher Robin's adventures.

'What Milne gave to the British people of the time was his own nostalgia," says David Roger. 'He projected his childhood onto Christopher through the lens of his books and poems. It's a lovely, somewhat mythical English life that people were yearning for, but it's always undercut by the absence of the parents."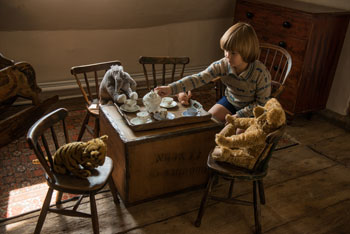 Cotchford Farm still stands, but changes to the original architecture made it too difficult to shoot there. Supervising location manager Camilla Stephenson was able to find a nearby property that has retained most of its original period features. 'It's almost a carbon copy of the real house, but it still has the 1920s kitchen," says David Roger. 'It was just sitting there, waiting for us to do a film about the Milnes. We had to do very little, apart from building the garden."

Daphne's opulent garden was one of the production's most elaborate constructions. 'It starts as a bit of a rundown, messy old place," says David Roger. 'Daphne decided to make it the most beautiful place in England. Over the course of the film, it grows into the most gorgeous garden you could ever imagine, with jasmine, wisteria and roses all in bloom."

Among the many authentic locations seen in the film are the real Pooh Bridge, where Milne and Christopher Robin first devised the game of Pooh Sticks, and Ashdown Forest, the wilderness adjacent to Cotchford House, that inspired the Hundred Acre Wood. 'We did think of creating our own Pooh Bridge," says Camilla Stephenson, 'It was a challenging place to get a crew in and to light it for day and for night, but we did it."

Filming for the woodland scenes took place in both Ashdown Forest and Windsor Great Park. 'The real woods lost a lot of their ancient trees in the big storms we had in the 1980s," says Camilla Stephenson. 'We wanted everything to be as idyllic and magical as it could, so we used Windsor Park to supplement what we shot at Ashdown."

For Simon Curtis, being in the real Ashdown Forest was one of the highlights of the shoot. 'There is a rock there with a plaque dedicated to Milne and Shepard for bringing the beauty of Ashdown Forest to the world," the director says. 'We shot Domhnall Gleeson and Stephen sitting on the actual rock on that very spot they would have sat, which was a very special moment."

Roger was surprised at the number and quality of visual references he was able to find to help recreate some of the film's key set pieces. 'There are lots of photographs and some newsreels," he says. 'The Sussex Council tracked down a little newsreel clip of an actual pageant that celebrated the characters. We found a photograph of these kids dressed up as the toys and there was Christopher Robin standing in the middle of it."


In stark contrast, the Milnes' London house is a cold, austere world where a lonely little boy lives in a sparsely furnished attic room. Using period photographs, Roger recreated the Milnes' Chelsea home at Norney Grange in Surrey, an arts-and-crafts manor built in 1897, and created an exterior set to stand in for the city. 'We had the advantage of visiting the Chelsea house," he explains. 'So we were able to recreate this rather lonely room at the top of the house. There is a photograph of it where you suddenly see Christopher in a little, dark corner, just sitting there."

Fashionably decorated by Daphne, the public spaces are art deco glamorous. 'It's got a little hint of Hollywood there," says David Roger. 'It makes sense that she would be distraught when they suddenly had to go to this smelly old farmhouse."

Other real-life locations seen in the film include the Gothic-style country manse Knebworth House, the Victorian-era jewel-box Savoy Theatre and the London Zoo, where Christopher Robin once actually fed honey to a live black bear in its enclosure. The filmmakers were able to use the original enclosure, which is no longer used " perhaps for good reason.

'All the different bears, white bears, brown bears, black bears, were kept there together," says David Roger. 'It is surrounded by a moat that the animals kept falling into as they were trying to get to the public. It is absolutely terrifying that Christopher Robin literally went into it." Costumes and makeup for the film were treated with unusual attention to detail. 'I don't know that people realize how many hours go into a film like this," says Robbie. 'The costumes are either from the period or replicas of something from the period. Everything has been taken into account."

Costume designer Odile Dicks-Mireaux used period photos and museum pieces to recreate much of the wardrobe. For Daphne Milne, a woman who has been described as not beautiful but always beautifully turned out, she created a lavish closet inspired by surrealist photographer and model Lee Miller. 'Daphne was known for her exquisite taste and for her extraordinary hats," says Odile Dicks-Mireaux. 'She brought a lot of color into Alan and Christopher Robin's lives. Her look is more tailored than flapper girl. I put her in one beaded dress in New York because that seemed the time she might push it to that level."

The designer worked closely with Margot Robbie to find silhouettes that flattered her contemporary beauty and yet remained true to the times and the character. The real Daphne was somewhat theatrical in the way she looked, according to the actress. 'Her passions were clothes, jewelry, gardening and decorating. They were the ways she channeled her creativity."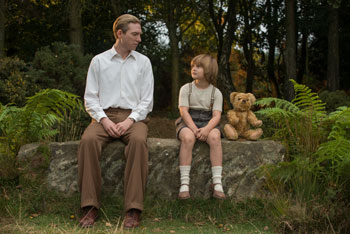 The entire wardrobe for Christopher Robin and his father had to be created from scratch. Going back to Shepard's illustrations as well as family photographs, Odile Dicks-Mireaux discovered that the boy wore the same old-fashioned smocks, shorts and bowl haircut that his fictional counterpart sported. 'We made those and then some jumpers, and his underwear. We knitted his socks. Even his shoes were custom made."

Olive's uniform is also based on photographs of the period, right down to the wimple " a cloth headdress covering the head, neck and sides of the face " that she was required to wear when in the city. 'She worked for a very fancy couple, so she was out and about," says Macdonald. 'She had to look good on their behalf. It's all starched collars and cuffs. The wimple does make her look a bit like a nun."

The Legacy Of Milne

Frank Cottle-Boyce began his research with Ann Thwaite's definitive biography of Milne, A.A. Milne: His Life and two of Christopher Robin Milne's books, The Enchanted Places and The Path Through the Trees. In addition, A.A. Milne, a prolific writer of essays, had left a literary legacy that gave Frank Cottle-Boyce a window into his world. 'Ann's book is magnificent," he says. 'It really allowed me to experience Milne's world. The Enchanted Places deals with this period of their lives specifically and I honed in on the fact that Christopher's nanny, Olive, must have been very important to him as he dedicated his book to her."

It has been 91 years since Winnie-the-Pooh was first published. The book has been translated into dozens of languages, including Latin, and the original toys have been on display at the New York Public Library since 1987.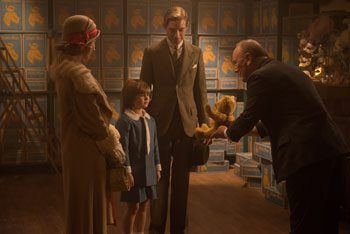 The filmmakers are well aware that Milne's enormous legacy sets a high bar for Goodbye Christopher Robin. The producers hope that it will live up to the expectations of Pooh devotees everywhere and perhaps offer them a surprising and emotional glimpse of the man and the boy behind the beloved books.

'It's not just the kids of today," said Christian, 'but it's everybody who has grown up with those books. They all feel they own a part of Winnie-the-Pooh. When you venture into an artist's true life, you can be absolutely certain that amongst the audience and the critics, there will be people who know more than you do. You've got to be very true to the story and we've done our best to do just that."


Goodbye Christopher Robin
Release Date: November 23rd, 2017