A Wildly Entertaining Black Comedy
Cast: Zuzana Mauréry, Zuzana Konecná, Csongor Kassai
Director: Jan Hrebejk
Rated: M
Running Time: 103 minutes

Synopsis: From Oscar-nominated writer/director Jan Hřebejk (Divided We Fall), The Teacher is a wildly entertaining black comedy inspired by the true story of a Communist-era school teacher who manipulated her pupils and their families for unprecedented personal gain.

The early 1980s, Czechoslovakia. At the start of a new term at a suburban high school, a seemingly empathetic and kind new teacher, the middle-aged Maria Drazděchová greets her class. She asks them to introduce themselves and share what their parents do for a living, explaining that it's important to know how their parents might collectively help the group. Soon after, she gradually begins to pressure both students and parents by seeking favours – grocery collection, handyman assistance, lifts and haircuts – and connecting them with special treatment in class and, most significantly, good grades.

Before long Maria's demands grow more complex and dangerous, so when a serious incident finally draws her unscrupulous behavior to her colleagues, the principal calls a secret meeting, seeking parents to sign a petition to move 'Comrade Drazděchová' on from the school. But her high connections with the Communist Party hang above everyone in the room, and it's soon evident that standing up for what's right may be much easier said than done.

With production design and cinematography that recreates the era to wonderful effect, The Teacher delivers a timeless and universal story of opportunism, bias and human dignity. Laced with wicked humour and standout performances, this rousing morality tale employs a delicate touch to skewer not only the complications of communism, but the human characteristics that ensure it never quite works out as expected.

The Teacher
Release Date: November 23rd, 2017
www.palacefilms.com.au/theteacher
Interview with Zuzana Mauréry
Question: You've found out about the filming of The Teacher before its production. How did your collaboration with Jan Hřebejk actually begin?

Zuzana Mauréry: Ironically enough, I learned that Mr Hřebejk would be making this film completely by accident from an interview in a Czech magazine. I think he was saying that he wanted to cast Mrs. Šafránková, but she was playing a teacher in another film at the time, so he was visiting regional theatres trying to find another actress. Back then I thought that I might have a chance if there were a round of castings, but that Slovakia probably wasn't likely… then six months later the co-producer of the film, Zuzana Mistríková, told me in passing that she might have an audition planned for me, and I gave thanks 'on high" for looking out for me.


Question: The issue of manipulation, which is central to the story, remains current in every period regardless of the political situation. What was it like to play this controversial character?

Zuzana Mauréry: No doubt about that, manipulation is an ugly thing and you see it everywhere. It seems normal at first glance, and we're all slowly getting used to it. The screenplay is excellent and the teacher was written in a way that I could work with; most importantly, I was looking forward to playing what is essentially the villain; I haven't played many of those. What I liked about the screenplay and the character was that it wasn't clear whether this was a comedy or a drama. I really enjoyed that and wanted to try and balance between those two extremes. It wasn't very hard to do, because the screenplay was good and we were enjoying ourselves.


Question: The teacher manipulates parents through her pupils, who are also important characters in the film. What was it like acting alongside so many child 'colleagues"? Are children good acting partners?

Zuzana Mauréry: The children were selected really well, not least because they resemble their film parents. We also had Mr Labuda's grandson, and he was really good. There was one longer scene with the full class that we had to get right in one take. I was slightly worried about that one, because by the second and third take, the children are already a bit bored.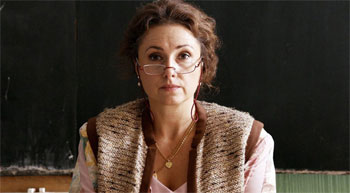 Question: Have you worked with any of your adult colleagues from The Teacher before, either in film or in theatre? Does having such previous experience help?

Zuzana Mauréry: Yes, I knew most of the actors very well. Csongor Kassai and I play in a touring theatre performance together, -Romeo and Juliet Thirty Years Late'r. Of my Czech colleagues, for example, I did two theatre shows with Martin Havelka at the City Theatre in Brno. And there's of course Peter Bebjak, who directed the TV show Odsouzené where I played the main role. We had a great group of people. In fact, we had three directors on set – there was also Martin Šulík who played the janitor, which was delightful.


Question: This is your first collaboration with Jan Hřebejk, one of the most prominent Czech directors. What was unique about working with him? Did he give you any freedom in choosing how to portray the teacher?

Zuzana Mauréry: It was one of the most pleasant collaborations of my career. I feel that Mr Hřebejk is very careful when selecting his actors during casting, which means he can give them more freedom on the set. The screenplay was written so well that there wasn't much to discuss anyway. I felt his confidence in me and it seemed that he was enjoying himself. Working with him was a very pleasant experience and I'm grateful for the opportunity.



About The Film
'All adults and most children have experienced the feeling where something that might benefit you now might also be the wrong thing to do. Or the other way around: that following your conscience or moral code may be difficult or very disadvantageous. That's why this story is understandable to everyone," says director Jan Hřebejk.



The story by Petr Jarchovský recalls the atmosphere, tone, and theme of the authors' earlier movie Musíme si pomáhat / Divided We Fall. 'Just like Divided We Fall wasn't about the Holocaust or Nazism, this film is not about Communism or bullying. Our main theme is fear, opportunism, human dignity, and so forth," adds Hřebejk. The creators have managed to cast excellent actors who are not overly familiar on the silver screen, led by Zuzana Mauréry as the teacher. The casting process for both adult and child roles was very refreshing for Jan Hřebejk, as he had previously worked only with Csongor Kassai. The cast also includes Peter Bebjak, Zuzana Konečná, Martin Havelka, Ondřej Malý, and in one of the leading child roles, Richard Labuda, grandson of the legendary Slovak actor Marián Labuda.

'The fight against a teacher who misuses her position evokes moral dilemmas which are specific to the historical period and universally human. The basis is a true story that survived in our family mythology for its particular intensity. For many years it was brought up, retold, and remembered on various occasions. The events that took place at a clandestine parent meeting inspired me to write this specific variation on the courtroom drama," says the screenwriter Petr Jarchovský. To make the story more timeless and plausible, the creators armed the teacher with greater sophistication, intelligence, and sex appeal than her real-life counterpart. 'What I liked about the screenplay and my character was that it wasn't clear whether this was a comedy or a drama. I tried to keep the teacher Drazděchová between those two extremes, and it wasn't very hard to do, because it was written so well," recalls the leading actress, Zuzana Mauréry. The Teacher was shot in the capital of Slovakia and the creators claim that the energy of the Slovak-Czech crew brought many important and refreshing impulses to their project.

'When the producer and the creators asked me whether I wanted to join The Teacher, I didn't hesitate for a second. The Teacher is the kind of film that sends shivers down your spine. It doesn't matter what period the story takes place in, because it's -unfortunately' timeless. Bowing to one's superiors just to get a small benefit is something we see around us every day. So I hope that seeing The Teacher might make us all a bit braver," adds Kateřina Ondřejková fom Czech TV.


The Teacher
Release Date: November 23rd, 2017
www.palacefilms.com.au/theteacher