Love Harry Potter, Lemony Snicket and Vampirates?
Then you'll love...PENDRAGON!

The NEW YORK TIMES #1 BESTSELLING SERIES!

Bobby Pendragon seems like a normal 14-year-old boy. He has a family, a home and a dog called Marley.

But there is something special about Bobby: he's a Traveler and he's destined to save the world, even if he doesn't know it yet....

Before he can object, Bobby is swept off to an alternate dimension known as Denduron; a territory inhabited by strange beings, ruled by a magical tyrant and plagued by a dangerous revolution. If Bobby ever wants to see his friends and family again he's going to have to accept his role as savior, and accept it wholeheartedly, because Denduron is only the beginning...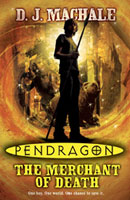 The Merchant of Death - Book One
Bobby Pendragon is going to save the world. And not just Earth as we know it. bobby is swept away from his ordinary home to an alternate dimension called Denuron, a territory inhabited by strange beings, ruled by a magical tyrant, and plagued by dangerous revolution.

If Bobby wants to see his family again, he must accept his role and fight the evil that threatens the destruction of humanity. Because as he is about to discover, Denduron is only the beginning...

ISBN: 9781847384058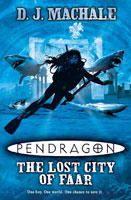 The Lost City of Faar - Book Two
Bobby's Uncle Press is a Traveller. His mission is nothing less than to save the universe from ultimate evil. and he's taking Bobby along for the ride.

The territory of Cloral, a vast world that is entirely covered by water, is nearing a distaster of huge proportions. The desperate citizens of the endangered floating cities are on the brink of war. Can Bobby - suburban basketball star and all-around nice guy - help rid the area of marauders and locate the legendary lost land of Fear, which may hold the key to Cloral's survival?

ISBN: 9781847384065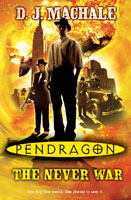 The Never War - Book Three
Bobby Pendragon isn't like other boys his age. Bobby is a Traveller and he's destined to save the world. Bobby is back on Earth - but something isn't quite right. This is First Earth, the year is 1937 and our 21st century hero finds himself out of his depth.

While dodging New York gangsters, Bobby must uncover the evil that threatens this territory, First Earth. But with war brewing is he ready to fight for the salvation not only of First Earth but of everything he has ever known?

ISBN: 9781847384461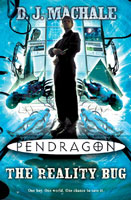 The Reality Bug - Book Four
The adventure continues as Bobby Pendragon hits the territory of Veelox and discovers the ultimate virtual reality. It appears that Veelox has achieved perfect harmony and all seems peaceful. But appearances can be deceptive - Veelox is dying and Bobby must wipe-out the pending disaster of the Reality Bug.

But once Bobby enters Veelox's virtual world - and sees his long lost family - will he be able to resist the lure of ultimate escape?

ISBN: 9781847384478







Books Coming Soon...
Black Water - Book Five
The Rivers of Zadaa - Book Six
The Quillan Games - Book Seven
The Pilgrims of Rayne - Book Eight
Raven Rise - Book Nine
The Soldiers of Halla - Book Ten


Simon & Schuster
Author: D.J. MacHale

Review: This is a highly addictive new fantasy series that will capture the imagination of readers of all ages. Tipping this will be the hottest new series this year.

Check out the website: www.thependragonadventure.com