Rebecca McFadzien Quarries Interview
Cast: Nicole Marie Johnson, Leisha Hailey, Sara Mornell, Carrie Finklea, Nicole DuPort
Director: Nils Taylor
Genre: Drama, Horror, Thriller
Rated: MA
Running Time: 83 minutes

Synopsis: Available on Australian iTunes now, Quarries recently won Best Narrative Feature at the Women's Independent Film Festival, LA Thriller Film Festival & London Independent Film Festival and is receiving rave reviews from horror and independent film critics.

So what makes it so different? The film is financed, written, produced and acted in by women – unusual in a genre where often women play the helpless victim and that's about it!

Quarries is about a vulnerable group of women who embark on a hiking expedition only to find themselves being preyed upon by a vicious group of hunters that lead them on a gruelling physical and emotional pursuit. In a heart pounding battle, the intended victims tap into the virtues that they have been searching for all along, leading to an outcome that no one expected. It aims to demonstrate that anyone can overcome any situation, and emphasises the power of will.

'One of the things I loved most about being a part of Quarries was how empowering and female-driven the whole process was," says actress Rebecca McFadzien, who also is a co-producer on the NZ/Australian release.

From the Producer of Final Destination, Quarries is Executive Produced and financed by Diamond Cutter Films and directed by Nils Taylor, who is also the film's co-writer and producer along with Nicole Marie Johnson. Johnson plays the lead alongside McFadzien, Leisha Hailey (best known for her work on The L Word and Bosch), Sara Mornell from Wicked City and Judging Amy), Carrie Finklea and Nicole DuPort.

Quarries
www.QuarriesTheMovie.com



Question: How would you describe Quarries?
Rebecca McFadzien
: Quarries is a female-driven, action-packed horror film with a twist. It's about a group of diverse women who embark on a hiking expedition, and are preyed upon by savage hunters. As they tap into their personal strength, a physical and emotional cat-and-mouse chase ensues. With death looming, each is left with only what is truly important – the strength within oneself – as they fight to stay alive.
Question:
Can you tell us about the character you play in Quarries?
Rebecca McFadzien
: I play Brit - one of the seven young women who go out into the wilderness together. She's enthusiastic, inquisitive and charming, with a big heart that she wears on her sleeve. She's braver than she looks though when the going gets tough though.
Question:
How are you similar to your character of Brit?
Rebecca McFadzien
: I felt incredibly connected to Brit from the very beginning - long before I was even cast in the role! I had the opportunity to read the full script before I auditioned, and as I read it I found myself giggling and thinking to myself "Oh my gosh, that's totally something I would have done..."
We both have a genuine interest in people - I love hearing people's stories and learning about what makes them get up in the morning, just like Brit does. I'm sure sometimes I annoy people with my enthusiasm and perkiness, and Brit sure does in Quarries! I drew upon my own sincerity and vulnerability to make the character real and relatable to viewers too. I was also lucky enough for the Director of Quarries (Nils Taylor) to work with me on making the role my own, including adding in my Kiwi accent and heritage.

Question: What inspired you to audition for Quarries?

Rebecca McFadzien: I loved the fact that these women were all perfectly imperfect people who sign up to go out into the wilderness to escape their regular lives for a while. Although they find little solace out there in the mountains, they really fight back when disaster strikes, a
nd they fight hard. They're a diverse, messy, beautiful, brave and incredibly fierce group of women, and I wanted to be a part of that.
Question:
What was it like filming a horror with a girls fight back approach?
Rebecca McFadzien
: So empowering! Behind the scenes, I had an absolute blast getting to learn how to do my own stunts with the other girls! Up on the big screen, I was just super thrilled to see the portrayal of strong women and their tenacity highlighted in a feature film. They're brave, they never give up hope and they stand up for one another along the way.
Question:
What was the best bit about being on the set for Quarries?
Rebecca McFadzien
: The best bit for me was learning from all the amazing people who worked on the film. It was the first acting job I had ever had in the States – in fact, it was my first ever audition in Los Angeles and it happened a month after I moved here – so I was brand new and had a lot to learn. The team consisted of a diverse collection of clever creatives, and they were all incredibly generous with their time and energy. I am very grateful to them for that.


Question: You got to keep your accent for the film; how did that feel?

Rebecca McFadzien: It felt super amazing and liberating, once I had remembered how to speak in my real accent again...haha! I had been practicing my American accent for months on end in the lead up to my move to LA, so it felt weird to be on an American film set and still be speaking in my natural tongue. I loved being able to add more of myself to the role than I would have otherwise though, and it was an honour to represent women from our end of the world in the international film industry. I'm super excited that the creative team gave me that opportunity!


Question: What did you find most challenging with filming Quarries?

Rebecca McFadzien: Like I mentioned before, I was quite nervous to be the only one on set with a different accent at first! However, everyone was so nice to me about it (who doesn't love New Zealand and Australia after all?) that I soon felt right at home and more empowered than ever. It was a process of learning to love and accept myself more, and acknowledge that I am good enough just as I am.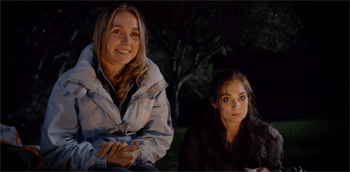 Question:
What's next, for you?
Rebecca McFadzien
: I have some really exciting film and television opportunities looming on the horizon in both New Zealand and Australia, with a few here in the States too!
I am also about to launch my own travel and lifestyle blog, which I am working in collaboration with the empowering women's journal '
Salty at Heart'
to get up and running! I am really just looking forward to continuing to live a life full of beach explorations, surf trips and sunset sing-a-longs, while surrounding myself with people who inspire me to love myself more and give back to the world around us in as many ways as I can.
My wish is to empower women around the world through the work that I do - gently reminding them to stay true to themselves, and to shine brightly in their own unique ways!
Interview by Brooke Hunter