Anna Kendrick Table 19
Cast: Anna Kendrick, Wyatt Russell, Lisa Kudrow
Director: Jeffrey Blitz
Genre: Comedy, Drama
Running Time: 87 minutes

Synopsis: Ex-maid of honor Eloise (Anna Kendrick) - having been relieved of her duties after being unceremoniously dumped by the best man via text - decides to hold her head up high and attend her oldest friend's wedding anyway. She finds herself seated at the 'random' table in the back of the ballroom with a disparate group of strangers, most of whom should have known to just send regrets (but not before sending something nice off the registry). As everyone's secrets are revealed, Eloise learns a thing or two from the denizens of Table 19. Friendships - and even a little romance - can happen under the most unlikely circumstances.

Table 19
Release Date: April 19th, 2017
About The Production
'I had never thought about table placement before this movie. Now I feel like I'm always going to figure out where I stand with the bride and groom based on that!"- Actress Anna Kendrick (Eloise McGarry)

Until a few weeks before Eloise McGarry's best friend's wedding, she was the bride's maid of honor, but a nasty text breakup with boyfriend Teddy, the bride's brother and best man, has turned her into to an unwanted guest. Since she helped plan the seating chart, Eloise knows exactly what it means when she is assigned to Table 19.

Table 19 at the Millner-Grotsky affair is filled with the people who had to be invited, but who no one actually expected to attend. From the bride's former nanny and some random business associates of her father's to the ex-best friend and a distant, disreputable relative, each person is there for a different reason and each is hoping for a transformative outcome.

'It's a story about six people who arrive at a wedding that they probably should not have come to in the first place," says writer and director Jeffrey Blitz, whose debut film, Spellbound, was nominated for an Oscar® for Best Documentary Feature. 'They are seated at the worst table and somehow end up having their own meaningful adventure that intersects with the wedding, without really having anything to do with it directly."

Table 19, which essentially takes place in a single day, centers on Eloise, played by Anna Kendrick, who is there to confront the man who broke her heart. Like Eloise, everyone else at Table 19 has an ulterior motive for being there. 'I really like the idea that everyone is hiding something at the outset," producer Dan Cohen says. 'All of them are people dealing with their own personal crises against the backdrop of a wedding. It's only later that they open up."

Banished from Table 1, Eloise arrives with a sizeable chip on her shoulder. 'I think it's fair to say she's a hot mess," says producer Shawn Levy. 'And that's always a good basis for comedy. Anna Kendrick is so exactly what Eloise needs to be " caustic, guarded and sometimes sharp-elbowed, but beautifully vulnerable. You really root for her."

Eloise has come to the wedding to prove she is over Teddy. There's just one problem " she's not. 'She's still in love with him," says producer P. Jennifer Dana. 'When she got the invitation she went back and forth. -Am I going to go?' -Am I not going to go?' -I was the Maid of Honor.' -I'm no longer the Maid of Honor.' When she does show up, it's much to the wedding party's – and her ex's - dismay."

In Blitz's experience, many people have had the same kind of humbling experience at a wedding. 'I've had my own Table 19-like situations, sitting with all the oddballs," he says. 'For me, being at that table means that those people end up being the most important part of your day, while the bride and groom are hanging out with the more impressive people at Tables 1, 2 and 3."

According to producer P. Jennifer Dana, who says wedding comedies are often the best date-night movies, Table 19 is a story she hadn't seen before. 'I laughed out loud reading it. It has an original twist and there's an emotional underpinning with every character that's incredibly relatable. Often at a wedding, you don't know your tablemates and it starts off shy and awkward. You're wondering who you're sitting next to and, perhaps more importantly, why."

Levy, who has been developing the project since its inception, calls the concept both relatable and ripe for comedy. 'It's very funny, but I think Jeff has made it very touching as well," he says. 'It's easy for a movie like this to fall back on stereotypes, but every single person at that table is singular in the ways in which they're flawed and also worthy of redemption."

Jeffrey Blitz spent two years working on the screenplay before production began, building the narrative from outline to completed screenplay. 'The story evolved and changed, characters came and went, but I was consistently blown away by his ability to create moments that are sad and hilarious at the same time," says Dan Cohen.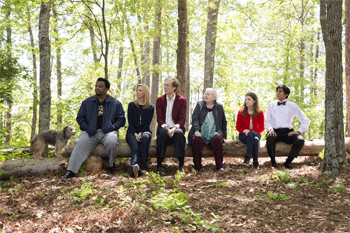 Stuck trying to drum up conversation with a table full of strangers, the characters make snap judgments about each other based on their first impressions and their own insecurities. 'In the movie, people consistently say the wrong thing, in funny or provocative ways," according to Jeffrey Blitz. 'Part of the fun is discovering that the assumptions we make about the characters are totally off base. As the day goes on, the people at the table share more of their honest selves. As they each start to open up, they discover that the things they were hiding from each other don't actually need to be hidden. They are all revealed to be something quite different " and much more complicated " than they initially appear."

Casting The Wedding Party

Writer/director Jeffrey Blitz assembled an eclectic and supremely talented group of performers to portray the outliers seated at the far end of the wedding reception. 'With an ensemble movie like this, it all comes down to the chemistry of the cast," Jeffrey Blitz says. 'If you get that right, you're 90 percent there."

To play Eloise, the film's emotional center, Blitz turned to an old friend, colleague and an actress he truly adores, Anna Kendrick.

Jeffrey Blitz tailored the role for Anna Kendrick, whom he met about 10 years ago while making the feature film Rocket Science. 'I wrote this character in a voice I knew she would do well," he explains. 'Anna Kendrick has the ability to be bracingly smart and strong, but also really exposed. When she is an open wound, she's really an open wound, and when she is being tough, she's really friggin' tough. Still, I was surprised by what she brought to the role. It is so much more than I ever expected. Her way of working feels like a magic trick. She just emerges as a whole, complete human being, instantly."

The actress is also an expert at blending highbrow and lowbrow humor, Jeffrey Blitz says. 'Part of the fun of the misfits table is that it doesn't need to play by the rules set up at Table 1. We needed someone who could be foulmouthed, but do it in a way that doesn't feel crass for the sake of being crass."

Through the course of one very difficult day, Eloise travels the full emotional spectrum and Anna Kendrick deftly navigates that difficult path, says Dan Cohen. 'Anna Kendrick is hilarious when she needs to be, and dramatic when the moment and character require it as Eloise has nothing left to lose"

Anna Kendrick received the script for Table 19 after years of hinting broadly that she wanted to work with Jeffrey Blitz again. 'Suddenly Jeffrey Blitz sent me this script out of nowhere," she remembers. 'He just had this up his sleeve. He's a good friend and, even outside of making the movie, one of my favorite people. He's so smart and quick and funny. On set, he had great new ideas every day." Jilted and alone, Eloise is trying to figure out what to do, not just for the wedding day, but with the rest of her life, says Anna Kendrick. 'She's trying to get over a bitter breakup that was made all the worse because it was a text message that ended the relationship," the actress says.

'Everyone thought it was understood that she shouldn't come. But she shows up anyway, intending to be on her best behavior, and finds herself at the worst table at the reception." One of the highlights of this film for Anna Kendrick was working with a wide-ranging and talented cast, from 18-year-old Tony Revolori to veteran actress June Squibb. 'June Squibb is still kicking ass in her 80s," she says. 'It was really fun and genuinely awkward sometimes, because the actors and their characters come from such different backgrounds, but even the most uncomfortable moments are funny and entertaining. Who doesn't want to watch a movie where Craig Robinson gives sex advice to an underage boy?"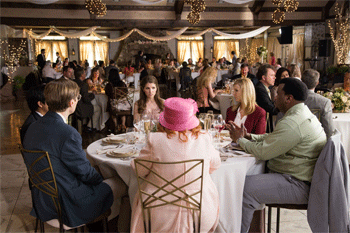 Craig Robinson and Lisa Kudrow play squabbling diner owners Jerry and Bina Kepp, who have been married for 20 years, but appear unlikely to make it to 21. At first glance, it seems that Bina has insisted on attending the wedding to network, because the groom's father is king of the diner world of Central Ohio. 'But you start to wonder exactly what her interest really is in this man," says Jeffrey Blitz. 'Jerry has accompanied his wife to this wedding with the idea of figuring out what has brought her there."

Stuck in a marriage that has been on the rocks almost since it began, Jerry and Bina's relationship has been reduced to a series of passive-aggressive, often cruelly funny barbs. Robinson says he loved the dynamic between the battling pair. 'They pretty much hate each other," he says. 'That angst grabbed me. The things they used to think were sweet about each other have turned into what they despise. They don't know how to get back on track, and they're not even really trying anymore."

After directing Robinson on the long-running television series 'The Office," Jeffrey Blitz thought the role would give the actor an opportunity to reveal a completely different side of himself. 'He's so enormously talented," the director says. 'This role lets him show his emotional range."

Robinson was flattered to be included in the project. 'I was honored that Jeff wanted me to be a part of this. Beneath all the comedy, there's a story about people coming together and reigniting a fire that was lost. It's very different than what we did on -The Office,' and it's really cool getting to know a different part of his writing and directing style," he says.

Robinson and Kudrow developed a prickly rapport that makes their snarky exchanges even funnier. 'Craig and Lisa are hilarious together," Dana says. 'Their chemistry on screen is terrific. Their chemistry off screen was too. We should have constantly filmed them, just never turned the camera off."

Lisa Kudrow's neurotic edginess complements Robinson's laconic mellowness to create the perfect mismatched couple, according to Jeffrey Blitz. 'Craig and Lisa have very different tempos in the way they talk. Their style of comedy is not the same. There are all these things that don't mesh, but they come together to create something really fresh and different." However, adds Jeffrey Blitz: 'Being at this wedding forces them to assess whether or not they want their own marriage to go on."

'You get to see Craig Robinson and Lisa Kudrow as a married couple. I think that alone is worth the price of admission," Says Robinson

For Lisa Kudrow, the idea of playing one half of a couple that seems incompatible in every way was only part of the attraction. 'I thought it was such a funny idea," she says. 'Then I heard Craig Robinson would play my husband…that was it."

The character of Bina Kepp is pretty annoying, admits the actress. 'She and Jerry snipe constantly. They don't seem to like each other anymore and they don't know how to get out of that trap. Each of the characters has a bit of sadness to them, but to me, that's every human being. They're all trying to look for something to make it better."

The actress made a quick and close connection with her director. 'Jeffrey Blitz is so funny and smart that I want to have lunch with him all the time," she says. 'I like just talking to him, too. I always enjoy working with a director who also wrote the film, because you can talk to them directly about what works and what doesn't."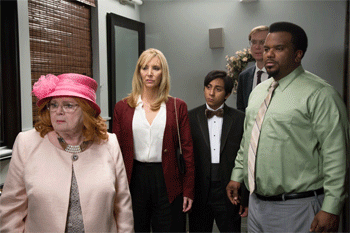 Jo Flanagan, played by Oscar-nominee June Squibb, was Francie and Teddy's first nanny, giving up much of her own personal life to care for them when their parents were otherwise preoccupied. Ecstatic about being included in the celebration, she believes that her devotion to the family is finally being returned. She clings to that belief despite considerable evidence to the contrary.

Like everyone else at the table, Jo is hiding a secret. 'No one is exactly what they seem," says Levy. 'Jo is not innocent or simple or perfect. She's got her struggles and her flaws as well, but she gets a shot at redemption."

Squibb's career has already spanned an extraordinary seven decades, beginning on stage in the 1950s. She didn't begin working on camera until 1990 and received her first Oscar nomination in 2013 for her role in Alexander Payne's Nebraska. The actress outdid everyone on the set with her positivity and energy, says Dana. 'June is one of my all-time favorite actresses. For her to be working the way we were working at her age, with her enthusiasm, kept everyone on their toes."

Jeffrey Blitz cast June Squibb knowing that there was little chance of her playing Nanny Jo as a sweet little old lady. 'June Squibb is a real human being," he says. 'She's bawdy and not afraid to talk about anything. Stephen Merchant could say something outrageous and June Squibb would top it. She was happy to share what it's really like to be that age and to talk about sex in ways that make it more than just a joke. She's just a profoundly great actor."

Squibb had been planning to take some time off when she was sent the script for Table 19. 'But I read this and I had to do it," she says. 'It's always the script that tells me whether I'm going to do something or not. My character, Jo, tried to give Francie and Teddy a very special childhood. She is sure it's the reason they invited her, but being at Table 19 is torturous, because it makes her realize that she was an afterthought."

The role was an opportunity for June Squibb to work with a group of actors whose work she admires. 'I love the dynamic we developed," she says. 'Everybody's characters are dealing with who they are, and they all have some strange things going on. They all find things about themselves that they didn't know before. There are a lot of very serious moments, but mostly it's very, very funny."

The sole family member seated at Table 19, Walter (Stephen Merchant) is a distant cousin on the bride's side. Recently released from prison, he is living in a halfway house, a fact he hopes to conceal from the other guests. He believes the family is ready to embrace him once more, but that is not the case. 'He's an outsider among outsiders, an outcast to the outcasts," says Levy. 'But in the end, he is key to the bonds that form at Table 19."

The prodigious comic gifts of Merchant, who plays Walter, have been showcased in a number of hit television series including 'The Office," 'Extras" and 'Hello Ladies." 'Stephen is among the funniest people I've ever met and he made this role his own," says the writer-director. 'He was so full of ideas about alternate lines and comedic bombs to throw into the group. Walter is not the brightest guy in the world, so when he tries to invent a new story about himself on the spot, it goes horribly and hilariously wrong yet he can arrive at places of emotional truth in the character and absolutely make it stick."

'At a wedding, you're obliged to put on this façade of civility. As the day wears on, people get a little drunker and truths can slip out. In this movie, everyone's presenting an edited version of themselves at first and then reality starts to crack through."

Finally, there is Renzo Eckberg, a teenage boy whose late father was a friend of the groom's father. He's at that awkward age where girls are everything, but he has no clue how to talk to them. Well-intentioned, sex-starved and unintentionally celibate, he has come to the wedding hoping to get some action.

To play Renzo, the filmmakers selected 18-year-old Tony Revolori, who first captured audiences' hearts as the young bellboy trainee Zero Moustafa in Wes Anderson's The Grand Budapest Hotel. 'It was important to find an actor who was the right age, not a 30-year-old playing a kid," says Jeffrey Blitz. 'Tony is much more secure than Renzo is, but it was really nice to have someone who isn't so far out of that world. Tony has an incredibly expressive face. With a simple look, he tells you so much about the pain and the awkwardness he is going through."

Renzo arrives solo for the wedding, dispatched by his mother in the hope he will meet a girl. 'Weddings sometimes inspire people to do strange things and she figures maybe he'll get lucky," Jeffrey Blitz notes. 'He arrives at the wedding hopeful that his -charms' will work on the girls there in ways that they haven't on the girls in his high school."

According to Revolori, Renzo's sole intention for the weekend is to lose his virginity. 'And he has the help of his lovely companions at Table 19, as well as his mom, who keeps texting and calling," says the actor. 'His relationship with his mom is hilarious. He understands that she's weird, but she's the only person he has, so he ends up taking all the advice she gives, even though it's completely wrong. You really grow to love him and hope that he finds the love of his life, or at least the lust of his life."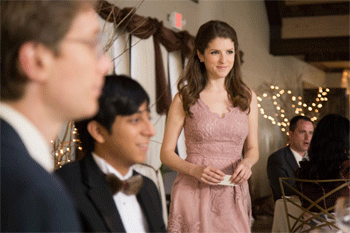 The film has something that everyone can enjoy, he promises. 'It has many different layers to it. It's sweet and sour and hilarious. We have a great script, heartfelt moments and June Squibb, possibly dancing on a table. Craig Robinson, possibly doing the Batman theme song. And Lisa Kudrow, possibly reprising her role on -Friends.' Go to the movie, find out."

The 'in crowd" at Table 1 is represented in the film by bride Francie (Rya Meyers) and groom Doug (Chris Whitley), Eloise's replacement maid of honor Nikki (Amanda Crew) and, most notably, best man and Eloise's erstwhile beau, Teddy, played by Wyatt Russell. The actor, who has appeared in a number of well-known films including Everybody Wants Some!! and 22 Jump Street, describes his character as 'a sort of mumbling, bumbling guy who doesn't know how to say the right thing at the right moment." He adds, 'This is not a run-of-the-mill romantic comedy. Here the poignancy of the situation shines just as much as the comedy does."

Credit for that accomplishment goes to the cast and the film's writer-director, says Russell. 'They are all really gifted actors. It's fun to be able to learn from people like them. When you have somebody like Jeff at the helm, it just makes you very comfortable."

Cohen agrees that the ensemble elevated an already great script. 'You're going to see a truly eclectic cast of talented and gifted actors from all different points on the spectrum navigating this relatable, misfit world that Jeffrey Blitz has created," he says.

The Destination Wedding: Putting It All Together

In recent years, Georgia has become one of America's most popular destinations for film and television production, providing diverse locations, first-class facilities and a large pool of experienced technical staff. While filming Table 19 in the greater Atlanta area, Jeffrey Blitz brought in some of the area's top design talent to create the pastoral chic he wanted for the wedding reception. They included production designer Timothy David O'Brien and costume designer Peggy Stamper, who both say they were attracted to the film's offbeat humor and unusual subject matter.

'There have been lots of wedding films, but I don't know of any like this one," says David O'Brien, whose previous credits include Zombieland and Let's Be Cops. 'They're usually about the bride and groom, but in Table 19, we don't really even get to know the wedding party. That seemed to me to be the fun thing about it, quite different from your typical wedding movie."

The Millner-Grotsky wedding takes place at an elegant island resort on a lake in Michigan. To stand in for that setting, the filmmakers seamlessly integrated three different locations to form an idyllic indoor and outdoor venue. Lake Lanier, a popular recreation spot in the foothills of the Georgia Blue Ridge Mountains, stands in for the some of the wedding venue's exteriors. 'We also shot some exteriors and interiors at a Ritz-Carlton about an hour and a half outside the city," says David O'Brien.

David O'Brien and Jeffrey Blitz envisioned a romantic getaway spot for a destination wedding. 'The reception consumes about 85 percent of the film, so we put most of our effort into that," says the designer. 'When Jeff and I went over the script together, he told me to go in a rustic direction, but still make the settings feel chic and sophisticated. He wanted to make sure we embraced the woodsy feel of the outdoor setting by connecting to the rustic charm of the spaces. We used a lot of natural earth tones and elements of nature in the decor. We created twig walls as a backdrop throughout the space and the golden sheers and drapes that we used brought in a lot of warmth."

The designer approached the project as if it were a real wedding reception, pulling inspiration from current and vintage bridal magazines, and adapting the ideas he found there to bring a unique and personal feeling to the proceedings. 'Everything we found was adapted to fit that particular space."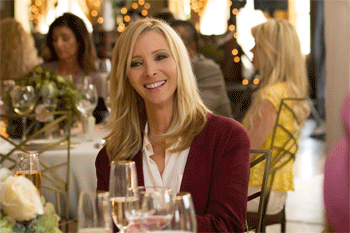 David O'Brien also worked closely with cinematographer Ben Richardson to bathe the reception hall in warm natural light. 'The room was almost completely surrounded by French doors, which made it difficult to control the light," he says. 'We used a multitude of drapes and curtains to create a consistent look throughout that was in keeping with Ben's needs."

The scenes at the wedding reception were shot over a four-week period, which presented the filmmakers with a major hitch. 'We weren't able to rent the space for the entire time," explains David O'Brien. 'It was already rented out on the weekends for real weddings. We would dress the set on Sunday, and undress it on Friday, then redress the next Sunday. Everything had to be simple enough for us to duplicate exactly in a short period of time. We had to figure out ways to streamline a lot of things."

Costume designer Peggy Stamper collaborated closely with O'Brien to ensure a cohesive look between the costumes and the wedding-hall decor. 'We carefully navigated our options together," he notes. 'We needed to make sure it all worked in harmony. We kept in constant communication as we were developing our designs."

Blitz knew exactly what he wanted from their first meeting, says Stamper, a veteran of the Atlanta production scene who has worked on films as diverse as indie favorite The Spectacular Now to the Jim Carrey hit comedy ACe Ventura: When Nature Calls. 'When we got samples in front of him, he made very rapid choices. We didn't waste time trying to invent everything because he came in with such strong ideas.

'Jeff is a very funny and down to earth collaborator who wants all of your input," adds the costume designer. 'He stays very open-minded. He would always say to me, -I have two thoughts' and then go in two completely opposite directions. Together we figured out which one was best."

Color and texture were major considerations during the design period, she says. 'Jeffrey Blitz is very color oriented. He wanted to create blocks of people in similar colors throughout the film. We dressed probably close to 75 to 100 extras on any given day and Jeffrey Blitz wanted them grouped by color. The only color he didn't want on screen was blue, because he feels it tends to draws the eye away from everything else."

Character always comes first for Stamper. She likes to create a 'closet" for each person in the film that reflects their present state of mind. 'I look for clues in the script that tell me what they would wear," she explains. 'For example, I knew I wanted Eloise to be in pink. You really can't make Anna Kendrick look bad, but pink plays up her skin tone and hair color. We tried five or six dresses in that palette. The one she ended up wearing was hands-down my favorite. It's ultra feminine. The character is a bit of a tomboy in real life, so we decided to put her in something she's a little uncomfortable in. The dress is not at all what Eloise would normally wear, so she feels like a fish out of water, because she is trying to impress Teddy."

The most unusual request Jeffrey Blitz made was for a custom tie for Renzo to wear at the wedding. 'We had to design a fur tie," Stamper remembers. 'We made a lot of different ones from small pieces of fur that we trimmed down until we got it exactly right."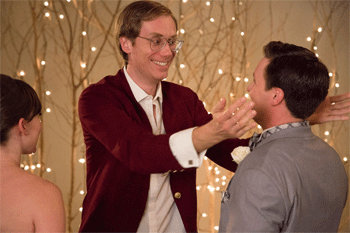 Weddings are expensive in real life and on a movie set. Stamper and her team kept costs down by pulling many garments from Fox's extensive wardrobe collection. 'We even found two identical Vera Wang wedding gowns for the bride!" she says.

For Jeffrey Blitz, seeing the screenplay he spent years painstakingly developing transferred from page to screen has been an incredible experience. 'It's completely thrilling when a screenplay you've worked on for such a long time starts to become a real movie," he says. 'Once the cast added their own layers to it, it became whole other thing. These actors brought humor that I didn't even imagine when I was writing it."

'In the end, you're going to get some interesting insights into what it's like to be on the fringe. It's a warm film about bonding and what giving people a chance can do for you. I hope everyone gets to laugh a lot and maybe cry a little," says Dan Cohen.


Table 19
Release Date: April 19th, 2017