Rooney Mara Una
Cast: Rooney Mara, Ben Mendelsohn, Riz Ahmed
Director: Benedict Andrews
Genre: Drama
Rated: M
Running Time: 94 minutes

Synopsis: Una follows a young woman's journey to reclaim her past. Fifteen years earlier, Una ran away with an older man, Ray, a crime for which he was arrested and imprisoned. When she comes across a photo of him in a trade magazine, Una tracks him down and turns up at his workplace. Her abrupt arrival threatens to destroy Ray's new life and derail her stability. Unspoken secrets and buried memories surface as Una and Ray sift through the wreckage of the past. Their confrontation raises unanswered questions and unresolved longings. It will shake them both to the core. Una gazes into the heart of a devastating form of love and asks if redemption is possible.

Una
Release Date: June 22nd, 2017
About The Production
UNA's Journey

UNA debuts on screen with a rich history. As an adaptation of a powerful one-act play by David Harrower, Blackbird was first performed in the UK as part of the Edinburgh International Festival in 2005, to great acclaim. The play swiftly transferred to London's West End, where it won the Olivier Award for Best Play in 2007.

In the ten years following its stunning debut, Blackbird has been revived across the globe, the compelling story of Ray and Una resonating in numerous languages. To date, well over forty productions of Harrower's play have been staged, spanning Stockholm, Cape Town, Mumbai, Prague, Tokyo, Sydney, as well as a recent Broadway revival, starring Jeff Daniels and Michelle Williams. It was the original, much-buzzed about Scottish production which piqued the interest of established stage, film and television producers Jean Doumanian and Patrick Daly back in 2005. Once having acquired the film rights, the producers set about bringing an adaptation of the acclaimed play to the big screen. Playwright Harrower was brought on board to write the screenplay and remained consistently involved in the process over the years - 'David Harrower is the through-line in UNA. His dedication to the project has been incredible," says Patrick Daly.

Finding a fearless director to take on the sensitive subject matter at the heart of the story of Una and Ray brought Jean Doumainian and Patrick Daly together with Benedict Andrews. The Australian director and writer had been building a tremendous reputation in international theatre over the last two decades, following his tenure as Resident Director at Sydney Theatre Company in the early 2000s.

Jean Doumanian explains, 'When we first discussed the project, it was clear that Benedict Andrews had an intimate knowledge of these characters and a passion and insight for the material, which was immediately exciting for us."

With a striking visual style and a reputation for seeking out truth in performance, Andrews was a solid choice for UNA, despite this being his feature film debut. Patrick Daly explains: 'That Benedict Andrews uses film extensively onstage and has such an impressive knowledge of the language of film meant we were fully confident in his skills as a director transitioning from theatre into film."

'Benedict Andrews is one of the greatest contemporary theatre directors," claims Ben Mendelsohn, who has worked with Benedict Andrews in both theatre and on film, "He is someone truly and disarmingly different; his approach is a real re-arrangement of the way you see things. He has a real gift in that."

Significantly, Benedict Andrews had directed the first German-language production of Harrower's Blackbird just three months after its original Edinburgh run, at the Schaubühne Theatre, Berlin in November 2005.

As the play was performed in repertoire, Benedict Andrews was able to watch it evolve over an extended period of time. As he explains 'I got to know the play very deeply through that experience, over several months and years whilst the play was in rep - to watch the performances develop and the actors sit with the play."

He continues, 'There is something about the sustained engagement of the play Blackbird which attracted me to the material all those years ago: it's incredibly charged from the first moment and it never lets up, it's a kind of taut, nightmarish piece of prolonged writing. There's no rest in that - there's no break from it."

By his own admission, Benedict Andrews had been looking for the right film project for some time. He had always believed that Blackbird could make an extraordinary film and had even enquired about the rights on several occasions. He says, 'The experience of directing that play was still inside me; I was still fascinated by those two people. I was also really interested in how there is something explicitly; deeply cinematic about the idea of memory that's a theme so inherent to the story of Blackbird." Andrews was thrilled to hear that an adaptation of Blackbird for the big screen was being planned by producers Jean Doumanian and Patrick Daly and conversations began in earnest when Benedict Andrews expressed his strong interest. Andrews was very clear from the outset in his intention for taking the play and presenting it as a wholly cinematic re-telling, 'I was not interested in making filmed theatre, especially as a theatre practitioner myself. I want to go to the cinema and have an experience of -pure' cinema." Benedict Andrews's obvious dedication to the project and his approach to the material assured Jean Doumanian and Patrick Daly that he was the right director to tackle Blackbird on the big screen - brave, bold and with a determined vision for the film.

Screenplay - from Blackbird to UNA

David Harrower travelled to Reykjavik, where Benedict Andrews is based, and the two spent time working through David Harrower's existing screenplay for Blackbird, which he had been in the process of adapting in the years prior. 'That began a process with the script that really evolved all the way through the filmmaking and right through the edit," says Benedict Andrews of the experience.

David Harrower recalls, 'We worked through the script scene by scene, sifting, adding, discarding - trying to find a true line through the present and past stories. It's the closest I've ever worked with a director and it was an enthralling process, involving respect and most importantly, trust."

Benedict Andrews agrees, 'It was a dynamic relationship with David Harrower, a joyful relationship and an especially creative one for both of us. For me, it was really informed by having my own roadmap through the play and having studied it beat by beat, line by line when I directed it at the Schaubühne. The groundwork was really strong. To be faithful to the play meant to me getting up very close to the characters and maintaining that sense of tension, the unease and the emotional vulnerability that the play has and to find ways to do that on film."

The pair burrowed into the motives and emotions of the characters and into the complicated knots of the relationship, unpacking it bit by bit in order to examine it fully. Benedict Andrews continues, 'We gave ourselves the permission and freedom for the script to keep growing and changing, so it was never seen as something wholly fixed - we were both obsessed with getting the mechanics really right, but then to keep challenging it."

Editor Nick Fenton, whose impressive editing credits include the works of filmmakers Clio Bernard, Richard Ayoade and Anton Corbijn, came on board the project at the early stages at the request of Andrews, and was witness to this collaboration in action. 'UNA's authenticity is down to David and Benedict Andrews's relentless effort to empathise with and experience characters in a very confused and complicated emotional set of circumstances. Embracing the complexity of these emotions is something they never gave up on."

'So much of the power of the play comes from being stuck in this room with these two people" points out Rooney Mara, who plays the central character of Una. "The intimacy of that, the claustrophobia…..

I think the task of adapting the play for film and bringing the essence of what happens when you are watching the play - to the film- was more intimidating to me than the role was."

'I wanted to try to retain the claustrophobic intensity of the original - but knew also I had to `broaden' the story out." explains David Harrower. 'I knew that would be a tricky balance. There is an argument for never leaving that room - and some films of course are only set in one room - but I felt that to show more of a `world beyond' the confines of the room would benefit the characters of Una and Ray." Benedict Andrews and David Harrower worked avidly on the process of refining but continuing to let the screenplay shift. Their intention was to keep a cinema audience on a knife-edge of tension but to also raise questions about the motivation and actions of the characters, via their language and movement in the midst of confrontation.

Benedict Andrews explains: 'That danger of watching two people tear strips off each other and lay each other bare for an hour and a half in the theatre, we carried through to the film. In order to get to the places where it really hurts, in order to get into the raw wound of the relationship of Ray and Una, that happens through language and physicality, but also through cinema's ability to show time and memory."

The idea of memory and the parallel universe that co-exists in the screenplay in the form of flashbacks, was written specifically for the film by David Harrower. Benedict Andrews was interested in showing the origins of Ray and Una's forbidden relationship, where the past becomes an almost dream-like space, taking you right to the heart of the connection between the characters- the when, the why, the how.

David Harrower says of Una's relationship with the past: 'It's something she both clings to and tries to reject. She's aware of how much it formed her, whilst at the same time, hating the person she has become. The past is one of the main reasons she makes the journey to Ray - the (perhaps) mistaken belief that if she can somehow understand or confront him - and ergo the past - she can become whole again."

Opening up the story to allow the past to feature prominently, but finding a way to present the past in a way that would suit the unique tone of the film was critical for Benedict Andrews. He says, 'One of the great qualities of cinema is its ability to investigate time and to investigate the emotional experience of time.

This story is based on a pivotal event that happened between these two people fifteen years ago and I was really interested to see how a very linear encounter between them in the present and a very compact, compressed moment of confrontation might then have a non-linear past coming through it, in terms of their memories." Editor Nick Fenton adds, 'The history of Una and Ray's relationship needed to be as present as the moment we meet them is," and so these -memory spaces' as the filmmakers saw them, allowed their forbidden past to be exposed and dissected.

'The cinema is showing images that would normally flash through your skull in the theatre", says Andrews. 'I think it makes it even more uncomfortable, more morally and emotionally complicated for an audience to see this relationship develop. It makes it more challenging and in a way, it makes it more touching too. It involves you in a very deep way but it certainly doesn't make it easier. I think it hurts more. The film continually messes with the audience's expectations. They must work like detectives to decipher what's real, what's true, whom to believe. It twists you and turns you, flips your sympathies, troubles your moral understanding of victim and perpetrator. The whole thing is balanced on a knife-edge."

During the period of post-production, Blackbird became UNA. Benedict Andrews, David Harrower and editor Nick Fenton recall how the film began to separate from the play in an organic way, becoming its own, independent piece of work – at which point it became clear that it should go by another name entirely. As Benedict Andrews explains, 'The title, this name UNA, is a portrait of this individual as a girl and as a woman. But beyond that, Una is the name that has haunted Ray for over fifteen years and it's a name that's stayed deeply lodged inside him. Naming is very important in the film. Ray got to change his- he's now called Peter- but Una has lived with hers. And also there's a little wordplay in there, as it's from the Latin word for -one'. The core question for Una, throughout the course of her journey in the film is… Was I the only one?"

He continues, 'It was important for me that UNA stand alone as a piece of cinema; so to be faithful to the play Blackbird meant taking its DNA and then growing something new from that. I have only been able to do that through having the most incredible love, respect and fascination for David Harrower's play and of this very specific relationship that he created between Ray and Una…. I believe that DNA is present in every frame of the film we have made."

Performance - finding Ray and Una

Benedict Andrews has undoubtedly developed a reputation for bringing visceral performance to the fore and perhaps most notably, for portraying women in a state of crisis in his theatre work- Gillian Anderson as Streetcar's Blanche Dubois, Cate Blanchett and Isabelle Huppert as the sisters in Genet's The Maids, Judy Davis as Arkadina in The Seagull amongst them. So it's perhaps no surprise that a film such as UNA would demand the boldest of performances from the actress playing Una, someone who would feel both challenged and exposed whilst tackling the themes at the heart of Una's deeply personal story.

It's hard to imagine a more seemingly fragile but utterly fearless actress than Rooney Mara in the role. Rooney Mara is no stranger to difficult material and intense, troubled characters, and it's perhaps serendipitous that she was familiar with Blackbird, having seen a production in the US back in 2007 with Jeff Daniels and Allison Pill. She admits that she had frequently re-visited the text in the years after.

Says Rooney Mara of her experience of first seeing the play staged, 'It really rocked me. I felt so many emotions during and after the play and it has always stayed with me. I had such conflicting feelings- a part of me really understood the love between Ray and Una and I was rooting for them to be together. And another part of me felt that it was deeply wrong. I think it's that conflict that makes the story so incredible. I like anything that opens up a dialogue and conversation about something that is normally taboo or not talked about in a certain way."

With Benedict Andrews attached as director, Rooney Mara quickly came on board and stayed connected to the project via regular discussions with Benedict whilst the financing and further casting for UNA came together.

'I was thrilled to discover that Rooney Mara knew the play and loved it" says Benedict of his early conversations with Rooney Mara. "And naturally I was also attracted to her combination of absolute determination, strength and her beguiling beauty on screen. She has the ability to show wounded people, but not victims. And I think that was really important for the character of Una. I was after someone who would have a very singular, distinct quality - a one of kind, because I think Una is a one of a kind."

Undaunted by the prospect of playing Una, Rooney Mara explains, 'The role was one I felt really connected to. And because it was something I had been thinking about in the back of my head for years, I felt like I already knew it pretty well - but I was excited to dig even deeper into it. I was excited by the challenge of the role."

Ray was arguably the most complex of the protagonists to cast and Ben Mendelsohn came to the project after Mara was attached, via fellow Australian Andrews, who had directed him in a Sydney Theatre Company production of Julius Caesar some ten years earlier. Though their past experience working together obviously informed his choice, Benedict Andrews' admiration for the award-winning actor is clear to see: 'He is quite simply one of my favourite actors and absolutely one of the most gifted of his generation. Our initial discussions for the role of Ray were focused on men who were a bit older than Ben Mendelsohn, but when it became clear to David Harrower and I how much the past was going to play a role in the film and how the audience would need to see Ray in the past, it meant that we needed to find an actor who could show both those ages - and I immediately thought of Ben Mendelsohn."

As producer Patrick Daly explains, 'We knew this role would be a stretch for any actor, but we were all such huge fans of Ben Mendelsohn's work and we really believed he could play Ray." Ben Mendelsohn read the script and contacted Benedict Andrews within 24 hours to accept the role. Adds Rooney Mara, 'Benedict Andrews emailed me about Ben Mendelsohn, for the role of Ray and from then on, it all just clicked into place."

Ben Mendelsohn was unfamiliar with the source material, so his first reading of David Harrower's screenplay was a significant moment. 'I thought it was really thrilling, really difficult material. It's a very complicated piece but also a real achievement. David Harrower has given the characters plenty of room to maneuver, whilst making the structural bones of it and the subject matter very tight. And his reveal in the third act - it's terrifying! I think it's pretty fucking extraordinary."

It was vital that Ray be portrayed in the most truthful way in order to be believable in the eyes of a discerning audience. Benedict Andrews explains, 'Ben Mendelsohn just has a capacity for hunting down truth and for putting raw truth on screen. He has an unpredictable energy, he's a great bare-knuckled fighter and a survivor and they're all things I was very interested in seeing in Ray. To find an actor who has all of that talent but who is also brave enough to take on a role that shows someone who many people might write off as a monster. That is extraordinarily brave."

Benedict Andrews and Ben Mendelsohn felt an absolute responsibility for presenting a criminal relationship between a man and an underage girl in a frank way, but at the same time giving the audience the opportunity to consider it from multiple angles. The encounter presented to us is unstable and constantly shifting, which is unsettling for a viewer and demands a deeper understanding of the abuser - victim relationship presented in UNA. Ray's life is turned upside down when Una arrives unannounced at his work place. His secure new life is thrown into jeopardy. He must fight to protect everything he holds dear. Seeing Una again after fifteen years, forces him to face the truth and the consequences of what happened between them.

Ben was interested in the complexities at the heart of his character, Ray- essentially, that he may be telling the truth and that Una is indeed the great love of his life - or that he is a predatory paedophile.

"So Benedict Andrews and I spent a lot of time trying to make that line as difficult for an audience to see and discern as possible."

Though not having worked together before, Rooney Mara and Ben Mendelsohn developed an immediate connection on UNA. Benedict Andrews did not rehearse his cast in the conventional sense of a theatrical production- there were no weeks of blocking in advance and the 'rehearsal" period was in effect discussions between the actors and Andrews, over readings of the screenplay. Says Benedict Andrews, 'It was very important to keep the powder charged between the actors, particularly Mara Rooney and Ben Mendelsohn. I did not want to waste their emotional energy without cameras present. I wanted to make sure that the actors were at their most intimate in front of the cameras."

'I knew the second I met Ben Mendelsohn that I loved him" says Rooney Mana. 'He instantly made me feel safe and comfortable. Instantly made me laugh. He is such a gentleman. We just had an immediate bond and camaraderie working together. We were really in it together. And we knew how demanding it was going to be- and we were both terrified of fucking it up. So we really looked out for each other. It was an intense experience and there was definitely an unspoken understanding between the two of us."

Cast, Crew and Process

Rooney Mana, Ben Mendelsohn and their director formed an incredibly strong bond whilst shooting UNA and the three worked as a close unit, providing support to one another during the production process, which the expert film crew was then able to adapt to and work around during the course of the production period. Thimios Bakatakis, UNA's cinematographer and the Director of Photography behind such acclaimed features as The Lobster and Dogtooth, explains the process: 'We let the actors find their natural positions in the scene and we then designed around it– working out how we could tell the story in the moment. I had worked in a similar way on another project and it was one of the reasons Benedict Andrews felt I was right for this film- to understand the need to let Rooney and Ben in particular improvise the scenes and to give them freedom in the frame."

Benedict Andrews' handpicked team on UNA are a combination of acquaintances from his theatre days, together with some of today's most talented experts in their field, which Benedict Andrews targeted especially for this project through his own understanding of the particular skills he required. As a unique chamber drama, with an intense and complex structure, Benedict Andrews was mindful of the need for his crew to all play their part in creating an environment whereby the actors would have the confidence to deliver emotionally true performances.

Benedict Andrews was able to command intense focus from the crew, sometimes in incredibly confined spaces, and recalls a unique bond between his performers, his DOP Bakatakis and the camera operators, which led to a more honest and deeply felt atmosphere on set, free from distraction. Says Andrews of the experience, 'I wouldn't say it was a sacred atmosphere, there was always room for play within it, but it was a very, very concentrated atmosphere and one that I think is exceptional to this film, because it mirrors the extremely private, highly charged nature of Ray and Una's relationship and their meetings."

Jed Kurzel, who has known Andrews for many years as a friend and colleague and composed the score for UNA, suggests, 'I think film is a really collaborative thing which only really reveals itself when all those departments are working at the highest levels with a director who is kind of pushing them. Benno embraced that really quickly." Adds Fenton, the film's editor 'It was an ensemble effort but with a definite lead collaborator. I think that is what good directors do, they are very good at giving people a voice which they conduct- like having the best singers in a choir and having someone bringing the very best out in them."

The actors also felt able to challenge the script on occasion, as their interpretation of the characters took shape. 'We had two actors in the two principal roles, who are very smart, very instinctual actors" explains Benedict Andrews of Ben Mendelsohn and Rooney Mara. 'And just by listening to their gut reactions, David and I shifted some stuff around. While scenes were still being set up, I would sometimes sit with the two of them and read through the areas of text they wanted to play with, letting them improvise around the text, so that the performances would be really cinematically true."

'I felt very safe doing this material with Benedict Andrews", says Rooney Mana of the experience, 'Because I knew how familiar he was with it and how important it was to him to get it right, and to do justice to the play, but not DO the play." She continues, 'Because so much of getting this material right rides on the performances and the chemistry between Ray and Una, I knew Benedict Andrews was going to be able to hold that space for us. His theatre background made it incredibly helpful for us as actors in this situation."

'It was intense and immersive in the best way" agrees producer Patrick Daly, 'Benedict Andrews is so great with actors and the focus of the three of them was just amazing to watch."

Newcomer Ruby Stokes is a revelation in the role of Young Una. An integral role and far more than just a physical likeness to Rooney Mara or a -prop' for the scenes into Ray and Una's past, Ruby channeled an extraordinary maturity playing the complex role. Says Benedict Andrews of Ruby Stoke's casting, 'We needed a young actress who could draw us into the thoughts of a girl undergoing a very emotionally conflicting experience. We were really lucky to find Ruby Stokes." Adds Nick Fenton, 'I think that was something that was an unexpected find in this whole process- Ruby Stokes was really playing it, not as an experienced actress, but as a really mature match to Ben Mendelsohn and Rooney Mana". Benedict Andrews agrees. 'The film needed to have performances of incredible integrity in the two adult roles but also in the Young Una role- and we got it."

UNA opens up the tense two-hander structure so distinct to the play, to include several new characters, who orbit the central couple of Ray and Una. Una's mother, Ray's wife, work colleagues and anonymous sexual partners all help to provide a deeper understanding of how past events have impacted on how Ray and Una both function in the present. Says David Harrower, 'I made this decision from the very first draft. The presence of other characters I thought deepened the isolation and predicament of the protagonists."

The supporting cast of UNA includes British film, television and theatre actress Tara Fitzgerald (television's 'Game of Thrones"), as Una's damaged mother. Natasha Little (television's 'The Night Manager", 'Wolf Hall") plays Ray's wife Yvonne, Tobias Menzies (Black Sea, television's 'Outlander", 'Game of Thrones") is Ray's boss Mark, and young international star Riz Ahmed (Star Wars: Rogue One, Nightcrawler, HBO's 'The Night Of") plays the pivotal role of Ray's colleague, Scott.

Says Harrower of this character: 'He was very interesting to write. Someone who is close to Ray, but who then becomes involved with Una. Unwittingly, mostly. Scott is a difficult character to play because I guess, as for us, the ground is always shifting." Scott must ask himself of Ray and Una, 'Are they lovers? Relatives? What exactly is going on between them?" Scott provides a counterpoint to Ray and Una's exclusive relationship - Andrews describes him as a 'circuit breaker"- looking in from the outside and though loyal to Ray, unable to resist the lure of the mysterious Una. Ultimately, Scott threatens to uncover the truth buried within Ray's new life.

Co-Collaborators: Shoot, Edit and Composition

They say the camera never lies, and esteemed DOP Thimios Bakatakis is a master in his field. Andrews loved Bakatakis' previous work, for which he has received many international accolades, and Thimios' unique eye and ability to draw out the performances from behind the frame were the perfect fit for UNA. He was also able to work within Andrews' controlled, contained environment adapting to changes in direction and the movement of the actors – tending to shoot long shots and in turn giving Fenton and Andrews the opportunity to play with these captures in the edit suite.

Shooting Cinemascope allowed for play within the frame. "I felt strongly and Benedict agreed, that you should always feel something a little bit strange on the edge of the frame," says Bakatakis. Using the distinctive anamorphic lens of Cinemascope allowed for this complexity but actually arose from something very simple - "To put two people in one frame is nicer if that frame is bigger, less square" the DOP explains. "You have the close up, but also the background within the same composition. We could have Rooney right at the front of the frame for example, and Ben behind, but most importantly, we could create more complicated, more risky situations within this frame."

By use of the cut-off, there's a keen sense of claustrophobia created within the composition, which in turn mirrors the intense emotions of the characters, as they track each other down across the frames. Explains Andrews, "There were no handheld cameras used in the film. We weren't after a rough, documentary approach, with the camera always in the performers' faces. There's a more heightened sense of reality to UNA, something tense and dreamlike, and so we opted for a more formal approach."

Andrews' intention was to create a stark, austere beauty for UNA. A formal shooting style added elegance and a specific film language evolved that feels truly cinematic, but with a little theatre inherently present. The camera immerses us very deeply in the conflict between Ray and Una and takes us uncomfortably close to their past.

Bakatakis is known to work with natural light and with the environment to create an atmosphere that's naturally dramatic and poetic, and it's this style that lent itself perfectly to the scenes of reflection and memory present in UNA. In stark contrast to the locked lunchroom and the linear present day, is a past that we explore visually, through a veiled, dreamy recollection - which could be Ray's or Una's memory. 'We had to be pulled into Ray and the young Una's story in a way that would involve us and make us want to keep watching," says Bakatakis.

Adds Andrews, "But we also wanted to find a kind of formal distance through a forensic quality at times, so we mixed a sense of that in. Often we would shoot Ray and particularly the scenes in the past with a kind of 1970's long lens voyeurism, as if we were watching an animal in its habitat, shooting the scenes like a nature documentary, with a lot of slow zooms and push-ins." This mix of respectful distance juxtaposed with an extreme closeness captured what Andrews knew would need to be very emotionally raw performances. He adds, "It was in this way that the camera was able to find so many different faces of Rooney as Una, and Ben as Ray the camera scrutinises them and their story in explicit detail. It keeps probing, peeling away the layers."

Capturing and crafting the charged performances of Andrews' actors within the narrative was fundamental to the work of editor Nick Fenton and he welcomed the director into the edit room from the earliest stages. 'I was very much trying to work with the minutiae of those performances and to be true to that material that Ben and Rooney had forged. It was about working with the surprises within their complex performances as much as working with the script and Benedict adapted to that very naturally. It was a really organic, intuitive thing."

At the first meeting of Ray and Una, the audience has by this point seen a little of Una's life- her hard partying, her claustrophobic existence living in her childhood home, whilst all we have seen of Ray is a photograph. Says Benedict, 'At a certain point in the edit, we realised just how powerful it was to kind of draw the arrow back on the bow of Una's arrival and only see Ray when she arrives at the factory. We see him before she sees him ... but only just. It really helped build that tension of her arrival and what meaning there was behind this first meeting."

Rooney continues: 'To see him just living his life like a normal person. She can't understand how he can just go on so normally. How he can smile like that in the photograph, when life has been so difficult for her. So she has all of these mixed emotions inside of her. Rage, sadness, anxiety. It's an itch she needs to scratch…" resulting in a first meeting that is electrifying in its significance for both. Andrews was able to draw upon his past experience in the theatre and as a writer for the editing of UNA - "I'm very familiar with the idea of something growing from being cut into," he says. 'But on this project, it was the first time I'd really experienced that process on such a deep level. I loved the intimacy of the edit and Nick was incredibly generous by wanting every frame to pass through us both. We watched every take again together and we sifted through the material with the script serving as the framework. It had been a very tight, well engineered framework, but it was a framework from which to now find something new in the cut."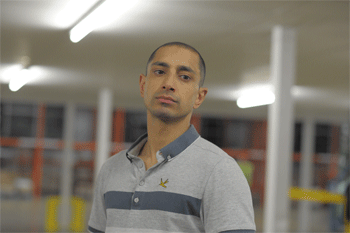 Adds Fenton, "In editing, the journey is always different, as you search for the truth and authenticity that is unique to a particular story and the material." Relating this approach to UNA, Fenton was very respectful of the duty at the heart of this storytelling. 'The issues touched on in UNA are everywhere and more prevalent than we dare believe, so it felt right that the victim's story should be articulated with all its complexities."

It was in the edit that the scenes of memory and the past could fully be realised within the structure of the film. Andrews felt very strongly that the sense of memory should not be served by conventional flashbacks that would simply fill in the detail for the audience. He strove for a deeper meaning in these pivotal scenes - 'They would become the central meaning of the story, memory is inherently attached to what happened to Ray and Una, trapping them both to such an extent that Una is desperately seeking an escape from her past. Una and Ray need to dig into the past in order to truly face the consequences of what happened between them. Nick and I experimented with how memory could intrude on the present, and that was a very creative process for me, right through to the end of the edit. We were feeling our way through the film together."

Andrews has credited Hiroshima Mon Amour by Alain Resnais as a significant influence on his approach to UNA, particularly in terms of the ways in which memories trigger other memories, and as an investigation of how memory is a form of emotional experience and emotional repair. Says Andrews, "I began to think of what happened between Ray and Una as a kind of tear, an open wound.

The relationship was torn and it has never closed for Una. It tore a hole in reality for her and it left deep scars and bruising for Ray, too". The intricate layers of reality and memory and the spaces in which the past and the present meet, open up a further question about the reliability of memory too, as well as the roles of Ray and Una within this narrative: whose perspective are we seeing and how far has emotional trauma played a part in how those memories are recalled?

Andrews agrees, 'If at any point it solves its own mysteries or if it ever brings down an easy judgement, then in a way the film is kind of over. It has to keep you guessing about the characters' experience and truths, all the way through."

This is a subject further explored by composer Jed Kurzel in his approach to UNA's score, as both the director and the composer felt that it was essential to balance out the different elements at play in the story through the music. Kurzel says, "The first thing that I think struck us both as we were going through the music in the edit was that it had to have another function, that wasn't about simply following characters. It had to be something that was a little more abstract and about playing with tone and adding an element that wasn't already there." Though not guiding an audience through the narrative, Kurzel describes it as "softening the edges", allowing the audience to do most of the work. The music neither overtly judges the characters nor tells the audience what to think.

Kurzel and Andrews were at university together and had collaborated several times over the years- so an inherent understanding of what Kurzel would bring to UNA was the starting point for scoring the film for Andrews. As well as his reticence about ensuring that the music would not function as an obvious guide for the viewer, Benedict liked Kurzel's desire to give the score a tangible 'ache", to reflect the pain and longing at the heart of Ray and Una's relationship. Says Andrews, 'The tension is what the music brings very deeply to the film-it sort of glues the film together as a kind of dream and it fully involves us. It's very special music, it doesn't sound like anything I've ever heard before."

Jed Kurzel had worked with LCO (the London Contemporary Orchestra) extensively on the scores for the likes of SLOW WEST and MACBETH and initially, the score for UNA looked likely to have a much fuller orchestration. However, very quickly, Kurzel moved towards a sparse, deeply personal approach, devoid of obvious or dense scoring, in order to reflect the particularly fragile relationship on screen.

Kurzel used the basis of a guitar solo as a foundation for what was to become UNA's unique sound, but layered heavily with electronic processing, so that it's far removed from a traditional strings sound.

Says Andrews, 'I really love that the film is so intimate and involves us tenderly in that intimacy through Jed's score. And there's something about the idea of Jed playing the guitar, that I think goes very deeply into that."

'For me, a lot of it was about memory, trying to capture the idea of fractured memory, in sound and music," says Kurzel of his experience in scoring UNA. 'And that became a more and more delicate process as we went along. The music has a sort of dreamy shimmer to it, fractured at times, like it could break at any moment and constantly changing in tone. Like dreams or memories, it can sometimes feel like you are walking through some sort of fog, heavy and dense, before it becomes light and shimmering. But equally, it feels like it could dissolve into nothing at any point."

As Benedict concludes, 'With Thimios' eye behind the camera, Nick's very open approach to finding the story truthfully in the cut and Jed's approach to music, it all plays into the very singular quality of the relationship of Ray and Una- it's a study of what is real, what is illusion and what is truth."

Design

Towards the beginning of the film, following a charged montage of a young woman partying hard, having sex in a toilet cubicle and returning to a quiet residential street at dawn, we are met with a familiar, domestic morning routine- the same young woman gets ready for work in an upstairs bathroom, her mother passing in and out. Neither are fully communicating, distracted by their own thoughts. There is a sense that the past is very much present in this suburban scenario- in the tired décor as well as in the body language of the characters.

Esteemed Production Designer for film and television Fiona Crombie, was tasked with creating the two worlds- the past and the present- which co-exist in UNA. Though Harrower's original play was set in a single, claustrophobic office staffroom, the film takes the audience to several key moments in Una's childhood, opening out the exterior locations as well as giving the viewer an insight into the protagonists' private spaces.

Fiona came to UNA very familiar with the work of director Benedict Andrews, having collaborated with him on several Sydney Theatre Company stage productions back in the early 2000's (their first production was Three Sisters, on which Fiona was the Costume Designer).

Fiona takes up the story of her involvement in the project: 'It was a beautiful thing for Benedict to ask me to work with him again on UNA, after almost six years apart. What I really love, having known him for such a long time, is that he is his own entity as a director. He sees the world in an interesting way; he's incredibly visually literate, which is always very exciting for me to work with."

With regards to Una's family home, where our story begins, Fiona continues: 'Benno and I had the idea that the house would be almost like a time capsule. What the audience discovers in the first scene is that this twenty-something young woman still lives at home with her mother and as the flashback scenes occur, we realise that it's the same house that she lived in all those years ago." It's only through the flashbacks that the audience starts to appreciate an environment that in the present day is devoid of any real progression - starkly highlighting the feeling of claustrophobia Una feels as a woman.

Agrees Benedict, 'It's very deliberate that Una lives on a cul-de-sac, so that an audience can imagine the closeness Una had with Ray in the past. And of course we see that fifteen years later, she's still stuck in that cul-de-sac when we meet her. Her life is a kind of cul-de-sac. We give the suggestion that alongside this stifled life, stuck in the past, Una peruses anonymous sex as a way to kind of feel alive. So we know a little bit about her when she meets Ray, we know a bit about where she's coming from and we know in a way what she trying to break free from when we see where and how she's living." The production team turned to a leafy housing development near Camberley, Surrey for their suburban exteriors and interiors. Says Fiona, 'I found this particular location really emotive- I liked the repetitive nature of the architecture of this community".

By contrast, the climax of UNA takes place at the large home that Ray now shares with Yvonne, his wife: modern and aspirational, signifying that Ray has literally rebuilt his life- and that life is good, '…so when the bottom falls out of his world, we feel that very strongly", Fiona points out. She continues, 'Ray's home in the modern day scenes- as well as the warehouse where he works- are totally devoid of pattern. The contemporary spaces are much blanker than the -memory' spaces and this naturally occurred during the process of designing the film."

Adds Andrews, 'It was important to us that each of these places - in the past or the present - would be concrete and precise in terms of their realism, yet evocative, with the unsettling quality of a dream about them."

Other locations across the six-week shoot included a Hackney tower block and by contrast, the vast, windswept Kent coastline, including the dramatic seascapes of Dungeness. Greatstone stood in for an isolated seaside town that temporarily harbors Ray and young Una and where their illicit relationship begins to unravel. Says Crombie, 'We needed the 'end of the road" for Una, which we found in Greatstone.

Hopefully, there's something very poetic about this landscape." Adds Andrews, 'I guess this was the most important location for us - the deepest point of the memories. Fiona and I looked at many conventional boarding houses in English seaside towns - we wanted to find somewhere really special, as it's a place that's lodged in Una's memory and a place that's kind of outside of time and has become a kind of obsessive, recurring dream for her. The isolation of the place really chimed with me- it became a metaphor at the heart of the film, a place where even the waves seem to have stopped."

Working warehouse units in both St. Albans and Northampton stood in for the cavernous interiors of Ray's workplace- Ethgon. It's here that Ray and Una meet for the first time in fifteen years. Ray hides in this environment- making a life for himself in a dull depot on the edge of town- and where we see the day to day anxieties and decision-making that's part of the course for -Peter', the name Ray is now known by.

Finding Ethgon was a challenge for the production team. The first issue was to find an operation large enough to portray Ray as a man of responsibility, running the floor and with people working under him. It also needed to be clinical and clean- this is a medical distribution centre, after all. As Fiona explains, 'We ultimately needed to leave London to find our Ethgon and in fact used two locations, stitched together to create the size and scale we required."

These locations were a large, storage unit in St Albans (where the interior was designed, built and dressed specifically for the film) and Dalepak- a fully working distribution facility in Northampton. Says Benedict, 'There was a very clear metaphor for the factory; it's a box of many boxes and a kind of labyrinth that Ray (as Peter) has hidden in and it's a habitat that Una is breaking into."

He continues, 'There's a deeper journey that plays out between Una and Ray at Ethgon, which is to go back and stalk the past, to find out what really happened in the deepest moments of their past. So we wanted to find in the factory a space that would also be vast, a maze of corridors and box-like rooms that Ray and Una would meet in and that we would see them move through. The disparity between these anonymous, functional rooms and the deeply intimate quality of their exchanges and confessions, provides a really interesting contrast."

The factory in particular, though large in scale, creates an uncomfortable sense of claustrophobia for the audience as the exchanges between Una and Ray become more and more charged and the context of their meeting becomes alarmingly clear. Says Benedict, "I've always felt very deeply in the play that you're looking into a sort of ante-room in purgatory where two people are trying to work through the thing that happened to them. Particularly for Una, there's a sense that she's taking a journey from the kind of Hell that her life is stuck in, moving through this purgatory in order to try and find some sort of redemption. Whereas the play is an entrapment, the film is a journey, following a woman in search of answers and trying to find redemption, if repair is possible."

Costume and Make-Up

Bringing the central roles of Ray and Una to life called for a close collaboration between Hair & Makeup designer Jan Sewell and Costume Designer, Steven Noble. Fortunately, both have worked on numerous projects together over the years (most recently on the award-winning THE THEORY OF EVERYTHING and Lone Scherfig's THE RIOT CLUB) and have developed a clear shorthand, which informed the creative process on UNA considerably.

It was the first time that Steven and Jan had worked with Benedict Andrews- but his fearless reputation was a selling point for both. Steven recalls his first meeting with the director in London to discuss the project: 'I was working abroad at the time and flew back to meet Benedict one afternoon at his hotel. I only just had time to run to my studio and pull some books together to take with me. We had virtually identical references, which was fantastic. We hit it off immediately."

These initial references included a lot of visuals and photographic material from the 1990s- where much of the back-story of UNA is set. Primarily, Noble had drawn on the work of iconic 90s fashion photographer Corinne Day (perhaps most recognisable for her portraits of a teenage Kate Moss for The Face magazine), as well as Martin Parr, who is celebrated for his intimate, photographic work documenting modern (and often mundane) everyday life. These stylistic and sometimes startling references from two iconic storytellers of the period would inevitably root the film, through Steven's own styling, with a strong sense of place and time.

For Jan, the passage of time, from modern day to the flashback scenes set in 1997, was of immediate relevance to her work: Jan would be working with two actresses in the role of Una but would need to age Ben Mendelsohn as Ray, to portray how the years had also altered him.

'From a first reading of the script, I knew that we would be looking for a clear connection between Ruby Stokes as young Una and Rooney Mara, as the woman that she has become." Jan continues, 'Rooney had confided in Benedict how important the choice of hairstyle is for her when finding a character, and as Ruby had such beautifully distinctive, long flowing hair, it worked for us all as a way to build the character of Una and to link her to her past. We were instantly able to convey that this is a woman who has stood still in time- the same girl, now a young woman, who has never moved on from what happened to her fifteen years earlier."

Rooney Mara's physicality also informed the character of Una, which both Jan and Steven were able to utilise in their choice of styling. Says Jan: 'Rooney is tiny and I think that vulnerability and childlike fragility transfers really well. She is able to mirror her younger self. I therefore kept her make-up very pale, very simple and the hair extensions we added to her natural length against her small frame and her beautiful cheekbones intentionally swamp her slightly."

Steven adds: 'The heavy winter coat we chose, which Una wears when she first arrives at Ray's workplace, is her armour- it gives her the confidence to get through the door. When she takes off the coat and we see more of her physicality, she is immediately more vulnerable and feminine." Adds Ben Mendelson, 'Rooney is kind of removed when you are an audience member, you want to know her more, you want to be closer to her….She has that beautiful quality of someone that you want to get closer to but you know you can't and that's incredibly powerful…."

Mendelsohn portrays the character of Ray at around 40 years old in the flashback sequences and at early 50s in the present day scenes. Ben's look was created by Jan as well as leading make-up artist Nicole Stafford- who had previously worked with Ben on STARRED UP.

Together, Jan and Nicole worked to distinguish two looks for the character of Ray that would not only highlight the passage of time, but perhaps most importantly, illustrate how this person has lived with the consequences of a life-changing event.

Says Benedict Andrews, 'Ben has one of the greatest faces in cinema - you see when you watch him that he has lived a full life and I really liked the idea of Ray being introduced to the audience as someone who already carries a sense of history rather than him hiding behind a perfect, clean façade. Ben is able to deeply involve us in the complexities of Ray's character. He keeps us guessing about whether he is lying or telling the absolute truth."

At the heart of the making of UNA was a collective desire to challenge an audience and provoke discussion around the themes of the narrative. It becomes clear from speaking to the filmmakers involved in bringing UNA to the screen that this is a story that must be told and demands to be heard.

The treatment of the theme of abuse verses love becomes most powerful in the film's refusal to condone or condemn the relationship between Ray and Una and in its search for a deeper understanding of what lies at the heart of this relationship.

Andrews and his team felt a tremendous responsibility to explore and expose truth through every aspect of UNA and via multiple angles. That an audience's understanding is constantly thrown into doubt and the reality shifts, demands a more considered response to what is a recognizably criminal relationship. Truths are established and then collapse, the past pulls at the characters, even as they attempt to build new lives. Una and Ray's relationship is a knot which they - and the audience -attempt to untangle over the course of the film.

UNA stares unflinchingly into its taboo subject as it unpacks the consequences of an illegal relationship between a man and a minor. It investigates how fifteen years later both their lives remain marked by those events. Andrews adds, 'There is no excuse for what happened between Ray and Una when she was thirteen. It was an absolutely unacceptable, criminal relationship. The film in no way condones Ray's actions; at every beat it reminds us of the lasting damage. I want the film to continue in the audiences' imaginations and conversations after they leave the cinema. I want the audience to debate the film's key questions about responsibility and abuse, about the borderline between love and abuse.

These are Una's questions too - she's trying to understand what happened to her and to answer difficult questions. The abuse of children is a burning issue in society. The topic was kept hidden and largely unspoken for too long. UNA helps to activate and broaden that important conversation." UNA is a complex study of memory, time and damaged love. It may be uncomfortable and it's certainly uncompromising, but the depth of the performances and the emotional pull of the filmmaking -which echoes the secrecy, the pain and the thrill of the confrontation and the memories this meeting reignites - leaves an audience sifting through the wreckage of what they have witnessed.

Says Jean Doumanian, producer of UNA, 'We certainly all had the same opinions on what this film is about- that UNA is a story of damaged love. The play sparked debate - and our film will, too. It doesn't make it easy for the viewer, but good drama should do more than simply entertain and UNA is not afraid to challenge an audience."

"What happened in the past still can't be healed," says Benedict Andrews. 'The end of the film offers, with a girl alone in a room, turning to us and looking directly at us, a clear challenge: UNA asks us not to forget this girl. The audience is left to imagine and debate what happens next. We know that a bomb is about to go off in Ray's life - we know that things won't ever be the same for him again. We also sense that a very small shift has occurred for Una. She won't go back to being that woman we saw at the beginning of the film. How that will happen, how that repair or change will transpire, we don't know, except that by going through the events of that day, she's no longer the same woman who was holding so tightly onto the past. UNA is about a woman in search of her past. We follow her into the labyrinth of memory and desire. Her encounter with Ray forces both of them to face the unanswered questions of their shared past. The audience is left to imagine how Una might finally begin to heal."


Director's Statement
My goal in making UNA was to look unflinchingly into the heart of a damaged relationship and examine the scar tissue.

I wanted to get uncomfortably close to the characters; to investigate the knot of desire, abuse, guilt and longing that binds them. I aimed to evoke the claustrophobic intensity of a nightmare, mixed with the tender intimacy of an affair. I wanted to dig deep into the characters, into the memories which haunt them, into the contradictions which tear them apart, and into places which hurt.

UNA is a tense, harrowing chamber drama. From the beginning of the film, Una is a woman on the edge. We follow her through a nightclub to a scene of casual, anonymous sex, then back to her small room in her mother's house, at dawn. It's telling that she still lives in her childhood bedroom" she's unable to move on.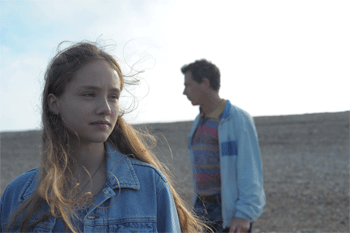 Hidden in a corner of the room is a photograph torn from a trade magazine. The smiling face of the man in the photograph obsesses her - it's Ray, a man she hasn't seen for fifteen years, the man she ran away with when she was thirteen. She can't accept that Ray is smiling in the photograph. It torments her that he appears to have moved on with his life and forgotten her. She's desperate to find out if she still means anything to him, desperate to unlock the enigma of her past.

Una's decision to track Ray down and confront him at his place of work launches her into a volatile encounter with their shared past. She opens up the wound of the past - its unanswered questions and unresolved longings. Her arrival at his workplace threatens to destroy his new identity and to derail both their lives. Their meeting sets in motion an intense drama of hurt, recrimination and loss. Layers of secrets, lies and forbidden love are peeled away, leaving Una and Ray emotionally naked. They must sift through the wreckage of the past and face what was left unresolved.

I want the audience to feel an uncomfortable complicity with Ray and Una, to be drawn into their encounter as a kind of free-floating witness. The audience partakes in Ray and Una's feelings of enclosure and entrapment. Ray's workplace becomes a kind of purgatory where he and Una are trapped. The bland rooms of the warehouse stand in stark contrast to the turbulent emotions of their unbearably intimate drama. Una and Ray pursue each other along stark, maze-like corridors, through boxlike rooms and towering storage stacks. Una's journey through the film is conceived as a passage through a labyrinth. She wants to stare down the enigma of her desire and confront the minotaur of her past.

UNA is about a young woman in search of her past. She feels like she lost her life fifteen years ago and became a kind of ghost. Behind her facade of normalcy is a broken child-woman, frozen in time. She wants to destroy the man who hurt her, but she also wants him to love her again. She's desperate to prove that what she felt then was real.

Her decision to confront Ray opens up the fault-line between the past and the present. Una and Ray's memories have been buried for many years. Their tense reunion unlocks the past. The highly-charged memories which interrupt and cut through the present are clues - fragments of a shattered history. Una remains stranded until she can redeem her past. She needs to find out why Ray abandoned her. She needs to answer the question which plagues her - was she the only one? Was she an exception - the only girl he ever loved? Or was she one of many - just one of his victims?

Ray and Una share a bond which separates them from others, yet which they cannot ever follow. It is an impossible, nihilistic form of love. Fifteen years ago, their criminal relationship was conducted in utmost secrecy. They developed a private system of codes and signals in order to meet and to deceive Una's family, friends and neighbours. Their relationship existed in a bubble - sealed off, exclusive, clandestine. Una believed in this forbidden relationship so much that she chose to abandon her family, friends and home to run away with Ray and start a new life in Europe. The secret relationship with Ray was charged with promise. She believed that she loved Ray and that he loved her. She was willing to risk everything she knew. When the relationship was exposed, she suffered a traumatic loss from which she never fully recovered. Only by confronting Ray and attempting to face what happened between them can she begin to heal.

In adapting the play for the screen with David Harrower, I was interested in how cinema's unique relationship with time could allow us to portray mechanisms of memory and trauma. I was interested in how film can describe a fragile membrane between past and present. In Una, the tense, claustrophobic present is interrupted by fleeting, fragmented memories. This creates an elegiac, dreamlike feeling- the past weaves through the present like a forgotten melody. I was inspired by films such as Hiroshima Mon Amour (Alain Resnais / Marguerite Duras) which evoke the way the past co-exists with the present. The film works as a kind of reversal of the -Lolita myth.' Whereas Lolita describes its taboo relationship purely from the perspective of the male seducer / groomer, UNA is experienced from the point of view of the girl and the woman she becomes. The events of the summer when Una was thirteen still exert a tremendous, magnetic pull on her. Her meeting with Ray draws us into the knot of their sexual obsession.

In the closing moments of the film, the thirteen year old Una is seen waiting for Ray in a hotel room. This is the moment when her future hangs in the balance, the girl in that room becomes frozen in time.

She has run away with Ray, they have had sex for the first time, and now he appears to have left her. In the final frames of the film, sitting on the bed in the hotel, the young Una turns her gaze to the camera. She looks straight back at us. Her look is defiant, yet wounded. She's demanding that we don't forget her, that we don't judge her or label her too easily. She makes us complicit in her story and her redemption.

UNA refuses to condemn or condone Una or Ray. I'm not interested in a cinema as a kind of emotional placebo. I prefer cinema as a kind of raw wound. I want the audience to be left asking questions. Of course, what happened between Ray and Una should never have happened, but what happened transformed and shattered their lives. We are left to piece together their broken lives and to reflect on how they might be repaired. There are no easy answers.
Benedict Andrews, Reykjavík, August 2016


Una
Release Date: June 22nd, 2017