Florence Pugh Lady Macbeth
Cast: Florence Pugh, Cosmo Jarvis, Naomi Ackie
Director: William Oldroyd
Running Time: 88 minutes

Synopsis: Rural England, 1865. Katherine (Florence Pugh), 17, stands in an empty church on her wedding day. Her new husband Alexander (Paul Hilton), 40, looks on impassively as the Vicar pronounces them man and wife. Alexander's ageing father Boris (Christopher Fairbank), 70, a wealthy mine owner, watches the pair. He has bought Katherine, along with a small plot of land, from her father and arranged the marriage. Their wedding night goes unconsummated – Alexander is morose, and Katherine awkward and upset when her new husband makes no physical advances towards her.

Katherine wakes up in her new home – a large, austere house some way from the nearest village. Her husband tells her that she should not leave the house, and she spends her days in the stifling, airless rooms served and maintained by only a few servants. Her maid, ANNA (Naomi Ackie), wakes and dresses her each day, silently watching her grow increasingly bored and frustrated.

After an explosion at one of Boris' collieries, Alexander is sent away for a number of weeks to deal with the emergency while Boris leaves on a business trip to London. Before he leaves he instructs Katherine to improve in her duties as a wife: to deliver an heir, to be faithful and to stay indoors. Katherine's every move is being watched and reported on. Alone in the house, Katherine defies her father-in-law and begins to take her first steps into the outside world, revelling in the open, windswept wilderness. She comes across a group of farmhands on her estate bullying Anna, hoisting up the ashamed girl naked in a barn and weighing her as if she were a pig. Their ringleader, Sebastian (Cosmo Jarvis), 22, is handsome, strong and rough, and not inclined to obey orders. He provokes Katherine and his impertinence forges an immediate attraction between them.

One night, Sebastian sneaks into the house and into Katherine's room. Katherine is initially resistant to his coarse intrusion but ultimately they give way to their lust. Over the next few days their affair becomes more and more unrestrained, snatching moments together in the stables and when the house is empty. Katherine grows less subservient and more authoritative as the mistress of the house. Yet it becomes clear very quickly that Katherine's movements are being monitored – the local priest Father Peter arrives to check up on her, and Anna tells Sebastian that Alexander would not be happy if he knew what was happening in his absence.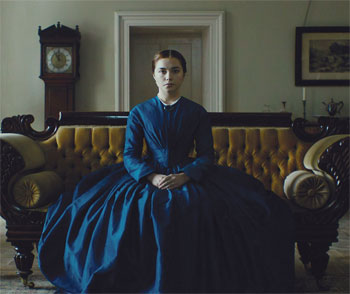 Boris returns from London, but there is no news from Alexander. Katherine, newly emboldened, begins to bite back against her father-in-law's authoritarian regime, allowing Anna to take the blame when she and Sebastian have drunk all the house's stock of wine. It doesn't take Boris long to discover the affair and so he viciously beats Sebastian and locks him up in the stables. Katherine demands that he be released, but Boris furiously tells her that she has bought shame on the family name, and that she has failed in her sole duty – to provide Alexander with a legitimate heir. He hits her.

Katherine sneaks out from the house early and brings home poisonous mushrooms, which she serves to Boris for breakfast. A doctor is called once Katherine is certain that her tormentor is past help, and she subtly shifts the guilt for the -accident' to Anna who is rendered mute in horror. Alexander does not return for the funeral of his hated father, and in his continued absence Katherine begins to flaunt Sebastian in the house. She declares her love for him – a passionate, all-encompassing love and the fact that she would rather he was dead than that they should be parted.

Alexander returns home in the dead of night, and Sebastian is forced to hide. He confronts his wife about her adultery, revealing that news of it has spread across the county. Unperturbed, she drags Sebastian out of his hiding place and parades their sexuality in front of her husband. Alexander fiercely attacks them, and in the frantic scrap that ensues Katherine instinctively bludgeons him to death. Sebastian, petrified, buries the body in the woods, but he is haunted by the killing and by his lover's lack of remorse.

Katherine moves Sebastian into the house to make him master. For a moment there is a chance that they could lead a happy life, until one day they are visited by a woman called AGNES (Golda Rosheuvel), 65, who seems suspicious of Alexander's disappearance. She informs Katherine that, years ago Alexander fathered an illegitimate child with her daughter and made him his legal ward. He is called Teddy (Anton Palmer), 7, and as Alexander's lawful air they have arrived to live in the house. Katherine, fearing that their affair will be discovered, tells Sebastian to keep to the stables until she can hatch a plan. He becomes furious, and looking to provoke Katherine turns his attention to Anna.

Despite herself, Katherine and Teddy begin a tentative friendship, but Katherine soon discovers that she is pregnant with Sebastian's child – something Anna quickly notices. Teddy runs away from the farm after an argument with Katherine, provoking a large scale search. He is eventually discovered by Sebastian perched on the side of a raging waterfall.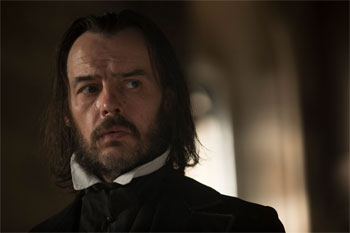 Sebastian has the opportunity to drown the boy – the last impediment to their freedom. But his conscience gets the better of him and he returns the cold and feverish boy to the farmhouse alive. Instead of being welcomed a hero, Agnes humiliates him and throws him out. Sebastian angrily packs his bags to leave the farm for good, knowing that Teddy's presence means that they will never be together. Katherine is now desperate and tells him that she will kill Teddy to keep them together.

Encouraging Agnes to leave her vigil by Teddy's sickbed, Katherine and Sebastian smother the little boy in his sleep. Dawn comes and Sebastian flees wracked with guilt and selfdisgust, while Katherine calmly waits for the scene to be discovered. Doctor Burdon (Bill Fellows), 70, examines the boy and Katherine lies that she must have dozed while Teddy choked in his sleep. But Detective Logan (Ian Conningham), 50, is brought to the house to investigate unexplained bruises on the body, which point to murder.

Sebastian's remorse overwhelms him, and he dramatically confesses his part in the crimes to the gathered assembly. He tells them that Katherine suffocated him with her obsession, and that he wished he'd never set eyes on her. After a moment, Katherine coolly tells the Detective, Agnes and the Doctor that it was Sebastian and Anna who are to blame, not her. She cites Sebastian's beating at the hands of Boris, and an implied affair, to pin the blame on them. When confronted, Anna is so shocked she cannot speak. Seeing Katherine's hands on her pregnant stomach, she accepts her fate. The pair are arrested and taken away to hang.

Katherine is left alone again in the empty, echoing house.

Lady Macbeth
Release Date: June 29th, 2017
About The Production
The Genesis Of The Project

Both director William Oldroyd and writer Alice Birch had both made their names in theatre – he as the Director in Residence at the Young Vic Theatre and working with the RSC, and she as an award-winning playwright with work performed at the Royal Court and the RSC. Oldroyd had recently made his first steps into film directing with the Sundance London award-winning short Best, and when they were introduced to each other by their shared agent the conversation quickly turned to their common interests in feature films.

Alice Birch had read the 1865 Russian novella Lady Macbeth of the Mtsensk by Nikolai Leskov, and felt that its themes – the subordination of women in society, life in rural communities, and of passionate illicit love - were exciting ones for a film adaption. The original story, which had been published by Dostoyevsky, was most famously adapted into a Russian opera by Shostakovich in the early 1930s – banned by Stalin for being too subversive. As soon as Alice Birch told William Oldroyd the story, he was fascinated. 'In literature of that period," William Oldroyd says, 'Women like Katherine traditionally suffer in silence, fade away, or commit suicide. But here we have a young protagonist who fights for her independence, decides her own fate in a bloodthirsty way." They relied heavily on the plot of the novella, but made some large alterations – inventing the character of Anna, for example, and changing the ending (in the original, Katherine is discovered and punished for her crimes). Producer Fodhla Cronin O'Reilly, who had been Oscar nominated for a short film in 2014, met Will through a mutual friend and a bond was quickly established. 'The most essential collaboration on the film was with Fodhla," says William Oldroyd. 'Because my background is predominantly in theatre, I relied very heavily on her film experience to make that transition and to understand the specifics of how the process worked".

To bring their thoughts together, Alice drafted a short prose piece on why she wanted to write the story. Says Alice Birch: 'As a writer I am drawn, inevitably, to stories, to characters, to landscapes and languages that have the potential to cross into new territories. The trajectory is, initially, one that is not unfamiliar to us. Yet, the film takes new turns, is constantly surprising and urges an audience to keep up. Katherine will stop at nothing and as she embarks upon a series of murders, the film becomes something quite different from what we had been anticipating."

Financing The Film

The team decided to apply for iFeatures, the regional low-budget filmmaking scheme run by Creative England and supported by the BFI and BBC Films. The scheme was in its third iteration, after producing a series of daring features from emerging British filmmakers, including: Guy Myhill's The Goob, which premiered at Venice Days in 2014; Martin Radich's Norfolk, which bowed at Rotterdam in 2015; and Alex Taylor's Spaceship, which screened at SXSW this year. The strict parameters of the scheme – a regional setting, a bold authorial voice behind the camera and an ambitious idea were perfect for the film. But the filmmakers were conscious that all of their predecessors had been contemporary-set – noone had attempted a period piece on the scheme's budget – under half a million pounds.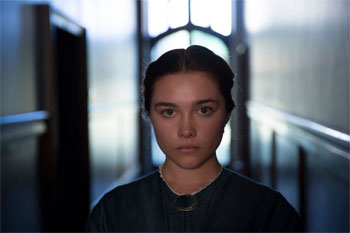 'We knew that what we were attempting was incredibly ambitious," says Cronin O'Reilly, 'and we were determined to use the limitations that the budget put on us as a virtue. From the first minute we had to be sure that we could achieve both the artistic vision and the production itself for the money we had. It meant we had to make creative choices about how we would shoot the film – from costume and production design to which rooms we could use in the location." William Oldroyd also saw the virtue of the restricted budget. 'I was interested to learn why I hadn't seen more low-budget period dramas," he comments. 'I thought there must be a way of making one. We couldn't afford huge exteriors and set pieces with lots of extras, so we focused right in on the psychology of a group of characters that happened to live in 1865."

iFeatures gave the team the opportunity to work closely with executives from across the British film business – including Lizzie Francke from the BFI, Chris Moll from Creative England and Steve Jenkins from BBC Films. Cronin O'Reilly felt that the scheme gave the team the space to develop their vision, but also put enough pressure on them to ensure that they delivered to strict deadlines. 'It was very useful for all of us, and particularly for William Oldroyd and Alice Birch, neither of whom had really been exposed to the film business before. It gave them an overview of how development, production and distribution worked, led by some great people. We felt very supported, but also pushed to make the best work we could."

Casting The Film

The team brought in one of the UK's most respected casting directors Shaheen Baig (Control, Starred Up) to achieve what looked like a herculean task – casting both an innocent young girl who convincingly transforms into a cold-hearted murderer, as well as a leading man who could embody both the physical and raw sexuality of Sebastian, but also descend into guilt and madness by the end. Fortunately, Shaheen Baig had a huge amount of experience in casting young and non-professionally trained actors and was able recommend some bold choices for the roles.

On casting Florence Pugh as Katherine, William Oldroyd says: 'I'd seen her in Carol Morley's The Falling, and been really impressed with her performance - it was so open and honest. Straight away it was clear we'd found someone with the right spirit for Katherine. Florence gives an incredibly strong and confident performance - she has a great instinct and very good technique."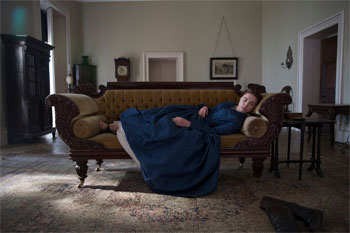 Katherine Pugh says that this transformation was the reason she was so attracted to the script. 'We see an innocent girl turn into someone capable of doing monstrous things - even though she's doing wrong, you still want her to succeed, and you feel sympathetic to her." Once they had their Katherine, they turned their attentions to finding Sebastian, her lover. They tested her against their shortlist of potentials, and Cosmo Jarvis, a singer-songwriter, director and relative newcomer as an actor, stood out. 'As soon as we saw him with Florence Pugh, there was a spark" say Cronin O'Reilly. 'He's both physically right for someone who works on the land, but also has a vulnerability that we felt was really interesting. It felt that while both of them were quite raw, they were both intelligent and brave in their decisions and instincts about the characters." Cosmo Jarvis was thrilled to be offered the role. 'It's not often you get opportunities for such rich, rounded characters at this stage in your career" he says. 'I was interested in the power dynamics between the characters – Sebastian is like a pet at some points. He's a flawed and messy character."

In the crucial role of Anna, Katherine's servant who becomes an antagonist after watching her descent into adultery and murder, they knew they needed someone who could do a huge amount of emotional heavy lifting without much dialogue. 'We decided straight away that we'd found Anna when we met Naomi" says William Oldroyd. 'She's able to express an enormous range of emotions with few words." Ackie, whose background is predominantly in theatre, was interested in working with a stage director in a new setting. 'We both come from theatre, so we speak the same language," Ackie says. 'But Will's also got a great eye, which meant I learnt a huge amount on set as well".

Around them, Will cast regulars from stage and screen. For the crucial role of Alexander, Katherine's emotionally abusive husband, he knew he wanted Paul Hilton for the role. 'I always had Paul in mind" he says. 'And when he sent in his self-tape, I'd never seen anyone commit so much – there was a set, there were lighting effects, there was a costume. We didn't move that far away from it in the scene we ended up shooting!" For Boris, the patriarch of the family desperate for a legitimate heir to the family fortune, the team were lucky to cast Christopher Fairbank. 'We needed someone who had the gravitas and weight to represent the patriarchy that Katherine was fighting against," William Oldroyd comments, "and Christopher absolutely has that strength." Birch's script was the key factor for Fairbank joining the film. He says: 'I was drawn to the script because of the depth and subtleties in the overall character of a bully and a tyrant." 'There's something about this film that explores the mind of a woman at this time," says Ackie" 'It's really raw, and sometimes it's ugly. I think audiences are ready for that."

The Location

Crucial to the success of the film was finding the right location. A character in its own right, the large farmhouse that Katherine finds herself trapped in must be both oppressive and stifling, but also offer the character moments of freedom – both physical and metaphorical. The majority of the film is set inside the building or its outhouses, while the wild, windswept fields and forest that Katherine escapes to are vital components of the story. 'The relationship between the character and her environment was fascinating to me," comments Alice Birch. 'It embeds them in their world - the heather, the hills, the moors and the river are all vital elements, and how they change as Katherine becomes awakened to life and her existence becomes more sensory and engaged."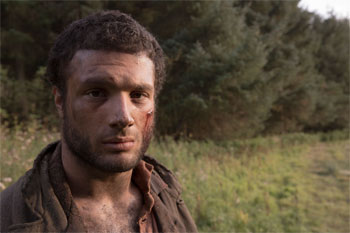 Early on in the process, William Oldroyd had decided that he wanted to use the area around Durham and Northumberland as his location. As one of the least populated parts of the British Isles, Northumberland reflected Katherine's own isolation. The North East of England was an area that William Oldroyd knew well – he had studied at Durham University. The team were lucky to find the perfect location – Lambton Castle near Chester-Le-Street. An empty stately home that was built in the early 19th Century, the castle provided the film with a location that had both the numerous period rooms (including kitchens, stables and staircases) and huge, rambling grounds. The cast and crew all stayed together in a nearby village, and due to the single major location were able to keep the set dressed indefinitely throughout the shoot.

This also meant that the director was able to rehearse with his actors in situ, with the props and costumes at their disposal – particularly important for him, as this was his debut feature. 'I needed to have some time to rehearse, so the actors felt that they had a safe space to make suggestions," he says. 'Otherwise you can get in trouble if you're trying to do it on set and are pushed for time with a million other things to think about."

Crewing The Film

To bring to life the world of 19th century Northern England on a miniscule budget, the creative team knew that they had to surround themselves with the best below-the-line talent that they could find. And without much money to pay them, they had to hope that the quality of the script, and William's creative vision, would convince them to come along for the ride. They decided to aim high. Jacqueline Abrahams, designer of The Lobster and Woman In Black 2, was one of their first approaches. Will was not confident they would get her. 'We thought it was a very long shot to get Jacqueline Abrahams as she's so experienced," he says 'but when she agreed to meet, she presented images and references that were exactly what we had in mind. I couldn't believe she said yes. It became one of the best collaborations."

Another key role was that of costume designer – and despite having very little money to play with, the team found someone who would go above and beyond the call of duty in pursuit of authenticity. Holly Waddington, who had recently designed for Sally Potter and Andrew Steggall and worked in costume departments on movies like Lincoln and War Horse, impressed William Oldroyd and Cronin O'Reilly immediately, and they offered her the job on the spot. 'The references and knowledge Holly had, and her passion for pattern and design, were incredible. She was hand-making corsets and dressing gowns, and travelling to France to get original period pieces. Through her we agreed that the characters wore clothes, not costumes. It didn't feel right to us that a character would have a new costume every time they came on screen."

Finally, the crucial role of cinematographer was found half a world away. Ari Wegner is a Melbourne-based DOP whose feature films had screened at Venice and whose shorts had featured at Cannes and Berlin. Her work was exactly what William Oldroyd wanted – but they had to make sure that they would be able to work together well – something that would be tricky if they couldn't meet in person. 'We spoke every day for several hours over Skype and shared images and references" he says. 'She took my references and pushed me in directions I hadn't thought of, especially the American minimalists and we discussed how economical we could be. Once she arrived on set it felt like we knew each other very well already.'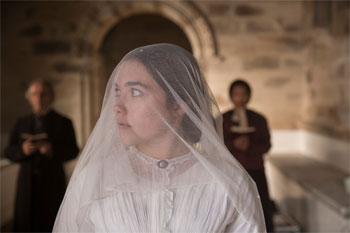 Throughout the process, the director and producer were very diligent in involving the writer in the film, asking for notes and comments at each stage. 'The writer is usually at the centre of a production in theatre," says William Oldroyd. 'We wanted to honour that by feeding Alice Birch's notes in during the natural organic evolution of the film."

Preparing For The 19th Century

In the weeks leading up to the shoot, the cast and crew spent a great deal of time researching and preparing themselves to step into the world of 19th Century Northumberland.

Naomi Ackie and Florence Pugh both looked into the physical and behavioural side of life within a large country house to help find their characters. 'I did a lot of research into what maids did at the time and what was expected of them," Naomi Ackie says. 'Some of the costumes and trinkets we wore were from that period, which really helped us to put the world together." Pugh looked at how her character would have reacted to – and been seen by – the world around her. 'I prepared the etiquette of that era more than anything," she says, 'because despite having the costumes and props, if you don't have the way that a character of that time addresses people, how they sit and their posture, you won't believe in the characters."

Cosmo Jarvis felt that he needed to get inside the head of a 19th Century groomsman by spending time speaking to – and working with – horses and dogs to really understand Sebastian. 'I was very meticulous, and because I'm not really an animal person it was quite difficult initially," says Cosmo Jarvis. 'There were very specific rules about how they would have behaved and worked, and I needed to experience that." He decided to inhabit his character so much that he would sleep on the kitchen floor and kept his Durham accent throughout the shoot (Jarvis is originally from Devon). 'I didn't want my accent or my character to slip down the line – particularly if we were doing a difficult scene," he says. His commitment to the role was something that was very useful for the director. 'He really threw himself into it," comments William Oldroyd, 'and I was really grateful for it. He could access a moment on set as Sebastian would do – he wouldn't have to think about it." 'There were no decisions to make for him," says Pugh of her co-star. 'It was all on instinct. It was incredible and terrifying to watch!" Jarvis even took to going into bars in Durham and talking to locals in their accent. Was he ever caught out? 'No!"

The technical crew were also busy researching the period to ensure that it had as much verisimilitude as possible. The costume department took their work – and their budget – to the absolute limit in search of authenticity. Says Waddington: 'We used original pieces where we could, and sourced fabric and patterns from all over the place – costume houses, vintage dealers and antique fairs.

'The world Katherine enters is one without a lot of beauty in it – Alexander and Boris have made their money in the industrial revolution and haven't been around beauty, so the house doesn't have a lot of colour in it. The costumes of the 1860s were very interesting to explore – both crinoline and bodices were very potent symbols for the character of Katherine – trapping her physically and mentally. We went for a pared down, austere look in a very conservative world, using the very inky black colours of the period." Similarly, the makeup team wanted authenticity over anything. 'We wanted the makeup to be as simple and natural as possible," says William Oldroyd. 'They didn't wash or shave everyday, so we wanted to recreate that."

The cinematographer and director also looked at unusual references from the period – looking at qualities of light in paintings from mainland Europe, rather than the UK. 'We discussed adding more northern light into the film, and looked at painters from that era from Scandinavia rather than southern Europe."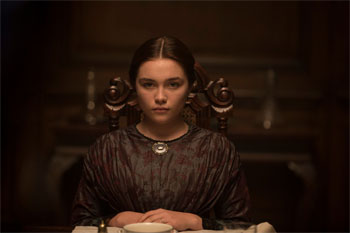 The Shoot

Surprisingly, despite the film's ambitious nature, the shoot was a pleasant experience for the cast and crew – something that the production team put down to weeks of intensive planning and a series of smart decisions in crewing the film. 'We had 24 days to shoot 90 pages," comments William Oldroyd, "meaning I had to plan like mad. I relied heavily on our 1st AD to help us through that. But being based in one location meant we didn't have to race around all the time."

But the director was very aware of his inexperience, and was grateful that his crew were more than willing to make their opinions heard. 'You have to learn on your feet. You can only read so much, and you really can only learn by doing," he says. 'It has to be a genuine collaboration – even if you make the final decision, people on your crew have to feel free to make suggestions without the fear of being wrong, or being stupid. If you've got the right HODs they will always be much better at their job than you, so you need to listen to what they have to say, and not just think, -do what I tell you'".

One crucial decision that the team made, because of the single location that they had full control over, was to shoot the film chronologically. The team had decided to bring their experienced editor Nick Emerson (The Hallow, Starred Up) with them, and his presence on set was vital to them getting the shots they needed. Says William Oldroyd: 'Because my background's in theatre, I'm used to unpacking a play from the beginning and working through it in order – which meant being able to shoot chronologically was really important to me. Our editor was assembling scenes on set in order, and we could see at the end of week three what was missing and what we could lose because the story was going in a particular direction."

As the shoot progressed, William Oldroyd and Cronin O'Reilly found that what they were capturing was subtly different to the screenplay – particularly with the way that they shot their lead character. 'We found that anything that was leading us away from Katherine, we pushed to the background," comments William Oldroyd. 'It became a defining thing for the whole film. Initially we locked off the camera to represent her imprisonment, but as she begins to awaken the camera moves and breathes with her."

In William Oldroyd the actors found an ally on set. 'He's very actor-centric," says Christopher Fairbank. 'It's very easy in this age of technology for concentration on the performances to get lost, with no-one taking care of the actor or the character, but Will's the exact opposite of that." 'Some directors just see the experience of making a film as a bit of a cheat," comments Cosmo Jarvis. 'Will sees it as an artwork." Even the inevitable low budget problems didn't phase the cast and crew. When a power cut threatened to ruin the end of a day of shooting, William Oldroyd bundled his leading man into a van to shoot some highly emotional sequences in a nearby forest. 'He gave me no time to prepare," says Jarvis 'and it absolutely worked. I didn't even have time to worry about how difficult the scene was going to be."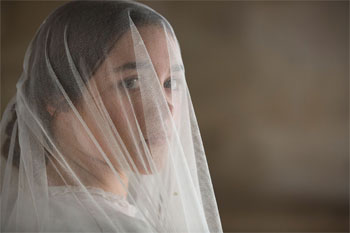 Even the production team, normally run ragged by the demands of low budget filming, found the shoot to be a focused and straightforward four weeks. Their only major problem was finding a dead horse in the vicinity. The crew needed to find a horse that had died of natural causes, and found that they would have to take enormous health and safety precautions to transport it safely. When eventually they found one, on the last day of shooting, it was the wrong colour to match Alexander's fateful steed. 'We had to paint a dead brown horse white," says Cronin O'Reilly. 'You can probably tell if you look close enough".

Post-Production

The director and editor decamped to a 'very nice" shipping container in East London for 15 weeks to finish the edit. 'We really threw the film around in the edit" says Oldroyd. 'Nick, our editor, was very open-minded, honest and experimental. We wanted to honour Alice Birch's intentions, but we also had some performances that made us look at the film in a slightly different way."

'We found that we were cutting some scenes that we'd shot," says Cronin O'Reilly. 'It became a process of stripping everything back, withholding information and seeing the world through Katherine's eyes. We went from a 110 minute assembly to a 84 minute final cut – which, when you think we were shooting very economically anyway, was a really big jump."

After the final cut had been delivered, the team employed two sound designers – one from theatre – to help shape the mood of the film. The hugely experienced, and BAFTA-winning, sound mixer Ben Baird (Snow In Paradise, Whitechapel) worked alongside Ivor Novellowinning composer Dan Jones (Shadow of the Vampire, The Hollow Crown) to create a very unusual soundscape to reflect Katherine's fracturing state of mind. Of this process, Cronin O'Reilly says: 'We didn't want to use much music in the film – it felt dishonest in this world and leading. We wanted the sounds of the landscape and the buildings to become almost like a score in itself."


Lady Macbeth
Release Date: June 29th, 2017