Scarlett Johansson Sing
Cast: Scarlett Johansson, Matthew McConaughey, Reese Witherspoon, Seth MacFarlane, Taron Egerton, Leslie Jones, Garth Jennings
Director: Garth Jennings
Genre: Animation, Family

Synopsis: A koala named Buster recruits his best friend to help him drum up business for his theater by hosting a singing competition.

Sing
Release Date: December 26th, 2016



About The Production
Development of Sing

While Chris Meledandri has primarily worked with filmmakers who began their careers in short-form animation, Sing marks the first time he has partnered with a filmmaker from live action for an Illumination feature. Chris Meledandri, who was certain that Garth Jennings' unique path would bring distinctive charm to the collaboration, states that their connection began long before Sing's writer/director even knew it: 'I fell in love with Garth's independent film, Son of Rambow. I felt that he was such an authentic storyteller, and I loved that it was based on his own childhood as an amateur filmmaker." As well, Jennings' extensive experience directing music videos informed a curious perspective and grasp of the power of music in telling visual stories. 'I had a hunch that Garth's sensibility would be a perfect fit for this idea that's preoccupied me."

During one of Chris Meledandri's trips to England, he asked to meet with Garth Jennings and shared with the filmmaker this seed of an idea he had. Meledandri showed him a picture of a group of four koalas and told him to imagine they were holding little microphones. He asked Jennings for his thoughts on telling a story about a singing competition…one set in a world populated entirely by animals. 'I knew that Garth Jennings and I share a deep love of music and that he is a gifted storyteller," reflects Chris Meledandri. 'We both felt that this concept would provide us the opportunity to tap into the global appeal of music-based storytelling."

The writer/director agrees that this journey began with a kindred spirit: 'About five years ago, I met Chris Meledandri when he was passing through London. We talked about the kinds of movies we liked to make, and Chris Meledandri' idea would allow us to combine just about everything we both loved in one story. We were only half way through a pot of tea, but I was already very stupidly excited because this was one of those ideas that you could instantly see the potential for in every direction."

Garth Jennings worked with Chris Meledandri as they crafted Sing, in which the characters give everything for a life-changing opportunity. Indeed, the performers struggle with everyday problems that we all experience at some point: feeling overlooked by family, worrying about bills, overcoming barriers that prevent happiness and growing comfortable in our own skin. The intersection and narrative would be built around a theater-owning koala named Buster Moon, who first became entranced by the theater as a young joey. It was back then when, alongside his doting father, he experienced a magical evening that bent his life's arc for good.

It is this most unlikely of heroes who proves pivotal to the rest of the characters in the story. 'At the very beginning of the movie, you meet Buster Moon as a six-year-old koala," Garth Jennings discusses. 'He is taken to the theater for the first time by his father, and it completely blows his mind. This experience has a transformative effect, and he grows up desperate to be part of the theater world. We then meet present-day Buster, and he owns the theater that he fell in love with."

As Garth Jennings and Chris Meledandri developed and shaped the character of Buster Moon, each inevitably found himself inspired by this showman who"through sheer force of will"was attempting to accomplish the nearly impossible. Armed solely with a singular passion to imagine and execute an event that would truly connect with audiences, young and old, Buster is the ultimate creator.

For Chris Meledandri, filmmaking has always been about this act of creation: how we start with nothing but an idea and"through a combination of willpower, chutzpah, blind faith, a little delusion and a lot of salesmanship"we persuade others to join our journey. 'In the end," reflects Chris Meledandri, 'if we're lucky and gutsy and faithful enough, something magical happens: We bring dreams to life. Like Buster, we have the privilege of transporting people out of their daily lives into something better"sometimes for two hours, sometimes for much longer."

While Garth Jennings and Chris Meledandri began to flesh out this universe, they felt that it was crucial that the world the characters inhabit be based on our real one. It was vital for the audience's engagement to see the animal characters as keenly relatable, characters with hopes and fears that echo our own. In this town, the theater is at the heart of everyone's conflict, joy and repair. If Buster loses his home"he actually sleeps in the desk of theater's office"everyone loses their chance to transform into more than they ever imagined.

Producer Janet Healy reflects that Buster's situation at The Moon Theater is becoming direr as the days tick by. 'Buster is a producer who has fallen on hard times," she says. 'He's a showman who loves his theater and putting on productions; but, as of late, none of them have been doing very well. The pressure is on him to pay his crew, the bank and the electricity, so he's got quite a dilemma to deal with."

For Garth Jennings, Chris Meledandri and Janet Healy, what also makes Sing stand out is the filmmakers' unapologetic obsession with music. From current pop to longtime favorites, the film is replete with sounds"including more than 65 hit songs, ranging from covers of classic Frank Sinatra and the soulful R&B of Drake to the infectious pop of Katy Perry and Lady Gaga. 'To tell stories with music and have such a broad spectrum to draw from was a huge reason why we got excited about Sing in the first place," notes Jennings. 'It is important that the audience care about every character's story, and sewing their stories together with music allows us to do it in a way that would be impossible otherwise."

In fact, music is seamlessly woven through almost every frame of Sing. 'Because it's about a singing contest, you get these incredible sequences where we have a montage of different characters auditioning and practicing in rehearsals," explains Healy. 'The movie is full of music, and we have so many interludes and songs that carry us from one scene to another."

For Garth Jennings, the chance to see a project from its beginning stages of development into its release in theaters is a powerful one indeed. While he admits that writing is the most intriguing part of the process, he is humbled by the privilege of being able both to script and direct an animated film.

In addition, Garth Jennings voices one of the supporting, and scene-stealing, players. When his character, Miss Crawly, Buster's longtime assistant, makes a typographical mistake that promises $100,000 to the lucky winner"not the $1,000 requested by Mr. Moon"she sets in motion the events of Sing. He laughs: 'I play Miss Crawly, an elderly female lizard. Yes, I am a natural at playing elderly female lizards."

Chris Meledandri embraces that this original property about joyful redemption is one that holds all-audience appeal, of paramount importance to any undertaking by Illumination. 'Sing is relatable, funny, empathetic, uplifting, but most of all, even though it stars animals: human," he gives. 'We wanted to make a movie that offered the audience multiple points of entry, and many possible elements to relate to. I predict that people are going to fall in love with these characters and care about their stories as they all seek to win a singing competition thrown by one very optimistic koala."

The Characters

Illumination is committed to creating distinctive characters, and has focused every aspect of the filmmakers' process to that end. The appeal of the characters in Sing has drawn together an extraordinary cast. Below is a breakdown of the players and their parts.

Buster Moon (Matthew McConaughey): Buster is determined to save his struggling theater despite dwindling audiences, bad reviews and accumulating debt. While anyone else would have faced reality and switched careers, Buster has an unrelenting drive to succeed, by any means necessary. Well-intentioned, he does have a habit of stretching the truth, which usually widens the hole into which he's digging himself. Nonetheless, he has an irresistible charm because his passion and optimism are utterly contagious.

Rosita (Reese Witherspoon): Rosita is a selfless homemaker and mother of 25 piglets who wants to remember what it feels like to be something other than a mother and wife to Norman (Nick Offerman). In the competition, she'll be partnered with a Scandinavian pig named Gunter who instantly sees her inner diva and makes it his mission to unleash her incredible gifts. Their final performance will leave her family slack-jawed and appreciating her for the amazing talent that she is.

Meena (Tori Kelly): She is a vocal powerhouse hidden inside a shy teenage elephant with a devastating case of stage fright. After bungling her audition, Meena takes a job as the show's stagehand. Her family assumes she's a contestant, and"burdened by the weight of their expectations"Meena doesn't have the heart to correct them. Ultimately, Buster helps her overcome her anxiety, face her fears and deliver the show-stopping performance her family always believed she had within her.

Ash (Scarlett Johansson): A prickly teenage porcupine with a punk-rock attitude, Ash auditions for the competition with her egotistical, unsupportive jerk of a boyfriend, Lance (Beck Bennett), but only Ash makes it as a finalist. In rehearsals, her rebellious nature continually puts her at odds with Buster, who envisions her as a pop-star princess; meanwhile, she wants to write her own authentic rock songs that reflect her unique style. Ash will have to go through a painful breakup, but in the end she'll prove her integrity and sing on her own terms.

Mike (Seth MacFarlane): A greedy, self-centered mouse with a Napoleon complex, Mike's saving grace is that he's also a classically trained jazz musician who sings like Sinatra. Impressed by money, power and ostentatious possessions, Mike is constantly trying to be a part of a crowd that doesn't want him. His unwaveringly high opinion of himself will constantly be his downfall.

Johnny (Taron Egerton): A soulful, Cockney gorilla, Johnny's beautiful singing voice and passion for music are in direct opposition to his role in his father's bank-robbing crew. He has always resisted a life of crime but has no choice as he was born into it. Johnny wants to be a singer but knows that his alpha-male father would disown him, if he knew the truth. He keeps his involvement in the competition a secret, straddling a double life as an aspiring singer by day and getaway driver by night.

Gunter (Nick Kroll): A boisterous dynamo and double-threat singer and dancer who is partnered with Rosita to liven up her act, Gunter feels most himself when rocking spandex dance leotards. He encourages Rosita to loosen up and shed her inhibitions.

Eddie (John C. Reilly): The black sheep of his wealthy family. After years of being spoiled and pampered, Eddie's parents have recently forced him to live in the pool house in a desperate attempt to make him more independent. There, he spends most days swimming, playing video games and begrudgingly doing mandatory household chores assigned to inspire maturity. Despite his rudderless existence, Eddie's a lovable and loyal friend who will help Buster get back on his feet at his most desperate moment.

Nana Noodleman (vocals by Jennifer Saunders, songs by Jennifer Hudson): Eddie's sharp-tongued grandmother, Nana, controls most of his family's wealth. She was a star diva back in her day, and her most renowned performance was the one that first inspired Buster's love of the theater. Now in her later years, she lives an isolated existence in her massive mansion with her butler, Hobbs. Despite sharing Buster's passion for the glory days of the theater, she is not easily swayed by his transparent efforts to get her financial support and forces him to rise above her expectations to prove that he is a true showman.

Miss Crawly (Garth Jennings): An endearing, elderly lizard with a glass eye that is continuously popping out of her head, Miss Crawly is Buster's longtime, devoted employee to whom he is fiercely loyal.

Big Daddy (Peter Serafinowicz): Johnny's father and the intimidating leader of his bank-robbing crew, Big Daddy is enraged when he discovers his son wants to be a singer rather than follow in his footsteps.

Meena's Family: Meena's Grandfather (Jay Pharoah), Mother (Leslie Jones) and Grandmother (Laraine Newman) are her No. 1 fans. Grandpa is loud and overbearing, and he constantly badgers Meena with unwanted advice. Meena's Mother tries to temper him while still lending her own quiet encouragement. They long to see Meena conquer her stage fright so she can finally pursue her dream.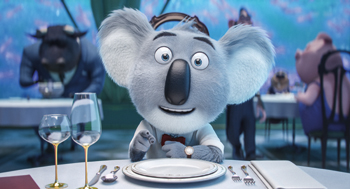 Casting the Film

When casting Sing, it was critical to find an all-star group of performers who could sing their songs as brilliantly as they vocalized their lines. Says Garth Jennings: 'Everyone has found their own little way of making their character their own. With our cast, they aren't only present in the voices but also present in the animation."

For the role of Buster Moon, Garth Jennings found one name immediately came to mind: Academy Award® winner Matthew McConaughey, whose career has spanned roles ranging from the deeply dramatic Interstellar and Dallas Buyers Club to the absurdly humorous Dazed and Confused. 'Matthew realized quite quickly that in order for his character to work, his optimism had to be infectious," Garth Jennings states. 'He had a way of making Buster incredibly endearing and incredibly relatable."

McConaughey's fellow Oscar® winner, Reese Witherspoon, proved to be the production's ideal Rosita, a selfless mother of 25 piglets. Once a very promising singer, Rosita longs to recapture the feeling of being celebrated for her talents and to challenge herself in front of a live audience. Witherspoon first shocked the world with her singing talents in Walk the Line, in which she portrayed legendary artist June Carter. Praises Chris Meledandri: 'Not only is Reese a brilliant actress and humanitarian, she has an inner fortitude that simply gives flight to Rosita. You root for Rosita at every step of the way because of the steely determination and maternal compassion that Reese gives this surprisingly complex character. She's simply riveting in the role."

A notable crooner in his own right, the multitalented Seth MacFarlane voices the Sinatra-inspired Mike, a wheeler and dealer who is on the run from goons to whom he owes money. Despite the fact that Mike is a mouse, his over-the-top personality makes him appear so much bigger. For the role, MacFarlane"a master of voice work who has created some of the most popular animated characters in modern television"gives Mike a Rat-Pack vibe. 'Talk about riches," lauds Healy. 'Seth is so incredibly talented. He croons these wonderful melodies in a way that just melts your heart."

While audiences know Scarlett Johansson as an international superstar, not as many fans realise that she's an accomplished singer/songwriter"who has released two albums and collaborated with Pete Yorn. As the voice of Ash, a disaffected porcupine who has been recently dumped by her no-good boyfriend, Lance, Tony Award-winner Scarlette Johansson had to tap into her inner angst-ridden teen to deliver Ash's powerhouse vocals.

While Buster initially sees Ash as a 'Call Me Maybe" girl, Ash is determined to perform the type of music Lance tried to control when they were together. 'Whenever Ash comes on the screen, I just melt," sums Janet Healy. 'Scarlett's voice coming out of that adorable character is just wonderful. She's riveting."

Taron Egerton, known to audiences worldwide for his work in Kingsman: The Secret Service, plays soulful teenage gorilla Johnny. Of the passionate ape, editor Gregory Perler reveals: 'When Johnny's father gets put in prison, he considers stealing the prize money to bail him out. He has a change of heart, and begins to work harder and harder to win the prize money instead of stealing it."

The filmmakers were stunned when they first heard the Welsh actor's singing voice. 'Every one of our performers corresponds to their role in a way that amplifies the character," says Chris Meledandri. 'You feel Taron's eagerness to turn Johnny's struggle into something quite deeply embodied, and he alternates between -Stay with Me,' -All of You' and -I'm Still Standing' with equal measure. When we first heard Taron deliver the initial notes of one of Johnny's songs, we knew audiences will be enchanted by his abilities."

A 2015 Grammy Award nominee for Best New Artist, Tori Kelly was cast as Meena, the shiest member of Buster's troupe. Although Meena tries to audition for the talent show, her crippling stage fright relegates her to a role as stagehand. When she sees her second chance at taking the main stage, she swears to herself that she won't blow it. Tori Kelly, whose 2015 debut album, 'Unbreakable Smile," showcased a vocalist who is one of the finest of her generation, welcomed the opportunity to join her first production.

The filmmakers knew that Kelly could tap into the same fears all singers have when they begin their careers. True to form, the young performer unleashes a Meena on the world that blasts through the ceiling. 'Although Tori has never acted before, I think she's been singing since she was born," says Garth Jennings. 'It's scary and ridiculous how good this lady can sing. In the audition, we completely fell in love with the character that she could give to this elephant, and it was delightful recording with her."

Buster's best friend, Eddie, is voiced by John C. Reilly, who is known for his work in broad comedies such as Step Brothers and Talladega Nights: The Ballad of Ricky Bobby, much more serious fare including The Good Girl, and alternatingly heartbreaking and comic vocal roles such as the lead in Wreck-It Ralph.

Garth Jennings discusses that Eddie just so happens to be the son of wealthy parents: 'Eddie has been helping Buster with his shortage of a cash flow, but his parents have put an end to it. Eddie is Buster's support system and steers him away from his more ridiculous ideas. When push comes to shove, he is there for him in his darkest hour."

When it came time for Reilly's vocal work, his director remained impressed. 'I've used every single ad lib and quirky addition that John gave me, and that was quite a lot. He's a generous actor and somebody who loves to create a vibrant recording scenario."

Nick Kroll, known for his self-effacing stand-up comedy and work on TV shows from The League to Kroll Show, voices the confident and optimistic Gunter, the dance partner who teaches Rosita to embrace her piggy power and shine. As the spandex-clad, Scandinavian tour-de-force, Gunter will have none of Rosita's self-doubt. In fact, he has enough confidence for them both. Nick Kroll's extensive experience in vocal roles, including a number of parts in American Dad! as well as Sausage Party, alongside his live-action experience, prepared him for the over-the-top show-stopping vocals needed for Gunter.

Jennifer Saunders, who has lent her voice to Illumination productions"including her work as the Queen of England in Minions"was asked to play Nana Noodleman, while vocal powerhouse Jennifer Hudson serves as Nana's singing voice.

Jennifer Saunders, known for her seemingly effortless comic timing in Absolutely Fabulous"as well as her scene-stealing moments as the British monarch in Minions"provides the dry, sardonic voice of disapproving Nana. Her counterpart, Oscar® winner Hudson, delivers heartbreaking ballads as the voice of young songstress Noodleman, who was the toast of the town back in her day. For the seasoned Nana, Saunders delivers a performance that is equal parts wistful and deliciously scornful. As the young diva, Hudson's vocals showcase the hope and possibility that are the film's underlying themes.

Although British performer Peter Serafinowicz is well known to audiences as the voice of Darth Maul in Star Wars: Episode I"The Phantom Menace, as well as Denarian Saal in Guardians of the Galaxy, the British performer's roots are actually in comedy and television drama. In order to portray Big Daddy, Johnny's disapproving father, Serafinowicz adopted a low growl befitting the leader of a gorilla gang of bank robbers. As a character who has one of the biggest arcs in Sing, Big Daddy is deeply angered and disappointed when he finds out that Johnny has no interest in taking over the family business. Slowly learning acceptance, the father's eventual embrace of his son is one of the film's most powerful sequences.

Meena's Mother and Grandfather are played by comedy stalwarts Leslie Jones and Jay Pharoah, both known for their work on SNL, as well as their forays into film work, such as Jones' golden comic timing in Ghostbusters and Pharoah's enviable pratfalls in Ride Along. As Meena's Mother, Jones provides a performance that is a soothing champion for her wracked-by-nerves daughter. For his part, Pharoah as her Grandpa is full of bluster and gumption, letting his baby know that no one is more talented and no one is more deserving of the $100,000 prize promised by Buster Moon.

Rosita's world-weary husband is voiced by Nick Offerman, known for his deadpans on shows such as Parks and Recreation, Fargo and Childrens Hospital. While Norman tries his best to be supportive of Rosita, he has taken her for granted for too long. He has also forgotten just how brilliant of a performer his better half is. But when she lands a spot on the stage, she's about to remind him of the young pig with whom he fell in love.

Last but not least, Ash's unsupportive boyfriend, Lance, is played by SNL comic actor Beck Bennett. Employing the perfect mesh of sarcasm and jealousy, Bennett delivers his character as a look at the ugly side of fame…or what happens when one puts his selfish aspirations over the undeniable talents of his better half.

Design and Animation

A veritable powerhouse in the world of animation, producer Janet Healy"supported by her brilliant crew of character designers, story boarders, modelers, riggers, lighting designers, compositors and more"leads the team at Illumination Mac Guff in Paris. The group's ability to seamlessly marry design and process is unparalleled. Despite the hectic schedule, the producer reveals that it is one dictum that guides them every day: 'Chris' goal, as is all of ours, is to have these characters live in the souls of the audience after they leave the theater, and long after that."

The producers and Jennings turned to production designer and character designer Eric Guillon, who has been with Illumination since the development of Despicable Me. He discusses his inspiration: 'I liked working on the idea of several destinies meeting around a common passion: a singing competition that allows us to discover each character's life. I was living in Los Angeles when I started working on Sing, and I rode my bike to Illumination every day. I loved the horizontality and Los Angeles' light. Graphically, it makes the characters more believable, and it puts them in a form of reality despite their -animal' appearance."

As he drew, simplicity was of utmost importance for the designer. 'I wanted to keep a -comic book'-look, as I like the contrast between the very graphic characters and the realistic and discreet city. There is a fluidity. Small, almost invisible accessories allow each species to adapt to a common, rather human, world. For example, Mike has a booster seat to drive his car, and Buster has an ingenious device that allows him to reach the pedals on his bike. We never question it; it just works."

Guillon walks us through a key distinction between the look of Sing and the company's latest blockbuster: 'Our goal here is to have the audience forget about the animal and identify with a human character; we follow each of these characters with a passion. The difference between Sing and Pets is that the characters in this film are animals that represent humans…as opposed to pets."

Sing is set in a modern-day city, one filled with cinematic dimension. 'We chose a location more like Los Angeles or Miami to create a graphic setting and an allusion to the theater," says Guillon. 'We ensured the location supported the storyline and did not overshadow the characters."

Editor Gregory Perler, who also first brought his talents to his collaborators with Despicable Me, explains why he is drawn to work with the studio, time and again: 'Illumination films always have a balance between the familiar and the fantastical. This is especially true in Sing."

Since the dawn of animation, there has long been a deep tradition of animals appearing in the genre, and Perler appreciates that Sing joins such accomplished work. 'Singing animals have been around almost as long as animation has been, so there is something inherently pleasing about this." He echoes Guillon, noting: 'The difference with Sing is that we gave all these animals humanistic traits instead of animalistic ones."

Creating the film's intricate musical sequences"whether it was Ash rocking out with Lance, or Gunter and Rosita performing a show-stopping number in the third act"proved to have a number of unique challenges. It was all worth it, however, as animation director Patrick Delage discusses that the characters and settings were designed for one specific purpose: 'Sing is all about dreaming big. There is a lot of emotion, and there is a lot of team spirit between the characters. I made sure that the acting was spot on with the animation, and that the movements look believable."

His fellow animation director, Pierre Leduc, feels that the crew had a leg up in introducing audiences to Jennings' tale, as competition shows have become an enormous part of the entertainment landscape. 'For the last 10 years, the entire world has had access to shows like American Idol and The X Factor," sums Leduc. 'People are used to seeing others on stage, so the performance aspect of Sing has come pretty easily."

That said, it still took a great deal of time to anthropomorphize the film's characters with human qualities: 'Buster Moon is a fast, hectic and optimistic koala," laughs Leduc, 'but in the wild, koalas are pretty smooth and slow."

Jennings pushes the animation in Sing to a level of quality audiences expect from Illumination features. Two standout characters that exemplify this are Gunter and Eddie. Computer graphics supervisor Boris Jacq explains that they took no step for granted: 'Gunter is quite a specific character. He looks like a simple one to deal with, but he is actually exuberant and has extreme poses."

Arguably, one of Jacq's favorite scenes to bring to life was the pivotal sequence just before Buster enlists his best friend's help in their big ask of Nana. 'One of the most exciting scenes to create was when Eddie jumps into the pool," he provides. 'We looked forward to seeing the way his wool was animated underwater."

This level of perfectionism was mirrored by every department. Nicolas Brack, lighting and compositing supervisor, reflects that, just as is required in a live-action film, the Sing production team had stages and characters to which they needed to add light. 'The good thing about animation is that if there is a strange shadow, I can remove it. I can't do that with reality," says Brack. As does Jacq, the animator had a favorite sequence of his own, and it proved to be extraordinarily intricate. 'The most complex scene in Sing is the destruction of the theater. There is so much going on at once, and it was difficult to add light underwater while keeping it credible."

While there is obviously no traditional hair and makeup on the set of an animated production, most would be curious to learn that Sing actually had its very own 'hairdressing staff." On his role in the hair and fur department, Selim Draïa reveals: 'I am like a real hair dresser. I have tools to brush and cut the hair just like in real life."

The Music

Sing features covers of more than 65 hit songs made famous by some of the biggest recording artists"from Frank Sinatra and The Beatles to Katy Perry and Kanye West"in history.

Each main character performs songs that embody their aspirations and journey"from Rosita's interpretation of Perry's 'Firework" and Gunter's version of Lady Gaga's 'Bad Romance" to Johnny's covers of John Legend's 'All of Me" and Sam Smith's 'Stay with Me," while Mike belts out Sinatra's 'My Way." The five contestants and Buster"as well as many supporting players"have musical themes of their own. The cast spent countless hours rehearsing and performing their numbers, and each had a specific strategy to get into character. For example, MacFarlane was able to perfect Mike's signature sound with the help of one of Old Blue Eyes' actual vocal coaches.

With multiple narratives to weave together, and many stories that the music on Sing had to serve, it was mandatory that the primary driver be Buster Moon himself. 'At its core, the music has to be joyous and playful, serving Buster's infectious, optimistic spirit"even though he's got everything stacked against him," explains Jennings. 'It needs to make your shoulders move and feel delightful. We've also allowed the orchestra and score to go out and follow our heroes home…and see how their lives are being changed and twisted by being a part of Buster's show."

The original new songs Illumination has commissioned"such as Pharrell Williams' 'Happy" from Despicable Me 2"have found an audience outside of the movies themselves. Continuing that trend, the original song 'Faith," performed by Stevie Wonder, featuring Ariana Grande, is as powerful as it is infectious. Produced by multiple Grammy Award-winning producers Ryan Tedder and Benny Blanco, the end title song is synonymous with never giving up. Tedder discusses its import: 'There's an uplift and inclusion to this song that bridges generations. With Ariana's range and Stevie's vocals, -Faith' is the perfect song to give the audience as they take the messages of Sing with them."

It was key to Jennings, the music team and the producers that audiences embrace new sounds and styles as part of the experience of the film. The goal was to have younger audience members exposed to songs they've never heard before, as well as adults celebrating sounds from their past and being introduced to today's pop hits. As the soundtrack is cross-generational and resonates with a global audience, songs throughout the decades that are showcased in Sing will be gaining new fans.

No more so is this evident than in Jennifer Hudson's stunning rendition of 'Golden Slumbers/Carry that Weight," which was written by John Lennon and Paul McCartney and first released in 1969 on their monumental album Abbey Road. The timeless lyrics of 'once there was a way to get back homeward," are anthemic to not only Buster, but the trials and tribulations of all the competitors.

Whether a particular song gets us through a tough time or lifts us up in celebration, there is much power in music. To have a film that is packed with anthems delivers a potent experience, and all involved in Sing agree music is as much an emotional art as the animation itself. 'The combination of the music with visuals is always so much more powerful and emotional," Meledandri says. 'With each tiny detail, Garth and the animation team have maximized the emotion in every character. Similarly, the music group has done the same with each song. We all took a look at the story and the characters, and determined the purpose each song has at every specific point. If we have done our job correctly, the music will wholly enhance the emotions in each scene."

Because Jennings created each character to connect with a signature sound, that enabled the team"led by composer Joby Talbot, executive music producer Harvey Mason, Jr., music supervisor Jojo Villanueva and Universal's president of music Mike Knobloch, the Grammy Award-nominated executive producer of the soundtrack"to employ a wide spectrum of sounds and give each character music that was sonically their own.

No one is more aware than Jennings of the enormous balancing act that is the music of Sing. 'We had to take so much music and make it feel completely smooth and slick," he says. 'Joby, Harvey, JoJo, Mike and everybody at Universal never stopped working out how to make this better. There are songs that people know and love, as well as songs they've never heard or wouldn't have thought of liking before. It's like listening to a friend's playlist. They can open your ears to things you may not have thought were your cup of tea…but you suddenly find you love."

For his part, Talbot was tasked with creating a score that blended many tones and genres, and he accomplished this through years of work. The composer offers: 'Garth and I talked at length about how the original score could tell the stories of all the characters in a movie with so many songs. We decided that a clear musical world would help clarify the narrative and drive it forward. For example, with Johnny, Big Daddy and the gorilla gang, there's a pumping guitar-based rock score; Buster has a slightly crazy, jazz-infused, big-band thing; and Meena gets poignant string and harp music."

As Sing must introduce the audience to several contestants with distinct personalities, composition was everything. Discussing his character themes, the composer says: 'I love Buster's musical world of jazzy marimba, bongos, string bass and saxophones. But my favorite tune is Rosita's, especially when we hear it on the music box as she returns home to find everyone asleep and realizes her plan has worked."

Elaborating upon Rosita's story proved to be most exciting for Talbot, offering that he had the most fun writing for her Rube Goldberg-inspired invention. He continues: 'I love when she rigs up the house as a crazy machine to feed the family and get them out of the house in the morning. Garth gave me the freedom to be ambitious with this scene, and the result was about 15 genres of music squeezed into just over one minute of score!"

The composer discusses two of the songs that influenced him most as he worked: 'We hear -Golden Slumbers' three times in the film at key emotional moments, and it was important to present it in a way that it could function as score as well as a song."

Still, not all were so serious. He pauses. 'The first single I ever bought was -Jump' by Van Halen"so I loved seeing the bickering frogs leap around to that, too."

For Mason, Jr., Sing offered the rare opportunity to infuse more music for a film than on any project in his career. He tells that the sheer amount of songs and the variety of genres has been a challenge: 'Working with such incredible actors"coupled with the infectious energy and passion of Garth, Chris and everyone at Illumination"has made this experience priceless. I'm always saying, -This movie needs more songs!' so around 65 was just right for me. There is such a cool variety"which include some iconic and legendary songs"so I've been in heaven. Every movie should have this much music."

As animated productions naturally require a longer production period than most live-action films, seeing the music come to life through stages of animation was exceptionally gratifying for Mason, Jr. 'Starting with drawings and my rough demos, and then seeing the finished animation mixed with our full production has been so exciting," he reflects. 'Knowing how far it's all come has been completely satisfying."

Sing is filled with actors who sing and singers who act. To ensure a seamless experience, Mason, Jr. and Villanueva's goal was to create performances with heart…ones that left the audience with deep feeling for the characters. 'Producing singers, no matter how good they are, is about inspiring and pushing them to give their best performance"one that's overflowing with genuine emotion," Mason, Jr. says. 'I also want the performer to sound better than they ever have, so I work hard to find out what inspires each person. It's different for Reese, is something else for Scarlett, and different still for Seth. Of course, having worked with Jennifer for many years, I know how to push her buttons and get her fired up to deliver." He does laugh that not all the sessions were so serious: 'I couldn't sit still when we were working on -I'm Still Standing' or -Don't You Worry.'"

Villanueva found the recording process just as emotional as the end result, revealing that there were times that being present for the recordings made the hairs on the back of his neck stand up. 'Some moved me to tears," he admits. 'I feel the same way while watching the final film." No matter how many times the music supervisor has seen Sing, he still feels that passion and emotion. 'The performances range from being funny to thrilling to gorgeous. I can't wait to buy a ticket and see this with an audience."

As Sing's music is as rich and diverse in range from David Bowie and Queen to Taylor Swift, Villanueva is eager for the audience to have the opportunity to embrace all the genres represented. 'Sing is a love letter to music defined by talented characters who haven't had the chance to perform. Each of these singers are diverse in the genres that they draw from"and even the language that they sing in"but they all share a passion to perform that is admirable and infectious." He ends: 'Audiences will not only embrace the familiar and new music, but the story behind the singers who perform them."

Apparently the music wasn't just infectious for the key musical crew and the performers who were singing along with their songs. Laughs CG supervisor Jacq: 'We would walk around singing and humming every song around the office. By the end of the production, we knew all the songs by heart."

Production wrapped, Meledandri takes a moment to reflect on the extraordinary film that Jennings and company have created: 'You never know where inspiration will strike, and for Sing, it occurred that fateful day over tea. This was the strongest single group of artists we have assembled for one movie. It took Garth's extraordinary writing and directing"and the discipline and love of every member of the global Illumination team"to bring this story to life for the holidays. The film is so full of relatable characters and delivers such pure joy, and I feel audiences will see themselves in the journey of our fallible, funny characters. Know that any tears shed"and there might be some"will be the happy kind."


Sing
Release Date: December 26th, 2016