Scream Queens Series One DVD
Cast: Emma Roberts, Jamie Lee Curtis, Lea Michele, Abigail Breslin, Nick Jonas, Ariana Grande
Rated: MA

The girls of Kappa House are dying for new pledges. Scream Queens is a new killer comedy-horror series from award-winning executive producers Ryan Murphy (Glee, American Horror Story), Brad Falchuk (Glee, American Horror Story) and Ian Brennan (Glee).

Kappa House, the most sought-after sorority for pledges, is ruled with an iron fist (in a pink glove) by Chanel Oberlin (Emma Roberts, American Horror Story: Freak Show, Scream 4). But when anti-Kappa Dean Cathy Munsch (Jamie Lee Curtis, Halloween, A Fish Called Wanda, True Lies) decrees that sorority pledging must be open to all students, and not just the school's silver-spooned elite, all hell is about to break loose, as a devil-clad killer begins wreaking havoc across the campus.
Get the Chanel Look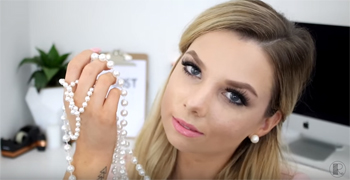 With over 359,000 subscribers, Rachel lee is known for her glam makeup tutorials & fashion haul videos. Inspired by the Chanels of Kappa House, Rachel's -Get the Chanel Look' offers an easy step-by-step tutorial on how to achieve this flawless & iconic look.

You can check out Rachel's makeup tutorial here: YouTube
Top Chanel Oberlin Quotes
Good evening, idiot hookers!
What fresh hell is this?
I love a creepy collage.
She smells like hotdog water and probably sprained her neck giving blumpkins
Did I ask you to pull down my panties and blow a compliment up my butt
Congratulations! If you're reading this it means you've overcome the limitations of your tiny manatee brains and opened an email.
I'm a work in progress! Okay? Maybe I have to get all this bitch out of me before I can be the real me.
You don't get STD's from blood oaths, you get STDs from dirty toilet seats and drinking the water in Mexico.
Looks like the bitch apple doesn't fall far from the bitch tree.
If you're going to get attacked, please attempt to get attacked in a fresh, exciting way.
Your leathery excuse for a mother looks like an ostrich hide clutch from last season that somehow learned to talk.
Gravity kiled Hester. I just gave her a little push.
Have fun being dead, Number Two. Your were a stupid, little trollop, and I hope you're burning in hell right now!

Special Features:
Rush Kappa!
Between 2 Queens
Style Queens

Scream Queens
RRP: $39.95
Season 1 of the killer comedy-horror, Scream Queens is out now on DVD.