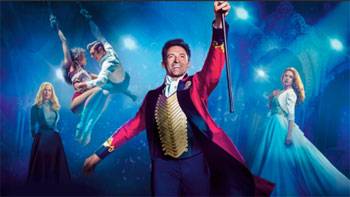 10 Things You Missed The First Time Around
The show-stopping musical The Greatest Showman is a spectacle to take in, with 11 featured songs and fast-paced dialog. Here are 10 things you may have missed:

The music and lyrics were written by Benj Pasek and Justin Paul
Not only did this duo write the music and lyrics for The Greatest Showman they are also responsible for the show-stopping tunes from Dear Evan Hansen, A Christmas Story: The Musical, off-Broadway musical Dogfight, the lyrics for La La Land and a song from the animation sensation Trolls.

Zendaya did her own stunts
Zendaya trained to do her own stunts and aerial acrobatic work for her role as Anne Wheeler the trapeze artist. She even shared Instagram's of herself performing death-defying stunts without a safety net.

The cast is made up from quite a few Australians
Hugh Jackman leads the cast as P.T. Barnum, Sam Humphrey's as Tomb Thumb, Shannon Holtzapffel as Prince Constantine, and even Michael Gracey in his directorial debut.

P.T. Barnum's ambidextrous nature
As a child the young Barnum (Ellis Rubin) is writing letters to Charity with his right-hand, however when adult Barnum (Hugh Jackman) is working at the trading company he is writing with his left hand.

All the actors don't actually sing in the movie
Actress Rebecca Ferguson, despite being an accomplished singer, chose to focus on her acting and lipsynced to Never Enough. Instead, The Voice contestant Loren Allred recording all vocals for Jenny Lind.

Ellis Rubin, who played young P.T. Barnum, also lipsynded during the love ballad A Million Dreams, while a different child singer and actor Ziv Zaifman belts out the tune.

Hugh Jackman risked his health to get The Greatest Showman into production
When Jackman performed the final sing-through for Fox executives he was recovering from surgery to remove skin cancer from his nose. As he got so animated throughout his rendition of From Now On he actually broke his 80 stitches.

The Tattoo man's magical cape
At the end of This Is Me's musical dance number Prince Constantine's (The Tattooed Man) cape magically appears and disappears in the shot.

Costumes came from actual circus'
Quite a few of the costumes used in the 'freak' ensemble scenes were provided by Feld Entertainment, who are the current owners of the Ringling Brothers and Barnum & Bailey Circus.

Zac Efron didn't pull off all his choreography
During The Other Side, when Hugh Jackman and Zac Efron are singing at the piano Efron reaches for his shot glass without looking and misses. He then looks up at the glass in an effort to correct himself.

A majority of the lead and supporting actors have successful Broadway careers
These actors include Hugh Jackman, Michelle Williams, Keala Settle, Austyn Johnson, Will Swenson, Byron Jennings, and Eric Anderson.


The Greatest Showman DVDs
Cast: Hugh Jackman, Zac Efron, Michelle Williams, Rebecca Ferguson, Zendaya, Keala Settle
Director: Michael Gracey
Genre: Musical
Rated: PG

Synopsis: The Greatest Showman is a bold and original musical that celebrates the birth of show business and the sense of wonder we feel when dreams come to life. Inspired by the ambition and imagination of P.T. Barnum, The Greatest Showman tells the story of a visionary who rose from nothing to create a mesmerising spectacle that became a worldwide sensation. The Greatest Showman is directed by exciting new filmmaker, Australia's Michael Gracey, with songs by Academy Award winners Benji Pasek and Justin Paul (La La Land) and starring Academy Award nominee Hugh Jackman. Jackman is joined by Academy Award nominee Michelle Williams, Zendaya, Zac Efron and Rebecca Ferguson.

Special Features:
The Family Behind The Greatest Showman
The Spectacle
Music Machine with Sing-Along
And More!

The Greatest Showman DVD
Trailer
Bring home the spectacle on Blu-ray, DVD and Digital May 2nd, 2018.