Monte Carlo
Cast
: Selena Gomez, Leighton Meester, Katie Cassidy, Cory Monteith, Andie MacDowell
Director
: Tom Bezucha
Genre
: Comedy-Romance
Running Time
: 109 minutes
Synopsis
: It's a typical summer day in the middle of Monte Carlo. Immaculately dressed women saunter in and out of Gucci and Hermes laden with glossy bags. The roads are packed with Ferraris and gleaming vintage cream sports cars competing for space. The golden heat of the sun is barely tempered by a sea breeze. And Selena Gomez, Leighton Meester and Cory Monteith are filming outside the most opulent building of all, the Hotel de Paris.
Selena plays Grace, a young woman who has dreamed about taking a trip to Paris for as long as she can remember. When she's saved up enough money to make her dreams come true, she persuades her best friend Emma (Katie Cassidy) and stepsister Meg (Leighton Meester) to come along for the ride. Sadly Paris is not all the girls hoped it would be, and they're deeply disappointed with their holiday. When they take a break from a dull guided tour and hide in the lobby of a five star hotel, Grace is mistaken for Cordelia, a spoiled British heiress. Grace does not have a chance to correct the mistake, and suddenly the girls find themselves in the South of France, having a much more glamorous time.
However, the holiday is not without its crazy moments, as the girls must avoid the real Cordelia (also played by Selena Gomez) as well as dealing with the suitors pursuing them accross Europe, including Owen (Cory Monteith) who is determined to marry Emma.
Release Date
: September 22, 2011
Cory Monteith, Monte Carlo Interview:
www.girl.com.au/cory-monteith-monte-carlo.htm
Grace (Selena Gomez) is an ordinary girl who becomes an accidental princess when a family summer trip to Paris turns into the fantasy of a lifetime. Living like royalty, Grace, along with her two best friends, discovers who she really is - by assuming another person's identity.
Freshly minted high school grad Grace (Selena Gomez) and best friend Emma (Katie Cassidy) are jettisoning their waitress jobs in Texas for a trip to Paris. But Grace's killjoy stepsister Meg (Leighton Meester) is involuntarily installed as chaperone by Grace's mother (Andie MacDowell) and soon-to-be stepfather (Brett Cullen). Meanwhile, Emma's boyfriend, Owen (Cory Monteith), is trying to put the kibosh on the trip altogether with a ring and proposal.
Grace and Emma, however, will not be deterred from crème brulee by the Seine, and soon enough, the two friends, with Megan in tow, arrive in France.
Ah, Paris-the lights..the boulevards..the..
Sorry, no time for that! Scurried past famed landmarks by a hyperactive tour guide, and discouraged by their "luxury" accommodations and frequent tiffs, the trio's spirits sag like the behinds of knit-panted American tourists.
Fortunes change, however, when Grace is mistaken for British socialite Cordelia Winthrop Scott. When the girls inadvertently take possession of Cordelia's invitation to a ritzy charity ball in Monte Carlo, they seize the moment, indeed, the entire week, by ditching their hopeless packaged tour, and heading south. With carte blanche to the socialite's grand suite, clothing and accessories (including a $4 million necklace), they embark on a romantic adventure of yacht parties, polo matches and highly eligible bachelors. But when the necklace goes missing and the real Cordelia unexpectedly arrives, Grace, Emma and Meg have to rely on all their southern charm, wit and bravado to keep their sugarcoated vacation from turning into a full Monte meltdown.
It has long been a rite of passage for countless young Americans to celebrate graduation (or almost graduation, in Emma's case) with a trip to Europe. The grand architecture, sophisticated culture and rich history serve as a virtual finishing school for young people preparing to step into the larger shoes of adulthood. Add to that the allure of romance and glorious adventure and, well, start packing your bags!
For Grace Bennett (Selena Gomez), who always feels like a bit of a square peg in a round hole, Europe represents an opportunity to find all of the above - and herself as well. "Grace is a down-to-earth girl who loves her mother and friends, but at the same time, she's always felt that her destiny lies beyond her small Texas town," says Selena Gomez. "She wants the promise of something bigger and better, and places a lot of hope, probably too much, that a trip to Europe will open doors to her life."
Grace's friend Emma, meanwhile, has a devoted boyfriend Owen (Cory Monteith), who's keen to marry and settle down to a quiet life. Emma loves the simple, kind-hearted and decent Owen, but is curious if perhaps a dash of exotic European romance may be more to her taste. There are a lot of fish in the sea - why settle for the first one on the hook? "Emma sees her trip with Grace as a fairy tale - they'll go to Paris, meet handsome gentlemen, and have amazing experiences," describes Katie Cassidy. "Emma is the one always pushing things forward, eager to take chances and bend the rules."
Both girls see the presence of Meg (Leighton Meester) as an unwelcome intrusion - a fly in their sparkling glass of bubbly. Simply put, she's never been known as the life of the party. "Meg recently lost her mother, and is still a bit traumatised over it. She's somewhat excited to visit France, but not under these circumstances, and certainly not with these two girls," explains Leighton Meester. "A bit closed off emotionally, she sees herself as being much more learned and mature than Grace and Emma." Adds Selena Gomez: "Meg is very close to her father, and doesn't want him to remarry. So she resents Grace's mother, which means she resents Grace. Meg and Grace definitely butt heads in the beginning. But as the story unfolds there's a wonderful arc between the two of them."
With Meg in tow, the packaged Paris tour that Grace diligently booked begins with dampened expectations, and soon hits rock bottom. A cramped and dingy hotel room, drill sergeant tour guide and lousy weather prompt Meg to compare the trip to a particular part of their anatomy. Grace, feeling even more like a misfit than she did in Texas, dejectedly confesses, "I'm sorry I ever thought that things would be different for me in Paris."
But an opportunistic wind of change is about to blow through in the unlikely form of spoiled British socialite Cordelia Winthrop Scott. After watching Cordelia throw a small tantrum in a grand hotel, where they've ducked in out of the rain, the girls are stunned to notice that Grace is a dead ringer for the bratty heiress. With some encouragement (make that insistence) from Emma, Grace decides to attempt to pull off a brazen masquerade. Her spot-on impersonation of Cordelia lands them in Monte Carlo, where ensconced in the luxurious Hotel de Paris, the girls start living large. Really large. Monte Carlo large.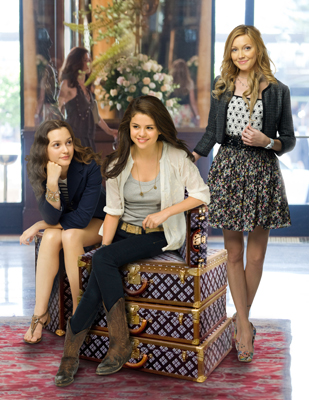 "This story is set up as a bit of a Wizard of Oz fable," explains director and co-screenwriter Thomas Bezucha. "The girls are from a remote landlocked place, as was Dorothy Gale, and they journey to Monte Carlo, which is Emerald City. We're doing a storybook version of France - it looks like a giant Easter basket, colorful and coated with sugar."
Nothing that the film has overtones of How to Marry a Millionaire and Roman Holiday, producer Denise Di Novi states, "Paris is such a romantic city, idealised by many young American women. For Grace, Emma and Meg, the Paris of their dreams isn't panning out. It's not unusual for a young person's idealised expectations in life - be it for travel, dating or jobs - to be unmet by reality. However, our girls have a chance to change their luck, and they take it. All the way to the south of France.
"This is one of those hard-to-find movies about young women that has both the fun & fancy of a big frothy comedy and also a satisfying emotional journey and transformation for the characters," adds Denise Di Novi. "Each girl is going through personal challenges that are very relatable to an audience."
The first challenge for Grace, Emma and Meg is buying enough time to go through the socialite's remarkable wardrobe. Indeed, Cordelia routinely travels with tens of thousands of dollars worth of couture clothing (Dior, da la Renta, Gucci, et al), and it all falls, at least temporarily, in the hands of the three gals from Texas.
"I think it's most every girl's fantasy to wear spectacular clothing and feel like a princess, and that's what our characters get to do in this movie," says Katie Cassidy. "Emma reads Vogue and In Style and considers herself a bit of a fashion plate. She takes it upon herself to get Grace and Meg ready for the formal occasions, like the ball and the charity auction."
The newly formed princesses meet their respective Prince Charmings in a variety of ways and locales. Emma is introduced to a ridiculously handsome and real Italian prince, Domenico (Giulio Berruti), at an auction. Meg stumbles, literally, into an Australian backpacker named Riley (Luke Bracey) on the steps of Paris' Sacre Coeur. Grace, meanwhile, finds herself attracted to the adorable but impatient Theo (Pierre Boulanger), whose wealthy father (Christophe Malavoy) is hosting the gala charity auction in Monte Carlo that 'Cordelia' is attending. "Grace has feelings for Theo, but he knows her only as Cordelia, so she's totally insecure about how he would react to her real identity," explains Selena Gomez. "Theo is so suave and sophisticated, there is no way he would be interested in a small-town Texas gal."
Little does she know that Theo actually disdains the type of snotty, upper crust brat that Cordelia personifies. "This story is a comical look at a clash of cultures," says Pierre Boulanger. "Despite his own status, Theo doesn't care for fancy people, and initially makes a negative snap judgment about Cordelia. However, he is surprised to learn she is not the girl he expected - and that's because Grace's kindness and simplicity is seeping through her impersonation of someone else."
Says director Tom Bezucha: "Each girl has a romance, but it isn't about the guys, it's about how the girls see themselves in relationship to the guys. They aren't wondering, 'Does he like me?' but rather, 'Do I like myself when I'm with him?'"
Even as Grace, Emma and Meg relish taking enormous bites out of the French upper crust, looming over their fun is the very strong likelihood that the deception could be uncovered at any moment. That possibility becomes ever more likely when the suspicions of Cordelia's Aunt Alicia (Catherine Tate) are aroused. Regal, intimidating and highly attentive, Alicia is not one to be trifled with," explains Catherine Tate. "Alicia is the aunt, by marriage, of Cordelia, so I'm guessing she wed a rich uncle, who's now dead, and kept his title and money. Alicia instantly senses something different about 'Cordelia,' particularly when she gives off the appearance of actually caring about the children's charity she's here to support."
The caution flag raised by Aunt Alicia is frantically waved when Cordelia herself arrives. The ruse is up, but the shenanigans are just beginning. "The third act is very much a French farce," says Tom Bezucha. "Slamming doors, characters passing but just missing each other, a lot of slapstick comedy. The girls do some things that are unquestionably wrong, but in the end they're saved by their own decency. "This is a romantic adventure story about young adults whose lives are about to happen," he continues. "They are deciding who they are going to be in those lives, and dealing with issues of identity and trust while searching for their place in the world."
Casting and Pre-Production
Tom Bezucha responded to the story on many levels, not the least of which was his own childhood experiences growing up in France, where his father and mother, both Americans, were a European history professor and accomplished musician, respectively. "This story is about the experiences and memories of youth that forever affect your life, and I felt it was a meaningful and emotionally honest take," he says. "I think that's what resonates with girls this age."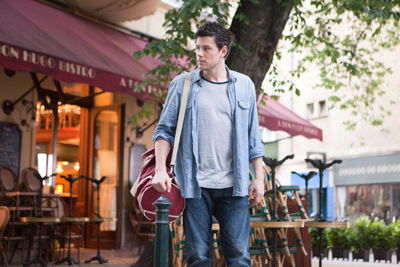 Denise Di Novi and producer Alison Greenspan were just coming off a rewarding experience with Selena Gomez on Ramona & Beezus, and Tom Bezucha shared their enthusiasm for the young actress. "I was completely charmed by Selena Gomez. She's at a remarkable point in her career and life that mimics the story," he says. "She's about to lift off, and I saw an opportunity to do an Audrey Hepburn thing where she transforms from a girl to a young lady." Adds Alison Greenspan: "Selena Gomez is very charming and beautiful, but also very accessible, which lends her an 'every girl' appeal. She projects a kindness and normalcy that enables her to embody Grace, and for audiences to hook onto her journey."
The filmmakers were well aware that casting Selena Gomez was laying the bedrock of the movie, as she would be challenged to play three roles: Cordelia, Grace, and Grace pretending to be Cordelia. The actress began working with a dialect coach weeks before cameras rolled, finding the appropriate British accents for both Cordelia and 'fake' Cordelia. "I had no idea there are so many different forms of British dialect," Selena remarks. "We came up with one that worked, and we did exercises and voice training two hours a day. I was quite nervous about it, really, and worked very hard to try to get it right. Cordelia's voice is in a lower range, while Grace pretending to be Cordelia has a slightly higher registry. Grace is more my natural voice, but with a slight Texas accent, which didn't need emphasising. The trick was keeping it consistent throughout the movie."
The sassy character of Emma was entrusted to Katie Cassidy, who has garnered attention on Melrose Place and the hit remake of Nightmare on Elm Street. "Katie Cassidy instantly captured Emma's spark," describes Tom Bezucha. "She can demonstrate shrewdness, innocence and comedy simultaneously, which you don't realise is so rare until trying to find it."
Recalls Katie Cassidy: "I had a Paris work adventure when I was 19, with a similar experience as Emma. I remember walking into the hotel where we were staying carrying bags of groceries because we couldn't afford to dine at the hotel, and getting some strange looks. I can relate to the feeling of being on a lower rung of the European economic-social strata."
In mulling over casting for the role of Meg, the yin to Emma's yang, Tom Bezucha kept hearing the name of Leighton Meester. "I hadn't seen Gossip Girl," he remembers, "but the people I was discussing the character with all said, 'You have to meet Leighton Meester.' So I read some parts with her from a very rough and unfinished previous draft and was very impressed with her effortless range." Denise Di Novi says Leighton Meester possesses "the aura of a 1940s movie star, like Myrna Loy. She's a classic beauty, with a wonderful dry delivery, who can hit all the comedic and dramatic notes."
In casting the three principal roles, Alison Greenspan notes, "Tom Bezucha always reiterated this idea of Neapolitan ice cream, with three very distinct looks, personalities and energies among the three leads. I think that's exactly what we were able to find for this ensemble."
With the troika of actresses settled, the filmmakers turned their attention to the role of Owen, in which Tom Bezucha said he always envisioned Cory Monteith, who plays the role of Finn Hudson on the Golden Globe winning, hugely popular FOX television series, Glee. "In my office I had pictures up of the sort of iconic faces I wanted for the part, and Cory Monteith was always up there for Owen. He's a big, friendly, very funny and likable guy. He sells the character the instant he's on screen."
A global casting search enabled filmmakers to fill the roles of the male romantic interests with two emerging young international actors: French thespian Pierre Boulanger (as Theo), who, at age 14, starred opposite Omar Sharif in 2003's Monsieur Ibrahim, which was a Golden Globe nominee for Best Foreign Language film; and Australian Luke Bracey (as Riley), star of the popular Oz series Home and Away. The two are making their Hollywood debuts.
High fashion also plays a key role in the movie, and costume designer Shay Cunliffe spent the precious weeks before principal photography on whirlwind shopping tours of Paris, New York, London and Budapest. States Shay Cunliffe: "We have some wonderful couture dresses that we bought from designer stores or borrowed from archives, or that have been custom-made. Our task was to lend a vintage flair to contemporary clothes. Tom Bezucha and I referenced a lot of period films and are trying to capture a more timeless world. We have clothes from Dior, Chanel, De La Renta, and Gucci. The tone is classic and elegant. The clothes are all fitted, accessories restrained."
Shay Cunliffe traveled with two suitcases containing $100,000 worth of dresses to Los Angeles for fittings with Selena Gomez, and then on to New York for fittings with Katie Cassidy and Leighton Meester. The three actresses were excited about the wardrobes, offered a lot of input, and "had a great time trying on various looks," Shay Cunliffe states.
Much of the story takes place in Monaco's ultra glamorous Hotel de Paris. Hosting some of the wealthiest and most influential people in the world, the hotel was only available to production for a few short days, with limited access. That required most of the shooting to take place on a "recreated" hotel set. Remarks production designer Hugo Lucyzc-Wyhowski: "The key to making this thing work was being able to convincingly replicate a substantial portion of the lobby of the Hotel de Paris on our Budapest soundstages. "
Landmark locations in Paris cannot be recreated, so a five-day shoot took place in the City of Light prior to filming in Monaco. Mimicking the frantic pace set by the storyline's tour guide, Madame Valerie, filming took place in and around Charles de Gaulle airport, the Eiffel Tower, Louvre Museum, Sacre Coeur, Pont des Arts, Arc de Triomphe, and, for good measure, the Gare de Lyon train station. "Our filming in Paris was like The Amazing Race," laughs Tom Bezucha. "A whirlwind tour of the great sights of the city, with a few visual nods to some of my favorite French films, such as Lavender Hill Mob."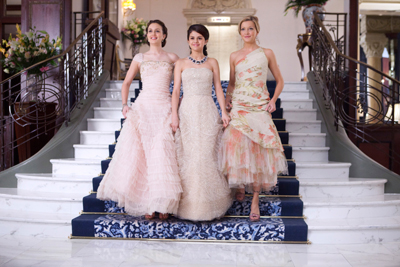 Principal Photography
Selena Gomez is perched atop a horse named Ariel on a makeshift polo field one hour outside Budapest. It's May 6th, 2010, the second day of principal photography on Monte Carlo. The 18-year-old actress has been practicing for weeks on horseback, prepping for this, the biggest, most complicated scene in the film. And it's hit a snag. "I think Ariel and I are about to have our first fight," Selena Gomez laughs. "She keeps trying to go in another direction."
In the narrative, Grace (as Cordelia) has been corralled into participating in a polo match. Who knew the spoiled socialite was an expert player?
As a Texan, Grace is an accomplished horse rider. Selena Gomez, however, is not. "I'm supposed to look like I know how to ride Western-style, but not polo style, which is much different," she says. "I haven't spent much time on horses, so I took lessons for a few weeks. I'm comfortable now, but still depend mostly on Ariel's cooperation!"
Wealthy spectators are seated at luxury tables on the side of the field, and the characters of Aunt Alicia and Bernard are themselves menaced by one of Grace's errant shots. The scene required hundreds of very well dressed extras, along with a fleet of expensive cars, which line the driveway of the adjacent palace.
"Tom Bezucha wanted this scene to be more reminiscent of a race at the Royal Ascot (the famed English horse race) or the Queen's garden party," says costume supervisor Jo Korer. "It's a heightened sense of fashion, style and protocol, reflecting a bygone era."
In the scene, Grace is dressed in tight black riding crops, a white polo shirt, and cap. Alison Cunliffe designed most of Grace's wardrobe to look "as if she doesn't have much of an interest in clothes, but has a sense of style nevertheless. She is a girl who might shop at a vintage second hand store for a top, or get a new pair of jeans on sale, but otherwise wouldn't spend a lot of time shopping."
Emma, on the on the other hand, considers herself a bit of a fashion plate, though not always with the greatest taste. Alison Cunliffe explains: "Emma loves the New York look, even though it's a bit too much for the town where she lives. She buys chic pieces at places like H&M and Topshop, shoes at Aldo, and is bold and flamboyant in how she mixes and matches."
In contrast, Meg wears more expensive designer lines that are simply tailored and somewhat restrained, like her personality. She wears a trench from Zara, slacks from Theory, a blazer from Miu Miu, shorts from Diane von Furstenberg, and sandals from Gucci. The colors are mostly subdued. In fact, the entire film has an overriding color palette that covers wardrobe and production design. Paris is depicted in earthy, musky colors - olive, beige and moss green, dark browns, musky lilacs-along with a splash of blue and white.
Monte Carlo, meanwhile, is bathed in color: corrals, pinks, lemon, lavenders, ice and sea blues, periwinkle, turquoise, warm oranges. For the Texas scenes, the color scheme is mustard, ochre, dark grays, dusty browns and greens. No blue! "Try dressing two hundred 'Texas' extras in Budapest without blue denim," says costume supervisor Jo Korer.
Texas was indeed on full, if virtual, display, for scenes of Grace's high school graduation. A Lone Star flag waved over a junior high school in a Budapest suburb, while dozens of boot-clad well wishers milled about in the courtyard, awaiting the gymnasium exit of the excited grads. Real school was in session during filming, drawing curious looks from students peering outside their windows. Coincidentally, Selena Gomez received by mail her own high school diploma on the very day of this graduation scene. She was presented her degree by producer Alison Greenspan during a break in shooting, to applause from cast, crew and extras.
In addition to workdays that sometimes extended to 16 hours, Selena Gomez spent her weekends doing everything from promoting her other projects to shooting a music video to recording six new tracks for a new album. "She's phenomenal," says producer Alison Greenspan. "Amazing energy and drive, and, despite carrying such a load, she never loses her poise, professionalism or manners."
For all the admiration she garnered on set, Selena Gomez was herself delighted to meet someone she looks up to, Andie MacDowell. A star of such hit comedies as "Groundhog Day," "Green Card" and "Four Weddings and A Funeral," Andie MacDowell was on set for two days for the graduation sequence, as well as for an emotional mother-daughter interior scene taking place in their kitchen. "Monte Carlo is a beautiful story," Andi MacDowell says, "and one of the things I liked about it in particular is that it leaves you with the feeling that anything is possible."
Andi MacDowell has a special connection to the storyline in that she, too, had an amazing Monte Carlo experience as a young model working in Paris. "I was only about 20," she recalls, "with very little money. I was dating a count, who took me to Monte Carlo for the grand prix. Next thing I know I'm having dinner at a palace with all these aristocrats as the guest of Olivier Chandon, heir to the Moet Chandon enterprise. It was an amazing experience, which I appreciated much more in hindsight. Just like the girls in this movie, when you're young, you don't really question life's possibilities. You just think, 'Well, why not?'"
On Thursday, May 12th, the company moved into the gorgeous interiors of Budapest's Stefania Palace for the grandest scene in the movie: the girls' appearance at the ball being thrown in Cordelia's honor. The Stefania Palace, which stands in for Monaco's Da Silva Ballroom, was built in the early 19th century in Eclectic style, and is now a popular spot for special events and private parties.
"Budapest has a Parisian scale to its architecture and some very dramatic interiors, such as this one at the Stefania Palace," says Hugo Lucyzc-Wyhowski. "It's an absolutely beautiful room."
However impressive the room, it is surpassed by the appearance of Grace (again, masquerading as Cordelia), Emma and Meg wearing ball gowns raided from Cordelia's wardrobe. Their transformation into society ladies begins as the trio exits the Hotel de Paris elevator doors on the way to the ball. The effect was dazzling. Grace/Cordelia wore an Oscar de la Renta ball gown that was purchased from the exclusive Beverly Hills shop Lily et Cie (Lily and Co.), which dresses many stars for the Academy Awards®. The one-of-a-kind gown was hand sequined, with layers of netting and petticoat underneath, and tiny pearls tucked in by hand. A hugely expensive Bvlgari sapphire and diamond necklace offset the exquisite gown.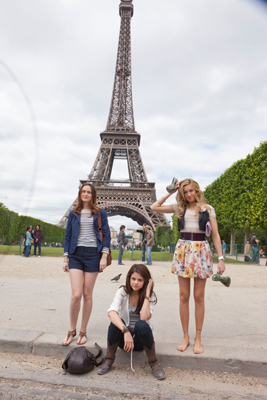 Emma and Meg were equally stunning, the latter in a rented $10K Christian Dior gown with silk jewels and highly embroidered bodice, with a simple silhouette. Layers of the finest silk were sewed in strips atop a beautiful ballet pink underskirt, beaded on top with Swarovski crystals and tiny sequins. Emma wore an eye-popping sexy fishtail dress that Shay Cunliffe says is "beautifully made and classy, and perfectly fit." The rented gown, hand tucked and cut into strips, with hundreds of tiny buttons, was designed by J. Mendel, whom Shay Cunliffe says is one of the best emerging designers in Los Angeles.
Preparing the three actresses for the ball took two-and-a-half hours in hair, makeup and wardrobe. To draw a distinct visual contrast between Grace and Cordelia, the make-up department used a very light, see-through foundation for Grace, with little blush or eye makeup, while Cordelia had a proper base with a lot of pigment that helped create extensive face-shaping and eye definition.
From the Stefania Palace, the production moved to an equally spectacular and ornate building, the Hungarian State Opera House. Completed in 1884 under Emperor Franz Joseph, the neo-Renaissance structure, with baroque elements, is richly decorated with beautiful paintings and sculptures, and considered one of the very best opera houses in Europe. Its acoustics are rated second only to La Scala in Milan. Gustav Mahler was director in residence from 1887-1891.
With its marble columns and staircases, arched ceilings and chandeliers, the Opera House makes a splendid stand-in for a luxurious Parisian hotel lobby - in this case, the made-up "Grand Belle." This location sets the story's masquerade in motion: the girls step inside the Grand Belle to escape a rainstorm and catch their first glimpse of Cordelia Winthrop Scott. Cordelia is dressed in skintight Jitrois leather pants, a cream blazer and grey T-shirt from The Row, and, as Cunliffe describes, "mega-high black patent leather pumps" from Christian Louboutin. "Everyone wanted to borrow those shoes," Shay Cunliffe admits, "and I loaned them out to one actress on one occasion. But I didn't sleep that night from worry." Shay Cunliffe had to attach rubber red soles to the six-inch-high heeled shoes so that Selena wouldn't slip on the marble floors.
Following two days of exterior shooting at other Budapest locations - including an open-air disco on the banks of the Danube River that Meg and Riley sneak into on their first date - the production moved into the just-opened Raleigh Studios for four weeks of shooting. This state-of-the-art facility housed three stages of sets: the Hotel de Paris suites and corridors, the enormous Hotel de Paris lobby, and the Le Petit Sommeil. The latter, where the girls check-in upon their arrival in Paris, is so small as to be comical, and is one of their first indications that this trip may not go exactly according to the brochure. "Paris is famous for having very small hotel room, which they like to refer to as 'intimate,'" says Hugo Lucyzc-Wyhowski, "so we emphasised this to the maximum, I should say minimum, effect with the Le Pettit Sommeil set."
On May 25th, production began shooting scenes on the Hotel de Paris set, including the enormous Grimaldi Suite, where Grace, Emma and Meg ensconce themselves during their flirtation with French high life. The suite had a grand piano in one corner, which Selena sometimes played during breaks in shooting. It had space for a dozen more. "Just as we over-stated the smallness of the Le Petite, we exaggerated the size of the Grimaldi suite," explains Hugo Lucyzc-Wyhowski. "The balcony and hallways are the same as in the real Hotel de Paris, but the real rooms are not quite this grand or large."
Outside the windows of the suite, pressed against the wall of the stage, was an enormous photo backdrop, a translight, of Monte Carlo. The photo was taken by the art department and mounted in such a way that every camera angle looking towards the windows saw the spectacular images of the principality. "I've never been to Monte Carlo, but thanks to this backdrop I've been looking at it for weeks now," Leighton Meester jokes. "If the real place doesn't look like this I'm going to be disappointed."
Cory Monteith joined the production on June 2nd, having completed his Glee stage tour the night before flying to Europe. In the story, Cory Monteith's Owen has impulsively decided to track down his lost love in Paris, and arrives in a somewhat confused and disoriented state of mind. "I could relate to that," laughs Cory Monteith. "I'd never been to Europe before, and I felt a bit of jet lag and culture shock."
On June 5th, filming moved to Budapest's Nygati Railway Station. (The station was the first of two landmark structures the production used that were designed by Gustav Eiffel - the other being his somewhat better known tower in Paris.) Hundreds of fans gathered near and around the entrance of the set, hoping to catch a glimpse of, or perhaps obtain an autograph, from one of the stars. Each week, more and more people were following the production, evidence of the cast's international fan bases, especially that of Selena.
On June 14-16, filming occurred at Budapest's Szaba Ervin Library, another architectural masterpiece, for scenes set at a charity auction. Here, Grace faces the consequences, in a room of wealthy, stern bidders, for her attempted impersonation. Other Budapest locations included the Gerloszy Restaurant (doubling for a Parisian café), the Budapest (Fehergy) International Airport, and several neighborhood exteriors and side streets for traveling car and bus shots.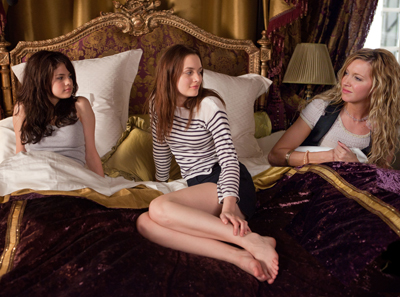 Viva Le France!
Before production, Tom Bezucha had said shooting in Paris was going to be a wild ride, and he wasn't kidding. After landing June 19th at Charles de Gaulle Airport on an early morning chartered flight from Budapest, the production shot scenes of Grace, Emma and Meg arriving at, well, Charles de Gaulle. The next four days were just as hectic. The following Monday, the cast and crew ascended the Eiffel Tower for the first of two "half-days" shooting atop the famed monument. "Here we were, watching the sun rise over Paris, from a great vantage point on the most famous landmark in the world," says Katie Cassidy. "It's one of the moments you have to check yourself and appreciate." "I'll never forget the Eiffel Tower shoot," says Selena Gomez. "Yeah, it was freezing cold [Paris was having record-breaking cold temperatures], but I got an unbelievable view of Paris. Amazing."
A few days later, the production moved to the Louvre Museum. Established in 1793, the Louvre is the most famous museum in the world. It houses 35,000 pieces of art, including Da Vinci's "Mona Lisa," and the "Venus of Milo" sculpture. Only 50 cast and crew are allowed into Room 77, where shooting occurred.
The next day, Leighton Meester, Selena Gomez and Katie Cassidy, along with Luke Bracey, filmed scenes on the steps of the renowned Sacre Coeur Basilica, built in 1873, located atop the hilly Montemarte. Here, Meg stumbles upon Riley, the first of a series of chance encounters that ultimately flower into romance. The Sacre Coeur attracts millions of visitors - among them, Owen, who, in desperate search of Emma, uses its marvelous terrace as a lookout point from which to scan the city's horizon, and reference its landmarks with his folding map.
The company shot exterior scenes at the Louvre Museum and driving scenes on several Paris streets June 24th before heading to Monte Carlo. To enable Selena Gomez, Katie Cassidy and Meg to live their characters' experience, the producers put them up at Monte Carlo's Hotel de Paris. "If method acting includes staying at this awesome hotel and puttering around in luxurious bathrobes, count me in," Katie Cassidy laughs.
The first day of shooting in Monaco took place not at the hotel, but at Larvotto Beach, where the gals don swimsuits, soak up the sun, and exchange frank opinions about the status of their strained relationship. On June 28, the first of two days of interior shooting began with Cordelia's arrival at the Hotel de Paris. Located next door to the legendary casino, the Hotel de Paris exudes luxury, ostentation and regality. Built in 1864, the exquisite Art Noveau structure features marble pillars, crystal chandeliers, Louis XVI chairs, a lush array of tapestries, and, in the lobby, glass enclosed luxury items such as gold jewelry and diamond necklaces. Expensive sport and luxury cars - Bugatti, Rolls Royce, Lamborghini, Masserati, Ferrari, Aston Martin - are routinely parked around the oval medium in the parking lot. The avaricious auto display routinely attracts daily throngs of admirers, even when a film production hasn't upped the ante.
Production was halted several times during shooting to accommodate VIPs arriving for meetings at the Hotel, including ambassadors, dignitaries, and even Monaco's Prince Albert II himself. An enthusiastic supporter of Monaco's film industry, the prince dropped by to greet the cast and filmmakers.
On July 2, production filmed at a stunningly beautiful cliffside location near Antibes, France known as 'Eilenroc' - an anagram of Cornelie, wife of the wealthy Dutchman who had the palace commissioned and built in 1874 (from a design by heralded architect Charles Garner). Overlooking some of the world's most valuable real estate along the French Riviera, Eilenrock became in 1927 the property of the American businessman Louis Beaumont and his opera singer wife, Helen, who hosted many fabulous soirees that attracted privileged guests from throughout the region. Helen donated the palace and surrounding gardens in 1982 to a land conservancy. Today it is used for public gatherings and theater productions. Its beachside landing below, not easily accessible, provides a picturesque setting for scenes between Meg and Riley, who climb a 20-foot rock some 30 yards from the shore, and share some emotional accounts of their recent difficult pasts.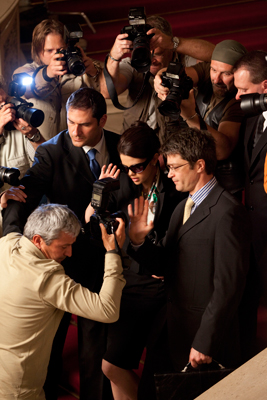 Having already depicted a "Texas" high school in Budapest, the art department again "cheated" the Lone Star state in France in the form of a roadside diner. Here, in opening scenes of the movie, Grace and Emma wait on snotty classmates and dream of their Paris getaway. Location scouts managed to find, 35 minutes outside Monaco, a suitable locale that was once a Pizza Hut restaurant. In 2008, the building was converted into a steakhouse restaurant that is part of the popular Courtepaille chain in France. Working an all-night shift from midnight to just moments before shooting began at 8 am on July 5, Hugo Lucyzc-Wyhowski and his team built a fake wall to hide the exposed kitchen, rearranged the dining room layout, and added ceiling fans, a partition, red fabric benches and casual wooden chairs and tables. Presto! A Texas diner.
Principal photography on Monte Carlo wrapped on July 8 with an all-night shoot at the marina. On a warm, sunny night, replete with breathtaking views of Port Hercule harbor and the surrounding cityscapes of Monaco, the crew shot Emma's dream date with Prince Domenico, aboard a yacht. A few hundred yards away sat the 400-foot-long Atlantis II, one of the largest yachts in the world. Selena Gomez completed her work on the film the previous night, but comes out to support Katie Cassidy, who showers her with affection. "Classy gal, that Selena Gomez," says Katie Cassidy.
Director Tom Bezucha concludes: "Like The Wizard of Oz's Dorothy Gale, our characters have to experience their own remarkable journey to appreciate what is missing in their lives and, even more, to appreciate what they already have. And the one who has the biggest vision of herself in a larger world realises she's most content and most herself at home."
For Selena Gomez, who has been in Europe since March, when she began a publicity tour for her album, the five months shooting Monte Carlo was an extraordinary, challenging, and physically demanding experience. And one she will never forget. "I feel very much like I have gone through a lot of what Grace did," she says. "I've learned a lot, I've been able to do and see some amazing things, and I have shared the company of some people I've grown to love. And I turned 18. The whole thing is an amazing blessing, and I grateful for it all."