Selena Gomez Spring Breakers Interview
Cast: James Franco, Selena Gomez, Vanessa Hudgens, Ashley Benson, Rachel Korine, Gucci Mane
Director: Harmony Korine
Genre: Comedy, Crime, Drama
Rated: R18+
Running Time: 92 minutes

Synopsis: Four sexy college girls plan to fund their spring break getaway by burglarizing a fast food shack. But that's only the beginning...

At a motel room rager, fun reaches its legal limit and the girls are arrested and taken to jail. Hung-over and clad only in bikinis, the girls appear before a judge but are bailed out unexpectedly by Alien (James Franco), an infamous local thug who takes them under his wing and leads them on the wildest Spring Break trip in history. Rough on the outside but with a soft spot inside, Alien wins over the hearts of the young Spring Breakers, and leads them on a Spring Break they never could have imagined.

Spring Breakers
Release Date: May 9th, 2013
Interview with Selena Gomez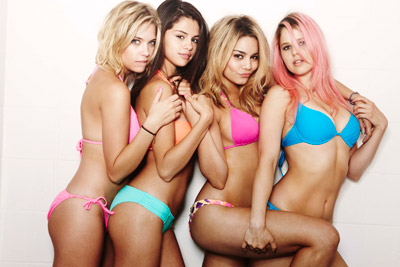 Question: Selena, how did you become attached to this project?

Selena Gomez: Because of Harmony and Rachel Korine. I guess they both saw something about me, and my Mom got a hold of the script because she is my manager. She loves Harmony's work and she was so excited. I wasn't too familiar with his work. I remember hearing a lot about Kids but I was really young when it came out. When the request came in, I saw Kids, Gummo, Trash Humpers and Mister Lonely, and I loved the way he shot and the way he worked and I was just so excited. So when I read the script, I was a little scared because I was like, 'Oh, this is totally different from anything I've ever done before." I wanted to meet him, so I flew out to his house in Nashville and auditioned with him for about two hours and talked to him, and I completely fell in love with him and Rachel.


Question: You play Faith, the only girl in the story with a moral compass. Is that the way you are in real life?

Selena Gomez: Yes. I think a lot about something before I do it. I look at something, then I over analyse it to death, and then I make the decision to go and do it.


Question: This movie has a lot of improvisation. How was that for you?

Selena Gomez: Amazing, I don't want to do a movie with lines again! It forces you to really become that person. You know there is a guideline and you know what you are supposed to be portraying, but you are the one making the words and creating the scene. I've never faced such a testing challenge, and it was really fun. It will be hard to go back to memorizing a bunch of lines.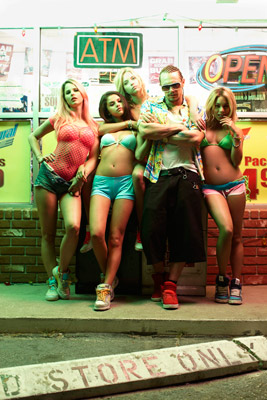 Question: What was your perception of spring break and real spring breakers before connecting with Harmony's ideas?

Selena Gomez: It was everything I expected. I had a picture of what spring break was and you see it in videos and how they are completely crazy - and then you are in it and you witness it and it is intense. There were a few things Harmony did that were wild and beautiful and fun and I didn't know could be done, but I kind of expected it to be that crazy.


Question: It is one of the most anticipated films of next year. Many other movies have millions of dollars behind them, but this one has girl power and Franco power. Does that make you proud?

Selena Gomez: It's weird. I took the role because I honestly thought it would be more independent. I mean, it is really independent, I just didn't know it could be commercially successful. I have done films that are commercial, advertisements everywhere you look, all that stuff, and you have to go through a studio and they nit-pick everything to make it something every audience can see, and I don't think that this film is that.


Interview by Johannes Bonke.
Spring Breakers
Release Date: May 9th, 2013