Vanessa Hudgens Spring Breakers Interview
Cast: James Franco, Selena Gomez, Vanessa Hudgens, Ashley Benson, Rachel Korine, Gucci Mane
Director: Harmony Korine
Genre: Comedy, Crime, Drama
Rated: R18+
Running Time: 92 minutes

Synopsis: Four sexy college girls plan to fund their spring break getaway by burglarizing a fast food shack. But that's only the beginning...

At a motel room rager, fun reaches its legal limit and the girls are arrested and taken to jail. Hung-over and clad only in bikinis, the girls appear before a judge but are bailed out unexpectedly by Alien (James Franco), an infamous local thug who takes them under his wing and leads them on the wildest Spring Break trip in history. Rough on the outside but with a soft spot inside, Alien wins over the hearts of the young Spring Breakers, and leads them on a Spring Break they never could have imagined.

Spring Breakers
Release Date: May 9th, 2013
Interview with Vanessa Hudgens
Question: Vanessa, were you familiar with Harmony Korine's work be- fore you were cast in Spring Breakers?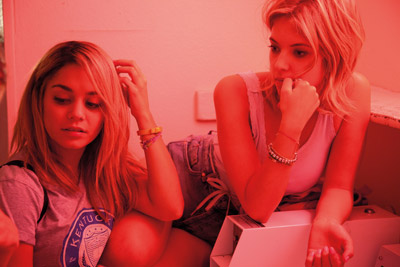 Vanessa Hudgens: I feel like I knew a little bit. Harmony worked with one of my manager's other clients on Kids, and that was one of my dad's favourite movies. When this came along, he was really excited. I think James Franco was already attached, and then I read the script and I'm such a big fan of his. I'm a real believer in putting things out in the universe, and eventually if you want it bad enough it all happens. For months I was saying, I want to work with James Franco over and over again, and when this came up, I thought 'We need to make this happen!".
Question: Were the other actresses attached to the project at that point?

Vanessa Hudgens: No. There was no one else attached. We were just figuring out the characters. I was like, I'm really just excited about the project and don't care which character I play. Then he made me read for Candy and the next time he had me come in again and do a few reads with a few girls.


Question: You needed to find the perfect partners in crime for your part.
Vanessa Hudgens: The relationships in the movie are such strong bonds - girlfriends who have been best friends since childhood. It is such an amazing connection that females have, it's unlike anything else. In order to show it on film, we needed to establish a connection. At that point I heard about Ashley Benson, who came on board as well. I actually used to go to acting class with Ashley, when I was 15 or 16. We were in the same class but our paths in life had been completely different. We never really got to know each other at all. And it's so funny now, coming back to that and being able to dig into each other's past. It's a small world.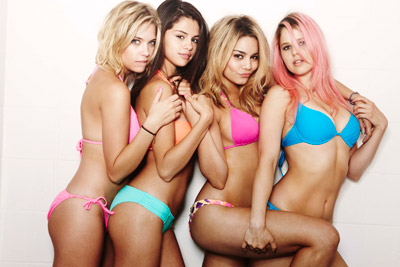 Question: How do you think the character got to the point where she gets arrested? What kind of background do you think she is from?

Vanessa Hudgens: I think our characters just do whatever they need to do to get what they want. As women, they know that they're hot and empowered, and they know that if they're tough enough and they act like they know what they're doing, then people will believe them. Together as a crew, they know they can conquer the world and get whatever they want. And the only way they know how to get to spring break is to rob a bank.


Interview by Johannes Bonke.
Spring Breakers
Release Date: May 9th, 2013