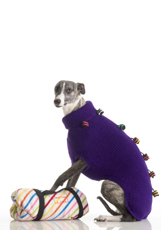 If you are a pampered pooch and have some serious street-side fashion sense, then now is the time to bark your owner into knitting you some fabulous winter knitwear. Knitwear is not only huge on the catwalks this season, but also on the sidewalks of Paris, Milan and New York. Big or little dogs are strutting their stuff in the latest puppy knitwear and loving every minute of it.
Australian Country Spinners who brought you the very stylish Patons "It's a Dog's Life" in 2005 have designed their latest 2006 Puppy Knits pattern book, the Panda 'A dozen hand knitted dog coats for Pampered Pooches'. The book showcases some fabulous knitted coats, jackets and jumpers using the latest Panda yarns. All you Aussie doggies need not look despairingly at the magazines this season, wishing you could style it out with the rest of the world, Panda have put together some very simple, easy to knit, yet very fashionable patterns for any owner to create.
There is a range of styles to choose from with the sophisticated walking jacket, great for evening walks or if you are attending a major event or party you can't go past the tuxedo jacket or diamante dress-up. Daywear has never looked so good with the ultimately stylish hounds tooth coat and if you're a puppy who likes a bit of fun there is the gorgeous licorice allsorts sweater. Now if you are a canine with the perfect owner/puppy relationship, you will love the double cardi ensemble, where you and owner can hang out in matching cuddly cardigans right through winter!
Panda also have a collection of stunning yarns that come in a range of vibrant, modern and classic colours, allowing owners to individualise each design to match in with your own fabulous fur coat.
So grab your lead and bound out to any good craft store with owner in toe to pick up the Panda "A dozen hand knitted dog coats for Pampered Pooches' for around $10.00. If your owner is a little fearful of their knitting talents, there are plenty of learn to knit classes across Australia and a Panda hotline to assist at anytime.
So don't be shy, be leader of the pack this season in the latest knitwear chic from Panda.
For local stockists get your owner to log onto
www.pandayarns.biz