The Peach Book
Peace is wishing on a star, peace is making new friends, peace is being who you are. With child-like smiling stick figures, bold, brilliant colour and upbeat text, picture-book creator Todd Parr offers different difinitionso f peace: offering a hug to a friend, keeping the streets clean, and so on. The closing messages that peace is being who you are is illustrated with Todd Parr's multicultral mix of blue, green, brown, yellow and purple faces.

ABC Books
Author: Todd Parr
ISBN: 0733319769
RRP: $14.95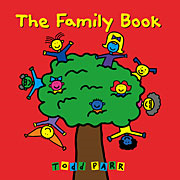 The Peach Book
Some families are large, some families are small, some families live together, some families live apart. All families will love this book! Todd Parr celebrates the diverse, wonderful world of families in 'The Family Book'. Open this book to read about all different kinds of families!
ABC Books
Author: Todd Parr
ISBN: 073319750
RRP: $14.95




About Todd Parr
Todd Parr lives in San Francisco and likes to paint because it makes him feel good. His favourite colours yellow, red, green and blue. Parr's previous books have been praised by critics as 'whimsical, upbeat'.

Review: These are clever, colourful books that explain tricky situations, in the nicest possible postive way.