Top Successful School Formal Tips
Formal time is upon many young girls throughout Australia.

With it comes many costs - normally for the parents. Shoes, make up, hair, cars and of course, the all important dress!

Many young adults will buy a dress up to $1,000 and then never wear it again.

GlamCorner allows young adults who are off to either a year 10, 11 or 12 formal to rent their dress, from a leading Australian designer, such as Alex Perry, George or Wayne Cooper for around only 15% of the normal recommended retail price of a formal dress.

It might cost $385 to buy a devine Wheels and DollBaby- Up Town Girl dress, but it will only cost $85 to hire. Similarly, for a shimmering Ruth Taryvdas piece, it will cost $579 to purchase and only $99 to hire. Most girls couldn't afford to be wearing an Alex Perry gown to their formal, but with GlamCorner they could. While the Midas Gown would be $1,699 in stores, it will only be $349 to hire and any woman would truly be the belle of the ball in it.

"A formal is a very important time for any young woman. We want to make sure every young adult in Australia has every opportunity to look as glamorous as possible, in a leading designer brand, at the best possible price", said Audrey Khaing-Jones, Co-Founder, GlamCorner.

GlamCorner is perfect for last minute formal disasters as well. If any woman is just a few days out from their formal and still doesn't have agown, they will be able to find a solution through the choice of 14 leading Australian designers.

www.glamcorner.com.au offer sizes from 6-14 and women can choose up to three dresses to make sure they have the correct one for their big occasion. Once they've chosen their dress or dresses, they will be sent out to anywhere in Australia, in just a few days and be the -formal saviour'.

"With over 149 different designs to choose from, a girl in a panic about what to wear to her formal, will be able to find something. We ship literally to any location Australia wide, free of charge. Recently we sent dresses to Hamilton Island and Broome, so it doesn't matter if a girl is in a regional part of Australia, she will still have the opportunity to wear a designer gown to her formal", Khaing-Jones concluded.

There's no excuse not to look beautiful this formal season. For as little as $59 any woman can wear one of Australia's leading fashion designers.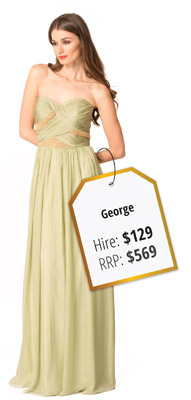 Top 5 Tips To Have A Successful School Formal
For many young adults going to their school formal is a huge occasion and a celebration for all their hard work throughout the year. However, it can be a stressful time.

Audrey Khaing-Jones, Co-Founder of leading online fashion dress rental store, GlamCorner, has five tips for a successful formal:

1. Plan in advance- Start looking at dresses, what hairstyle you would like and shoes early, to avoid a last minute panic.

2. Dress appropriately- Make sure your dress is suitable for your body shape. Also, shorter doesn't necessarily mean sexier. Elegance and grace is far more important.

3. Time- If you're busy with exams, studying and assignments and don't have time to spend hours at the shops, utilise the internet for research. Glamcorner.com.au has over 149 different styles of dresses, for example.

4. Don't go overboard- Accessorise sensibly. Simple earrings and delicate necklaces are far more stylish than glitter and head pieces.

5. Don't stress- A formal is meant to be a happy night. Don't put too many expectations on the night; just have fun!