Nicholas Samartis The Perfect Selfie Interview
For the first time ever, trusted skin care brand Clearasil has partnered with world renowned fashion photographer, Nicholas Samartis to celebrate the launch of their exciting new Vitamins & Extracts range.

Brought to you exclusively by the skin care experts, the Clearasil Vitamins & Extracts -Picture Perfect' guide shares the fashion guru's hints and tips to capturing the best self image - from skin preparation and facial expression, to the technical yet simple side of taking a great photograph. Noting that girls are loving the selfie phenomenon and understanding the desire for girls to want to look and feel their best, is Clearasil. Indulging in the latest urge to -check yourself out' and share the results with everyone you know is a trend that has been embraced by millions of people all over the world. The new -grown up' range, is a step change for the brand and is the latest innovation designed to encourage girls to step out with confidence.

Putting your best face forward is about feeling beautiful and empowered from the inside out, as well as having the confidence to be yourself all day every day, with minimal make up or without any at all!

While selfies are intended to portray an individual at their most flattering angle yet in their most natural state, many people don't know how to achieve this and therefore don't have the confidence to capture and share the moment.

'The art of capturing the perfect self portrait, the 'selfie' can be challenging. It takes a little precision and skill and a certain confidence within, however, the appeal comes from the control one has over the final result. This guide aims to provide girls with the tricks of the trade and ultimately the confidence to put their best face forward", says Nicholas.

Sharing tips only some of the world's best photographers would know, Nicholas' guide provides advice on the basic elements such as skin preparation and suggested wardrobe options, and shares insights and learnings from some of his most famous fashion shoots.

The Clearasil Daily Clear Vitamins & Extracts range, designed for girls who work hard and play hard, is formulated with fruit extracts known for their skin conditioning properties and is delicate enough to be used as part of a regular skin care routine. Using the new wash and scrub formula will help skin look luminous and feel healthy so girls have the confidence to put their best face forward all day, every day – on or offline!

Scientifically formulated and dermatologist approved, the new range includes:
Clearasil Vitamins & Extracts Daily Wash RRP $10.99 – gentle enough to be used every day, while remaining effective at removing impurities and helping prevent breakouts
Clearasil Vitamins & Extracts Daily Scrub RRP $10.99 – contains glycerine to improve skin hydration

In a trial conducted by Clearasil, over 74% of people said they loved the way the Daily Clear Vitamins & Extracts products made their skin look and feel; with 71% claiming that it made their skin feel clearer and healthier.

Available from all leading Australian supermarkets, pharmacies and independent retailers.
www.clearasil.com.au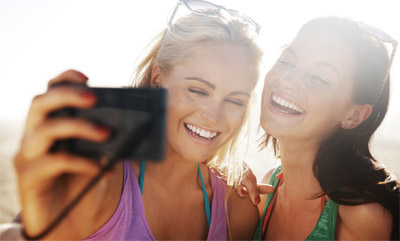 Interview with Nicholas Samartis
Photographer and Director Nicholas Samartis is known for both his fashion images and celebrity portraits. His images have appeared in American Vogue, GQ, Vanity Fair, WWD, Teen Vogue, Allure, Japanese Vogue, Conde Nast Traveler, Glamour, Tatler, Instyle, Australian Vogue, Grazia, Harper's Bazaar, Elle and Lumière magazine.

Samartis briefly studied at Sydney College of the Arts, before moving to Paris, where he began his career in photography at the illustrious Pin Up Studios assisting Oliviero Toscani, among others. Upon return to Sydney, he began a five year run shooting fashion editorial and covers for Australian Vogue as well several major advertising campaigns.

Nicholas then moved to New York and Los Angeles and during a 10 year tenure with American Vogue, he photographed some of the world's biggest movie stars including, Keira Knightley, Naomi Watts, Katie Holmes, Gerard Butler, Ashton Kutcher, Eva Longoria and January Jones. In addition, Nicholas has photographed some of the world's biggest supermodels including, Gisele Bündchen, Milla Jovovich, Doutzen Kroes, Karolina Kurkova and Gemma Ward; as well as musicians including Gwen Stefani, Franz Ferdinand, Joss Stone, Ben Harper and perhaps the art world's most notable artist, Jeff Koons.

While living in the U.S., he worked alongside designers including Mary-Kate and Ashley Olsen for The Row, Alexander Wang, BCBG Max Azria, Saddlelites Jeans and campaigns for Nordstrom and Bloomingdales. He has also directed fashion films and commercials, most notably for Christian Dior.

In Los Angeles, he exhibited his first solo show of landscapes entitled 'Blue Period'. In 2012 he was featured in the Australian edition of 'Masters of Photography'. American Vogue's Photo Director Ivan Shaw says, "Nicholas Samartis' work fits seamlessly in the tradition of the great celebrity and fashion photographers. His pictures uphold the traditions of the classical portrait while at the same time express a modernity that makes them truly of the moment."

Question: How can we create the perfect -selfie' or self-portrait at home?

Nicholas Samartis: The best preparation is an open heart and an open mind - good expressions happen to happy people, so don't worry about looking to make a good picture; look to capture one!

A good photograph is simply a relationship between a few elements that are put together correctly. Eating well everyday and regular use of beneficial products such as Clearasil's Vitamin & Extracts Daily Wash and Scrub will help you feel and look your best.

For further information, check out my Picture Perfect Guide which I developed in collaboration with Clearasil.


Question: Does it matter if we're taking the photo on our phone or using a camera?

Nicholas Samartis: No not at all! Smartphones now have the -self potrait' camera function so you can see what you are doing, however the beauty of technology these days is that photos are free so you can take as many as you want until you are satisfied and edit smartly!


Question: What make-up should we wear to give that minimalist look?

Nicholas Samartis: Three essential products to creating a minimalist make-up look include:
1. A smear of lipgloss mixed with a little of bit of lipstick colour
2. A very good mascara
3. An eyeliner to suit your mood and personality


Question: Where should we stand to capture the best light for our selfie?

Nicholas Samartis: You may not have elaborate studio lighting set ups so please remember timing is everything. Avoid the midday sun. The best time to take a portrait is in the morning or afternoon light, so aim for an hour or two after sunrise or an hour or two before sunset. Sunlight is all forgiving if your time is right.

Another secret that the masters know is that the closer you are with light, the softer it is, so push that camera flash to you as close as you can and you will marvel at the results.


Question: More importantly, what should we wear?

Nicholas Samartis: Some say the best colour to wear is black as it's simple and flattering. However, be aware of your background. A black outfit would work best with a busy background and likewise a simple background would complement a colourful outfit that is striped or patterned.


Question: Why is it important for you to provide these tips, to women?

Nicholas Samartis: I am passionate about a campaign that promotes self confidence, which is why I've partnered with Clearasil to launch their Vitamins & Extracts range; together with Clearasil, the Picture Perfect Guide aims to empower women to take more make-up free days and put their best face forward, and that will make my job a lot easier.

The art of capturing the perfect self portrait, the 'selfie' is challenging. It takes precision and skill as well as knowledge about the specific technicalities i.e lighting and angles. I want to share my knowledge based on my experience working on all different types of shoots and people.


Question: What makes a self-portrait, great?

Nicholas Samartis: First of all - clear, healthy skin, which is why I've partnered with Clearasil Vitamins & Extracts. Clear skin, means less touch ups. It's all in the preparation. It is so important to have the basics right as this is what helps people exude confidence. One of the questions that I have asked many actors while shooting them is: what is the most important thing about acting? The response most answered is -preparation', so I guess that applies to all things.


Question: What's it like working with A-List celebrities?

Nicholas Samartis: I have had a great run. I have worked with Keira Knightly, Kate Bosworth, Anne Hathaway, Hugh Jackman, Ashton Kutcher, Ashley Judd, Gwen Stefani, Milla Jovovitch, Katie Holmes, Amy Adams, Gail Garcia Bernal, Marissa Tomei, Zooey Deschanel, Paul Bettany, Evan Rachel Wood and many, many more. They have mostly understood that for me to take a great portrait of them, they have to be a willing partner and participant during the day, so it is a good professional working relationship that both me and the subject look to achieve. Usually it is a day well spent. My shoots are more like a cocktail party and I just happen to have a camera, and an assistant or two.


Question: Is it easier to photography the naturally beautiful people of Hollywood?

Nicholas Samartis: Everyone is naturally beautiful, it's just a matter of craft, skill and care to bring that out.

I don't care what the person looks like. A great attitude and a tad of confidence is all I need to work with.


Question: How does working in the States differ from working in Australia?

Nicholas Samartis: Harder, faster and bigger would be my simple answer. Plus the addition of a zero to one's fee is also synonymous with working in America. It is a great place to work, full of talented individuals. I love my time there - both New York and particularly Los Angeles, funnily enough. It is a great acknowledgement for an Australian to work and succeed in the US.

For more of Nicholas' celebrity images, follow him on Instagram: nicholas_samartis



Picture Perfect Guide
The -Picture Perfect' guide has been prepared by world renowned fashion photographer Nicholas Samartis, to celebrate Clearasil's launch of Vitamins & Extracts. It is the ultimate guide for girls on the go and it shares Nicholas' insider hints and tips to achieving the best self-portrait - from skin preparation and facial expression, to the technical yet simple side of taking a great photograph.

'After taking hundreds of celebrity portraits and fashion photographs, I am passionate about a campaign that promotes self confi dence. I believe the new Clearasil Vitamins & Extracts range will empower women to take more make-up free days and put their best face forward, daily. And that will make my job a lot easier. A great building starts with great foundations and a good portrait starts with the best skin that you can possibly have and deserve," says Nicholas.

A Few Things To Remember Before Starting

The best preparation is an open heart and an open mind - good expressions happen to happy people, so don't worry about looking to make a good picture; look to capture one!

A good photograph is simply a relationship between a few elements that are put together correctly. Eating well every day and regular use of beneficial products such as Clearasil's Vitamins & Extracts Daily Wash and Scrub will help you feel and look your best.

7 Steps To Picture Perfect

Facial Prep
'One of the questions that I have asked many actors while shooting them is: what is the most important thing about acting? The response most answered is -preparation', so I guess that applies to all things," says Nicholas.

Before you start, get the basics right – clear, healthy skin and hair is what helps people exude confidence. A light tan will promote a natural -glow' so I would recommend applying a tinted moisturiser.

Styling
Make Up: 3 essential products to creating a minimalist make-up look include:
A smear of lip gloss mixed with a little of bit of lipstick colour
A very good mascara
An eyeliner to suit your mood and personality

Facial Expression:
Wear a warm smile. It may sound counter intuitive, but smile through the eyes, more than the mouth. How? Recall a favourite memory.
It is essential that there is no pouting, a.k.a -trout pout'. It looks forced and unnatural and is overused.

Clothing:
Some say the best colour to wear is black as it's simple and flattering. However, be aware of your background. A black outfit would work best with a busy background and likewise a simple background would complement a colourful outfit that is striped or patterned.

Hair Style:
'I have taken hundreds of celebrity portraits for magazines such as Vogue. The trick isn't only the hair and make-up team, it's getting the subject into a zone where they have an extra gleam in their eye. You know that feeling - like stepping out of a salon, or seeing a loved one after a long time, or the arrival of your latest online purchase.

In my experience, one's face changes with a great attitude and an inner feeling of empowerment, so if a trip to your favourite salon gives you an extra spring in your step, then make sure you snap some pictures right after a salon visit," says Nicholas.

Technicalities

Background: A crisp, clear background will always make a better image, especially if you are wearing strong graphics. Alternatively choose a wall with an interesting texture and wear plain clothing.

Camera Elements: Experiment and take as many pictures as you can to see what suits you best and then delete the ones you do not want. Be a little critical, be a bit ruthless, however make sure in the end you are kind.

Deciding whether to have a little zoom with fl ash, or a wider angle and back lit is hard to determine as everyone is different and so are their facial features. A good photograph, -a keeper' is a combination of a few key factors and you will need to play around with what works and enhances your best features.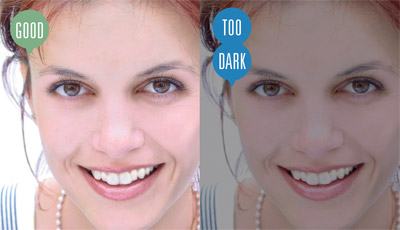 Flash or no flash?
If you are using hard flash, a little more dramatic make-up is needed, such as evening eye make-up
Don't forget to matt your T-Zone, forehead, nose and chin - the flash will hit the tip of your nose first and hardest, so matt down that spot the most
Another secret that the masters know is that the closer you are with light, the softer it is, so push that camera flash to you as close as you can and you will marvel at the results

Holding the camera too low will enhance your chin and holding the camera too high will make you look like a lollipop and top heavy. When it comes to the best camera and arm angle, I believe holding the camera 90 to 100 degrees away from you is the optimum angle!

Lighting: You may not have elaborate studio lighting set up so please remember timing is everything. Avoid the midday sun.

The best time to take a portrait is in the morning or afternoon light, so aim for an hour or two after sunrise or an hour or two before sunset. Sunlight is all forgiving if your time is right!

Interview by Brooke Hunter