Vampire Diaries The Return: Nightfall & Shadow Souls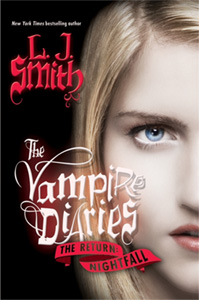 Vampire Diaries The Return Nightfall

Elena Gilbert is alive ...again.

When Elena sacrificed herself to save the two vampire brothers who love her... the handsome, brooding Stefan and the sleek and dangerous Damon... she was consigned to a fate beyond death. Until a powerful supernatural force pulled her back.

Now Elena is not just human. She has powers and gifts that were bestowed on her in the afterlife. What's more, her blood pulses with an overwhelming and unique force that makes her irresistible to any vampire.

Stefan wants to find a way to keep Elena safe so that they can make a life together. Damon, however, is driven by an insatiable desire for power, and wants Elena to rule as his princess. When Stefan is lured away from Fell's Church, Damon seizes his chance to convince her that he is the brother she is meant to be with. . . .

But a darkness is infiltrating the town, and Damon, always the hunter, is now the hunted; he becomes the prey of a malevolent creature that can possess him at will, and who desires not just Elena's blood but her death.

Vampire Diaries The Return Nightfall
Harper Collins
Author: L. J. Smith
ISBN: 9780061720772
RRP: $32.99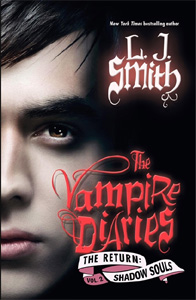 Vampire Diaries The Return Shadow Souls

Elena Gilbert is once again at the center of magic and danger beyond her imagining. And this time, Stefan isn't there to help! Elena is forced to trust her life to Damon, the handsome but deadly vampire who wants Elena, body and soul. They must journey to the slums of the Dark Dimension, a world where vampires and demons roam free, but humans must live as slaves of their supernatural masters. Damon's brother, the brooding vampire Stefan whom Elena loves, is imprisoned here, and Elena can only free him by finding the two hidden halves of the key to his cell.

Meanwhile, the tension between Elena and Damon mounts until Elena is faced with a terrible decision: which brother does she really want to be with?

The drama, danger and star-crossed love that fills each Vampire Diaries book is in full effect here, with Elena Gilbert once again filled with supernatural powers.

Ages: 12+

Vampire Diaries The Return Shadow Souls
Harper Collins
Author: L. J. Smith
ISBN: 9780061990267
RRP: $32.99



L. J. Smith has written more than two dozen books for children and young adults. She lives in the Bay Area of California, but is happiest in a little cabin near Point Reyes National Park, which has lots of trees, lots of animals, lots of beaches to walk on, and lots of places to hike.