Guess Stylist Stars in French Montana Music Video
Incredibly talented, both behind the scenes and in the spotlight, Abla Sofy has taken Hollywood by storm and shows no signs of slowing down. Now, a highly sought-after fashion stylist, Abla got her start by styling supermodel sisters, Gigi and Bella Hadid's father, Mohammed Hadid. Since then, she has become a creative director for GUESS & Paul Marciano, helping style and launch the Hailey Baldwin GUESS campaigns of 2016 and 2017. On top of styling, Abla has just made her music video debut in Boom Boom by international superstars RedOne, Daddy Yankee, French Montana and Fifth Harmony's Dinah Jane, which topped charts all over the world and has garnered over 60 Million views in less than a month. Her work can be seen on in videos, carpets and more and she has just begun.



Question: What originally inspired your passion for clothes and styling?

Abla Sofy: Since I was a little, I always been passionate about clothes and fashion. I didn't know how I was going to make it my career but I knew I was going to find a way to make it happen. In Morocco, there is not so much we can do in the fashion industry. This is when I decided to move to LA to follow my dreams…and it was the best decision that changed my life.


Question: When styling a celebrity, how does the process begin?

Abla Sofy: Every celebrity is a special project to me. The process is always different from a person to another. Before i start any work i have to research and understand the personality the person or the occasion, the themes every details that will allow me to have the best outfit to each person or occasion.


Question: Do you have a favourite celebrity to work with?

Abla Sofy: I usually love to work with women but working with Mohamed Hadid was always very special for me. He is such an inspiring person and so much fun to dress and work with. He always trusts my style and encourages me to take risks.


Question: What's a typical day like, for you?

Abla Sofy: A typical day for me is a start at 6:30am. I have to be at work GUESS HQ in Downtown Los Angeles and I almost shoot every single day, whether it's in the Guess studios or on location. I finish at 5pm. And then I have to work with my private clients as well. I don't usually even have time for myself!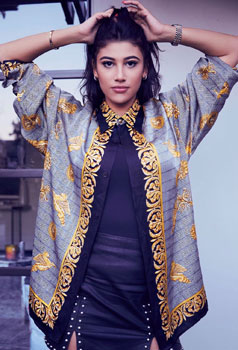 Question: What has been your career highlight, to date?

Abla Sofy: I love every single step in my career, but I would say that the RedOne music video gave me the biggest exposure to the world and opened so many doors for me.


Question: Can you tell us about being on set for French Montana's music video?

Abla Sofy: I love French Montana. He is Moroccan like me, and we knew each other from before. It was a big honor to work with him and such other big artists as RedOne, Daddy Yankee and Dinah Jane that were all in the music video as well. The video is a success worldwide and gave me so many opportunities to be associated with such international artists.


Question: How can we find the perfect pair of jeans, for our shape?

Abla Sofy: I always go for a stretch jeans or a jegging. Every person could fit perfectly in them. They're comfortable and go with everything.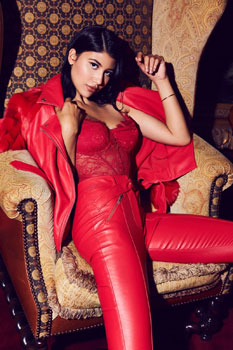 Question: What tips do you have for upgrading our personal style and closet?

Abla Sofy: Every single person should make sure to have all basics in their closet: black jeans, simple shirts, suits, black dress, etc. Sometimes when we try to follow the trends too much, we can go wrong. There are some pieces that are classics and then we can mix them with pieces that are in trends like shoes, accessories, bags or shirts. And we are sure to always look on point, upgraded and elegant .


Question: Which are your five favourite brands?

Abla Sofy: As an Arab woman, I love Ellie Saad for his red carpet dresses. For every day I love Zara. It is so easy to find everything in one place for a very good price and still look high end. I love GUESS for jeans, of course. Chanel for bags and accessories, and Balenciaga is amazing at finding a way to make runway clothes work for every day outfits.


Question: What's next, for you?

Abla Sofy: I am so grateful because the music video opened so many acting and modeling opportunities for me. I am actually working on a TV show that would let me style stores all over America and I am having so much fun with it! More news on that to come, I can't wait!


Interview by Brooke Hunter